Contents
---
---
Modern preparations for the wedding carry interesting ideas that are far from the traditional canons: marriage in rock style, a wedding party on the beach, a ceremony of painting at a chocolate factory. It is also possible to excel at your own wedding by choosing an unusual outfit, for example, a trouser wedding suit for the bride, instead of the usual dress. Such a choice shows an outstanding personality, capable of taking a risky step. Let it not be like everyone else, but it will make a lasting impression, leave a mark in the memory of those who had a chance to see such a wedding.
Who will suit a wedding suit instead of a dress
Fashion has always tended to change, and what was traditional earlier has become a curiosity now, for example, a woman's trouser or a strict skirt suit for a bride for a wedding. A betrothed girl who preferred this outfit is not from the main majority, because a white dress still remains more popular for her own wedding. And the one who chooses a suit has his own reasons:
Older women prefer more modest outfits, so they choose a variety of costumes for their own wedding;
The bride already wore a wedding dress, and now she is getting married a second time and does not want too grandiose attributes;
The budget for a wedding is small and there is no need for an expensive dress, dressed once;
The wedding takes place in a narrow circle of parents and loved ones, so the celebration does not require magnificent dresses;
The bride has a more practical attitude to the wedding dress and chooses a costume to be able to wear it for other events in life;

A girl who marries prefers a more extravagant style, has exotic views on fashion trends and wants to stand out from the rest of the brides.
Costumes for the bride for a wedding
The current fashion industry offers the widest selection of different costumes that you can choose as a wedding dress, it all depends on your preferences, taste and great imagination. Let it be an ordinary women's pantsuit, but it is possible to beat it with several details and it will become traditionally wedding, solemn, as well as a skirt with a jacket. The color scheme also does not limit you in your choice: develop the idea, and any order will be completed. Below you are offered several options and tips to help you make your choice..
Decide on the style: skirt suit with a jacket; a trouser suit that can be used with straight trousers, narrowed, flared from the hip or knee, as well as a skirt-pants; overalls.
Complement the look with different trains on trousers. A train that imitates a fluffy skirt, but with a neckline in front, where you can see that you are actually wearing trousers; chiffon flying cape on trousers in the form of a floor-length skirt through which legs are visible. The jacket can also be complemented below «wings», who will make an easy hint of a short train loop.

Carefully approach the choice of material from which the wedding suit will be sewn, because the style and idea can be mind-blowing, but everything will spoil the wrong fabric. Let your choice fall on natural fabrics: glitter satin, delicate silk, airy chiffon, beautiful crepe de chine, sophisticated lace.
The suit is able to lose if the color scheme was incorrectly selected. In the choice of color, you can deviate from the wedding classics, however, it should still be pastel colors. There may be a bright color if you are brave in your preferences and tastes..
In the case of tailoring a suit according to individual preferences and visions, approach the combination of style and fabric correctly. If suddenly your imagination has produced something unusual and it has a complicated cut, then choose exclusively plain fabrics with a single texture.
Take advantage of the multifunctional idea and use removable holiday elements (for example, a clip-on train for trousers, a chiffon cape over the bottom of the suit) so that you can wear your suit in everyday business life and look elegant.
So that during the wedding celebration the suit does not create unnecessary inconvenience, think about the style of the top that will be under the bottom of the jacket (so that you can remove the top of the suit). Sew to order a lightweight sleeveless top made of chiffon, delicate lace, with an elegant neckline on the back. A more evening look will have a top, strapless, made in the form of a corset. Embroider it with rhinestones, beads, you can do something like lace applique.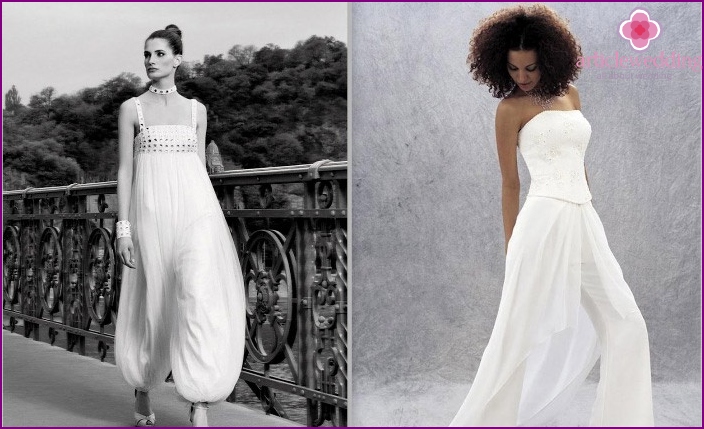 Do not forget about the veil - it will also look relevant in the ensemble with a costume, fully completing the wedding look.
If you don't quite imagine how a costume of any kind (skirt or trouser) can look spectacular as a wedding dress for a bride, watch the attached video below. Here are some visions of fashion designers who embodied the image of a wedding suit in their models, their ideas can not leave indifferent a single connoisseur of taste and beauty:
Skirt and jacket
A wedding suit for the bride can look perfect in a classic simple style: a skirt and a jacket. However, variations on the theme, various cuts of skirts, jackets, which are selected in accordance with preferences, and most importantly, the figure, are also possible here. Below you will find several options for what style a skirt can be chosen for a bride's wedding suit:
A win-win and versatile style: pencil skirt, no higher than the knee. Emphasize all your charms and visually remove the flaws;
For a slimmer and taller girl, a flared skirt will look romantic, possibly using a pleat;
An elongated skirt to the middle of the lower leg of the style looks fashionable and beautiful «bell», more suitable for tall, slender girls;
A short skirt with a train of different lengths has a sexy look (ideal for owners of slender legs);
If you are a stylish lady with rounded shapes, a year-skirt will suit you.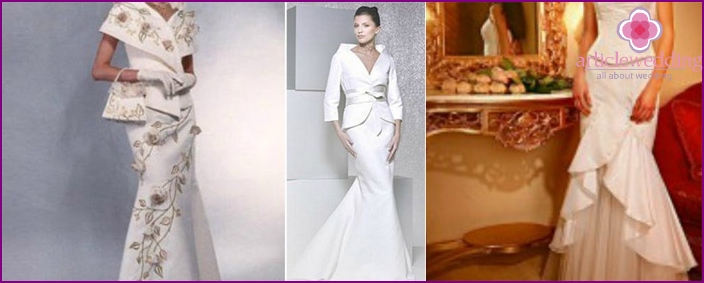 Also, check out the choice of jacket styles that you can pick up for your own wedding ceremony:
The fitted jacket of a shortened plan with a wide collar looks best on a slender figure;
It looks beautiful as a wedding ensemble, a jacket with a sewn skirt in a crease (looks perfect with a pencil skirt);
Choose the style of the jacket according to your external data, for example, the owners of a long neck are shown an oval neckline (even possibly opening their shoulders), but in other cases the situation will be corrected by a triangular neckline that will focus on a deep seductive neckline;
Also, follow the recommendations in the choice of sleeves: if you have long arms, then a shortened or three-quarter sleeve will suit you, and if short, then long;
Consider the idea of ​​a long jacket in the floor, which will imitate a white wedding dress and have a voluminous appearance;
Another jacket can be made as a tuxedo, slightly reminiscent of the style of A la Valentin-Valentin - this is a very strict, extravagant and unusual solution for a bride's wedding dress.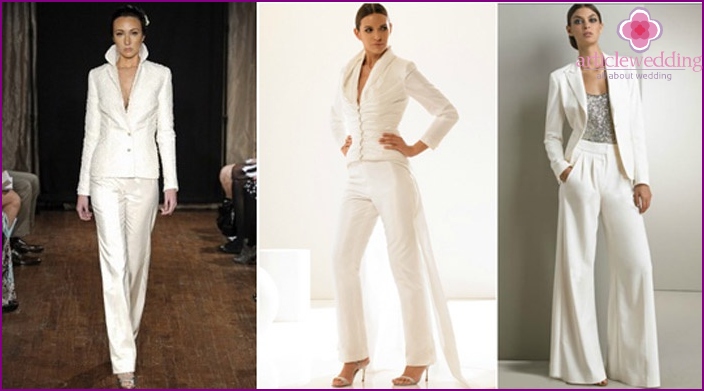 Suit skirt
A variety of women's costumes offers such an interesting option for a wedding as a suit with a skirt-pants. This is a good compromise between trousers and a skirt, especially since you can make a style flying and almost imperceptible, which is actually a pair of trousers. Here, several variations of the final form are possible, which are provided for different types of figures, for example:
Wide flared trousers of white color from heavy fabric will beautifully fall to the bottom, emphasizing femininity;
For a larger figure, it is optimal to choose a high-waisted skirt-trousers and a silk cape from above to the very ankles;
Another interesting option is trousers, over which a long train is sewn on the waist from a light flying fabric, for example, chiffon or silk.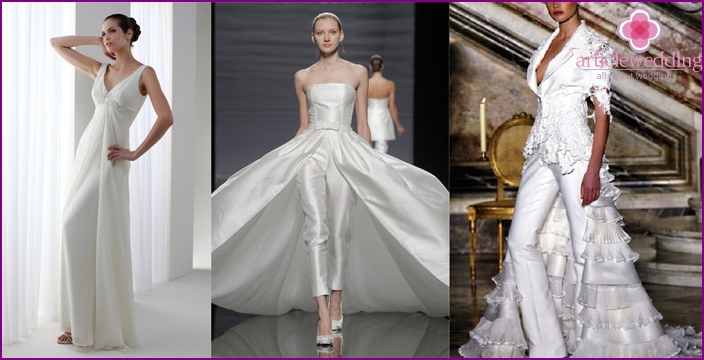 The upper part for this suit is better to choose in the form of a top in the color of the bottom or a beautiful fitted jacket. Complement the look with beautiful accessories, for example, a long string of pearls in several layers, a bracelet, pick up elegant high-heeled shoes, for some suits use smooth white gloves.
Wedding jumpsuit
A wedding suit for the bride in the form of overalls is a very extraordinary choice, thanks to which there is a wonderful opportunity to emphasize sexuality, grace and integrity of the image. For the cut of this outfit, there are a lot of ideas, variations that allow you to create your own unique style that will make a grand impression on the celebration, for example:
Choose a strict closure style in front, the highlight of which will be a deep neckline on the back. Beat with interesting accessories, for example, an interesting belt with a fastener in the form of two rings, a neckline trimmed with beautiful lace on the cant;
The style narrowed to the bottom will suit slender girls with long legs. Let it be a business bottom, and the top is made of silk lightweight fabrics, with a short sleeve;
Overalls can also be with a hint of a dress, if it is a style with a flare (flared skirt-trousers with an air top).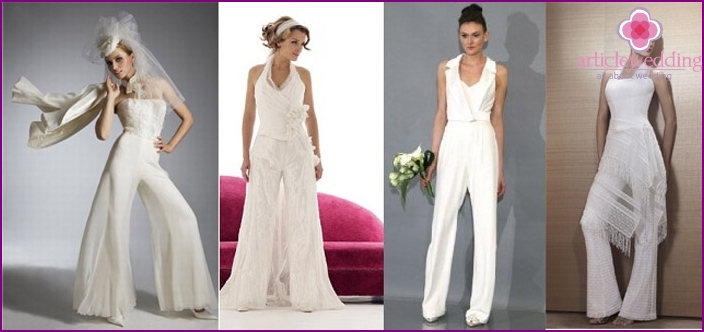 Pantsuit for the bride
Well-known expression: «Every man to his own taste», applicable to the choice of wedding attire, when not everyone prefers a classic puffy dress. There are ardent admirers of trouser suits among the fair sex, who will prefer this outfit even to their own wedding. In fact, a trouser suit is not only strict straight lines that oblige a business style. Sometimes it can look so stunning that it will not yield to any beautiful dress..
If your choice fell on a trouser suit as a wedding dress, check out a few tips below to help create a flawless look:
Pants will not suit all types of figures, you can experiment with the style and choose your fit for the corresponding shapes, for example, for slim slender trousers in an ensemble with a fitted jacket, and for lush forms, wide trousers at a high waist with a straight jacket.
For owners of a long beautiful neck with graceful shoulders, an elegant vest, or all together, is perfect for a jacket.
Visually lengthen legs and give rise to wide trousers, possibly with a flare from the knee or hip, skirt-trousers.
If you are the owner of wide hips, focus on the upper part: shoulders and décolleté. Use the vertical lines of the gate leading down to the seductive neckline - this will remove unwanted attention from your hips and be irresistible.
Use a high hairpin in shoes, only so that the length of the trousers completely covers the shoes, otherwise it will look ridiculous, especially with a wide style of trousers.
Add a hat to the image - this will emphasize your femininity. The hat can be either with small fields or with large ones. Insert a small flower and the wedding look is ready.

Photos of wedding suits for the bride 2016
And in order to clearly show those who still doubt that a wedding suit for the bride can look insanely beautiful, we suggest viewing the following photos live. You will be convinced that in such an outfit variety, style, elegance, beauty, a solemn and very feminine image are appropriate, which will not always yield to an ordinary dress.