Contents
---
---
Chiffon has always been considered a haute couture fabric, therefore it is not the first decade that has been walking not only along the catwalks, but also along the streets of the city. It is indispensable on a hot day, as it is a lightweight material that perfectly lets air through. Brides in the summer season prefer wedding dresses made of chiffon. Designers create such outfits with soaring silhouettes that make the bride and groom sophisticated and beautiful..
Benefits of Chiffon Wedding Dresses
The main advantage of chiffon is low cost and mass availability. A few hundred years ago, these dresses were worn exclusively by wealthy women, because this material was used only for weddings or evening toilets. Now chiffon is available for all segments of the population, and wedding dresses made of such a fabric are considered classics. They do not overload the image of the bride, emphasizing all the advantages.
The benefits of chiffon have long been obvious to everyone:
the fabric is perfectly draped, which gives designers the opportunity to hide flaws and show the virtues of a female figure;
the chiffon is unpretentious; if it is washed at a low temperature and delicate mode, the fabric will look great for a long period of time;
the material is suitable not only for hot days, but also for cool, because it is both weightless and dense fabric;
thanks to the variety of types of chiffon, wedding clothes are sewn in different styles.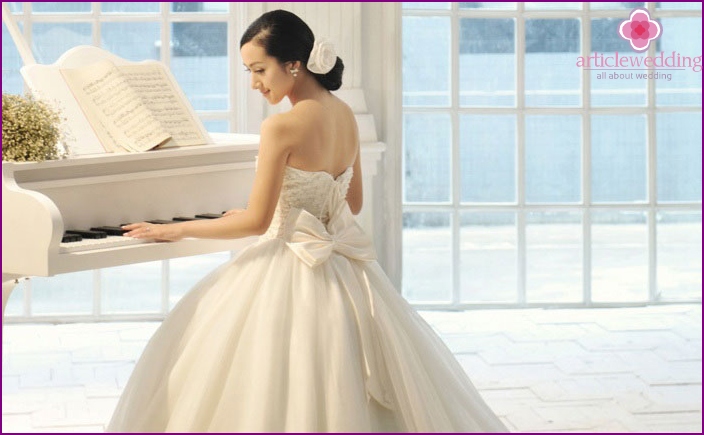 What Chiffon Wedding Dress to Choose?
Chiffon wedding dress is very easy to choose, because the material is perfectly combined with genuine leather, knitwear, fur. Chiffon will be appropriate next to dense materials: linen, cotton, denim, satin, so a wedding outfit made of such a fabric is perfect for cold seasons, if it is supplemented with a dense lining. It remains only to choose a successful style to emphasize the dignity of the figure, and add stylish accessories to the luxurious image of the bride:
bracelets;
earrings;
diadem;
pendants;
clutch bag.
When choosing a model of a chiffon dress for a wedding, you should consider the features of the bride's figure. So, for owners of a thin waist, large chest and wide shoulders, a style with a straight silhouette or with a fluffy skirt is suitable. On tall brides with small breasts and slender hips, a model of the outfit will look great «Mermaid» with decorated corset. Girls with wide hips need to pay attention to the Greek-style wedding models to emphasize the chest and balance the massive lower body. Check out the selection of stylish chiffon wedding dresses in the video:
A-line long sleeve
A-line wedding dresses have received this name due to their appearance, which resembles the letter A. This is a classic style for a wedding with a tight-fitting top and gradually expanding bottom. One-piece chiffon models are suitable for girls with any figure. Often, the styles of the A-silhouette have a rigid skirt due to the petticoat and a long sleeve, but the fashion designers make the top diverse: a deep neckline, stand-up collar, turn-down collar and many other options.
The A-line style with a long sleeve is now at the peak of popularity, such chiffon models have a feminine look and are multi-functional:
In winter, a dress made of such material with a long sleeve can be supplemented with a fur cape.
A model with sleeves will hide the fullness of arms, tattoos, scars, and visually expand narrow shoulders.
If the bride does not want to be overly exposed, a wedding dress with sleeves will be an ideal option for her. Such a style will look chastely, adding mystery and sophistication to the image..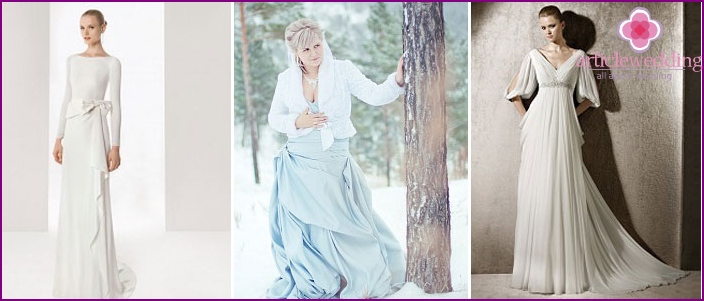 Greek Empire Style
Empire style dresses appeared in the 19th century and still do not go down from Olympus fashion. Distinctive features of this Greek style is a long skirt with a straight cut, drapery, high waist, and a deep neckline. This is an ideal solution for full brides, and for thin girls. Chiffon wedding models in the Greek style will not cause the newlywed any trouble: it is convenient to dance in them, to board a car or an elevator. This is a versatile, sophisticated style that is never short or lush..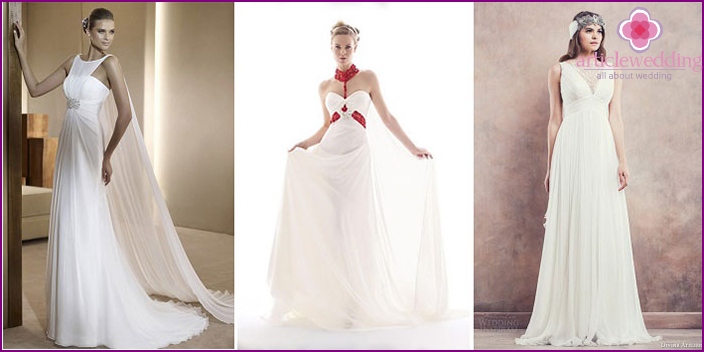 Puffy dress with lace top
Chiffon wedding dresses with lace tops are still relevant. If a girl wants to plunge into a fairy tale and feel like a princess, then she should choose such a style. A lace white dress or ivory chiffon outfit looks exclusive and expensive. Volumetric bottom emphasizes the fragility of the bride and groom, making the shoulders narrow. But full girls should not get carried away with a fluffy skirt, such a model is more suitable for small, thin or medium-sized brides.
Particularly popular are airy chiffon wedding dresses with an openwork neckline. But the lace on the back is also often chosen by stylish brides, it gives lightness to the image, turning a chiffon dress into a real masterpiece. For low girls, designers offer magnificent models, the length of which is higher than the knee, to visually increase the growth, and for high fashionistas dresses to the floor are ideal.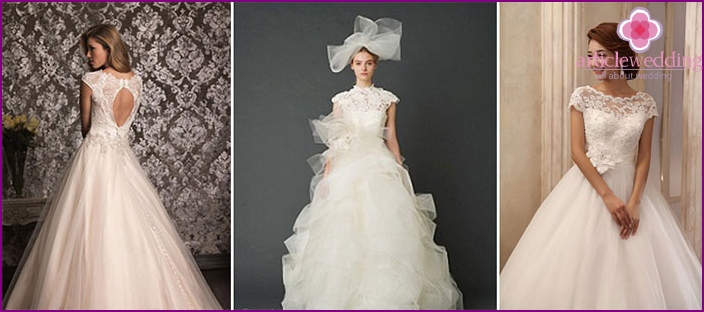 Silhouettes of fish made of chiffon and guipure
Silhouette «Fish» or «Mermaid» popular for wedding and evening dresses. These are long styles, sometimes with a train, therefore emphasize the female figure, making it ideal. The incredible femininity of the model makes her a favorite among brides. Newlyweds are even ready to put up with some inconvenience of movement in order to look chic at their wedding. In this outfit, a girl may look like a standard of modesty, and if you add an insignificant element to the image, she immediately turns into a fatal beauty.
A wedding chiffon dress (with guipure) in the shape of a fish is a model that fits a figure like a second skin, and a narrow skirt gradually expands downward, with six to eight wedges, frills or ruffles inserted. Expansion begins either from the middle of the calf, or slightly above the knees. This style suits girls with a perfect figure. If the bride is overweight, it is better to refuse such a model. Otherwise dress «Fish» only emphasize extra pounds.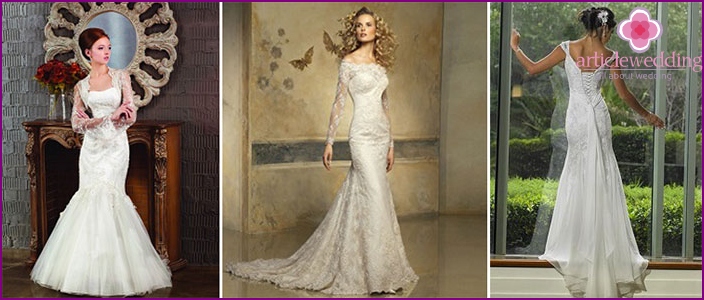 Photo of stylish dresses of the bride from chiffon 2016
There is no more romantic and feminine wedding outfit than a chiffon dress. The material is ideally draped, softly fitting the figure. It falls to the bride's feet, like a frozen wave and flutters in the wind, like the wings of a butterfly. A chiffon dress can turn a girl into Aphrodite, who came out of the sea foam, which is why it is so popular all over the world. We offer a photo selection of stylish chiffon dresses that are perfect for any wedding celebration.