Contents
---
---
A modern girl is allowed to attend a wedding celebration in any color and style. So, short dresses above the knees are becoming more and more popular during the warm season, and the classic white color is losing ground, giving way to unusual shades of wedding dresses - purple, red and even black. These options will decorate the girl at the ceremony in the registry office, however, if the bride wants to get married with her husband, she will have to follow certain rules. Wedding dresses should emphasize the purity and innocence of a girl.
Wedding dress in the Orthodox Church with photo
The Orthodox wedding ceremony is an ancient tradition that requires compliance with the rules regarding the dress and the image of the bride as a whole.
The dress for the wedding ceremony should not be open. Open shoulders, arms, a neckline, cutouts on the legs, and even more so a bare back, are not suitable for the temple. Enclosed wedding dresses with sleeves will look best. However, if a girl buys only one dress for all events of the wedding day, and you don't want to wear the closed version during the whole celebration, you can cover your open shoulders with a lace bolero, jacket, scarf or long veil, and put on gloves.
The length of the wedding dress should be below the knee. If a girl wants to show her beautiful legs, she will have to buy two dresses or purchase a convenient version of a transformer dress with a detachable skirt.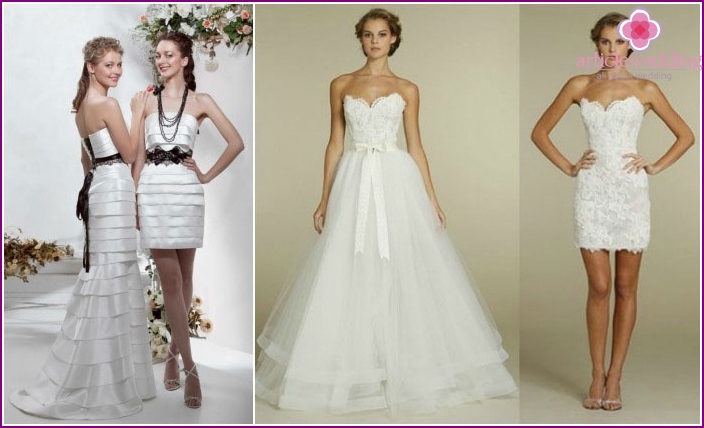 The bride can choose any material of the dress for a traditional wedding - shiny satin, delicate lace, light chiffon, but the outfit generously decorated with beads and rhinestones will not look organic. This does not mean that the dress cannot be decorated at all - here other decorative elements, for example, embroidery, some pearls, lush draperies, will be used.
A magnificent dress looks beautiful, but during the wedding, a straight or slightly flared model is more appropriate. Rings that add volume to the skirt should be discarded, as this is simply inconvenient.
A train is a part of the attire that gives the dress a majestic appearance, but during the process of the sacrament of the Orthodox wedding, it will look out of place. The train is exclusively suitable for the Catholic rite. If you definitely want a dress with a train tail, you can look at those models where the train is fastened.
A headdress is an obligatory attribute of a wedding. To cover your head, a long elegant veil, embroidered or lace scarf will do. The hat is also allowed during the ceremony, but it is inconvenient from the point of view that the crowns that the witnesses or the priest will hold over the heads of the future spouses can touch it.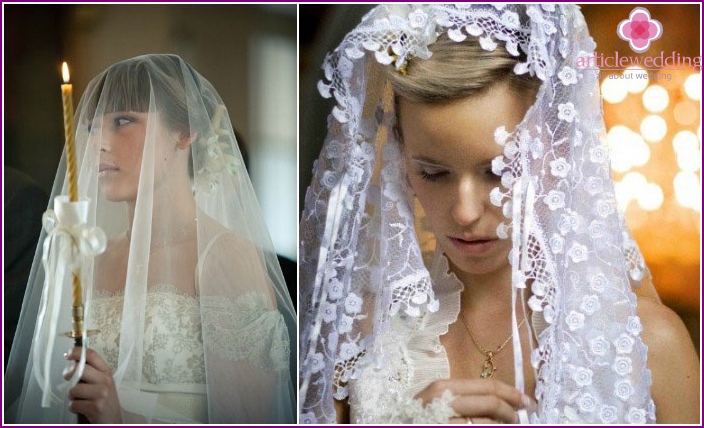 Hairstyle should not be artsy, too voluminous and complex. Modestly collected hair or a cute malvinka fit.
A wedding is an occasion to wear smooth, unadorned shoes with a medium or low heel, because standing on an entire ceremony with stilettos is a real test for female legs.
Bright shades of makeup look as wild in a church as a miniskirt, so give preference to a gentle, gentle make-up. Accents on red or burgundy lipstick are unacceptable, it should be pale pink, flesh-colored or absent altogether. Gold lipstick can easily replace lipstick.
Pectoral cross is an important part of the wedding image, but it is better to hide it under clothes.
Watch a beautiful video detailing the sacrament of wedding:
Traditional styles
The traditional style of a wedding dress involves a straight or A-silhouette, not too voluminous skirt, closed back, shoulders. The model should demonstrate the modesty of the bride, meet church requirements.
With sleeves
An elegant wedding dress with sleeves looks elegant and restrained. Types of sleeves can be of different lengths and shapes - a bell fitting a lace or satin sleeve, flared models. Please note that gloves are required for short sleeves..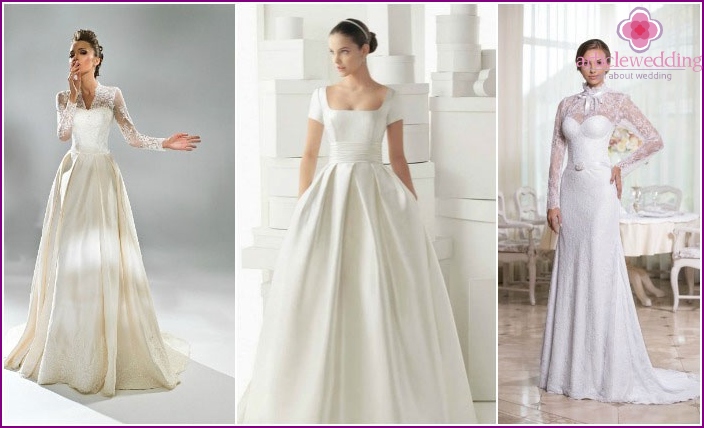 Closed
Closed dresses are suitable for real modest women who take the wedding ceremony seriously. The model, hiding the chest, back, arms and neck, is the best suited for the church sacrament.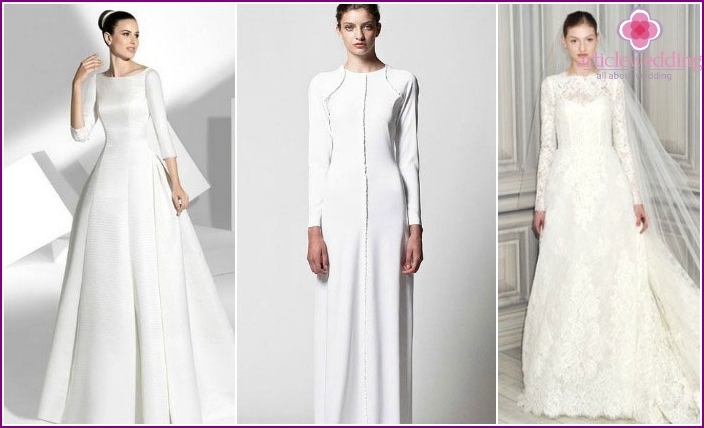 Lacy
Lace dresses emphasize the delicate, fragile nature of the bride. A girl who chooses a dress for her wedding, decorated with lace, does not fail, because this material looks elegant, rich and does not require other additional decorations. The outfit can be fully trimmed with openwork fabric or partially decorated with it. For example, decorated with a lace hem, sleeves, bodice look beautiful.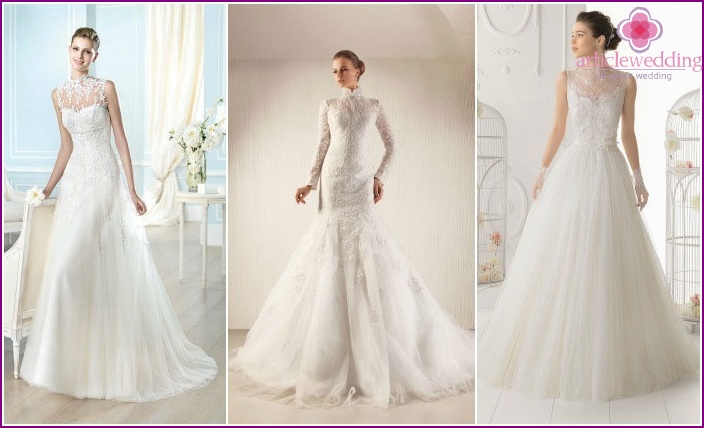 Simple
Simple minimalistic dresses are ideal as wedding dresses. These models can be chosen by girls who do not plan serious financial investments. Minimalism, modesty, simplicity of an outfit without decoration will emphasize the beauty of the face and spirituality of the bride.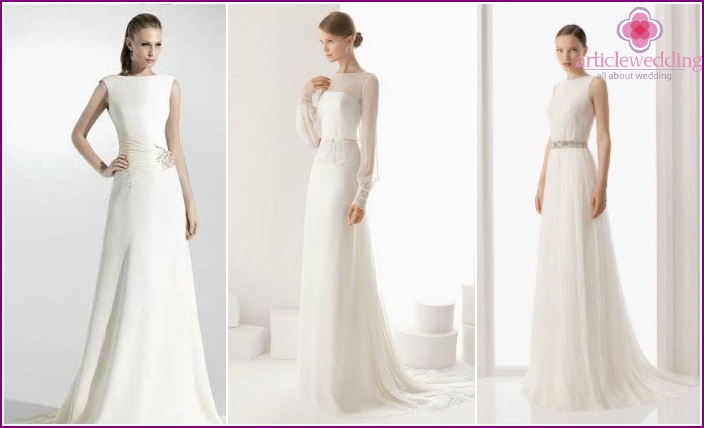 For pregnant
Girls who get married during pregnancy need to pay attention to the silhouette. If the bride is in the first months, she will be able to hide her tummy with the help of an elegant A-line dress. A Greek model with a high waist and a flared skirt is also suitable in the initial weeks of the term, but if the fact of pregnancy becomes apparent, it will perfectly decorate the rounded shapes.
According to church canons, only an innocent girl can wear a white dress for a wedding ceremony, so pregnant brides need to look at other light tones of wedding dresses.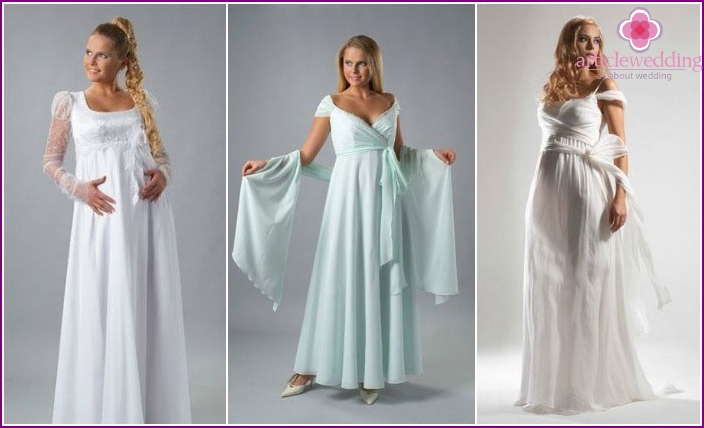 For full
Full girls need to choose a dress model carefully, based on the features of the figure. The Greek dress - as in the case of pregnancy - will help to hide any imperfections in the figure, and the popular A-silhouette will balance the massive top with narrow hips of a triangular figure. Those who have a figure «hourglass», pay attention to style «fish», which is only suitable for proportional forms. A pear-shaped body type will adorn a dress expanding from the waist - it will hide full hips.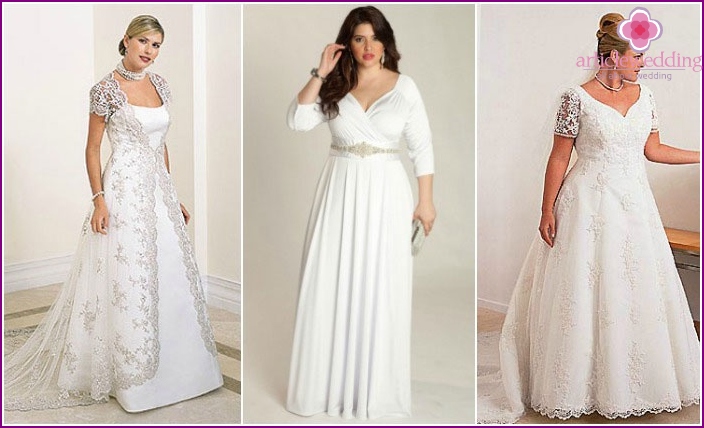 For the elderly
For older ladies who decide to get married, dresses that hide the appearance flaws that appear in adulthood are suitable. Women who want to hide age-related changes - uneven skin, age spots - should pay attention to closed elegant dresses, light wraps. It is better to choose a color not white, against which all imperfections become apparent, but golden, cream, beige.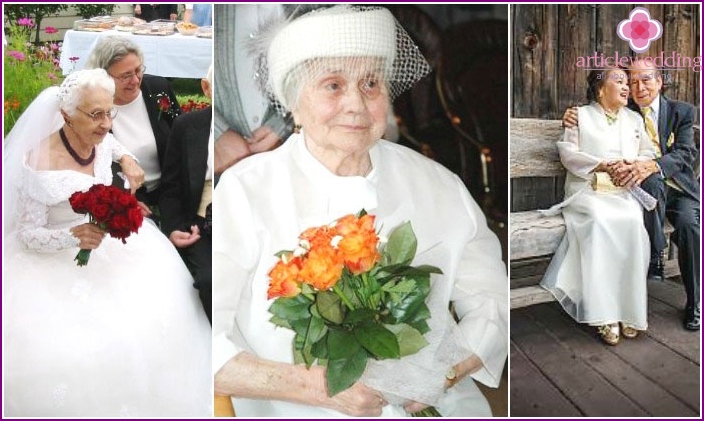 Colour
Modern brides often prefer dark unusual shades, however, the wedding procedure allows exceptionally light delicate colors - creamy, cream, blue, light pink, ivory.
White
The white outfit is a classic of the church sacrament, so the girl who chooses such vestments will not be mistaken. In addition to the symbolic meaning of white, it is also unusually beautiful in combination with tanned skin: brides who have already managed to go on vacation and get a bronze skin tone can get an additional bonus from choosing such a dress.
Blue
A light blue dress for a wedding ceremony will suit dreamy nature. The choice of this color should be carefully approached by brides with an autumn color type. See photos of blue wedding models below..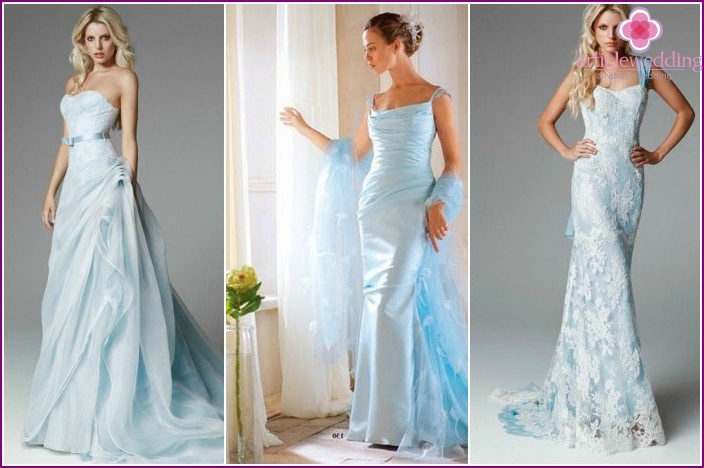 Other options
The church allows for various color options for the outfit, but the main thing is that they should be of a light shade. The choice of dress colors is huge, and this allows each girl to choose the right shade for her skin type.
Where to buy and prices
In order not to miscalculate, it is better to buy a dress in a special salon where you can find a suitable style, try on different shades. Specialty stores after purchase offer free to sew on the outfit on the figure. The price of a wedding model depends on many factors: complexity of decoration, embroidery, number of draperies, material, cut.
A simple satin dress without a straight cut finish will turn out to be bought cheaply, in contrast to the decorated with lace and embroidery patterns with draperies. Each girl will find an outfit that she can afford. The cost of a wedding dress starts from 6-8 thousand rubles, but the upper limit can be any, because here it all depends on the wishes of the bride and the state of the wallet of her parents or groom.
Photos of beautiful and modest wedding dresses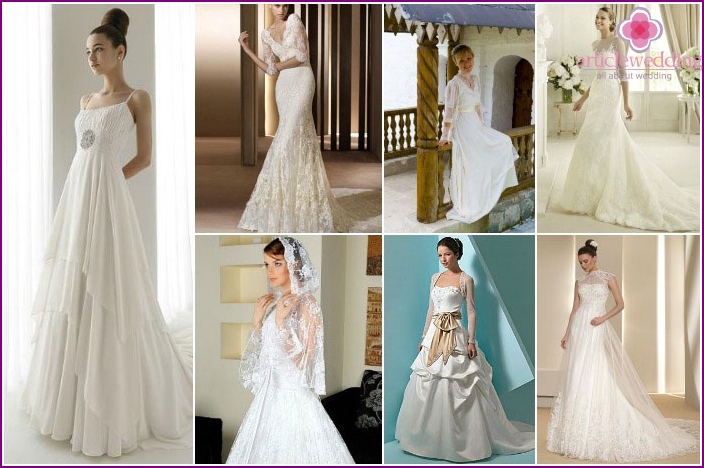 The church sacrament of wedding is a solemn action that concludes a heavenly marriage between lovers, forever connecting their hearts. It is important to choose a wedding outfit that adheres to church canons - this will allow the bride to feel confident and comfortable during the ceremony.
What models did you like? Leave your comments after the article..