Contents
---
---
The rustic style began to gain momentum in popularity since 2012. Translated from English, this word means ordinary, rural. When choosing a rustic wedding dress, look for rustic inspiration. However, it is worth remembering that the style came from the West, so the vector should not be directed to the Russian village, but to American farms. The rustic style is very multifaceted, extensive, so it is difficult to distinguish common features. The main thing is to observe a rustic style, slightly sloppy, without gloss, pretentiousness in the image of the bride and groom.
Rustic style wedding dresses models
Rustic bride's robe should be flying, airy, light. It is better to dwell on a flowing silhouette, a free sundress, handmade lace decor, frills. The basis of the rustic style is: natural materials, cream, brown, white, sand, sky, cornflower blue, wildflowers, burlap, moss, wood. Get your inspiration from these things. Floral wreaths, vintage accessories, loose hair or sloppy braids will help to complement the look..
Lightweight Loose Dress
A dress of a free silhouette without unnecessary decor and details is perfect for a rustic bride. Pay your attention to the choice of fabrics - tulle, chiffon, lace will do. Light, natural, translucent materials will create the image of a tender girl. In addition to this, shawls, wraps, stoles, boleros are appropriate, which will help to make the look of the newlywed more original.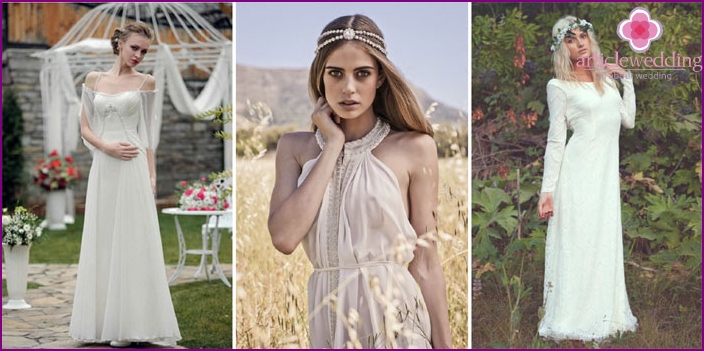 A-silhouette of translucent materials
Classical for wedding fashion A-silhouette fits perfectly in the style of rustic. It helps to emphasize the bride's figure, her youth, adds femininity, tenderness, which pursues the chosen style. Remember that the outfit should not be artsy, glossy. Do not buy a robe with sparkling rhinestones, stones, catchy decor - for this style it is a taboo. A suitable bouquet or wreath will become ideal accessories in this image.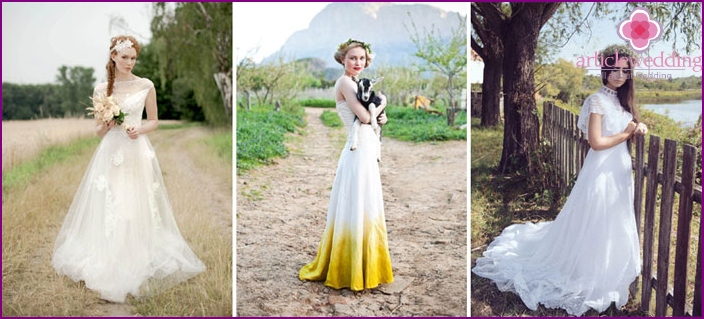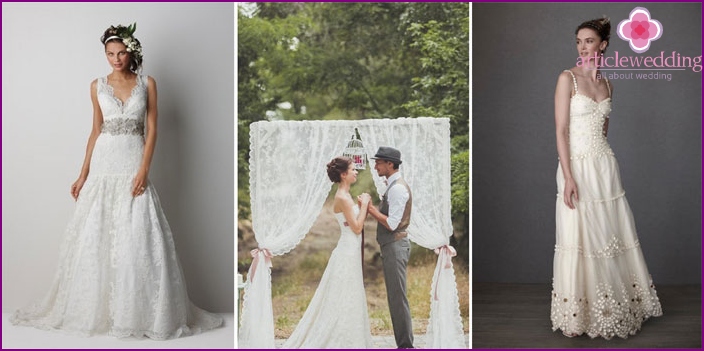 Loose sundress with handmade lace
Sundress made using natural fabrics fits perfectly into the rustic style. Choose as simple a cut as possible, delicate fabrics such as linen, chintz, cotton, chiffon. Do not think that such matters are boring, show your imagination, and you will be able to create a real masterpiece. A handmade lace will add a twist. Such details emphasize femininity, innocence. Lace can pick up a slightly different tone than the dress itself.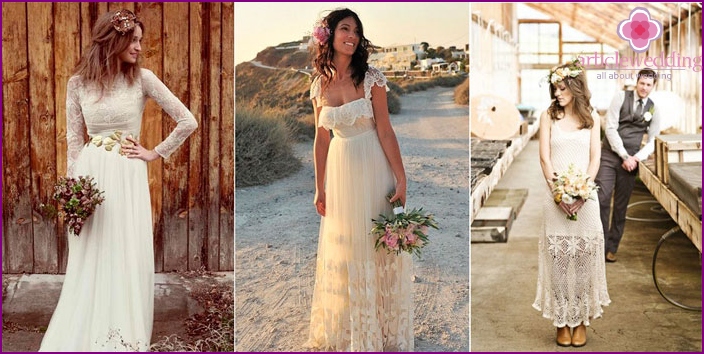 High Waist Ruffle Wedding Dress
For brides with any type of figure, a dress with a high waist in a rustic style is suitable. The presence of frills indicates that the apparel belongs to the chosen style. Underlined chest line, light bottom - you will subjugate your fiance again. Bulky jewelry, rough ruffle on such a wedding dress should not be. It is sewn in most cases from light, flowing fabrics, crepe de Chine, or a combination of such materials with denser.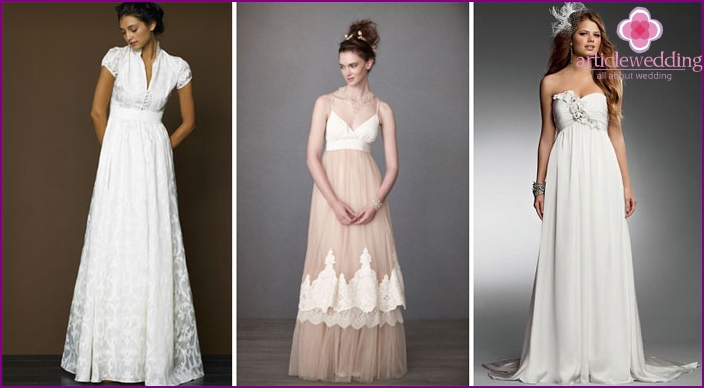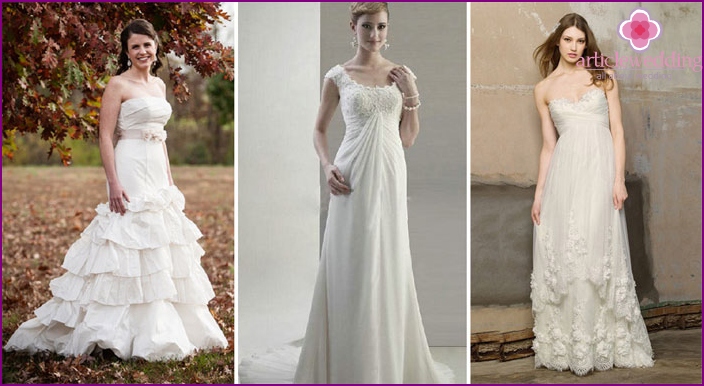 What accessories will suit a rustic dress??
An essential attribute of a bride is her bouquet. Garden plants and wildflowers are ideal for him: daisies, sunflowers, peonies, hydrangeas, ferns. Rustic style allows the use of cotton, lavender, thistle, astilbe, eucalyptus, succulents. Dilute the wedding bouquet with cones, ears, berries. The leg of the bouquet can be wrapped in lace or burlap..
Rustic style shoes - summer flats, low-heeled shoes, open sandals. Coarse linen and burlap are suitable for decoration of wedding shoes, making garter. Some brides prefer wide-legged boots. Rustic style veil is replaced by rims, lively and fabric flowers, sidewalks, floral wreath. Jewelry should be completely invisible, or, conversely, massive using chains, stones, wood, leather, metal parts.
What kind of bride without a suitable hairstyle and makeup? Lightly disheveled, voluminous braid, spikelet are ideal for a rustic style. A variety of weaving also fall in the chosen style direction. Soft flowing curls are another option for wedding styling, which is perfectly complemented by a floral wreath, woven ribbons. In makeup, it is worth observing the principles of naturalness: berry or coral lips, blush, wide natural eyebrows, slightly accentuated eyes.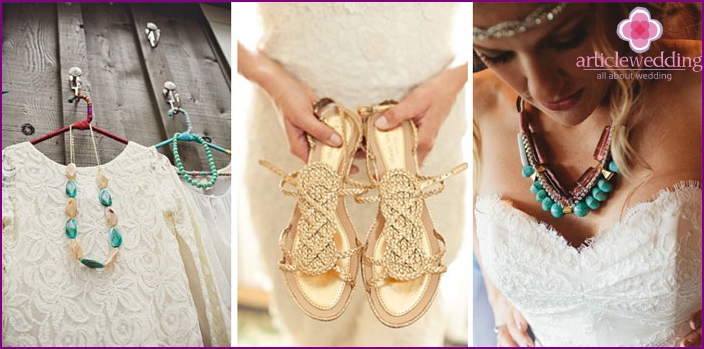 Photo of wedding dresses in rustic style
The main requirement of a rustic style for dresses is lightness, minimalism in decor, airiness, use of flowing fabrics. It will be perfectly complemented by accessories from your grandmother's chest. In general, a rustic wedding is the embodiment of unpretentious sophistication, which is expressed in all the details of the bride and groom. The appearance of the girl should inform those present about her tenderness, naturalness.