Contents
---
---
If among the whole wedding color scheme you turn your attention to coral, then you will instantly want to note how gentle, summer, airy and pleasant this shade will be. And then it becomes clear why more and more often brides choose this color for their own wedding attire. This is a very original and stylish option that can create and emphasize a romantic, feminine image of the bride. I wonder what this attractive color can be combined with and what accessories are appropriate to wear with such an evening toilet?
Variety of coral color wedding dresses
In fact, this color, which is associated with spring paints, has a huge variety of shades. Therefore, the variety among which the bride will choose her outfit will be able to match her personal preferences, taste and originality. Here are some good ideas for a dress in coral color that will look stunning as a wedding toilet: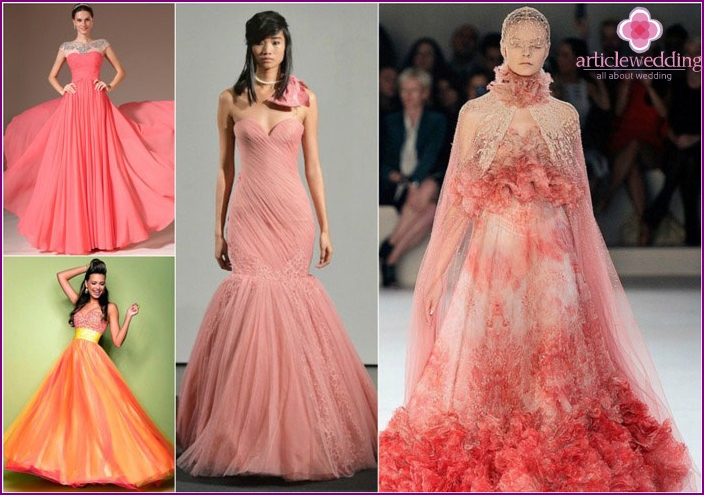 To create a delicate look, choose an outfit of such colors in pastel colors.
If you are a bright and outstanding personality, a rich fiery pink shade of wedding decoration can satisfy your original taste. He will give the exterior a special twist, highlighting you from the total mass of other brides.
The peach toilet of the bride in the Greek style will look great.
The image will be wonderful if you choose airy, flying fabrics for tailoring the bride's outfit in this color.
According to the color chart, tones such as delicate peach, pale pink or pink-orange belong to the selected shade. They will also look perfect on flawless dark skin, especially if you are an expressive brunette..
Wedding dress white with coral
If you are a more conservative girl in terms of what color the wedding dress should be, use the alternative option - use some coral details for a snow-white wedding dress. It will be a wonderful compromise of conservatism with originality, which will allow the bride to look as feminine, chaste and creative as possible. Below you will find some great ideas that show you how to use coral details in a white wedding dress: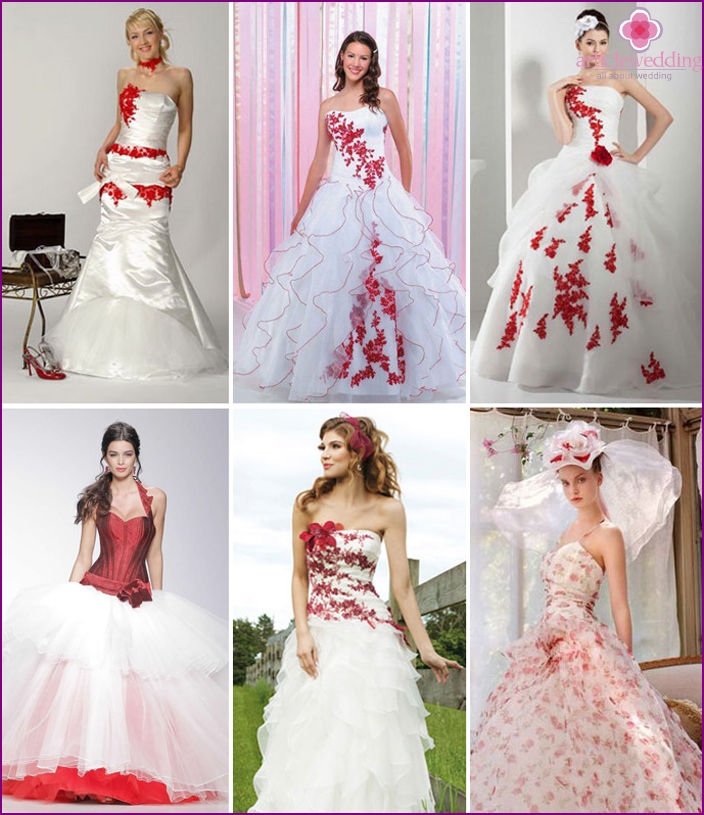 Try on a snow-white dress of A-silhouette with a delicate pink-orange belt at the waist, the ends of which will reach the very bottom.
A peach train of translucent chiffon sewn along the waistline will look rich. It will not be evident, but it will give a pleasant pinkish tint to the hem of a wedding dress.
The ombre effect looks insanely beautiful from the side (a gradual transition from one color to a completely different one). Use this idea with a combination of pale pink, peach and white.
Another great option is a white dress using coral shades. For example, a pastel-pink edging that goes along the bottom of the hem and along the top of the open corset.
What color accessories will fit a coral dress??
A woman should look perfect, and her image never looks complete if she did not use accessories. However, they should be chosen meaningfully, so that in the end there will be harmony. Many people doubt whether it is right to combine certain jewelry, what color they should be and in what quantity. To help you a few relevant tips that create fertile ground for choice: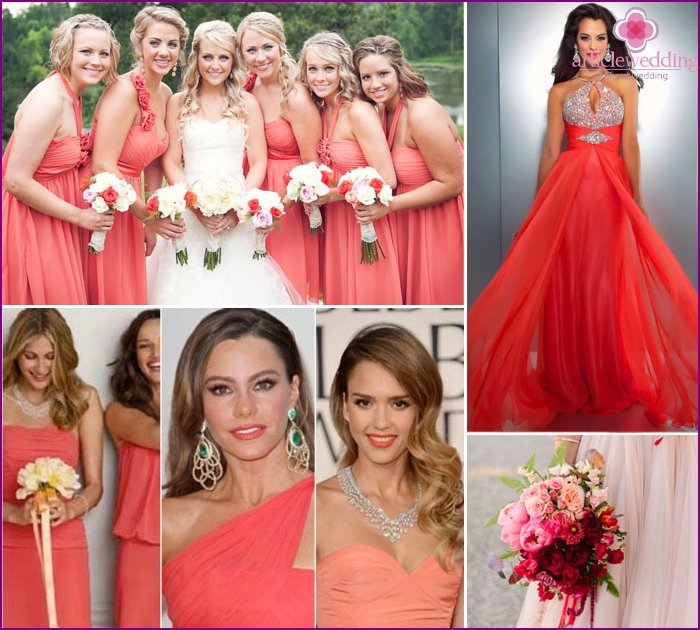 Black color perfectly shades any tone, and a delicate peach is no exception. Therefore, jewelry such as small black pearls will be very appropriate in your delicate look. Put on a thin thread, bracelet, laconic earrings - and your image will become more interesting.
Turquoise is another beautiful shade, the cold color type of which goes well with pale pink. Use a turquoise necklace or long earrings made of this stone.
The bride's bouquet is the same full accessory. Pay attention to how fresh flowers of a lemon tone will look appropriate and bright against the background of your wedding coral dress.
Traditional silver or gold jewelry can perfectly match the look of this warm color scheme..
Another important «accessory» - these are your eyes, the makeup of which can be matched to the dress of the chosen color, so use the recommendations by watching the following video:
Photo of wedding dresses in coral color
A variety of wedding dresses in delicate shades can make any bride change her conservative looks. Coral is able to pleasantly surprise in a sensual and gentle tone. He will give even more confidence that you are the queen of a wedding celebration, overshadowing everything around with its beauty. And in order to get inspired and see how stunning a wedding dress of this color can look, look at the photo below.