Contents
---
---
Today's wedding fashion offers brides a huge selection in a variety of dress colors. And the shade that they like will testify to a non-standard approach to the wedding celebration, courage and originality of the hero of the occasion. For example, beige color is a very noble tone, which has a large palette. Also, it is a sign of good taste, wealth and sophistication. In such a decoration, the future spouse will overshadow all the brides who are with you at the wedding ceremony.
What shade of beige to choose for a wedding dress?
The choice of the shade of the beige color should depend on the preferences of the bride, type of skin (for those who have too pale skin, beige may not be suitable), hair tone, season, wedding concept. A formal outfit in beige tones should not be striking in its richness, so many designers recommend choosing dresses in shades of pastel palette, for example, delicate peach, cocoa with milk, ivory. Check out the wedding dresses in this noble color scheme by watching the video:
Cocoa with milk
The bride is ideally suited for this color if she is a blonde or a fair-haired girl. The outfit favorably emphasizes tanned skin, therefore, for a wedding on the sea coast, evening attire in the shade of cocoa with milk will look especially good. Choose a puffy dress in a classic style or A-line, «fish», in the style of empire. To emphasize the girl's naturalness and tenderness, the fabric should be light.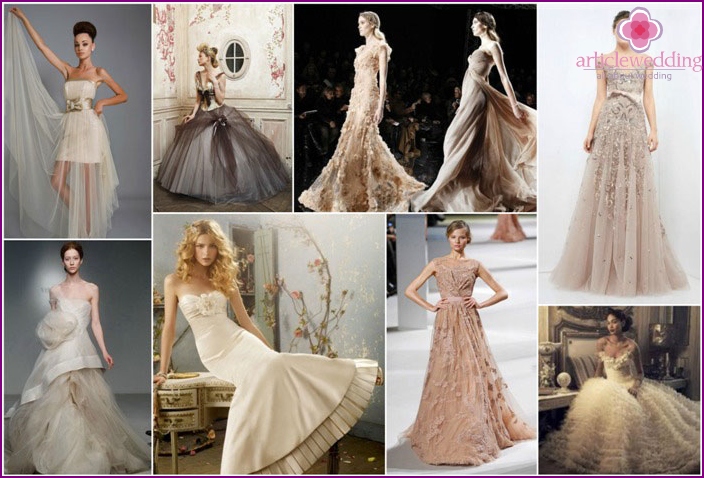 Tender peach
Natural blondes and brunettes with a fair face are ideal for a festive dress with a touch of delicate peach. In this color scheme, the wedding decoration with a full skirt and a long train looks great. The veil should be of the same tone, in several layers. Having chosen the decoration for the wedding in a pastel shade of a delicate peach, you will look especially cute, tender and romantic.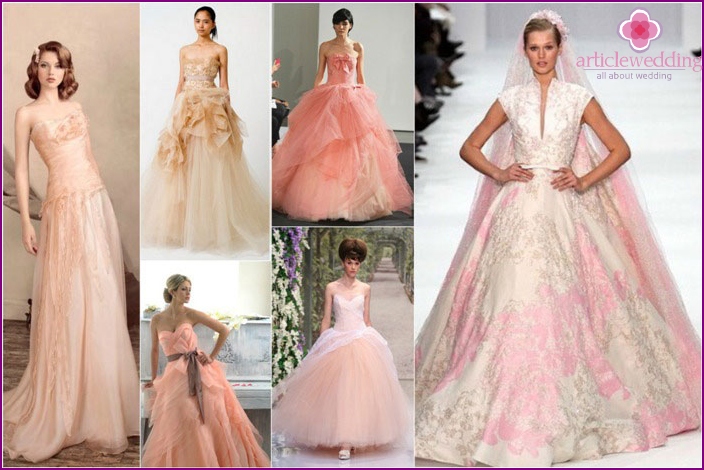 Splashes of champagne
Wedding Dress «splashes of champagne» It will be very appropriate for a grandiose celebration on a grand scale. Choose a ballroom style of clothing - this will make you not just a bride, but a real queen at your own wedding. For decor, beautiful accessories from silver or gold in the form of long earrings, a densely decorated necklace-scarf, an elegant bracelet are suitable.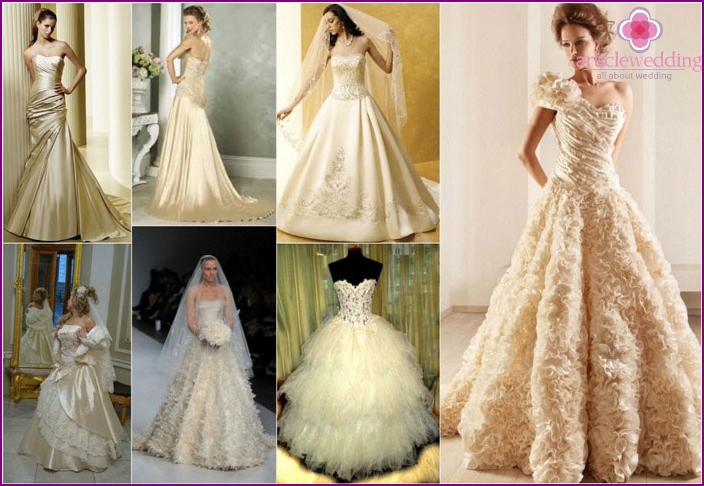 Ivory
The ivory wedding outfit will harmoniously look on a girl with dark skin and brown hair. This is a great choice if you get married in the summer. To get the perfect look, use details of a different contrasting shade, for example, a pastel olive belt and the same shoes. Select accessories either in tone or 1-2 tones darker than the original.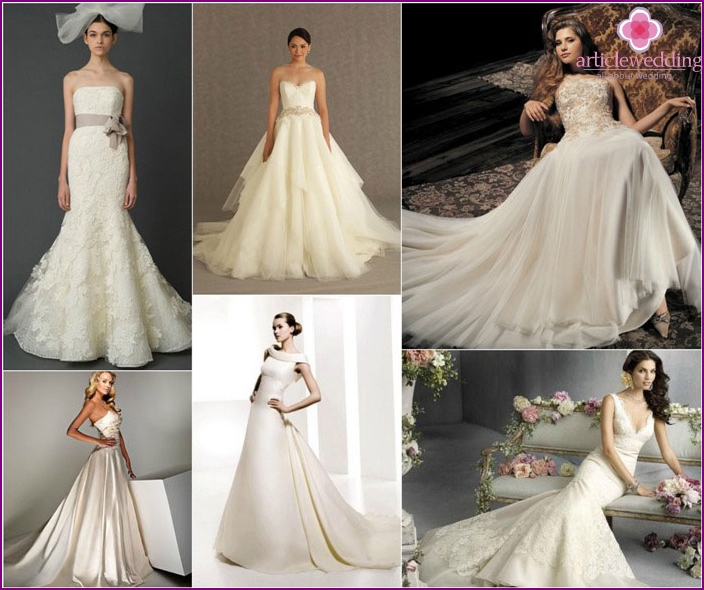 What shoes and accessories will suit a beige dress?
For the wedding decoration of a beige palette, silver or gold jewelry will always be appropriate, it all depends on the tone of the dress. Shoes you can choose from a different color scheme, the main condition is a combination with the main shade of beige. Add a few accessories to the hairstyle, for example, a pale pink flower that emphasizes your femininity, gives the image an exotic look. Here are some tips for choosing accessories for the solemn bride's outfit:
If the dress has a pinkish tone, choose accessories made of gold.
Is your robe closer to gray? Silver perfectly shades and emphasizes the originality of such an outfit. With this tone, lapis lazuli, amethyst, agate or ruby ​​looks appropriate.
With a purple and beige dress, you can experiment by wearing pastel purple shoes or pale pink.
Golden shoes will go well with the green and beige color of the festive attire..
Try wearing chocolate-colored shoes with a neutral beige outfit. Together with such shoes it's good to use additional details: a belt of the same color, a bride's bouquet, a buttonhole on the groom's jacket. Wear jewelry with diamonds, topazes, or use black pearls, corals or turquoise.
Choose shoes and accessories of light orange shades to complement the delicate peach decoration to complement the look..
The beige evening outfit looks amazing with light gray-blue shoes, bronze, red, bright orange or beige-purple.
The traditional white color, which fits literally any shade, can also be used when choosing holiday shoes..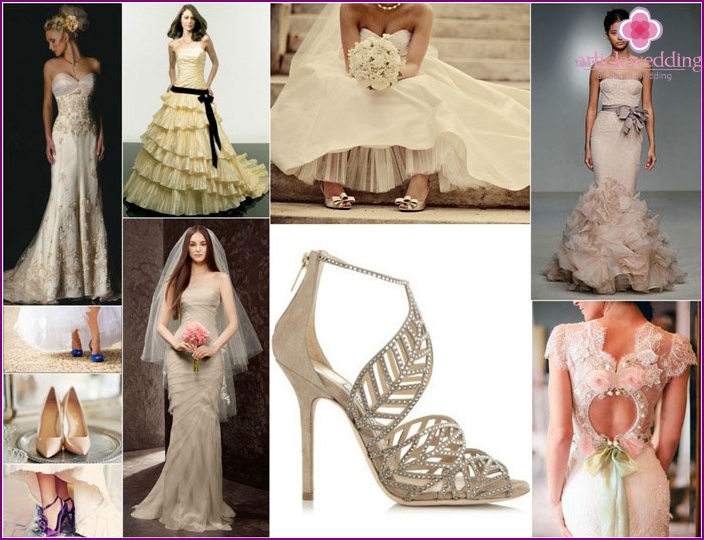 Photos of fashionable wedding dresses in beige 2016
Choosing a beige formal attire is a daunting task for a girl who is getting married. A lot of things should be taken into account: choose the appropriate color accessories, try on different images for yourself, do not miss a single detail. To be inspired by ideas, as well as visually obtain information on the combination of certain shades, look at the beige wedding dresses in the photo below.