Contents
---
---
Nowadays, with a wedding attire of an unusual cut and a non-standard color, you will not shock anyone - this has long been the norm. Brides choose bright shades of the outfit to emphasize their beauty and the theme of the design of the wedding. A green wedding dress occupies a special place among the other colors. It not only characterizes the main character of the celebration as an intellectual girl, constant in her positions, but also looks gorgeous. In many countries, this color represents wealth, luck, which will not hinder the newlyweds for their further life together..
Options for wedding dresses in green shades
Green has many shades - each bride will be able to choose a perfect tone for her eye color, hair tone, especially facial features. So if:
The bride is a brunette with skin that is able to quickly sunbathe with dark eyes, she will face a white decoration with inserts and accessories of a shade of mint or any other cool tone of green.
Newlywed - blonde with golden hair, warm complexion, bright eyes, a pastel dress of light green or pale pistachio shade is suitable for her.
The heroine of the wedding is a redhead with freckles, she will face a product of any tone of greenery, but most of all - olive, malachite.
The future spouse is a brown-haired woman with blue or gray eyes, a bright face, a robe of the color of freshly cut grass, fern or lime shade is suitable for her.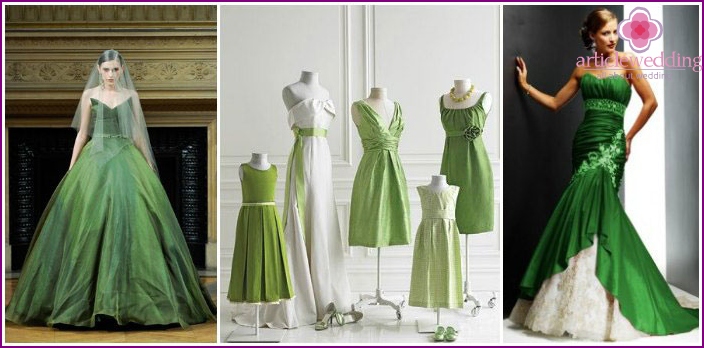 Malachite
The color range from bright salad to deep dark green is called malachite. A dress of this color on the newlywed looks very impressive, expressive. Such a robe is perfect for blondes and redheads, it goes well with stones and jewelry of a different nature. This color is ideal for dresses with a tight and straight style, the fabric of which can be both dense and airy. A malachite outfit is a great option for a wedding at any time of the year (but preferably in the spring).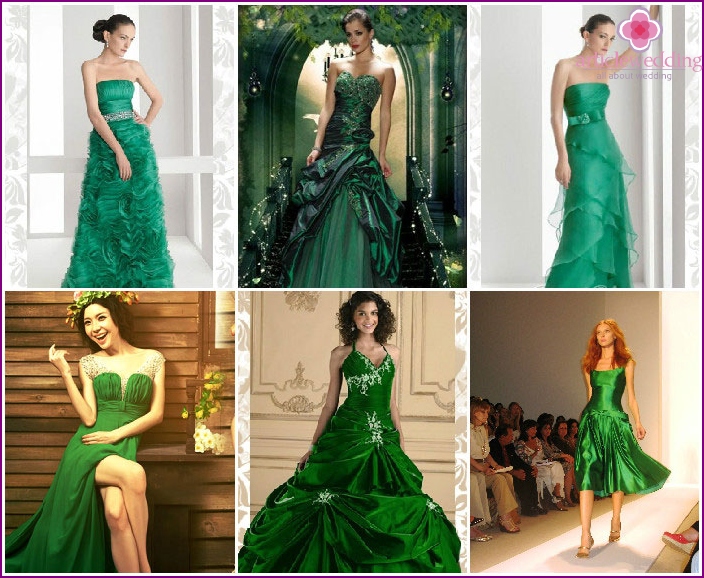 Mint
A cold pastel green tone is a mint color. It looks fresh and light, or muffled and dark, depending on the tone of related accessories. Well suited to the bride with dark brown, black hair, make her look unusual, aristocratic. A great choice for a winter wedding. The proximity of the shade with dark turquoise makes it appropriate for a wedding celebration in a marine style. Mint tone is successfully implemented in dresses with a full skirt.

Green apple color
An expressive salad shade is the color of a green apple. It is moderately light, only slightly colors the wedding dress. Ideal for a bride who wants to simultaneously emphasize the thematic direction of the celebration in her own way and remain faithful to the classics. A rich salad color is good for a summer wedding in a natural style, goes well with a floral wreath on the bride's head and other rustic elements.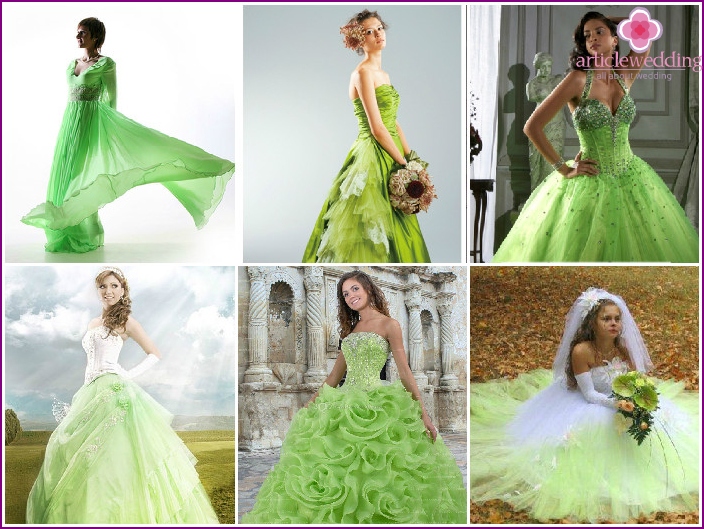 Fern color
The shade of fern is the rich green color of pastel colors. In the dress of the bride he looks expressive, well suited for celebrating an autumn wedding (or summer, in a wooded area). The tone of fern is in harmony with accessories of dark green shades. The bride can use this color scheme to create a charming, magnetic and bewitching image of a forest nymph, for example, at an eco-wedding.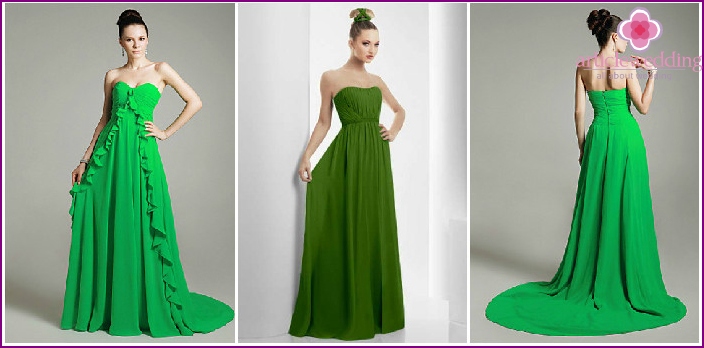 What shoes and accessories fit a green dress?
Green wedding dresses of the bride are expressive in themselves, they do not need to be supplemented with too conspicuous accessories, especially the same color scheme. In combination with outfits of this color will be appropriate:
Earrings are small, rounded, with emeralds cut and not. Depending on the tone of the dress, malachite or any other stone of a similar color may be suitable.
A bouquet interspersed with bright colors, the nature of which depends on the tonality of the dress. If it is saturated, dark, flowers of all shades of red are suitable, if light - beige, pastel pink. The abundance of leaves in such a composition is not always justified.
The headpiece can be anything: a wreath, flowers in the hair, a diadem, a ribbon, a hoop, a bow.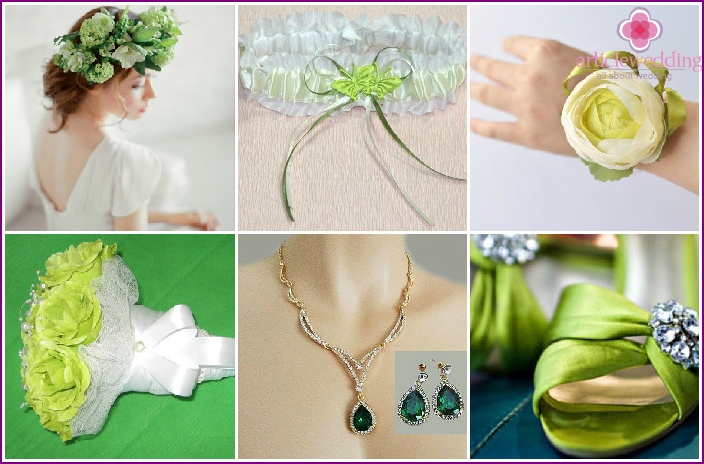 Necklaces, rings, bracelets - always to match the dress. If the outfit is dark green, expressive, massive jewelry will do, if the image is in bright colors (green apple, light green, pale green), a faint golden pendant on a chain will fit perfectly. When using massive or noticeable earrings, the bracelet on the hand and the ring should be in tone with it. You can find out the basic rules for selecting accessories for outfits of green color by watching the video below.
Wedding dresses with green elements
If the wedding is decorated in a natural style or in the color scheme of greenery, the newlywed does not have to choose a dress of the same color. Only one or more green elements can be included in an image. A bow, belt, ruffles or fabric insert are suitable. Such an outfit will look classic, but will acquire a special personality, extraordinary and charm..
Belt
The green belt will look good paired with dresses of varying degrees of pomp. However, if the outfit has a domed skirt with rings, you can not use a long braid, the ends of which hang down. This visually shortens the growth of the bride and distracts attention from the shape of the dress. The ideal option is a ribbon of the correct geometric shape, as well as products containing embroidery (including beads, stones), lace. If the outfit is tight-fitting, straight cut, with a train, the use of a long belt is allowed, in this case a wide belt of ob.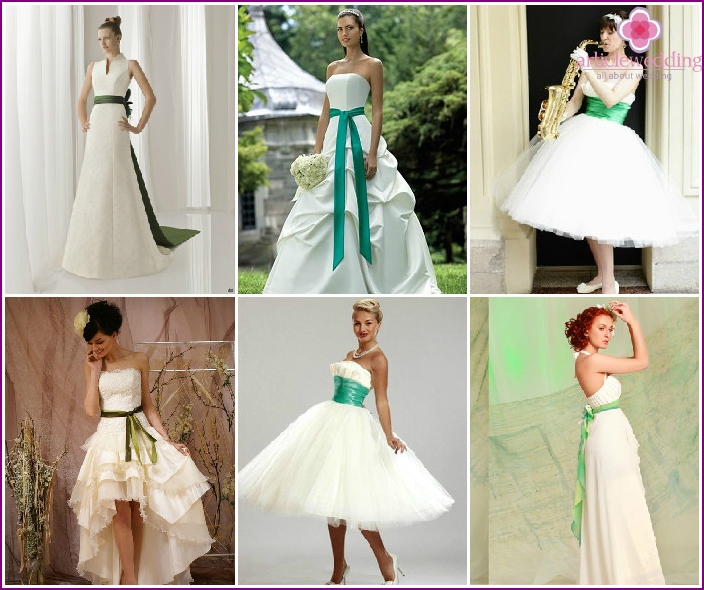 Bow
The ribbon can be tied to a bow in front and behind the dress at the waist, often the ends of the ribbon are left hanging down the hem. This belt configuration is ideal for long straight-cut wedding gowns. Bows can be attached to a skirt, corset or neckline, they are perfectly complemented by a hoop, various accessories, a bouquet, green color shoes.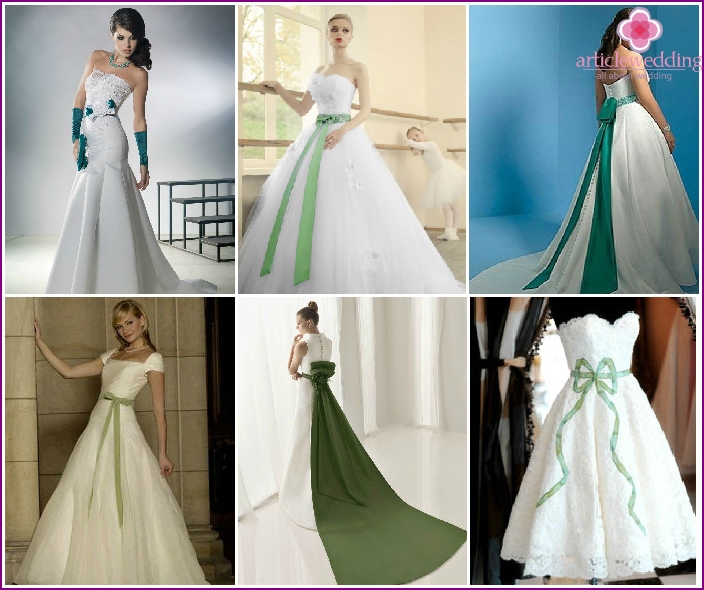 Shuttlecocks and ruffles
The bride's wedding dresses are partially white, with green accents. These can be parts of the hem, corset, stripes on the top of the product, shuttlecocks, ruffles. They are perfect for girls who love unusual, extravagant forms, original solutions to classic clothes. Such products go well with hats, elegant white or emerald nets, a short hem and a tight fit.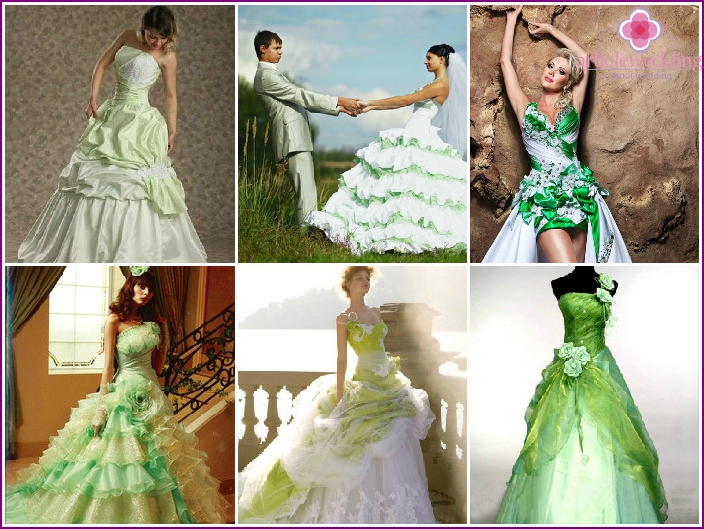 Photo of white-green wedding dresses 2016
White-green dresses occupy confident positions in the trends of wedding fashion in 2016. They demonstrate an elegant, unusual combination of the classic image of the bride with modern extravagant (color) solutions. To see how rich is the variety of configurations of green and white in holiday models of bridesmaid dresses, the photo selection below will help you.