Contents
---
---
If past generations of brides knew what kind of variety of wedding colored dresses their descendants would have, then they probably would not have believed it. However, over time, tastes, attitudes, trends change, and wedding fashion also does not stand still. Therefore, modern girls have the opportunity to choose not only white, but also colored wedding dresses for their own wedding, without even considering the styles of wedding dresses. It is proved that not only white color can act as a symbol of chastity and girlish tenderness!
Fashionable colors and shades of a wedding dress
Increasingly, modern wedding fashion is departing from the established traditions of a snow-white wedding toilet, preferring color options. Some shades are more in demand, others less. However, as a rule, it all depends on the preferences of the hero of the occasion, her tastes, the general concept of the wedding. Sometimes it's important to emphasize only something with colored details, for example, colored ribbon or trim, and sometimes the bride chooses a plain pastel-colored evening toilet. Let's consider in more detail colored wedding dresses.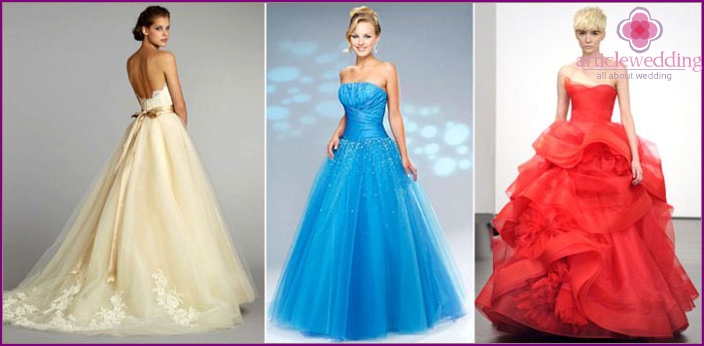 Red wedding dresses
The red color for your own wedding will be chosen by a girl with a passionate nature, who loves everything bright, beautiful, attracting attention. Moreover, this shade symbolizes wealth, true happy love, therefore, its presence at the celebration will be on time as well as possible. However, not all girls may like the catchiness of a bright scarlet wedding dress, then other shades of red will be appropriate - pastel coral, burgundy, wine red, etc. And in order to enjoy the variety of red wedding dresses, their styles, watch the video:
Blue wedding dresses
Blue is the color of devotion, fidelity, which is associated with lightness, freedom and serenity. The image of the bride will be tender if she wears a blue wedding dress on her own wedding day. Such a choice will turn out to be impeccable if the season of your solemn painting is a hot summer, because anyone who looks at you will think that the bride radiates paradise coolness, invigorating freshness and purity. Among the blue shades you will find insanely beautiful exotic colors, better known as frosty, mint, bright turquoise, azure, sky.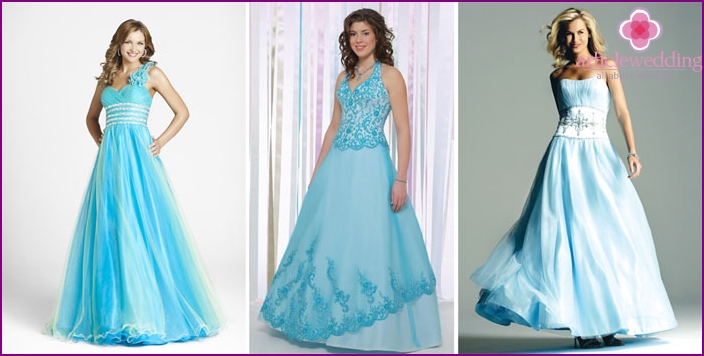 Pink wedding dresses
A dreamy pink hue is one of the most popular colors among most newlyweds. Girls strive to emphasize their beauty in a girlish fragile way that creates this tone. If your skin color type refers to a darker one, then a soft pink, pastel or peach tone of the fabric can favorably emphasize all the advantages of your appearance.
This option is good for those girls who prefer not to experiment with the color of the wedding dress, so as not to recede from the chaste image of the bride. Among the pink gamut of wedding dresses, you will find a considerable selection of interesting options, for example, pastel pink, orange-pink, peach, bright pink, coral, etc..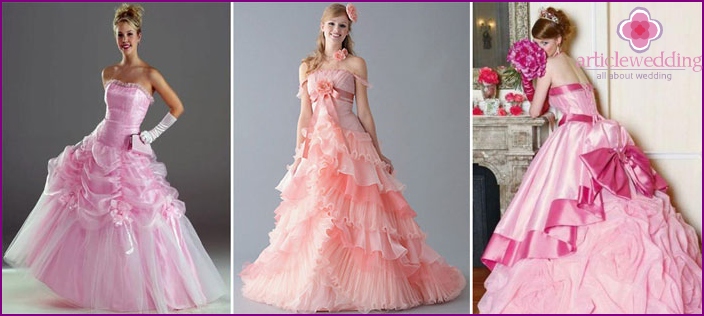 Green wedding dresses
If you are madly in love with spring, then green for your color wedding dress will be a great choice. This color is rightfully considered a symbol of prosperity and prosperity, it is able to break down absolutely all the stereotypes of what the image of the bride should be. Think about what shade of green you like: bright emerald, pastel pistachio, delicate salad or the juicy color of grass.
Sew a bridal toilet in this color scheme, using the Greek style with flying, airy, breathing fabrics (chiffon, silk). Such an image will look great on full girls, delicately hiding all the flaws of the figure. This style is ideal for pregnant brides, symbolizing the beginning of the birth of a new family, a new life.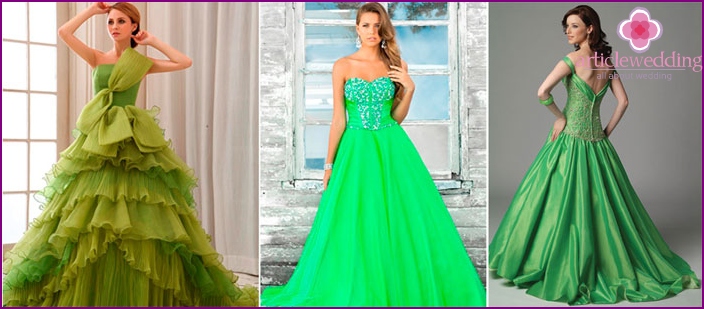 Lilac Wedding Dresses
Another fashionable shade of wedding decoration is the lilac color. You may be surprised how diverse this shade is when playing beautifully in the sunlight. If you are a burning brunette, then such a choice will favorably emphasize your bright appearance. The lilac tone will look noble at you, creating a mysterious and unforgettable image. It goes well with the snow-white snow in the winter, so the photos that you get after the photo shoot will give you a separate aesthetic pleasure from such a masterpiece outfit.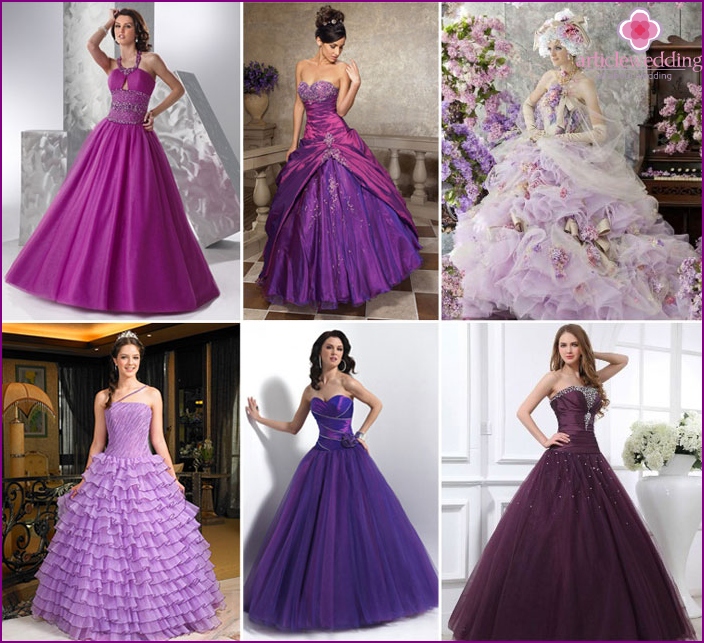 Purple wedding dresses
If your choice fell on a purple wedding toilet, then you are clearly a seductive, extravagant person, with a subtle note of fragility and tenderness in character. This shade symbolizes secret desires, love, femininity. To look perfect, choose the original styles with fluffy skirts made of feathers with an ombre effect or an elegant tight silhouette «Fish» with open strapless bodice. On your wedding day, have an unforgettable photo session for the bride and groom at sunset - and you will see how the purple dress plays beautifully in the reddish rays of the setting sun.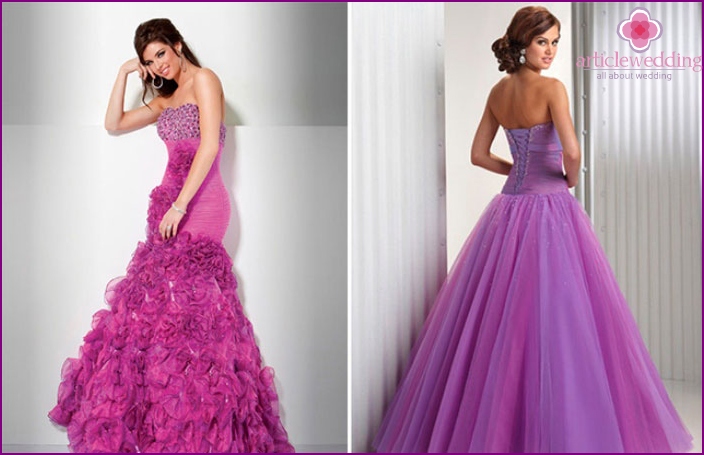 White wedding dresses with colored elements
Colored wedding dresses do not have to be monotonous. You can successfully combine the traditional white color of the wedding decoration with various elements of other shades, for example: a color belt with a bow, inserts, trim, etc. There are many interesting ideas on how to easily and elegantly beat an ordinary white wedding decoration with an additional original color..
With color ribbon
A color ribbon often emphasizes the waist of a snow-white dress of the bride or lace up a corset. This element of the outfit can have long tails that are beautifully laid out on the flowing plume of a wedding toilet. With a ribbon of the same color, a girl's hairstyle or bouquet can be decorated. Such a very concise idea is able to give your image a sophisticated style that draws attention to detail..
With color accents and trim
A white bride dress with colored lace trim looks beautiful. Such an image from the outside looks extraordinary and tender at the same time. Sometimes transformer inserts (removable parts) from a completely different fabric in texture, color are used. Designers like to decorate the bottom of the dress with these elements (forming a edging of a different color), bodice, sleeves or use a train in contrasting colors. All kinds of fabric flowers of other shades (they can be small or huge sizes for the whole skirt) also look expressively against the background of the traditional wedding color of the dress.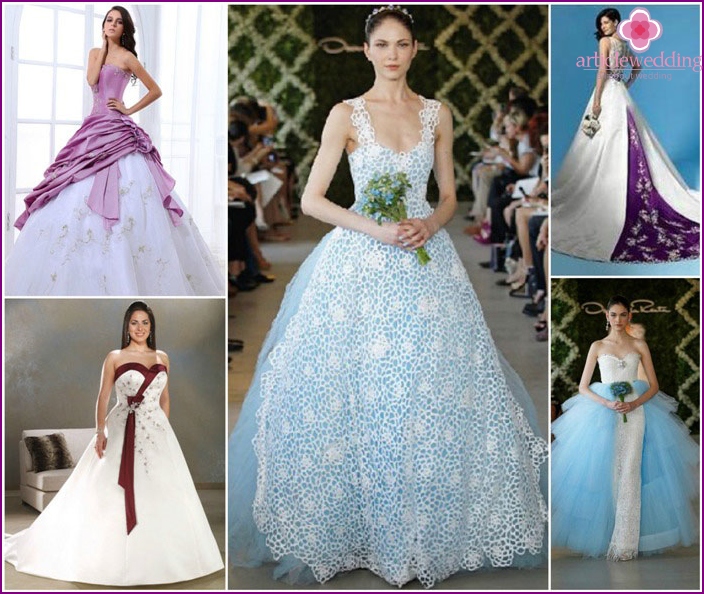 With color belt
In order to highlight the newlyweds' aspen waist, it became fashionable to wear a wedding outfit with a colored belt. This additionally gives a slightly austere style to the image of the bride, emphasizing all the advantages of her figure. The choice of color belt can be absolutely diverse - from delicate peach or lavender to unexpected black or brown.
This element is used not only to give additional beauty along with the bride, it helps to fit into the general theme of the wedding, corresponding to its color concept. Often, a colored belt is used as a separate accessory, so it can be easily removed, immediately returning you to a plain white image of the bride.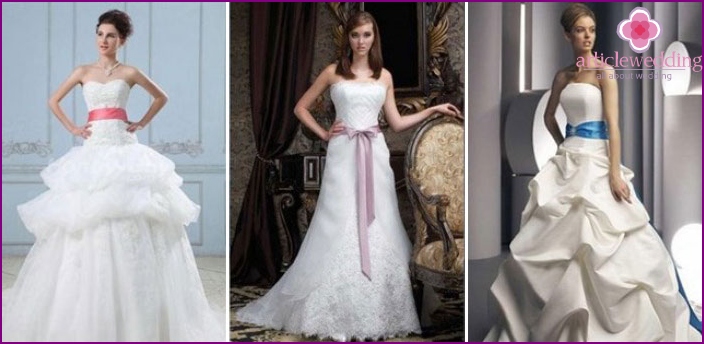 With color bow
The next no less original version of the usual wedding toilet is colored bows on the snow-white background of the dress. They can be used both in the singular, decorating the hem of the bride's outfit with their enormous size, and in a large number, being randomly scattered throughout the decoration. A lush colored bow looks beautiful from the back, if it is tied correctly in the waist: release the ends down so that they fall on the bride's train.
Laconic colored bow of a small size in the center of the waist will be preferred by fans of the Tiffany or Audrey Hepburn style. This wonderful idea is designed to create a retro image, and return to the romantic 50s - 60s. This option of a wedding dress is able to emphasize the impeccable laconic taste of the bride, saturated with femininity, elegance and beauty..
How to complement a colored dress of the bride?
In order to diversify and complement the dress, any self-respecting bride will prefer beautiful accessories that will complete her perfect look. However, the main task is the correct combination of the shade of the dress with one or another decoration. So, it is important to remember that you can not combine warm and cold tones. If you like turquoise stone, then it will be appropriate to use it together with a coral or pink dress. Here are some more relevant tips that will come in handy for you in such a difficult task:
Complete your outfit with a miniature veil to match your wedding toilet. If the dress is white, then the veil is used in contrast, and shoes and a bouquet are selected to match it.
Use massive neutral silver earrings on the shoulders. You do not need additional accessories.
If the wedding image is red, then choose neutral shoes (beige, ivory, light green and other).
Use the invariable attribute of a wedding as a bride's bouquet as a contrasting bright accent. Use pastel colors of fresh flowers to nobly complement your outfit. Tie a long ribbon on the legs of the bouquet, duplicating the shape, length and color of the belt.
Photo of colored wedding dresses 2016
To select your own combination of colors, it's not enough just to browse photos of multi-colored or white models of wedding clothes. Given your color type, complexion, height, hair color, you can easily pick up one of the impressive color dresses that designers offer in 2016. See photos, dream, fantasize and choose! Be in trend!