Contents
---
---
Modern fashion designers offer the widest selection of wedding dresses of various styles, colors and styles. Such a rich assortment gives each bride the opportunity to find the perfect style for herself. Closed wedding dress, according to many girls, does not look modern. This common misconception significantly narrows the range of choices for holiday dresses. Nowadays, many eminent couturiers offer stylish dresses of closed styles, giving the image femininity, mystery..
Closed Toe Wedding Dresses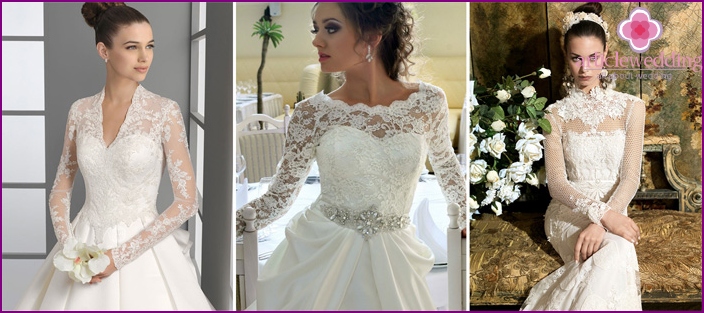 From time immemorial, women's outfits allowed girls to charm men only with a glance. If, inadvertently, a shoulder was peeking out from under the lace fabric or an ankle showed playfully, the man went crazy. When all the beauty of the female body is displayed, the representatives of the stronger sex do not have any riddles left, the opportunity to slightly warm up their interest by connecting the imagination.
Festive long-sleeved attire is perfect for girls whose wedding ceremony is scheduled for the cold season, for example, for the winter. Many brides prefer closed styles, which help to successfully hide existing skin defects in certain places. Some choose modest wedding models for religious reasons, for example, if the newlyweds are going to get married in a church, where the bride's appearance is very strict. Which robe to choose?
Lush with a closed neckline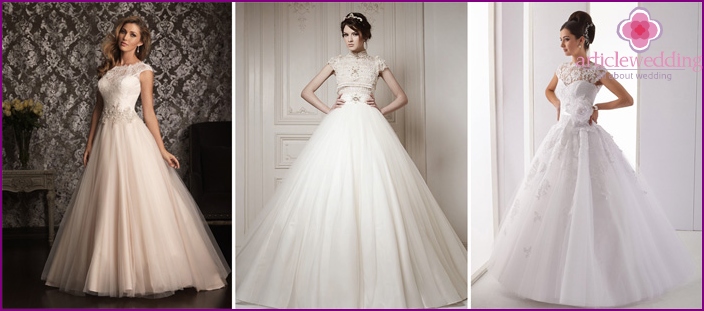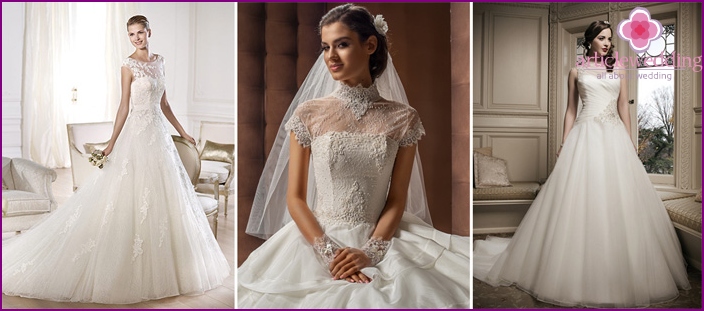 The closed neckline is perfect for a discreet feminine look. Such a style will emphasize the meekness, charming innocence of its owner. In addition, at the wedding ceremony, a deep neckline may not be appropriate at all. The neckline area is closed by a translucent or lace fabric insert - an effective part of the festive toilet, moderately restrained and at the same time seductive.
Short dress with a closed neck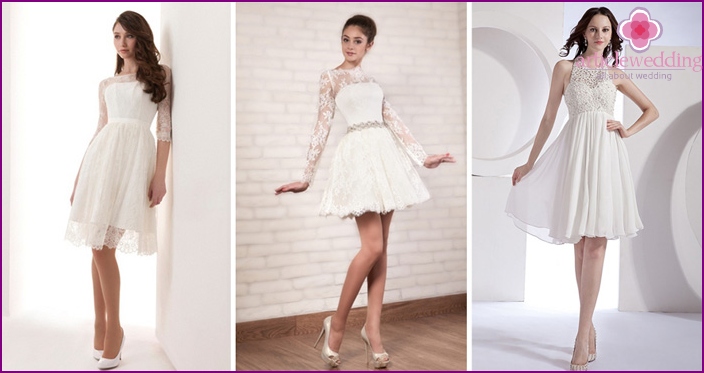 Happy owners of slender beautiful legs should pay attention to the short styles of wedding dresses. If you want to give preference along with a skirt to the knee, choose models with a closed neckline and neck. Such an option would be appropriate for such a significant celebration. The short length will be advantageously compensated by the closure of the bodice, while the bride will not look vulgar at the same time.
A-line silhouette with a closed back and shoulders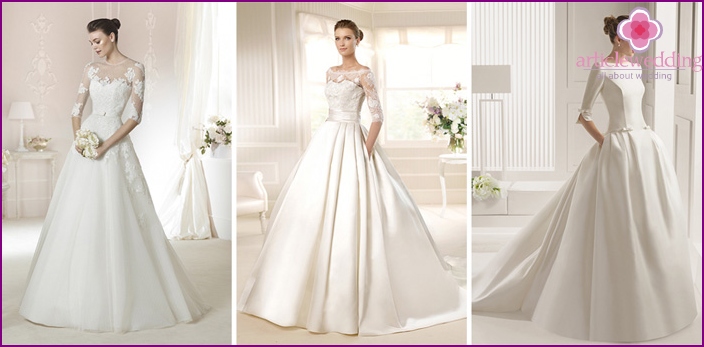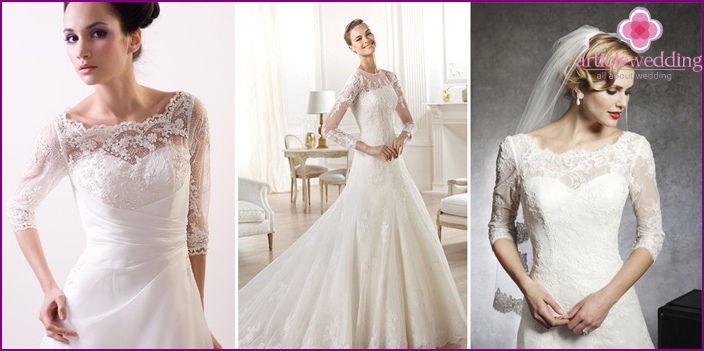 The traditional A-silhouette of the festive dress, complemented by closed shoulders and back - the top of refined elegance, an indicator of the bride's great taste. The bodice and corset can be made of translucent light fabric, decorated with stones, rhinestones or lace inserts. This option of a wedding dress looks incredibly impressive, seductive..
Slim Long Sleeve Lace Dress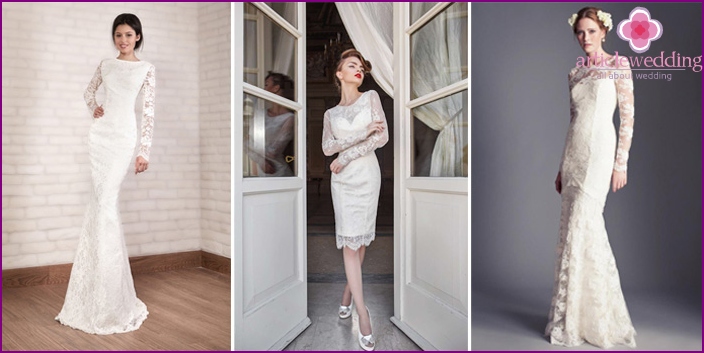 Closed wedding dresses made of translucent lace fabric look no less seductive than styles with a deep neckline. A fitted model with a long sleeve is an ideal choice for the owner of a slim, beautiful figure. A narrow lace outfit can have three quarter sleeves. This wedding dress is complemented by long gloves that give the image of aristocracy.
Options for closed dresses for pregnant brides
The modest styles of wedding dresses, which many might have seemed prim or too boring, have again gained popularity with stylish modern brides. A closed-top evening gown is a great option for a expectant mother. Modern designers offer a wide variety of dresses for brides in an interesting position.
The dress with a closed back is perfect for an official wedding ceremony. Discreet and elegant, such an outfit will not only give the image of femininity, but also favorably emphasize the protruding tummy, and light flared sleeves will not hamper movements and thereby cause discomfort to the expectant mother. Airy angel-like style will suit a meek romantic nature.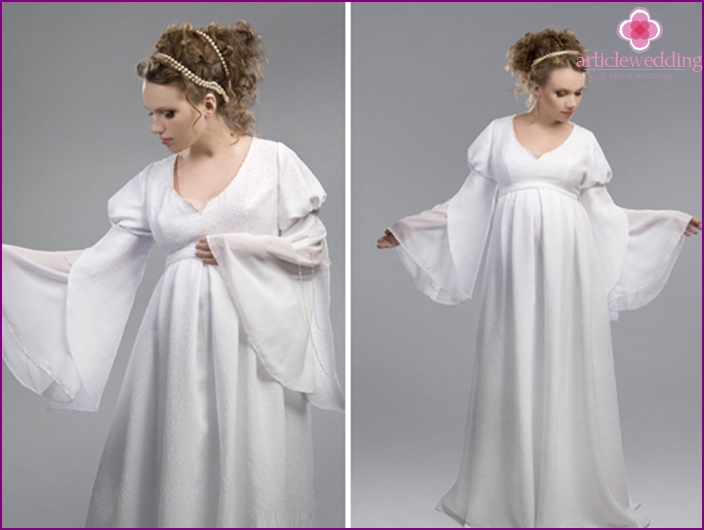 A wedding toilet with a closed neckline is a great choice for a girl expecting a baby. Often the breast during pregnancy increases by several sizes, so a dress with a deep neckline can look ridiculous, inappropriate on the wedding day. A wedding outfit with an elegant lace top and long sleeves made of guipure will make the holiday look moderately modest, but at the same time spectacular.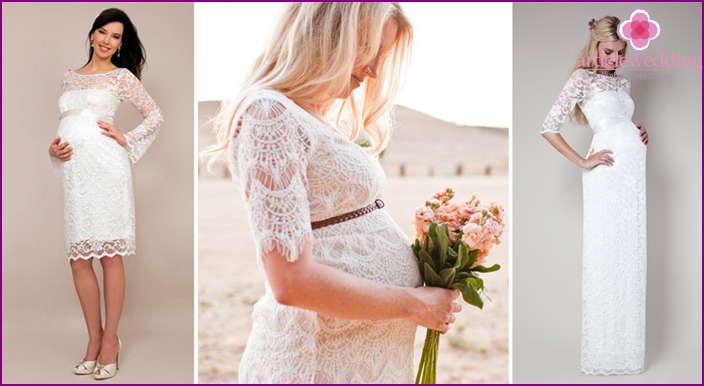 Many models of maternity wedding dresses require long sleeves. A light flowing dress that does not constrain movements, which is extremely important for the bride in position, will emphasize the romantic image, make it incredibly feminine, charming. Flying sleeves made of light translucent fabric will be a spectacular addition, «zest» wedding dress, which, by the way, is perfect for a full bride.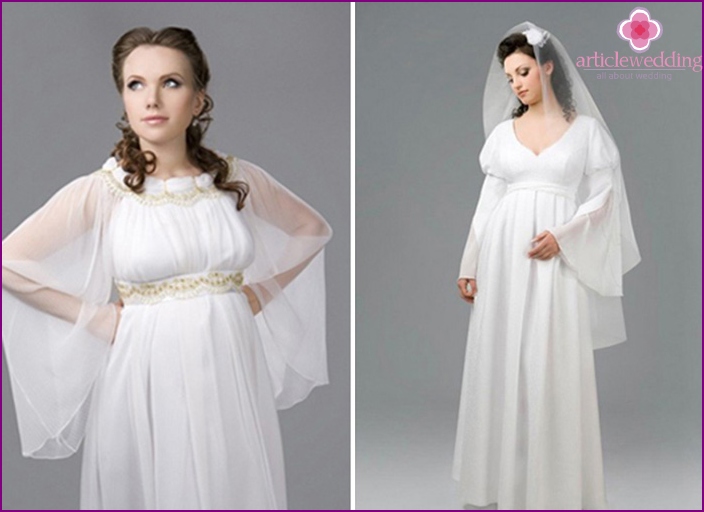 If a girl wants to cover her shoulders on her wedding day, she does not have to choose a style with long sleeves. A neat elegant bolero is a great option just for this occasion. A stylish set-transformer, consisting of a wedding dress and a short cape with sleeves, will make the image refined and elegant, emphasize the wonderful taste of its owner. If at the wedding, which takes place in the summer, the bride becomes hot, she can always take off the bolero.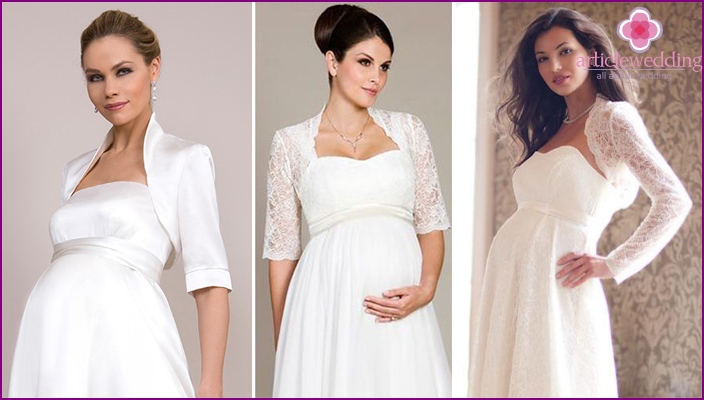 A charming model of a wedding dress with shoulders is a great choice for a girl who wants to give the image of children's innocence, a wonderful charm. Incredibly sweet and delicate, this dress is suitable for a romantic, feminine bride. The modest, restrained style of this closed wedding attire subtly emphasizes the touching nature of the amazing period of pregnancy..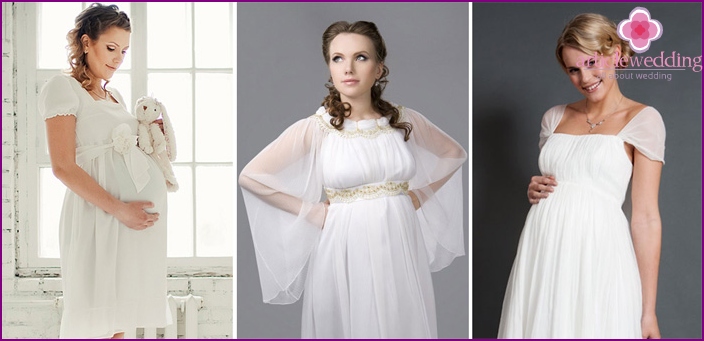 Closed Wedding Dress Hairstyles Ideas
A closed wedding attire is the choice of a modern stylish girl who is not afraid to seem too modest or prim. Confident young ladies boldly give preference to such styles, as they well know the full power of elegant modesty, seductive mystery. The bride should be especially careful when choosing a hairstyle for a dress with a closed back, neckline or sleeves..
To emphasize the classic elegance of the festive toilet with a closed top, stylists advise to put long hair in a strict bun. The hairstyle is complemented by a veil, giving the image of a beautiful bride majesty and solemnity. This is a traditional wedding dress for a girl dressed in a discreet closed outfit.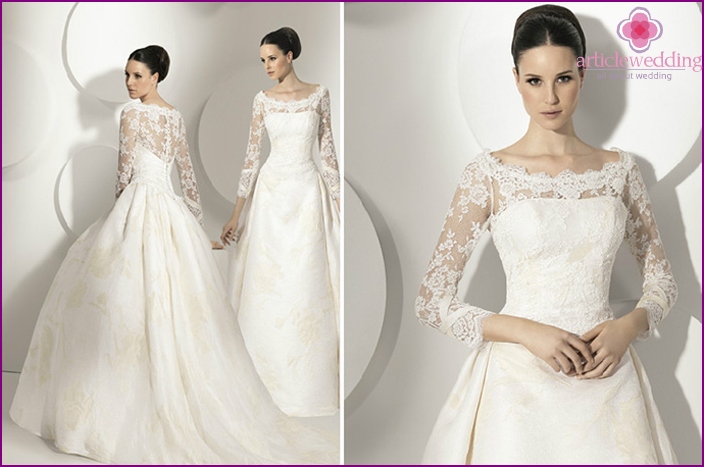 Asymmetrically pulled back hair with a soft wave of bangs on the face will make the image more seductive, playful. This styling option is perfect for a dress with a closed neckline. Unlike a strict ghoul, this hairstyle adds femininity to the bride. At the same time, the styling does not distract attention from the wedding attire of the newlywed.

If the hero of the occasion has short hair to the shoulders, a neat, stylish styling with feminine curls is suitable. With such a hairstyle, a small ladies hat or an elegant veil will look especially impressive - an unchanging attribute of a lady in the style of the 30s. The bride in a closed dress with a similar styling will look elegant, incredibly seductive.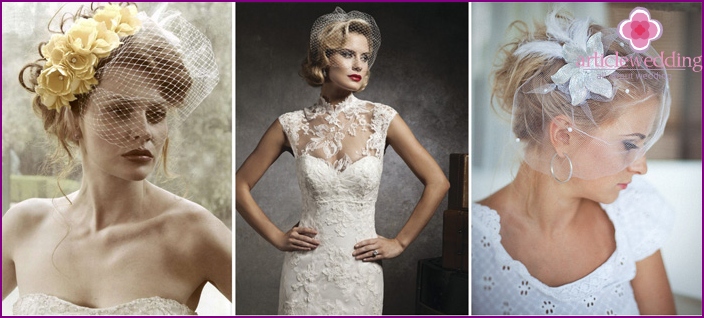 Another option for a closed wedding outfit is loose hair. Today, modern fashion designers prefer a game of contrasts, offering to combine freely falling strands with a strict wedding robe with a closed top. The decision is bold, however, if you correctly approach its implementation, it will turn out to create a truly stylish image of a modern bride. The main thing is that the hair is as well-groomed, neat.
Slightly careless styling, decorated with a luxurious hairpin with sparkling stones or rhinestones, is perfect for a lace closed dress. In fact, this is still the same game in contrasts, only in a slightly different interpretation. In this case, the hair is a little disheveled, carelessly put in a bun or braid, decorated with a spectacular decorative accessory.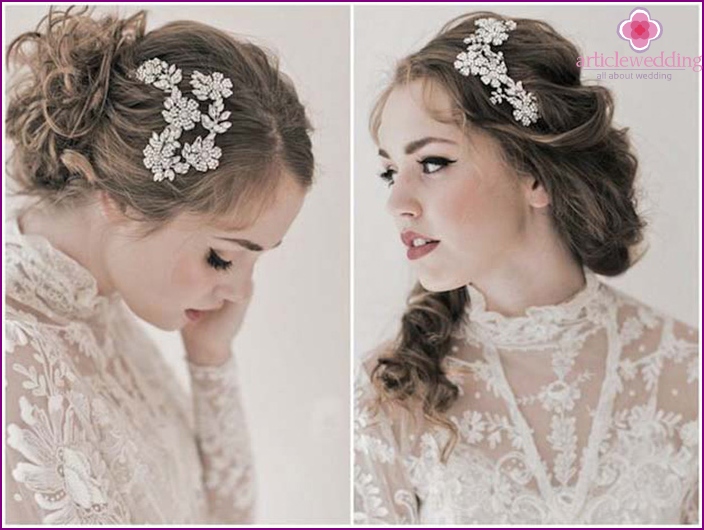 Photos of closed wedding dresses 2016
Many brides mistakenly assume that an open wedding dress will make them more beautiful, more seductive. In fact, only a moderately restrained closed outfit with correctly placed accents can emphasize the feminine charm of its owner, arouse interest and arouse imagination in a man. Styles with covered arms, shoulders, neckline or back again at the peak of popularity.