Contents
---
---
Although monochrome white wedding dresses are still favorites, fashion houses have offered brides marry in contrasting colors for the past few years. Wedding designers annually include in their collections white wedding dresses with a black belt, which reflects two trends at once: an emphasis on the waist and a spectacular tandem of black and white colors. Such an outfit will turn any girl into a creative bride with charm, and make guests remember her wedding for a long time as an extraordinary event.
Models of wedding dresses with a black belt
The combination of a white (or pastel) dress and a black accent is an ideal option for brides who want to get away from the banal total white, but do not run the risk of going to the other extreme by choosing a dress of bright color. White outfit with a black belt will allow you to observe the tradition «married - in white», but it doesn't look boring. This detail will solve the problem of color accent in the design of the wedding. In addition, a well-chosen black belt will correct some of the flaws of the figure without additional effort..
Girls who prefer a dress with a dark accent need to know a few rules. A bright belt automatically attracts attention from the whole image, so it must be selected flawlessly. Accessories, a bouquet and even shoes can play along with him. The main thing is to maintain a balance of colors, otherwise a white-black dress will easily turn into black and white. Many designers advise supporting the belt with other dark details: gloves, dress embroidery, hemline or neckline.
The combination of a white and black outfit with colored details is an interesting and justified experiment. If you add another contrasting tone, you get a bold mix that will give the bride dynamism. Red (especially in makeup or manicure) or blue works well here, but not every girl will choose this combination. Try replacing white with pastel colors (blue, milky). On such a dress, the black belt will not lose contrast, and the elegant soft shade will add unusual notes to the image.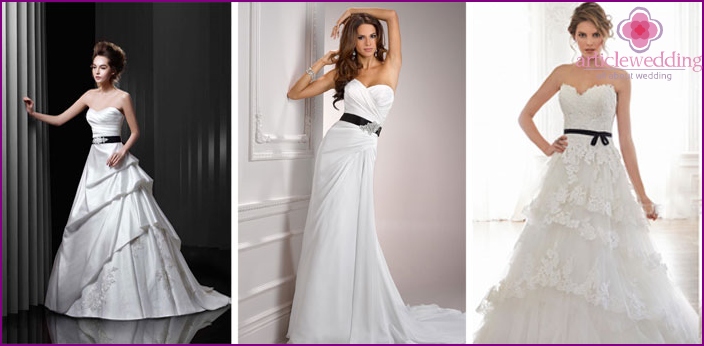 The bride's bouquet is another opportunity to play with shades and support the color scheme of the wedding dress. A combination of white and very dark colors looks original and at the same time luxurious. If such a bold decision does not fit, add a small dark decoration (ribbon, beads or feathers) to the light bouquet. If you do not have experience in a successful combination of related-contrasting colors, entrust this matter to the stylist..
Equally important when choosing a light wedding dress with a black belt are the features of the figure. A beautiful bright belt can both emphasize and distort proportions. Here you need to consider the model, color of the dress, materials, decor of the entire outfit. Be sure to experiment before the wedding, try on different options and eliminate compromises (when the dress visually really likes, but does not go or there is some discomfort). What styles with a belt are suitable for a particular figure?
With a wide or narrow belt under the chest
For girls with a disproportionate figure, a bright ribbon under the chest (in style «Empire» or direct model). Raising the waistline, this part visually aligns the proportions and adds centimeters. The wedding dress with a fluffy skirt that starts right under the chest, separated by a black ribbon, looks unusual. This model is optimal for brides of medium height or in position. It is better to refuse to short and full girls from a magnificent skirt with an emphasized high waist.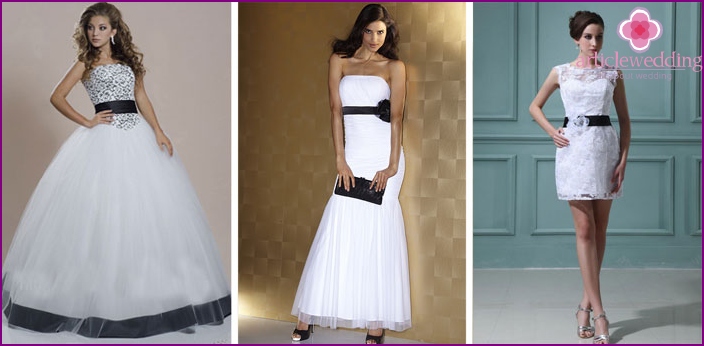 With a satin bow located at the waist
A large black bow at the waist is perfect for the model's wedding dress «Princess» (with a volumetric skirt expanding downward). The wide satin folds of such an ornament will support the layering of a magnificent outfit. An option for courageous brides with long legs is a voluminous bow on the thigh line. The waist line lowered in this case, underlined by a belt, emphasizes the buttocks as well. For a straight and tight-fitting style, a small bow with neat folds or an asymmetric composition is suitable.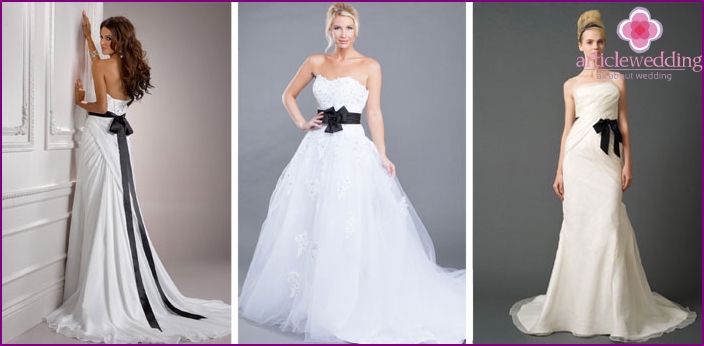 With a black belt turning into a train
This option is suitable for dresses with a straight skirt. A loop belt will add piquancy, and as a material for it fit smooth fabrics such as satin or light transparent chiffon. A bow or brooch attached to the front or side will fit a smooth thin long belt. In this case, you need to be careful with the decor so that there is no congestion. A medium-width belt harmonizes with embroidery. The wide sash goes well with the upholstery.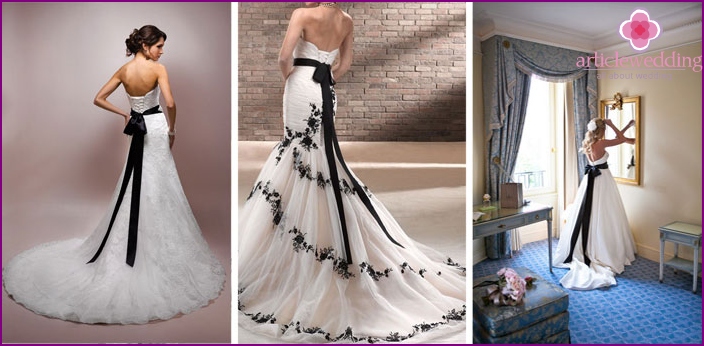 Options for decorating a belt on a wedding dress
There are no strict rules for choosing a belt for a bride along with a bridegroom. A sleek, laconic satin ribbon looks stylish and convincing, but this is far from the only solution for a girl who has chosen a white and black outfit. It is proposed to decorate modern wedding dresses with a black belt with all kinds of decor, from lace to Swarovski crystals. The main thing is that the design of a black emphasis on the waist should be «to this topic» and did not dissonant with the image of the bride.
Openwork lace
The whole belt can be lacy, and only a bow (flower) on it. It is important that such a decoration holds its shape. The most fashionable and spectacular use of lace will be an openwork substrate on which a completely smooth thin or wide ribbon is placed. The lacy backing is made either absolutely flat, slightly extending beyond the edges of the belt, or asymmetric - then its edges can capture part of the corset. The lace in this combination is always dark, but the belt can be either black or white.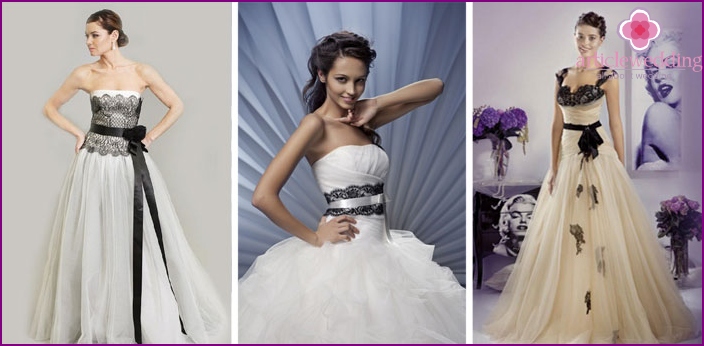 Brooches, stones or rhinestones
Decoration with rhinestones or stones makes the belt by itself a bright accessory. It is necessary to select additional decorations for this image so that the bride does not look like a Christmas tree. Some designers offer a thin belt to the wedding dress, completely made of beads or crystals without using fabric. It looks appropriate with straight or close-fitting cut models..
Brooches are in good harmony with any belts, regardless of size and material. Such a detail, as a rule, repeats the decor of the dress (materials, pattern) or is selected for jewelry (jewelry) of the newlywed. If a brooch is the main accessory in the image, other jewelry is chosen so as not to overshadow it. But the more a dress has sewn decor (embroidery, lace, beads), the larger and brighter the brooch should be so as not to get lost.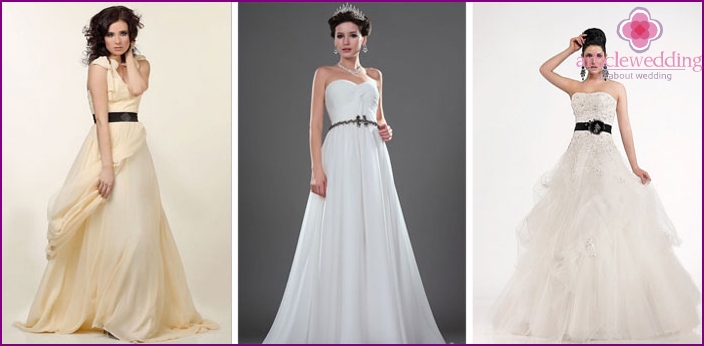 Embroidery or floral applique
Contrast embroidery (white on black) works like a brooch or rhinestones - it draws all the attention to itself, leaving the rest of the details in the shade. It is not practical to supplement it with other bright accessories. Black embroidery on a belt of the same tone works well if it repeats a similar decor on a wedding dress. This seemingly inconspicuous detail is often supplemented with some kind of decoration (bow, brooch).
Artificial flowers in the bride's outfit resonate with a similar trend in the decor of wedding cakes. The floral direction has firmly established itself in wedding fashion, so any girl can safely use black, white or combination flowers as a decoration for her belt. Large, small, matte or metallized, soft or firmly holding shape - there are no restrictions on the choice of floral applique.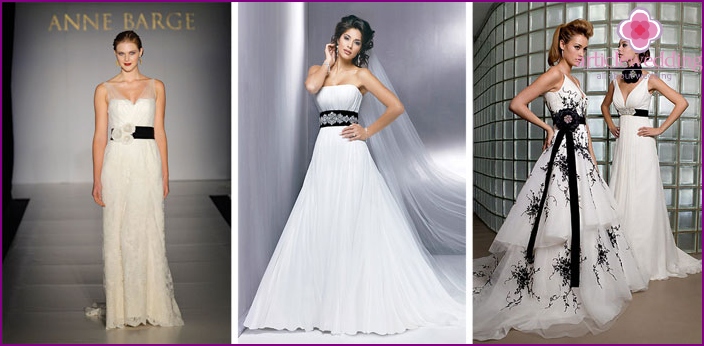 Photo of white wedding dresses with a black belt
A photo selection of white wedding dresses with a black belt will tell you whether to choose such a model, and which variations should be preferred. Some styles of ready-made monochrome white wedding dresses allow the addition «step-mother» black belt, provided that it is selected flawlessly. Keep in mind that the same dress on different girls looks different, so trying on before the final purchase is the golden rule in choosing a wedding dress.