Contents
---
---
More and more brides give preference to colored wedding dresses. But in the modern world, fashion is conservative, so not everyone decides to radically change the image of the newlywed. A great alternative to a white wedding dress is a blue wedding dress. It is suitable for those newlyweds who do not want to wear white for the wedding, but also do not want to shock others in too bright a way. The bride in blue is perceived as a pacified, tender, romantic and contented girl.
Options for wedding dresses in blue shades
Blue has a huge number of shades, so it suits absolutely all brides. It is ideal for owners of bright eyes, makes a spectacular golden blonde, looks great on brunettes, goes red-haired and girls with an unusual shade of hair. Blue wedding dresses are designed to emphasize the good taste and sense of style of the girl, so the designers in the new wedding season offer models with intricate draperies, bustiers, short styles in the style of baby-dollars. Watch in the video some interesting styles for a wedding in heavenly edemas:
Turquoise
The turquoise version of clothing on the theme of marriage is pleasing to the eye, it looks original and fresh. A long model of this shade is suitable for girls who prefer tight or lush styles «Princess» or «mermaid», short mini or regular cocktail in a marine style. You can combine the style in white and turquoise tones, as well as dilute the image of a beautiful woman entering into marriage in other colors. They combine perfectly with turquoise:
peach;
pale pink;
beige;
light blue.
Heavenly
Heavenly color symbolizes protection, strength, devotion. The bride and groom in a dress of a shade of sky will look organically at any wedding and appropriate at a church ceremony. Light blue wedding dresses are usually sewn of delicate and airy fabrics such as silk, chiffon, satin and other similar materials. To achieve a stunning effect, blue accessories should be added to the heavenly outfit..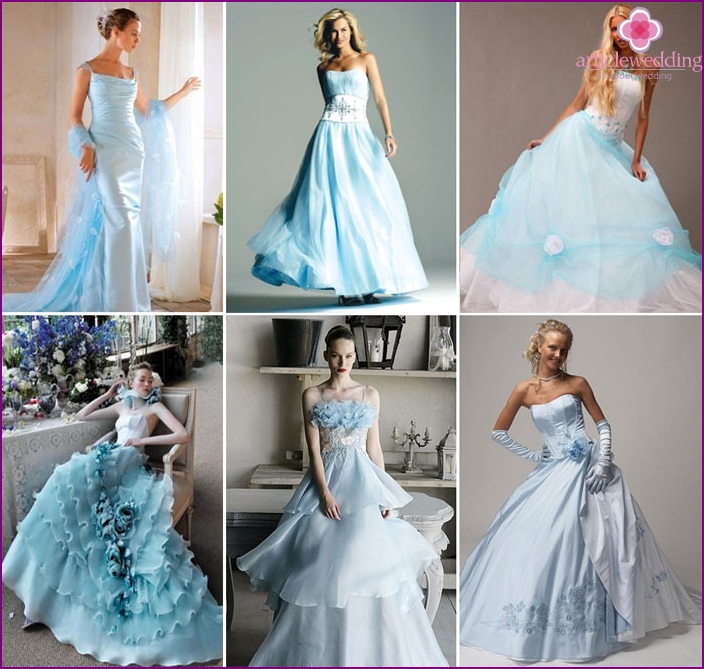 Aquamarine
The hue of the sea wave is a cross between green and blue. Almost all the fashion designers in the bridal collection included models of this shade this season, so it would not be difficult to choose a outfit of the color of the sea for the newlywed. Silver shoes and white accessories are perfect for the models of the tone of the sea wave. You should not include blue or green elements in the image of marine shades - they will not look harmoniously together.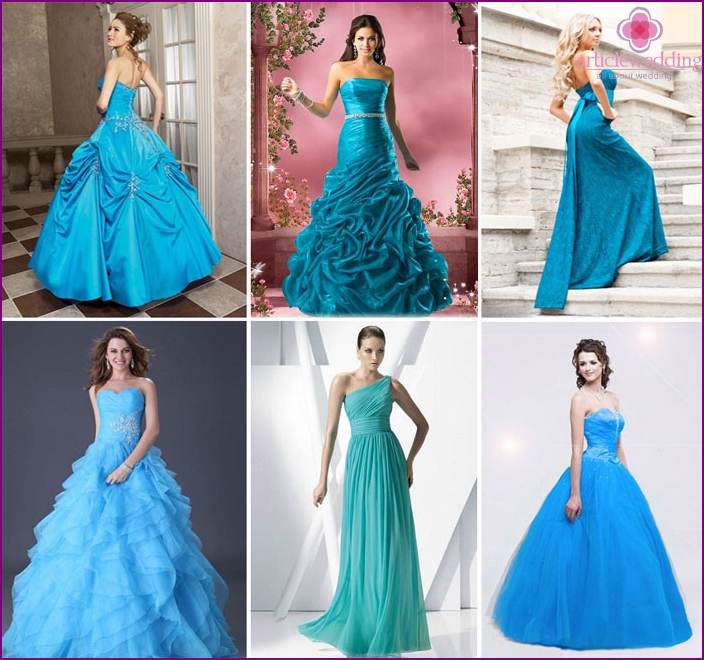 What blue elements to complement a white dress?
If the newlywed does not dare to wear a blue wedding dress, she is offered a traditional white wedding outfit to be diluted with blue or blue elements. For many girls, this option is preferable, and they stop on it. White classic styles look very nice, decorated with light blue fabric flowers or beautiful hand-made embroidery of aquamarine color that runs throughout the hem. Do not forget about the bride's bouquet, blue accessories, the choice of which is huge.
Wide belt
The original solution is to use a satin ribbon of a heavenly tone in the form of a wide belt on the snow-white robe of the bride. Such decor will add to the image of the newlywed innocence. A beautiful bow made of satin ribbon will look even more advantageous at the waist, and if you choose shoes, jewelry or a bouquet to match the ribbon, the girl's image will be perfect and complete.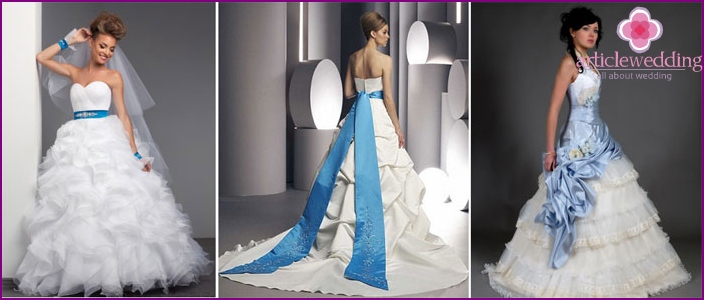 Rhinestones or original shuttlecocks
A luxurious option for the bride and groom is a snow-white wedding outfit, complemented by light blue original flounces, embroidery or rhinestones. It is not in vain that there is a sign, if the bride has a blue color in her image at the wedding, then her entire family path will go without betrayal. In addition, light blue shuttlecocks on a lush white skirt will make the girl look like a fairy princess.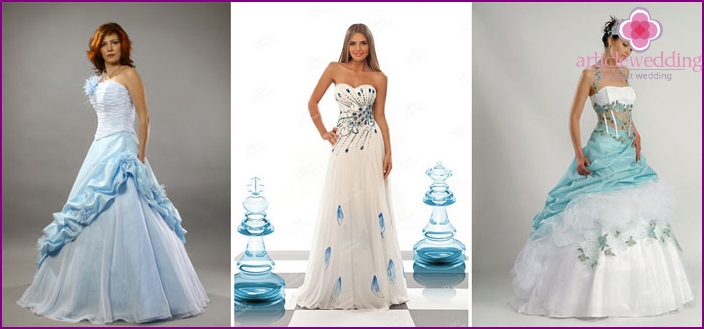 Dress bottom with blue accents
If the hem of the outfit of the bride and groom is decorated with inserts of heavenly, turquoise or blue tones, then the girl will immediately become different from other brides. For bold and creative young ladies, designers offer asymmetric or «puff» snow-white options for wedding styles with blue accents and a removable long train. The original cut will emphasize the bright personality of the girl without using bright colors in the image.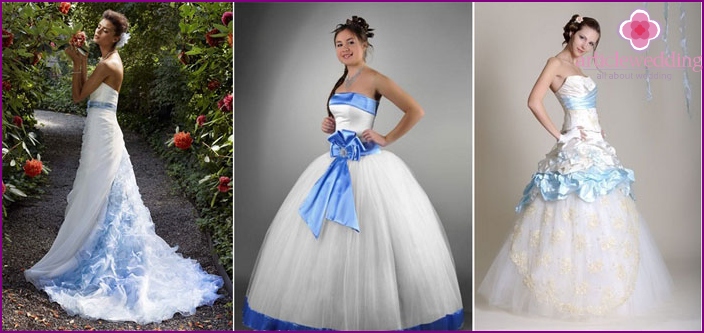 What shoes and accessories will suit a blue dress?
Silver, white, pink accessories look advantageous with models of celestial and blue tones. If cobalt shoes are chosen, the bouquet should be in tone with them. In this case, it is better not to take risks, but to use accessories in classic colors for the wedding: beige, white, ivory. Silver or pearl jewelry is perfect as decoration, but gold or yellow metal jewelry with blue shades do not combine.
Photographs of wedding dresses in soft blue
Blue wedding dresses are best chosen according to the main colors and midtones, depending on the season in which the celebration is held. For instance:
In spring, aquamarine, cornflower blue, turquoise, the color of the sea blends perfectly with nature.
In summer, it looks great on brides smoky blue, gray-blue.
For autumn, the more suitable color is sea wave, moray eel, petrol.
Winter welcomes indigo, azure, cobalt.