Contents
---
---
Every girl dreams of becoming a princess, and such a chance is provided at her own wedding. On this day, all the guests will look at the bride, and the groom will be delighted with her beauty. Most girls choose a multi-tiered wedding dress with voluminous skirts, and it is justified: this style has many advantages and will help create a feminine, delicate and romantic image of a fairy princess.
Styles of wedding dresses with a tiered skirt
Fashion is changing rapidly every day, and designers in their collections present new, original models. But the most popular are still options with a voluminous skirt of several tiers. Modern bride can choose curvaceous models in style «Princess», «Mermaid», straight cut or with an interesting asymmetric bottom, floor length and others.
Princess puffy dress
Style «Princess» It features a clear A-shaped silhouette and a long skirt that expands greatly to the bottom. A variety of materials can be used to create such styles, thanks to which the bride has a chance to experiment a little with her image. To emphasize femininity and tenderness, a flowing model is perfect.
Flounces, lace, ribbons, applique, lacing and embroidery can be used for decoration. These additional elements will give lightness, brightness, expressiveness, originality, and make the bride's image gentle, mysterious. Style bride outfit «Princess» universal, because thanks to the features of the cut it is ideal for girls with different types of figure.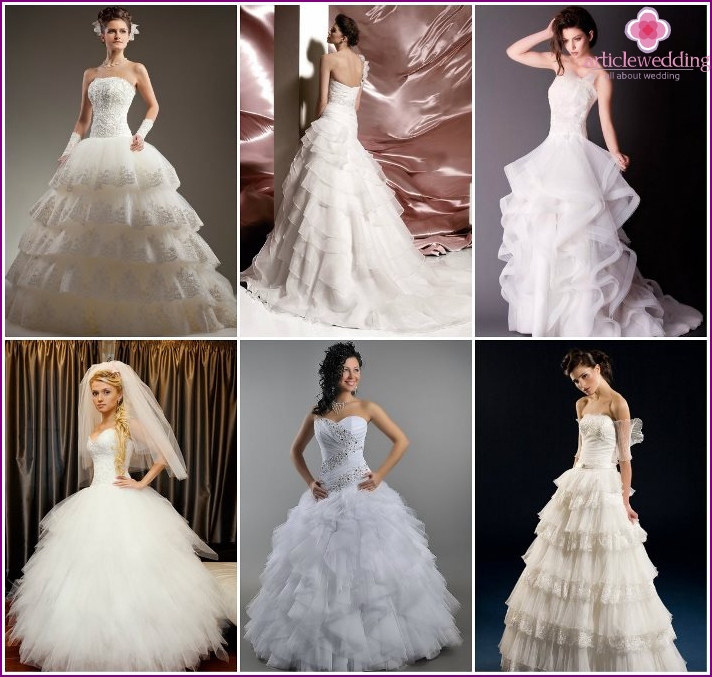 Mermaid Silhouette Wedding Dress
The main feature of this style of dress is the expansion of the skirt to the bottom. Only those girls who have an ideal figure can afford it, because it will fit like a second skin, and emphasize every bend of the body. The guipure outfit will look stylish and interesting, and to make the image more delicate, designers use a long train. You can experiment with different neckline depths, the type of skirt and sleeves. A very interesting model, complemented by drapery, which will favorably emphasize the beauty of the figure.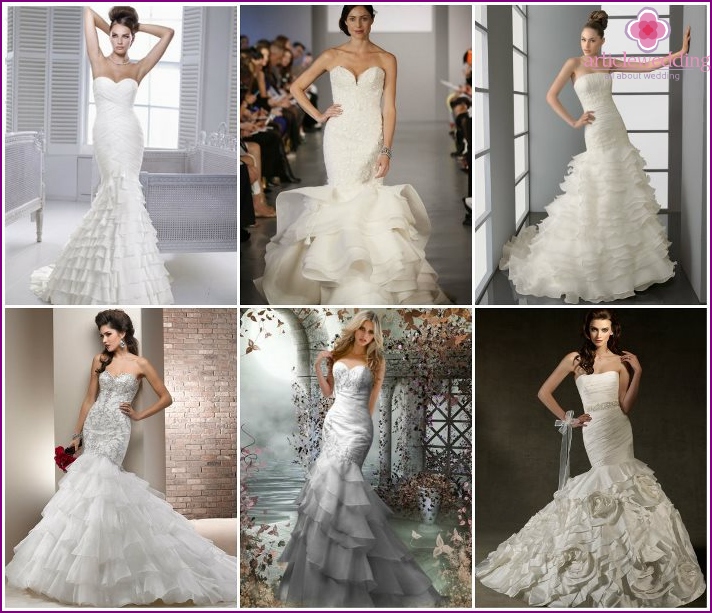 Layered Straight Dress
A straight fit will help create a mysterious, feminine, romantic look. The main feature of this style is the smooth silhouette of the skirt. A very interesting model, which has a removable lower part, because at the very height of the holiday the newlywed may «change» outfit by simply unfastening it. This option provides greater freedom of choice - made of satin, decorated with lace, with or without sleeves..
A straight cut style in several tiers is suitable for slim beauties, and a model with a free lower part will help to hide minor figure flaws. Very often, such models are chosen by girls who marry while pregnant, because they can not only hide the rounded tummy, but also feel comfortable throughout the day. This option is also suitable for brides with small breasts - additional accessories or an embroidered pattern will visually increase the volume.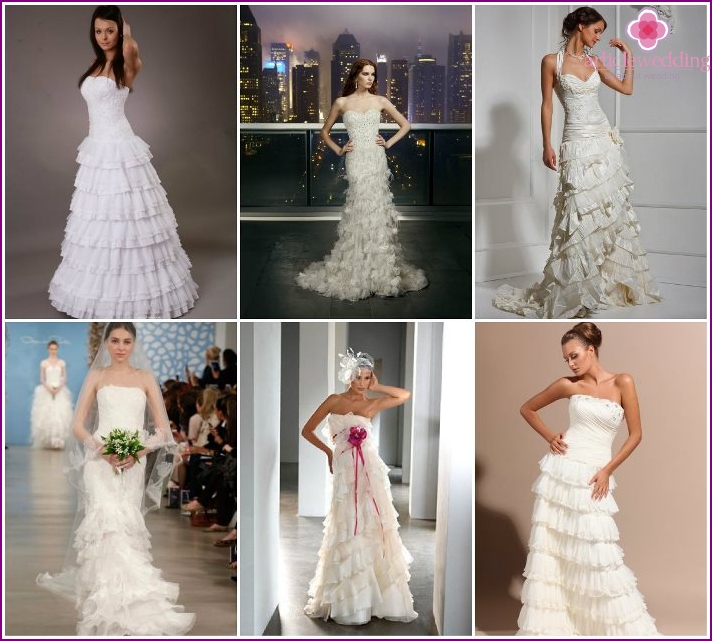 Asymmetric skirt
Many girls, in preparation for the wedding, want to buy an unusual, original dress with an asymmetric cut in a skirt. Such an outfit is not suitable for weddings in the church, but it can be safely worn on the registration of marriage in the registry office. This option has a lot of advantages - it draws general attention to the young, hides minor imperfections of the figure, visually corrects the line of the hips and shoulders, visually makes the growth taller.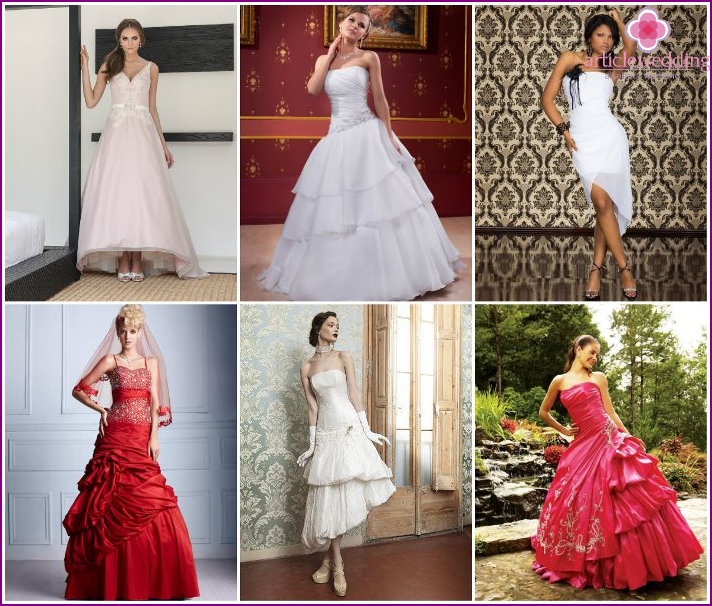 Short tiered dress
This category includes models with a dress length to the knee or higher. Bold girls with a perfect figure prefer to choose a mini, if they are not shy to show their slender legs. The created image will be not only stylish, but at the same time impudent, sexual, defiant, effective. A variety of materials can be used to create such styles, but, as a rule, preference is given to classical fabrics (satin, silk). Interestingly, such styles look unusual and attract general attention to the girl..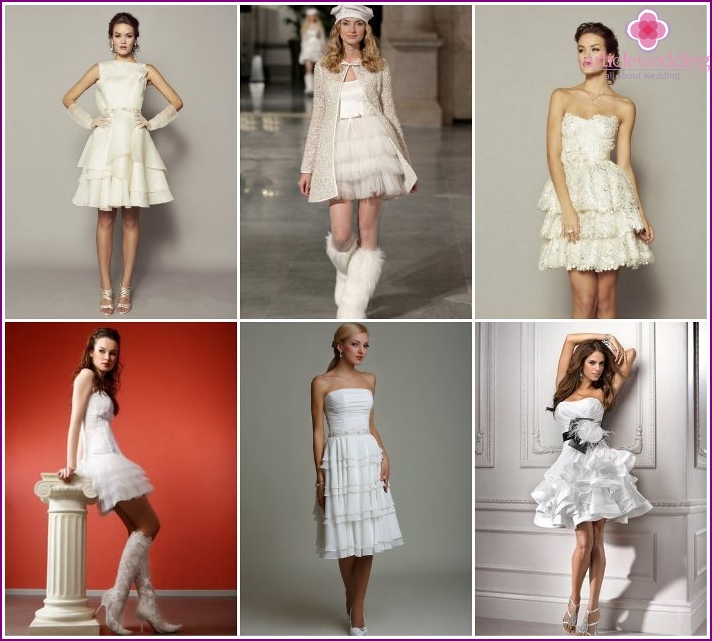 Photo of tiered bridesmaid wedding dresses
Designers presented a large number of different models of dresses, but brides prefer styles with a fluffy skirt from several tiers. And this is not surprising, because such an outfit has a lot of advantages - it gives comfort, does not hinder movements, hides minor figure flaws. In our selection of photos there are various models, so that every girl can choose the right option for herself.