Contents
---
---
Today, most brides go from lush wedding dresses to the floor, preferring wedding dresses to midi length - a true embodiment of elegance and femininity! The Wedding.ws portal will tell you what they are and to whom they are most suitable. We will also help you choose the right accessories and shoes to this outfit to create the perfect look..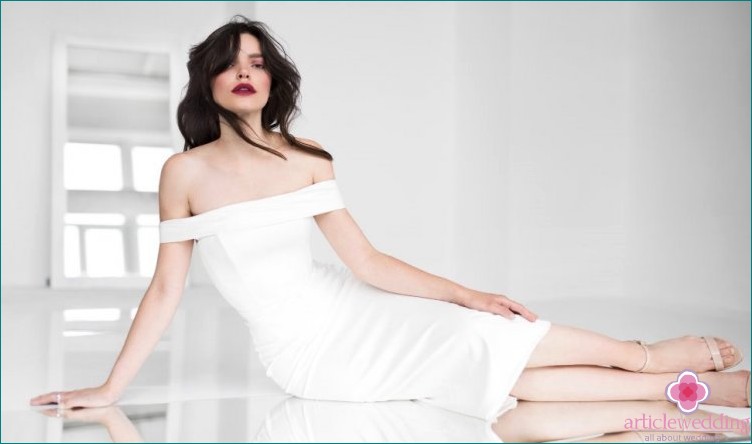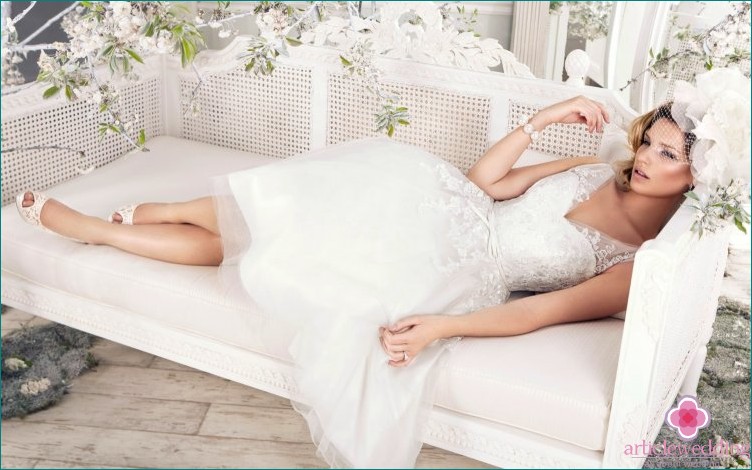 Pros and Cons of Midi Wedding Dresses
Midi wedding dresses are dresses of various styles with a length just below the knees and to the ankles. This outfit looks luxurious, elegant and not too bulky, unlike a dress on the floor.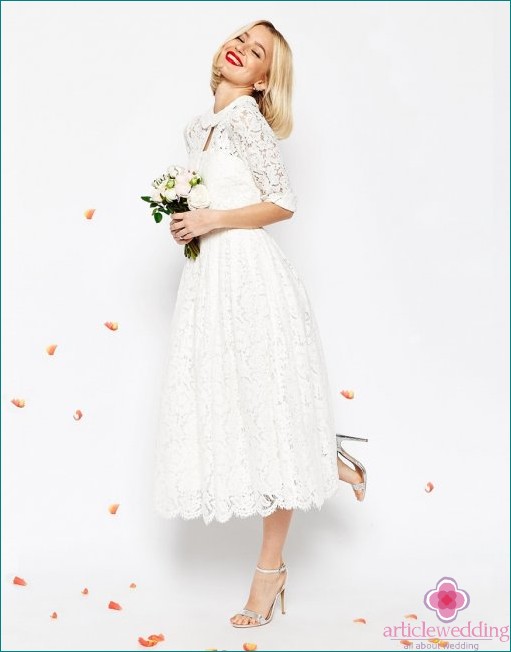 Benefits of Midi Length Wedding Dresses:
This outfit is suitable for brides of any complexion..
A midi length outfit is perfect as a summer wedding dress.
Unlike long floor wedding dresses, a midi length dress is very comfortable to wear. Its hem will not become dirty by the end of the celebration. In this outfit it is comfortable to dance and participate in any activities of the festive evening..
Due to the fact that the legs are not too open, and the figure is emphasized, midi-length wedding dresses give the bride a special highlight. But there are some disadvantages of such dresses.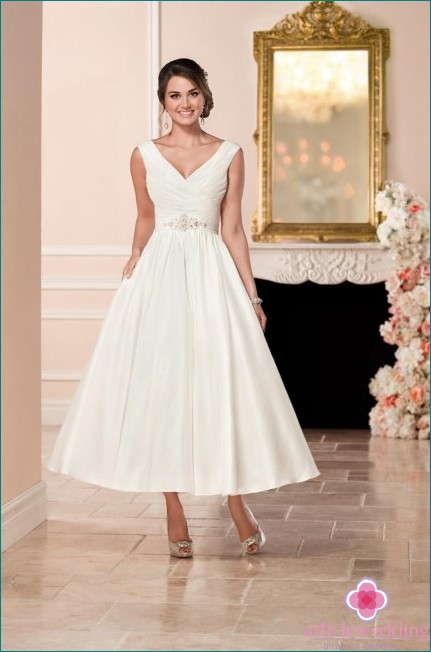 Disadvantages of midi length outfits:
They are only suitable for the warm season, since your open legs in winter will look a little silly and inappropriate.
If you have imperfect legs, then it is better to give preference to a dress on the floor, in which you will feel much more comfortable.
Midi dress is not suitable for brides who are planning a wedding in the church.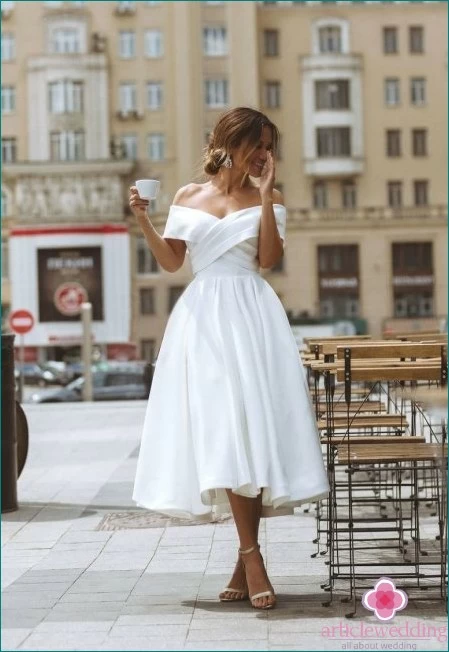 Styles of Midi Wedding Dresses
Since the choice of wedding dresses for midi length is great, the bride with any type of figure will be able to choose the perfect option for herself.
Dress with a full skirt
A tight-fitting top with a fluffy skirt looks very impressive and festive. Sleeves can be of various lengths and shapes. This midi wedding dress is perfect for brides with large hips that can easily hide behind a full skirt.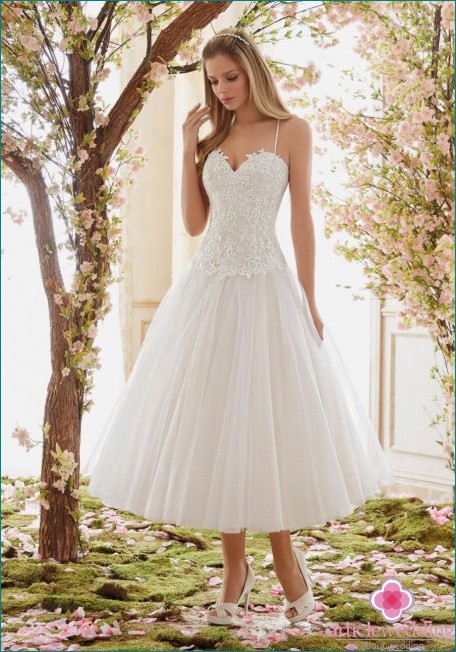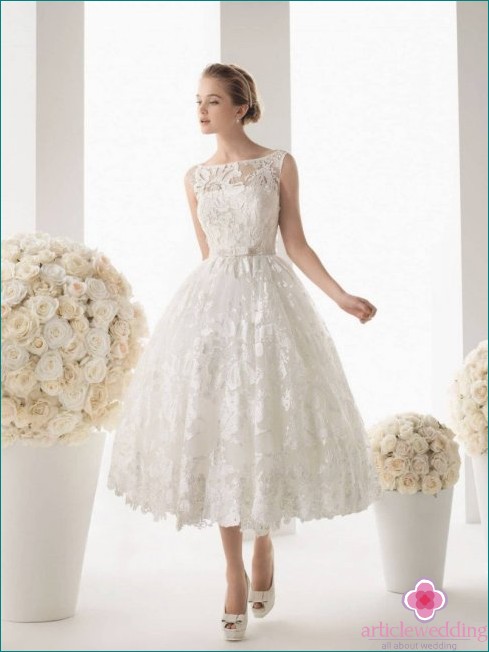 Sheath Dress
Such a modest dress for the bride with the right selection of accessories will make her the most stylish on all holiday photos. Such outfits can be a little loose or, conversely, fit every curve of the figure. This wedding dress looks particularly elegant and sophisticated due to the length of the midi.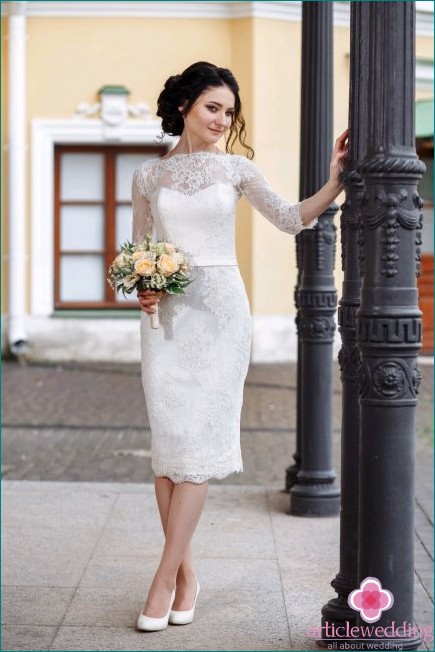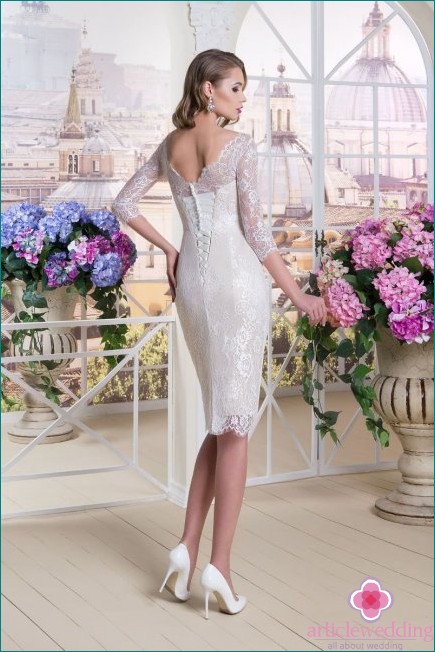 A-Line Dress
This style of dress gives the bride a special freedom. A trapeze skirt stretches the legs, giving the bride harmony. The sleeves of such dresses may be long or completely absent..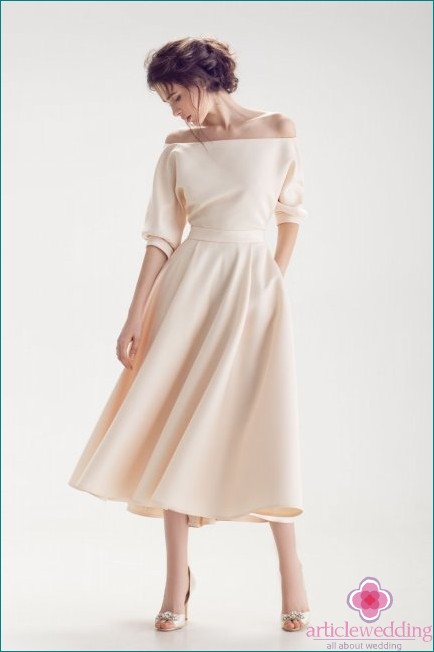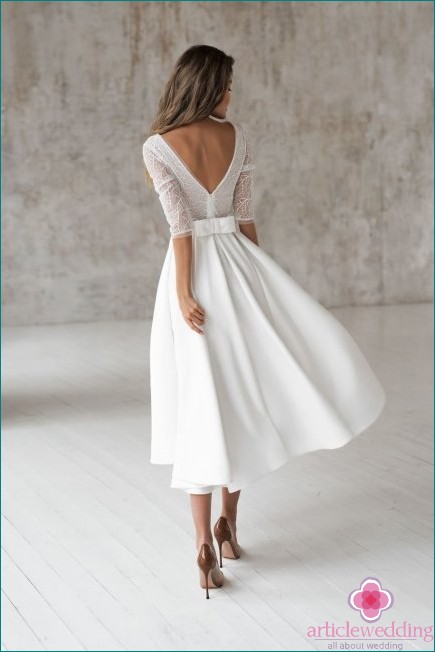 Asymmetric Hem Dresses
Such dresses are a rather unusual option, unlike a standard short wedding dress. The hem can be of different lengths, it usually starts from the sides of the skirt and goes back to lengthen. This style makes the dress very interesting and unusual, adds mystery to the image of the bride.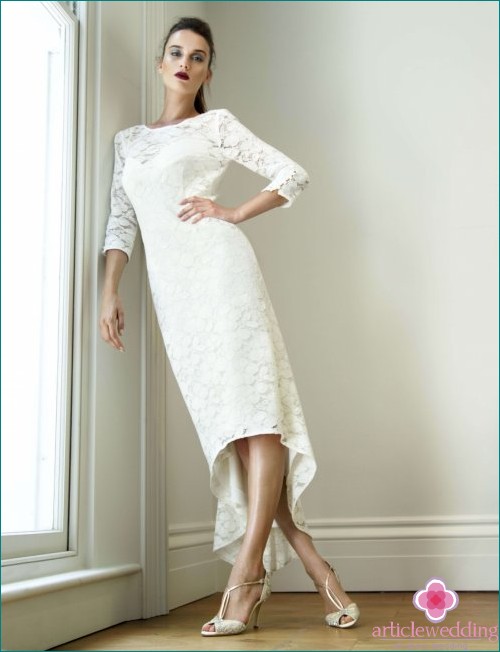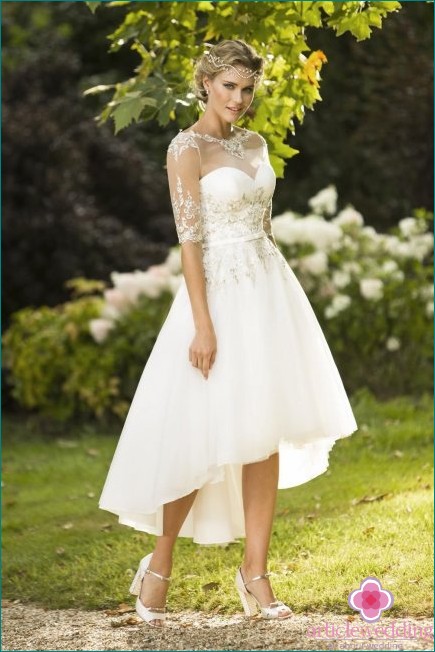 Style Midi Dresses «new look»
These midi wedding dresses are characterized by the following features: a multilayer combination of fabrics of different textures, sleeves of interesting length, a combination of a corset and a full skirt, high waist, highlighted by a bright belt. Typically, these outfits are chosen for themed weddings..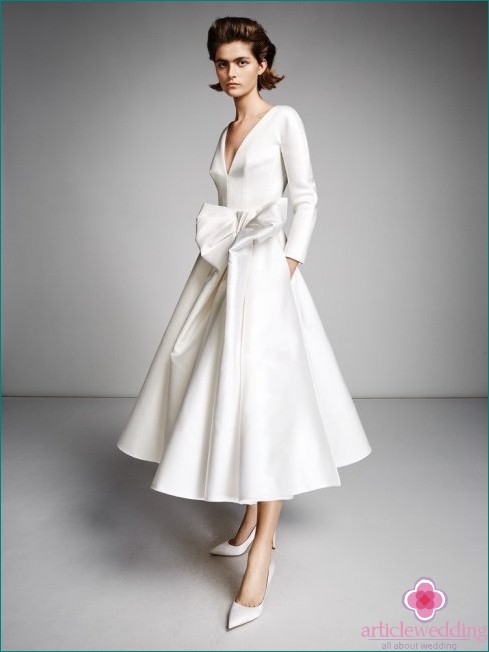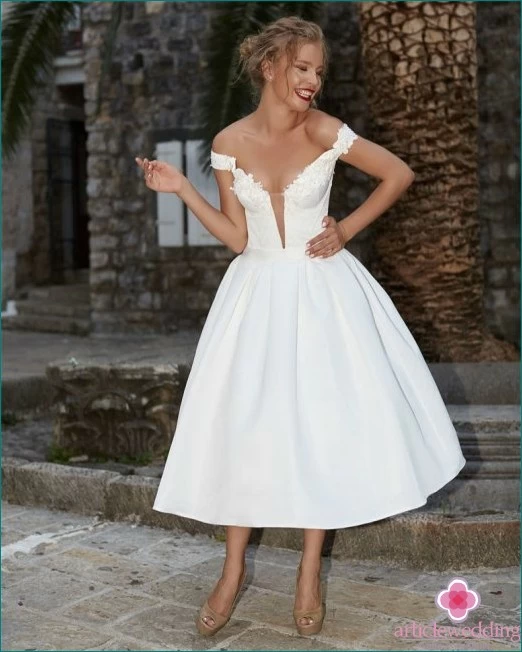 If we talk about the details of midi wedding dresses, then such dresses can be both with sleeves and without. Dresses with 3/4 mesh sleeves or long lace sleeves look very elegant and stylish..
As for the neckline of a midi dress, it can be deep, or it can be closed. The asymmetrical neckline of the dress looks very unusual, giving the bride an original look!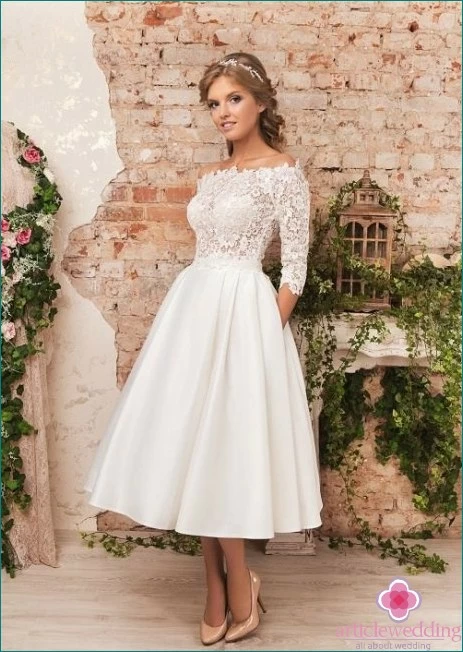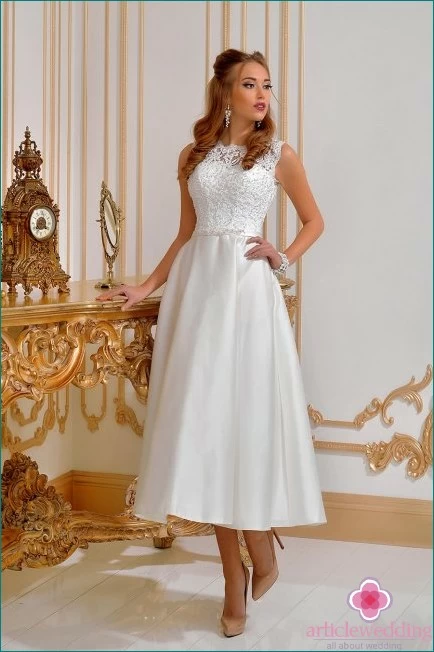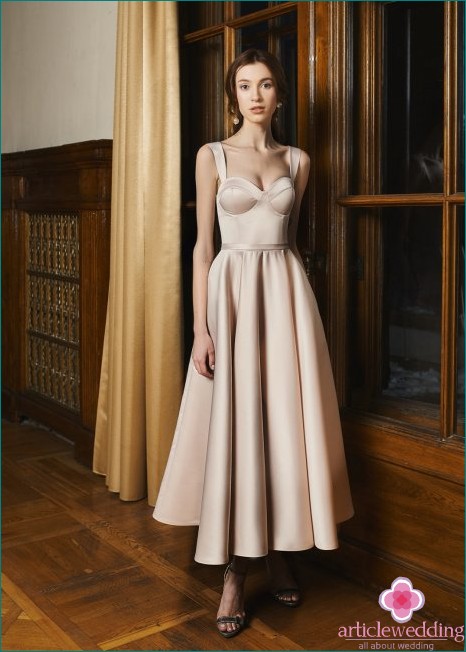 Choosing the material and color of a midi wedding dress
When choosing a dress, we advise you to pay attention not only to the style, but also to the material from which the outfit is made. Most often, midi dresses are sewn from the following fabrics:
Atlas. Such material looks very expensive and gives the bride romance and elegance. Such material often sews minimalistic wedding dresses with sleeves.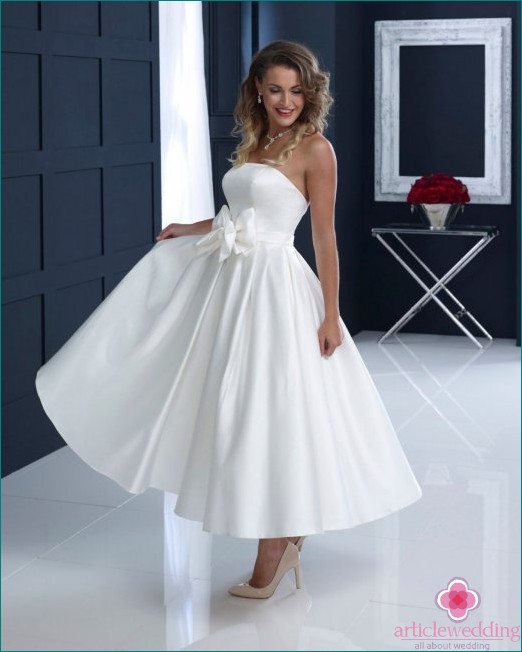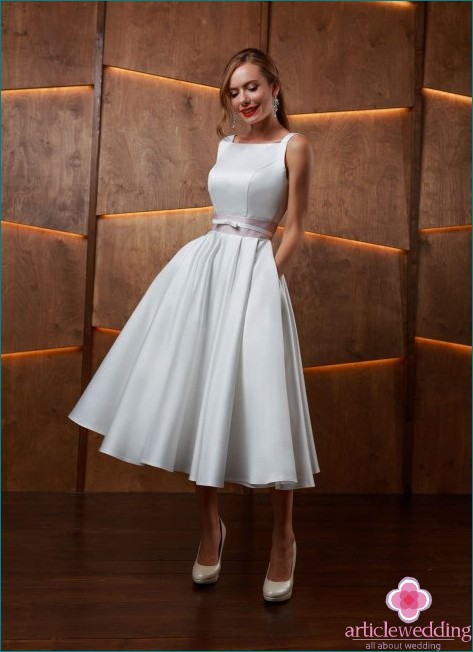 Lace. Recently, lace midi wedding dresses are becoming increasingly popular. Lace inserts can be decorated with the top of the dress, skirt or full outfit.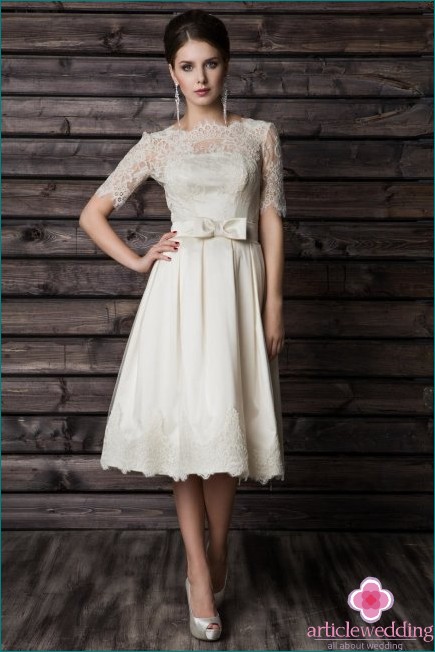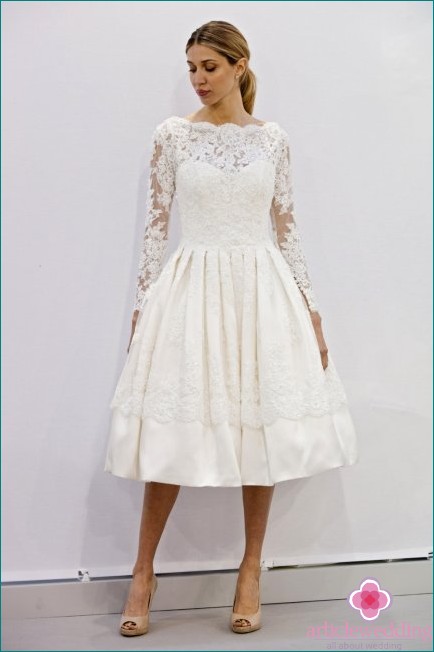 Chiffon. As a symbol of sophistication, this airy material will suit any bride and give her playfulness. Chiffon midi wedding dress with volume sleeves looks very nice on the bride.
Wedding dress color
Midi dresses for a wedding can be absolutely any color. Most brides adhere to the classics and choose white outfits. Wedding dresses look beautiful in the following colors: milk, cream, ivory. Some brides love experiments and choose more unusual tones: powdery, silver or pale blue.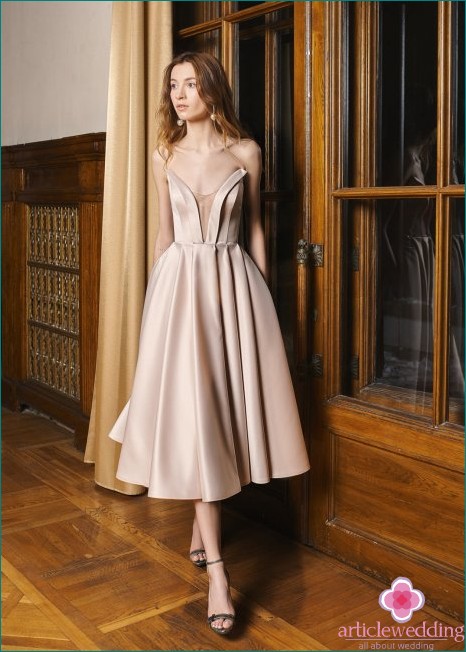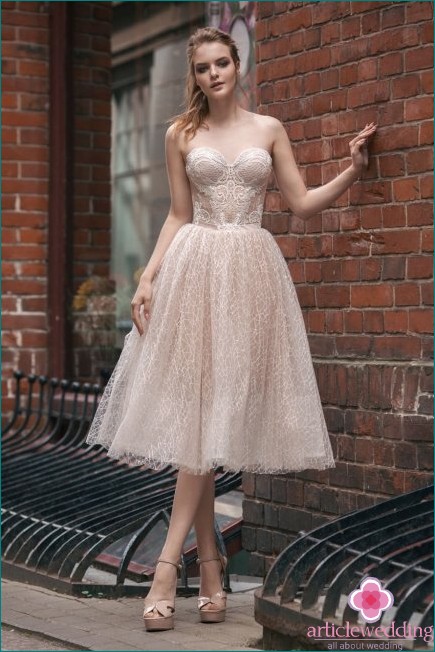 Selection of accessories and shoes for a midi dress
Classic shoes or open sandals are ideal for a dress of this length. The main thing is that the shoes should be in heels. Platform shoes in combination with a midi dress will make the bride's legs massive and large, so it's better to refuse such shoes.
Accessories for a dress with such a length the bride can choose any. It can be jewelry with large stones or minimalistic necklaces. For example, if the bride chose a fluffy midi wedding dress with sleeves, the neckline can be decorated with a minimalistic necklace so as not to overload the image.
The bride can do any hairstyle and makeup, because midi-length dresses do not oblige to something special. You can loose your hair, make a beautiful wound tail or an elegant low bun. It is acceptable to use in the image such additional details as lace gloves, a hat, a small classic clutch.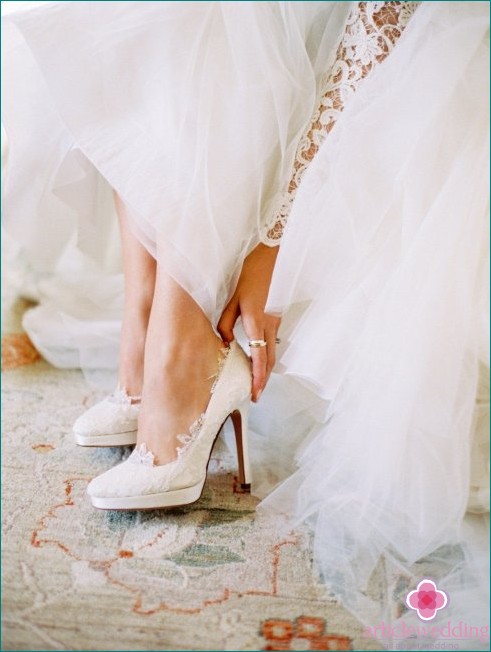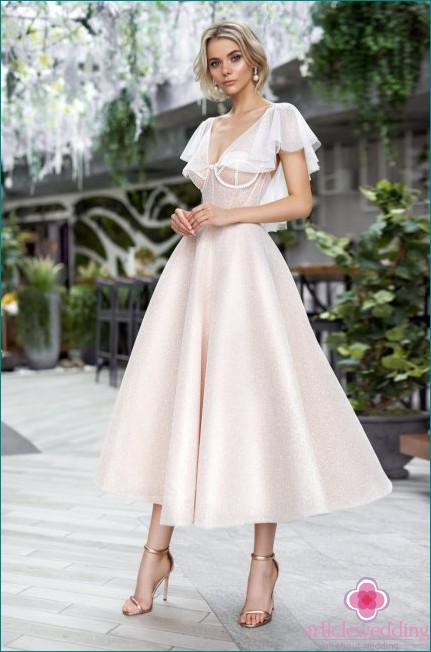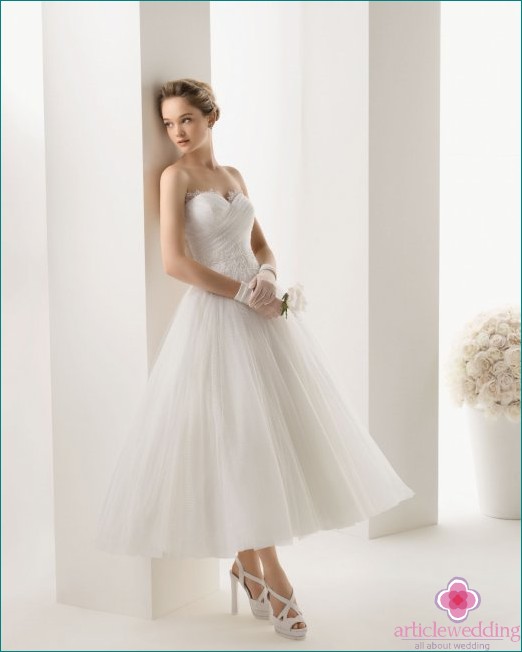 The portal recalls that a properly selected midi-length wedding dress will make any bride beautiful and charming. Thanks to our tips, you can easily create the wedding look of your dreams.!