Contents
---
---
Dress with a corset is a popular model among brides. It looks great on any figure, because lacing is easy to adjust the size range. Among such models, it is worth paying attention to wedding dresses with a transparent corset, which made a splash among the bride and groom. Such models visually reduce any figure, creating an exquisite image of the bride that excites the male imagination.
Models of wedding dresses with a transparent corset
Immediately I want to clarify that there are no completely transparent corsets. As a rule, a denser bodice is decorated with lace, embroidery, rhinestones or sequins. Transparency begins under the chest and ends below the waist. Depending on how much the bride wants to show, transparent or translucent corsets are acquired. The former have very few finishes, creating the illusion of an open waist. The second ones are greatly embroidered with various decorative elements, leaving almost no room for visible parts of the body. Learn more about the features of translucent corsets in our video:
A corset is selected according to the usual size of clothes. But if you need to reduce the waist or visually increase the bust, then it is better to buy the product one size smaller. This element of the wedding dress is tied at the back. First you need to tighten it quite a bit, only 5-10 cm to get used to it. Pay attention to the absence of discomfort and pain. If they are not, then tighten the lacing to the desired size. If the model has two laces on the sides, tie them very carefully so as not to bend the spine. The advantages of this element of women's clothing include:
Makes the waist already.
Corrects the abdomen and hips.
Raises the chest, visually increasing it.
Levels Posture.
Adds grace to the image.
Mermaid style dress
Wedding models in style «Mermaid» Look very harmonious with a transparent corset. They give the bride and groom a sexy and elegant look. But such a style requires the bride to have an ideal figure: a pronounced chest, proportional to the hips and a thin waist. Models «Mermaid» reminiscent of one-year dresses, so the lightweight corset is slightly elongated, and with the multi-layered skirt the brides experiment a lot, changing the upper or lower parts.
If the bride has full breasts, she should pay attention to dresses «Mermaid» with the most open neckline. Thanks to this nuance, the bride will look especially attractive. If the girl has small breasts, then she will go for a more closed model with the upper part decorated with folds, convex cups, ruffles and other decor that visually enlarges the bust.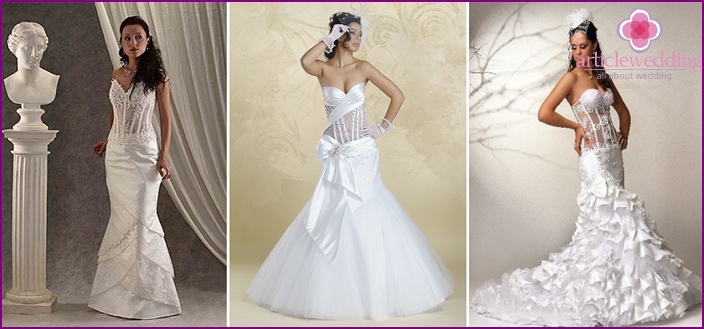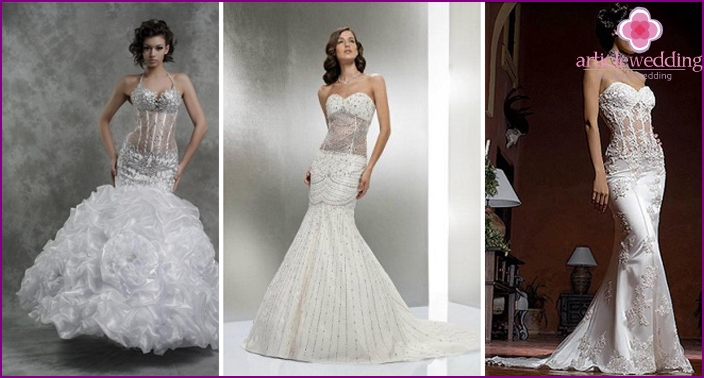 A-line with a full skirt
A magnificent wedding outfit with a transparent corset is now very popular among brides, because it presents the figure of a girl in the most favorable light. A-line models with a translucent top are found in all the top collections of world fashion, attracting attention with their luxurious finish. A girl in such a wedding dress will certainly be in the spotlight, making the hearts of all men beat faster.
Such outfits of blue, pale pink and all shades of ivory look very elegant. The royal A-silhouette obliges the bride to hold her posture and walk correctly. This style is good because it conceals such imperfections of the figure as lush hips, short legs, and a tightening corset will make the bend of the female body perfect: a figure similar to an hourglass. A lace top decorated with applique, beads or shiny accents harmoniously looks with a full skirt.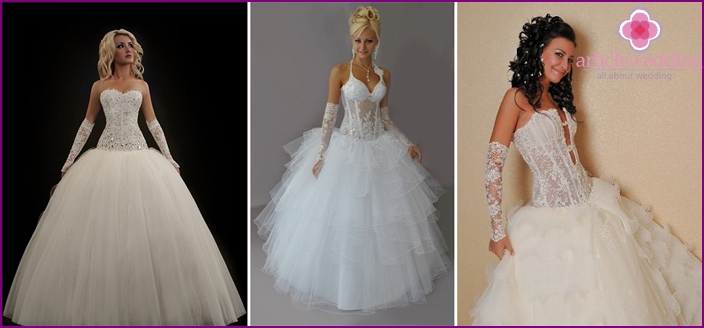 Short dress with a removable train
For several seasons, the absolute leaders among wedding dresses are short dresses with a removable train and a transparent corset. They show the charms of slender legs, which are easy to hide under a long train, and remove it at the right time. This is a practical wedding model, because such an outfit can be worn at any party after the wedding.
There are a lot of models of short wedding dresses. It can be multi-layered satin skirts that will shine beautifully in the sun, or tight-fitting dresses decorated with classic lace or any other decorative element. Transparent corsets on such models are sewn with skirts or worn separately. The material for the loop is:
silk;
chiffon;
brocade;
atlas;
crepe de chine.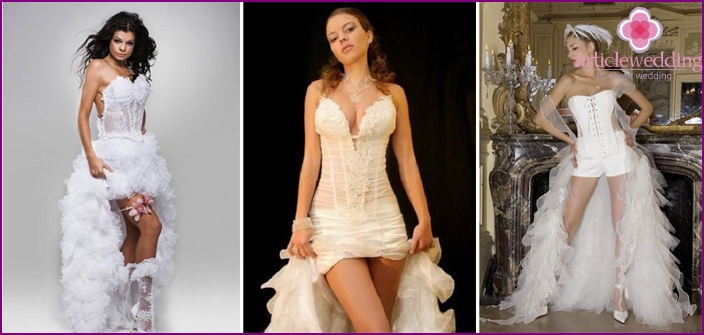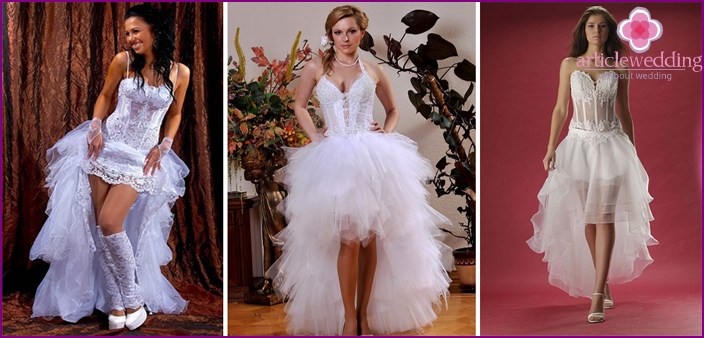 Transparent Corset Decor Options
A transparent corset should not be decorated immediately with all kinds of jewelry so that the bride does not look defiant. In itself, such a wedding dress is a bold decision, and excessive decor will look defiant. For sewing a transparent corset, chiffon, organza, guipure, silk mesh fabric or lace are used. Decorate the base with sequins, beads, stones, rhinestones, appliques or embroidery.
From guipure embroidered with rhinestones and stones
Guipure wedding corset is often decorated with colored or white stones and rhinestones. Guipure is sometimes also built up on the skirt so that it does not look too simple against such a top. Only the pattern on the skirt in this case should be moderate so as not to overload the model with decor. Brides love guipure transparent corsets with shiny stones and rhinestones to combine with a fluffy skirt, which has an abundance of ruffle or frills.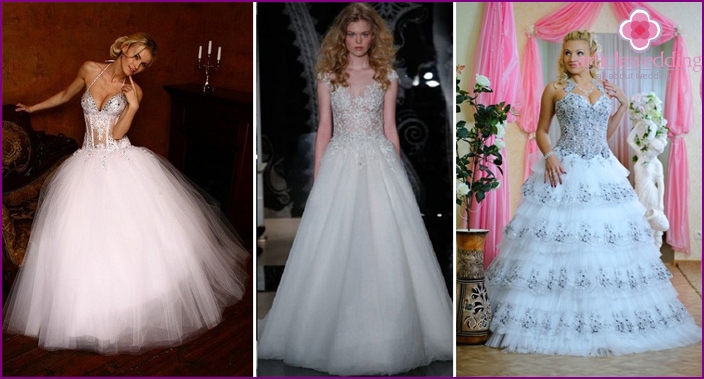 From pearl lace
The pearl jewelry on the wedding dress is an artificial pearl that looks like a scattering of drops of morning dew. Pearls on the white lace surprisingly clearly emphasize the delicate and clean image of the bride, making it a bright mother of pearl. The signs that the bride should not wear pearls in order for family life to work out well have gone into the past, and this prediction applies only to natural stones.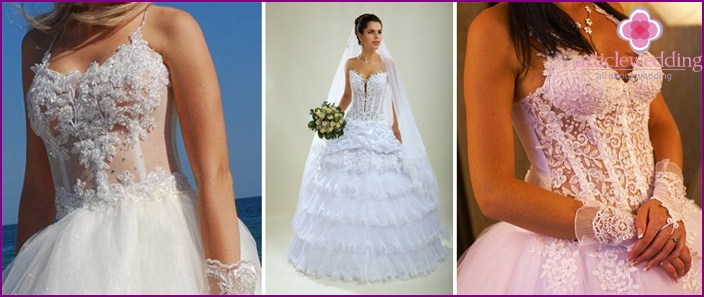 From a thin transparent fabric with embroidery
A transparent corset decorated with hand embroidery looks gorgeous. Embroidery is done in both colored and white threads. There is a national embroidery of wedding dresses in which each symbol has its own meaning and carries a positive charge. Gold or silver threads lie especially beautifully on the neckline. Brides who love extravagance order black embroidery on a transparent corset - it looks amazing.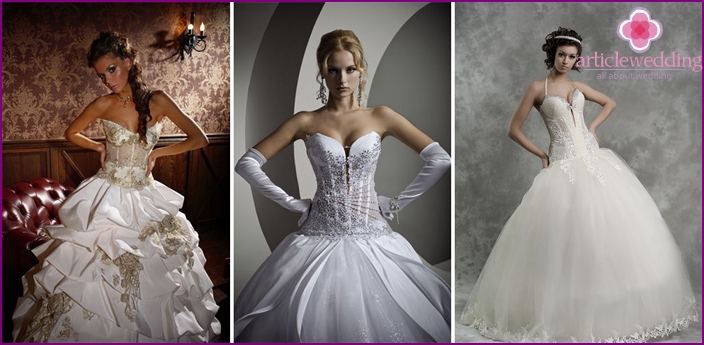 Made from beads and sequins
A noble alternative to the lace top of the wedding dress is a mesh corset made of light material, and embroidery with sequins and beads becomes the highlight of the outfit. Better than mesh, no material can show all the winning parts of the bride's body. With this option, satin skirts with a train look chic, the bottom of which is also embroidered with beads and sequins.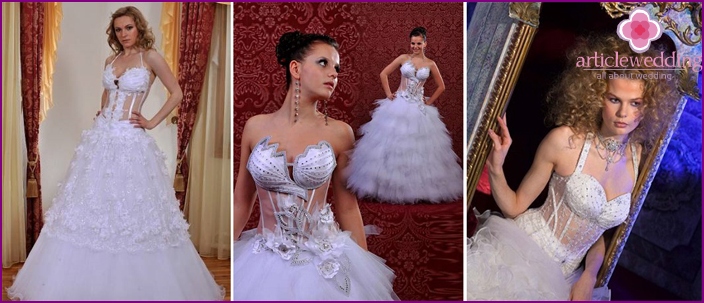 Who will suit a wedding dress with a transparent corset?
To make the corset look natural on the bride, you need to choose it correctly. The basis of this versatile wedding accessory is plastic or metal bones that fit tightly to the body and create a beautiful silhouette. But you should not pull them, otherwise the dress will be uncomfortable, and the corset will ugly tighten the bride's chest.
For girls with a standard figure, there will be no problems choosing, and brides with extra pounds will have to tinker with lacing to not only hide flaws, but also give the image of femininity and tenderness. Proper lacing will do wonders for your figure! Just practice before your wedding day, so that on a solemn day the process goes quickly and rehearsed.
Photo of stylish bride dresses with a transparent corset
Which option is more acceptable for the bride - a highly transparent corset or draped with lace or guipure - she decides herself. Any option is ideally adapted to the wedding outfit, in which the bride and groom will feel free and at ease. We offer you to see our selection of photos of the best models of wedding dresses with a transparent top of 2015.