Contents
---
---
Pearls in the image of a bride can transform a girl into a beautiful princess from a fairy tale. Mother of pearl notes in the dress of the bride and groom emphasize its purity and tenderness. A wedding corset decorated with pearls and other shiny elements will help to focus the attention of others on a thin waist and a beautiful figure of the bride. What are wedding dresses with mother of pearl beads? How to choose accessories for such a dress?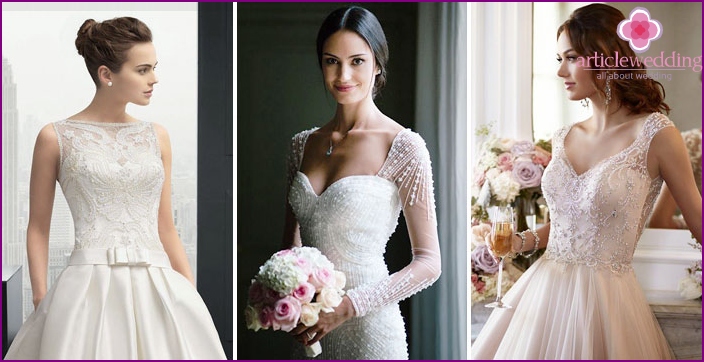 Pearls Corset Decoration Options
Mother of pearl beads on a wedding dress look charming, cute. Pearls look great on fabrics of different colors and textures, so they are widely used to decorate wedding dresses. Pearl details of a round or oval shape can generously adorn the bride's corset, combined with other bright stones, crystals, embroidery.
Even if the dress is decorated with only a small number of pearls, the image of the newlywed will still acquire shine, a unique look. For the decoration of festive clothes, both natural (white, pink, sea, river) and artificial pearls are suitable. The decoration of the wedding outfit with white beads looks great on models of different styles (princess, godet, mermaid).
Dress with a corset studded only with pearls
Outfits in which the upper part is decorated with mother-of-pearl beads will help to create an aristocratic, gentle image of the newlywed. If a dress decorated with sea pearls does not suit you because of its high cost, then take a look at the wedding decoration with artificial beads. They are difficult to distinguish from the original, and in beauty, luster, color, they are not inferior to natural decor.
The advantage of a dress decorated with artificial mother-of-pearl beads is that it costs significantly less than a model decorated with real jewelry from sea shells. And if by chance several fake beads are lost during the celebration, this will go unnoticed and will not spoil the bride's mood. Placers of white pearls can completely cover the upper part of the dress or focus on the neckline, waist.
Bead-decorated wedding wear will make the bride and groom more feminine and royally beautiful. For visual breast augmentation, an outfit that is richly decorated with valuable gifts of sea shells on the upper part of the corset is suitable. An original look on a pearl dress with a shade that contrasts with the color of the bride's outfit.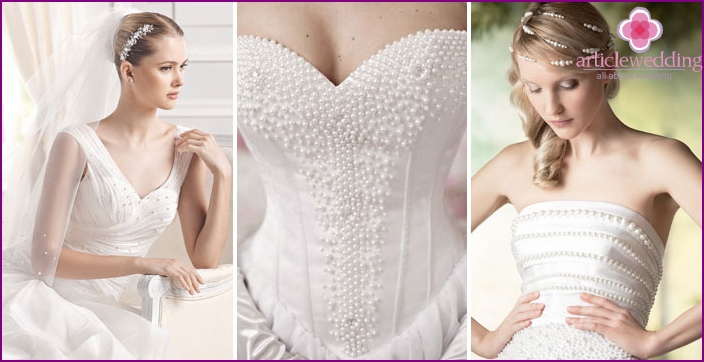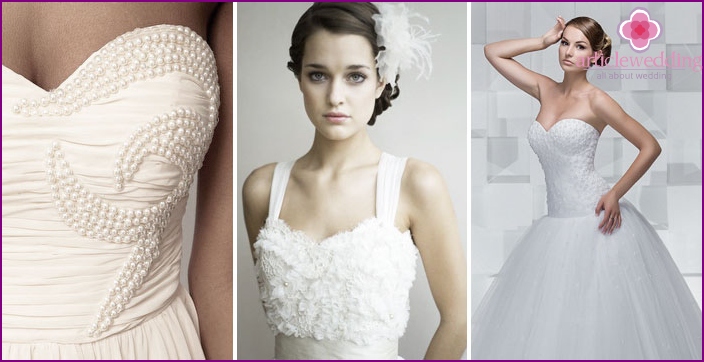 Corset dress with pearls and rhinestones
The decor of the corset with pearls and rhinestones will give the wedding along with a bright, irresistible look. With the help of brilliant stones, you can emphasize the graceful figure of the bride. When light beams hit embroidered patterns, spectacular flicker, shine. Such a rainbow overflow gives along with special beauty, chic. Depending on the designer's idea, the corset can be richly decorated with shiny stones or mother-of-pearl beads, and with them rhinestones can be neatly scattered along the top of the dress.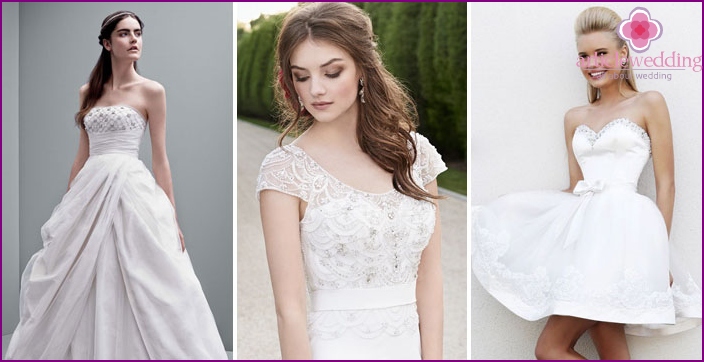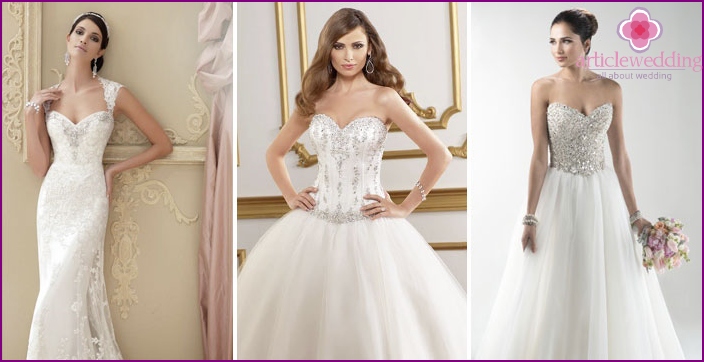 Crystal corset decor with pearls
A wedding dress decorated with crystals and pearls is suitable for a glamorous girl. Corset patterns lined with Swarovski stones and mother-of-pearl beads flicker beautifully and shimmer in the sun. Brilliant jewelry looks advantageous on matte fabrics. The exquisite sparkle of Swarovski stones and the delicate color of the beads on the clothes will give the image of the newlywed a royal charm. Crystals can be used to create large compositions on fabric, or they only lay out a belt, and sometimes the top of a bodice.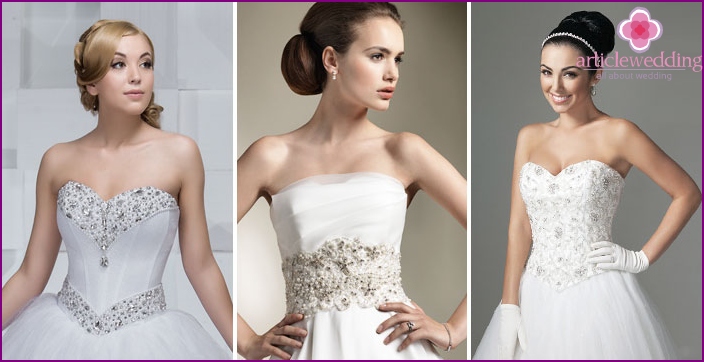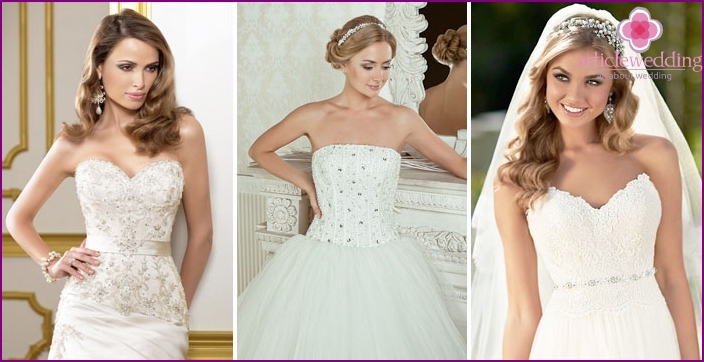 The corset is decorated with embroidery and pearls.
Elegant embroidery and pearls are perfectly combined in the wedding dress of the bride and groom, because the picturesque patterns and beautiful ornaments effectively emphasize the iridescent sparkle of beads. Wedding decoration with embroidery does not require abundant pearl jewelry: mother-of-pearl peas can be evenly spread over the entire upper part of clothing or concentrated only in certain areas of it. A beautiful combination of embroidery and pearls will give the bride a royal, noble look.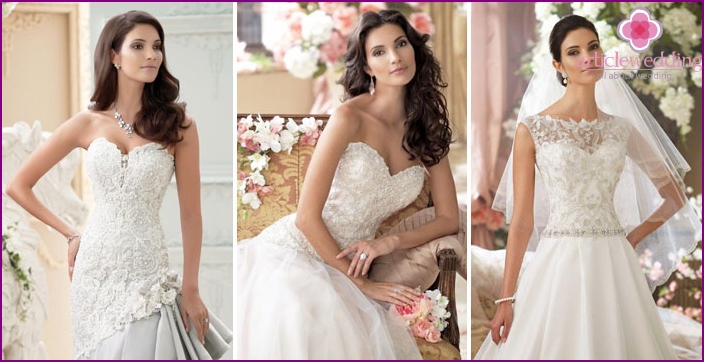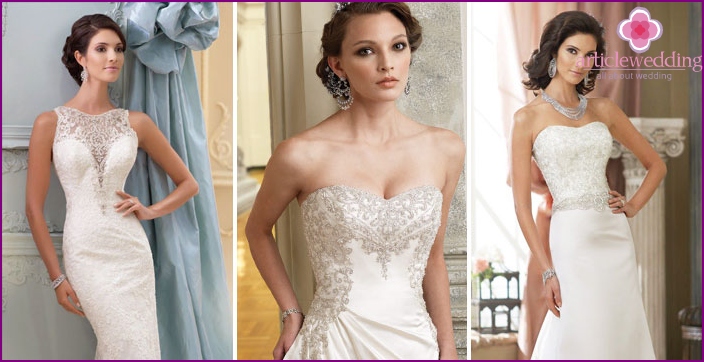 What accessories will fit a dress with a pearl corset?
If the bride's clothes are generously decorated with pearls, then his presence in wedding accessories is optional: in this case, it is important not to oversaturate the image with decor. And if there are few pearls on wedding clothes, then they will be quite appropriate in accessories. For example, these decorative elements can be on a diadem, gloves, shoes, earrings, necklaces and other elements of the image of the bride. If you plan to combine wedding clothes and a pearl necklace, then pay attention to a few tips for choosing this accessory:
A thin necklace like slender women with a graceful long neck «collar» (30 cm).
Under the model with a V-neck or type «boat» you can wear beads that will fit the base of the neck tightly.
Necklace 40-48 cm long will fit any type of newlywed clothes.
Beads up to 50-60 cm long are worn only when the thread does not touch the cut line on clothes.
A long necklace (up to 90 cm) is worn lowered below the bust line.
Beads that are longer than 90 cm encircle the neck in several rows and tie them into knots.
Young brides should not wear necklaces with large beads - this jewelry is better for older women. Hair jewelry made of pearls looks beautiful, original: hairpins, hair clips, strands of beads, brooches. The bride will look elegant, spectacular in earrings decorated with sea gifts from shells, and thin bracelets with pearls will give the newlywed femininity. When choosing this type of jewelry, consider your color type, shade of eyes, skin, hair. It is believed that the color of the stone should be close to the skin tone of the girl.
Dark-skinned, tanned women are ideally suited beads of cream, pink, golden hue.
And Slavic girls should choose earrings, necklaces, beads, bracelets with pearls of snow-white, silver.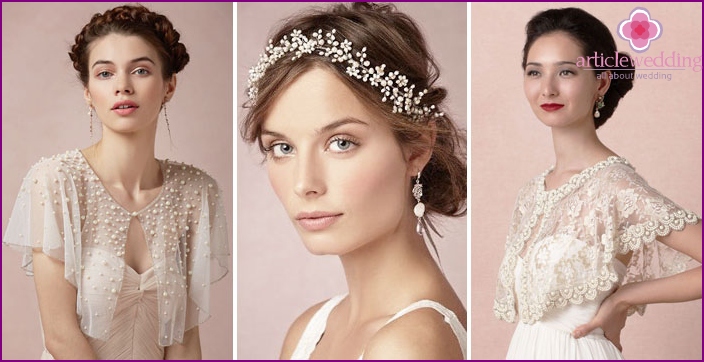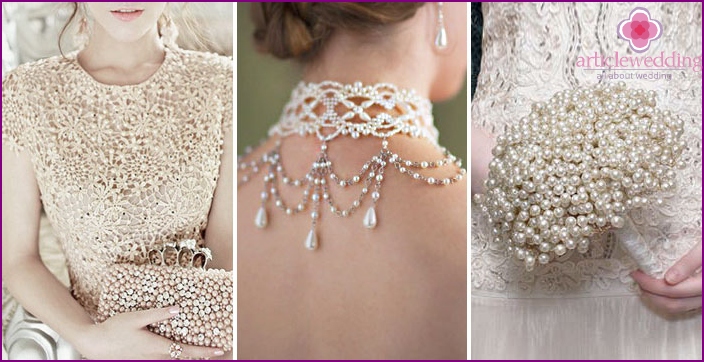 Photo of dresses with pearls corset
A wedding dress embroidered with delicate, beautiful pearls is the choice of fashionable, stylish, romantic girls. Outfits in mother-of-pearl patterns with rhinestones, crystals will make the bride a beautiful princess. Amazing overflows, sparkle of stones will make the bride and groom charming and spectacular at the celebration. Silhouette models «Princess» with a fluffy tulle skirt or style «Mermaid» with a lowered corset and drapery look especially fine with the decor in the form of sea beads.