Contents
---
---
Fashion for lush wedding dresses has not passed for many decades. Styles with voluminous skirts of the bride are appreciated not only for beauty, but also for a comfortable fit on any figure. A popular material for such ball gowns is tulle - a translucent lightweight fabric that holds volume when several layers are applied to each other. A wedding dress from tulle is the best and most comfortable option of a magnificent dress in style «Princess». The frame of the rings, on which heavy material is applied, is very uncomfortable in the process of wearing, and tulle easily corrects the inconvenience.
Who should wear tulle wedding dresses??
A magnificent wedding dress from tulle is a classic outfit of the bride. The airy, gentle, royal luxurious model will not leave indifferent any girl. A tulle skirt is an ideal detail, it does not need any additions at all, therefore, too conspicuous accessories are not needed for such a style, it is better to limit yourself to elegant jewelry and a simple veil.
A full skirt is perfect for tall brides.
Miniature girls are better off choosing a wedding outfit with a minimum amount of tulle so that it does not lose their personality.
Lush short models are perfect for girls with slender legs, while chubby ones are better to choose a slightly low waist, length to the middle of the calf to hide the tummy and full hips.
A voluminous skirt will make a triangle shape harmonious, visually aligning the broad shoulders and narrow hips.
Styles of wedding dresses from tulle
Models with tulle skirts are distinguished by their diversity. Their basis is a translucent lace corset, sometimes opaque, made of thick fabric, and a fluffy skirt, which happens:
Layered. The cut resembles a Christmas tree - many layers of transparent fabric overlap, creating a classic silhouette of a regular triangle.
Torn. This is an original and eccentric option, when shreds of air tulle are randomly placed, forming a pattern and making the skirt voluminous.
The tulle flowers that are created by folding the material make the skirt unusual and textured..
Classical, when tulle falls down waves. This is a traditional wedding dress that looks solemn and elegant..
Lush wedding models of the A-silhouette can only have a tulle petticoat, and the skirt in this version is made of guipure, chiffon, taffeta, satin, organza or lace. Fashion designers love to decorate voluminous dresses with sequins, beads, long royal loops, inlay, embroidery, ribbons, bows. Watch a video compilation of several successful wedding models made of tulle:
Wedding Dress «Mermaid» with a tulle skirt
Tulle Wedding Dress with Cut «Mermaid» mesmerizes with a cloud of transparent layers, delighting with the variety of design. But all styles have one typical element: a fitted silhouette that expands sharply from the knees and resembles a fish tail. These wedding dresses can be with sleeves or straps, with a deep neckline or with a neckline. «heart», with an open back or with a long flowing train.
Thanks to designers who perfect the silhouette every year «Mermaid», adding fashionable elements to it, the style is successfully kept at the peak of popularity among brides, despite even some inconvenience when walking. Also model «Mermaid» with a full skirt requires a perfect figure, because the tight-fitting silhouette emphasizes all its advantages and disadvantages. Choosing this dress, you should critically look at yourself in the mirror.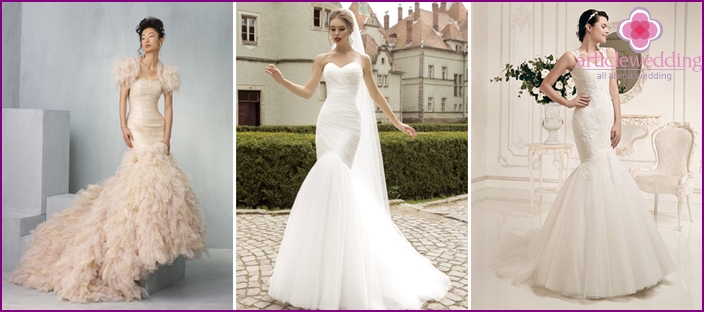 Sheath / Column Lace Dress
The features of the sheath dresses are a fitted fit, the absence of a collar and a horizontal seam at the waist, which gives the figure an hourglass shape. Knee-length creates the illusion of long legs, which is further emphasized by high-heeled wedding shoes. Choosing this model for the wedding, the bride departs from traditional magnificent skirts, so she needs to pick up all the other elements responsibly so that the image is perfect:
dress length;
footwear;
hairstyle, makeup;
accessories.
The latest wedding trend is a sheath dress with lace sleeves. Openwork gives the bride tenderness, hiding the excessive fullness of her hands. A great option when lace adorns not only the girl's hands, but also the shoulders, neckline, back. Translucent lace gives the innocent image of the newlywed femininity and attractiveness. Closed shoulders and a small neckline fully compensate for open legs.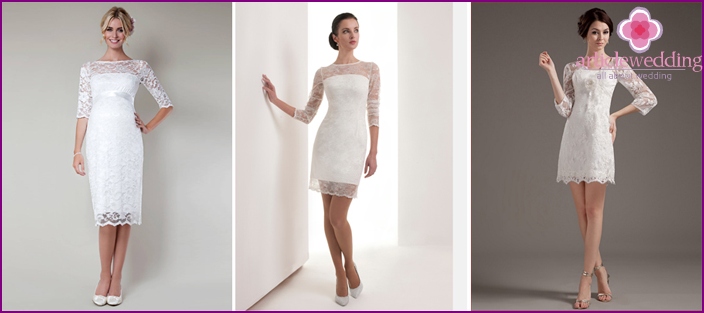 Mini dress embroidered with pearls
A light tulle mini with pearls for a wedding suggests that the girl has an excellent taste. Pearls have always been a favorite of sophisticated and distinguished women who adorned with natural mineral not only wedding dresses, but their own and evening dresses. A short style for a wedding, embroidered with pearls, from an informal one immediately turns into a chic and formal dress. Fashion designers, embroidering beads with a wedding mini-dress, focus on a specific detail or decorate it in its entirety.
Style dress «Princess» with beads and rhinestones
Dress «Princess» with a voluminous tulle skirt is a favorite among brides. This is an elegant and graceful outfit in which there are no elements that aggravate the light and romantic image of the newlywed. The cut of this model is traditional for a wedding: a narrow top and a flared bottom of a classical form. This style allows girls to hide the fullness of the hips, imperfections of the legs, emphasizing the merits of the bust, thin waist.
Style outfit «Princess», embroidered with rhinestones, beads, Swarovski stones or other decor, looks royal. The main thing is that the jewelry should be in moderation, because excess will turn the bride and groom into a Christmas tree, but this should not be allowed. Designers for rhinestones and beads choose individual details of the dress: bodice, back, train. Multi-colored rhinestones look advantageous in the upholstery of bride's accessories.

Transformer dress with a removable train
A transforming dress entered the woman's wardrobe 30 years ago, but every year it is gaining more and more popularity in the segment of wedding fashion. The advantage of the model is that it can easily be transformed using simple actions into different styles. Thanks to this, it seems to others that the bride changes her outfit several times during the wedding. For example, at a marriage ceremony, the girl was in a dress with a full tulle skirt, and for the evening celebration she arrived in a sheath dress.
A removable train is also convenient, especially when you have to dance a lot at a banquet and participate in wedding competitions. It's also suitable when it is raining, slush on the street, and you can't do without a wedding photo shoot. Thanks to such an original solution, the budget of the future married couple wins very much, because the bride tries on several images at once on the wedding day with one dress.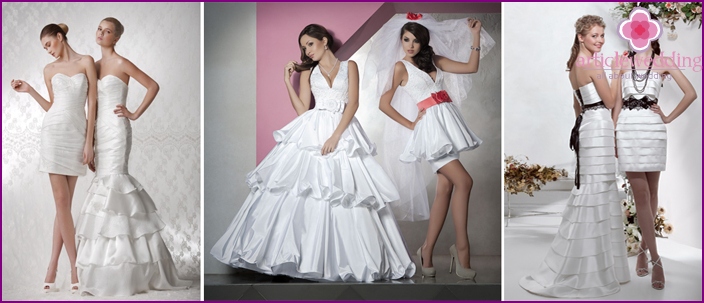 Puffy tulle dresses
The secret of the popularity of lush classic dresses lies in the use of tulle. Thanks to synthetic additives, this beautiful fabric has high strength and elasticity, so it does not crumple, it is easily washed, and it is easy to iron. Still tulle has many faces: it can be matte, shiny, with a dusting, pattern, embroidery or completely smooth. Delicate texture helps create the right look..
From tulle, magnificent skirts are remarkably modeled, and multi-layering does not need additional use of rings. In a magnificent tulle dress, the bride easily gets into the car, and the groom easily carries it in his hands, because he is not bothered by heavy fabrics, metallic train or bulky crinolines. A fluffy tulle skirt is also advantageous for a winter wedding, and so that it does not stick to your legs, it must be treated with a special antistatic agent.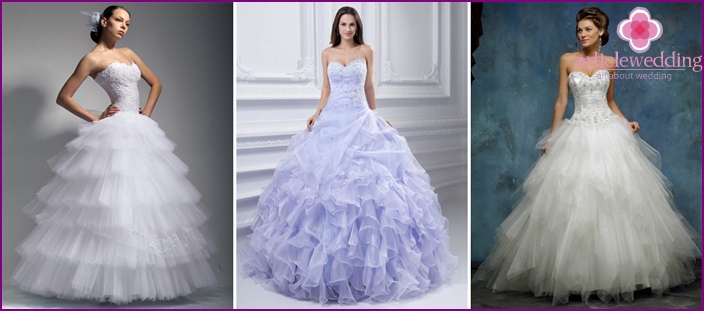 Photo of wedding dresses made of tulle
Light tulle is suitable for any wedding format. For a grand ceremony, a magnificent tulle dress embroidered with pearls or rhinestones is ideal. And if there is a modest wedding, then you should think about a short dress or a transformer dress, so as not to stand out too much among inexpensively dressed relatives. In any case, a tulle outfit will look elegant and will certainly attract the attention of others. We picked up photos of not only classic white tulle dresses, but also the original color ones: