Contents
---
---
The best friends of girls, and in particular brides, are diamonds. This fact has an explanation. Stones can play the role of single jewelry in an outfit or complement others, for example, beads, pearls, lace. With their help, you can focus on a specific area of ​​the body. Lush wedding dresses with rhinestones create a fabulous image of the bride. Crystals are best combined with guipure and lace elements..
Finishing options for a lush wedding dress with rhinestones
Not only a corset can be decorated with crystals, but also a skirt of a magnificent dress. They can perform the function of a belt or brooch, be freely scattered around the product or laid out in the form of an abstract figure, flower, heart. Rhinestones, passing through the sun's rays, incredibly beautifully shine and shimmer. They are used even by leading fashion designers to decorate elite celebrity dresses. So, thanks to the work of Daniel Swarovski, who created the perfect cut of stones, brides look like real queens at a wedding.
Depending on the idea of ​​a fashion designer, a magnificent wedding dress can have a different decor. Sometimes rhinestones emit a bright radiance, which captivates guests gathered at the ceremony, and sometimes they are barely noticeable. The second option is usually used to create dresses in a minimalist style. Stones gently crumble on the skirt or bodice of the bride. This creates the effect that the wedding dress shimmers, and the rhinestones themselves are invisible.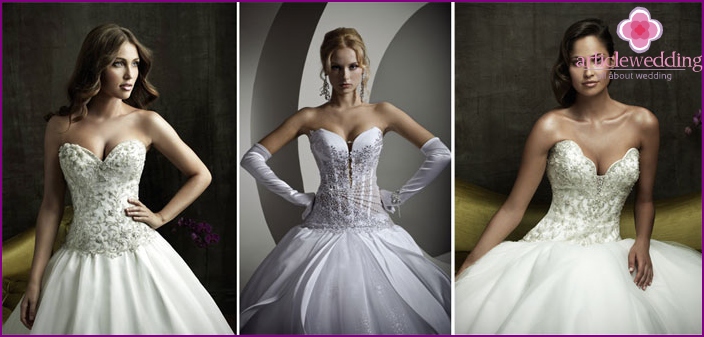 Often, rhinestones spread the whole elements of a wedding dress: bust, belt, corset, skirt. This adds a special chic and magic to the image of the bride. However, you should not choose a lush dress where decorative elements are on «dangerous» plots. Excessive attention on imperfect body lines you do not need. For example, for girls with full hips, an outfit decorated with sequins only in the upper part will do. Conversely, for those who do not want to emphasize the chest, lush wedding dresses with rhinestones on a skirt or belt are suitable.
Rhinestone Belt
A good solution for slender girls is to focus on the waist with a belt with shiny stones. It can be sewn using a variety of materials. Modern designers prefer to use silk, lace with embroidery or satin for this purpose. The size of the belt can be any, but owners of curvaceous forms are recommended to choose wider accessories.
Lush dresses with rhinestones in the waist area are suitable for those brides who love the sparkling and sparkle of stones. Outfits that provide for the presence of a contrasting accessory to the dress look original. For example, the combination of a white dress and a black or red belt decorated with sparkling crystals looks unusual. A colored belt of this type is sometimes supplemented with other accessories of a similar shade, or the bride selects all jewelry to match the overall design of the celebration.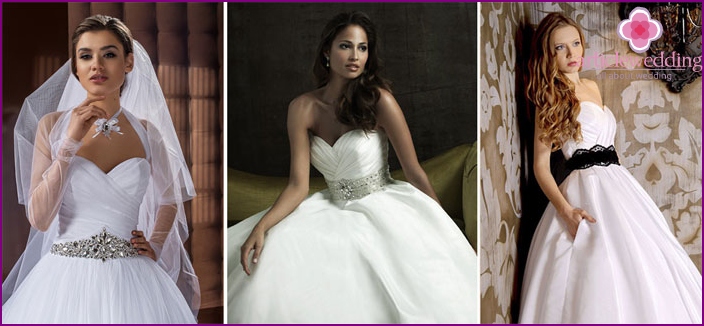 Full corset inlay
Many brides prefer to choose an outfit whose corset is generously decorated with crystals. Airy robes with corset and rhinestones look luxurious and expensive. The stones can be arranged randomly or create a real composition that will play with brilliance and attract attention to itself at the slightest hit of light. To create such an effect, the dress is not necessarily decorated with a whole piece of rhinestones - just a small butterfly or bow decorated with crystals is enough.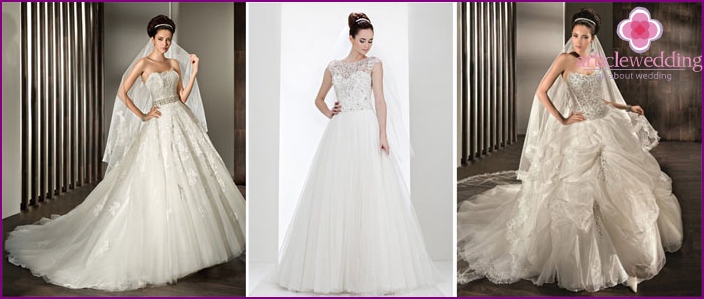 Bodice dresses with large rhinestones
To distract attention from steep hips and move it to the chest, the girl should choose a fluffy dress with an open top, whose bodice is decorated with large rhinestones. Such models that have horizontal white stripes on the skirt look spectacular. The bodice is usually sewn using organza or a rigid mesh that holds its shape perfectly. The sparkle of stones in the upper part of the dress perfectly emphasizes the beauty of the bride's eyes.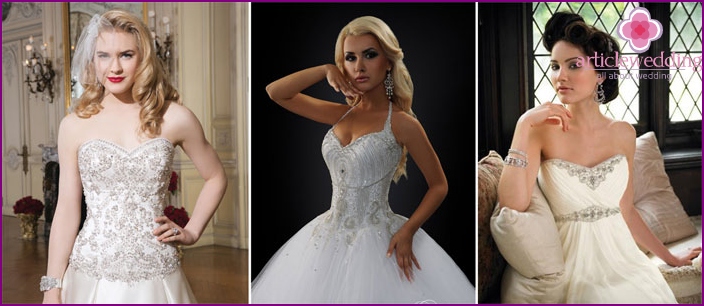 Hem of the dress in the form of an ornament
In the new season, some fashion designers preferred wedding dresses, the hem of which is decorated with various variations of the ornament. This trend was originally used by Carolina Herrera, presenting to the public a beautiful white dress with a two-level skirt. Around the perimeter of the hem, it is decorated with floral patterns. Another eminent couturier Lazarro supported this idea and created a collection of vintage wedding dresses. Skirts of dresses decorated with ornaments and handmade embroidery.

What shoes and accessories will fit a dress with rhinestones?
The main rule when choosing accessories for a lush wedding outfit is moderation. Many girls want to be brighter than the stars on a solemn day, and often this leads to a bust with jewelry. If your dress is already embroidered with sequins, sequins or rhinestones, then you should abandon additional jewelry. You will look great wearing classic silver or gold droplet earrings. Do not overload your hands with rings, let there be only one thing in the spotlight - the engagement.
Any newlywed accessories, like shoes, should be purchased when the wedding dress is purchased. Moreover, the shoes can be made of the same or similar fabric as the wedding outfit. By choosing classic satin, silk or guipure boats, you can decorate them with lace elements, bows or the same rhinestones. To do this, contact a specialized studio.
A long fluffy wedding dress implies the need for high-heeled shoes. However, when choosing, keep in mind that you will need to be in these shoes for a long time. Therefore, the heel of the shoe must be strong and stable. In addition to a short fluffy sleeveless dress, open sandals of beige or gold color should be chosen. Lightweight white stiletto heels are ideal for a Greek dress..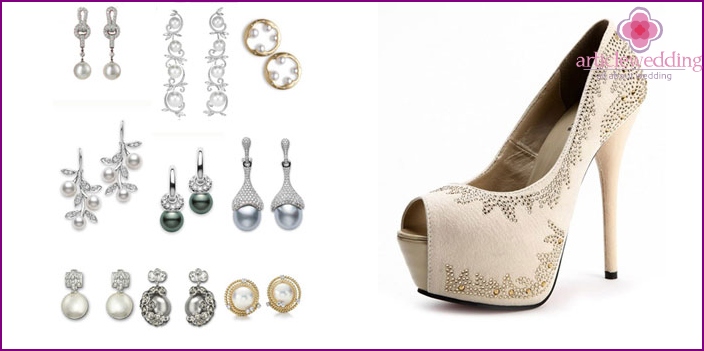 Video tips for choosing a lush inlaid dress
Such a popularity of decoration of lush wedding dresses with rhinestones is due to several reasons. First of all, crystals with their brilliance and shimmer give the image a fabulousness that appeals to many brides. It is very easy to form different compositions, ornaments and patterns from them. Do not worry that the finish will quickly lose its appearance, since high-quality materials and work guarantee the safety of the beauty of your outfit. You will learn how to choose a magnificent inlaid dress and what to pay attention to when making a purchase in the video below.
Photo of magnificent wedding dresses with Swarovski crystals
Unusual compositions from Swarovski rhinestones leave no one indifferent. These sparkling stones play with tints, sparkle in the sun and create the effect of flickering of the entire outfit. A generous scattering of crystals can be located in any part of the costume: a skirt, belt or bodice. With the help of rhinestones, it is easy to emphasize certain parts of the apparel: lace applications or guipure details. Thanks to a huge selection of Swarovski crystals, fashion designers create original exclusive wedding dresses, and the variety of their shapes and colors allows you to imitate real gems.