Contents
---
---
When a girl gets married, then for her close girlfriends this is a joyful and exciting event. But choosing a wedding dress for a friend can be a daunting task, because when buying holiday clothes, you need to provide for a lot of details and nuances. How to do it right, considering all the subtleties of etiquette? A few tips will help the bride's girlfriend choose a beautiful and appropriate outfit for a special occasion..
The subtleties of choosing a best friend's wedding dress
A wedding is a happy holiday for the newlyweds. On it, only the bride has every right to be dazzlingly beautiful and with her beautiful outfit they will stand out clearly against the background of other guests. So, her friend's dress should not be more attractive than that of the hero of the occasion. Listen to this rule, and then you will not become the cause of the bride's bad mood on her holiday.
Recently, more and more often at weddings they follow the fashionable tradition that came to us from the West. He assumes the presence of three or more newlywed girlfriends at the celebration who are dressed almost or completely the same. Moreover, the choice of color and style of their clothes depends on the desire of the main character of the celebration. But from the Soviet era, another tradition has been preserved: it suggests that there should be a witness from the bride on the wedding.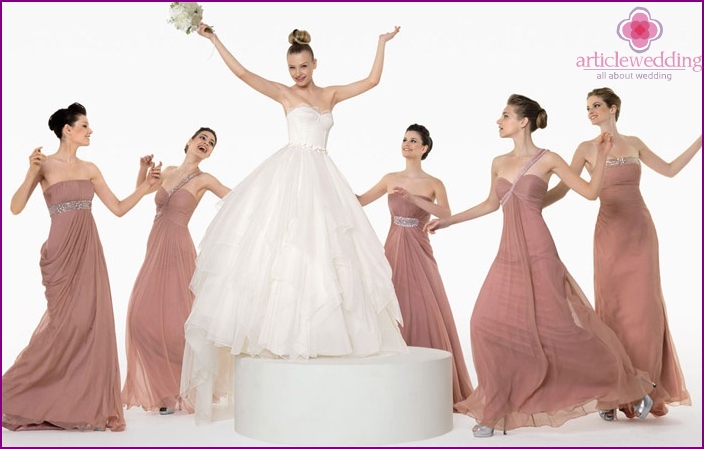 If at the celebration they adhere to such a ritual, then the bride's official girlfriend has one and she has many duties at the celebration. In this case, when choosing a girlfriend's outfit, it is advisable to find out how the bride and groom see him. And be sure to consider her opinion when choosing clothes for the celebration. A great option would be a joint shopping trip with the bride in search of a suitable model.
Which color to choose?
If you yourself have to decide on the color scheme of clothes for a wedding, then give preference to gentle calm tones. Perfect for a festive outfit, gold, lilac, yellow, peach, pink, pale blue, pale green, cream shade. If the bride prefers brighter colors, then choose a blue, turquoise, silver, red dress.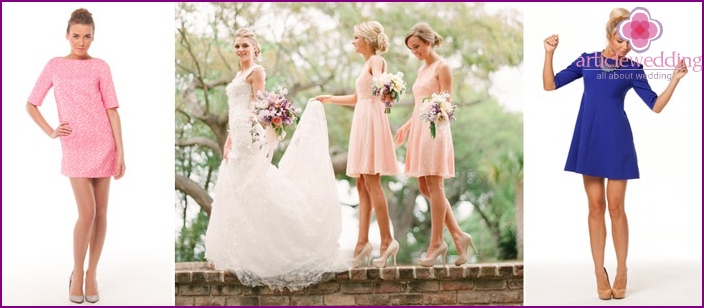 Choosing a white dress for a bridesmaid will be completely inappropriate. Because of him, absurd misunderstandings may arise at a celebration connected with the fact that a girlfriend will be confused with a newlywed. The right to wear a white dress at the wedding belongs to the bride, even if she is wearing colored clothes. It is also undesirable to put on a girlfriend in ivory clothes and «champagne», because she will be associated with a wedding dress.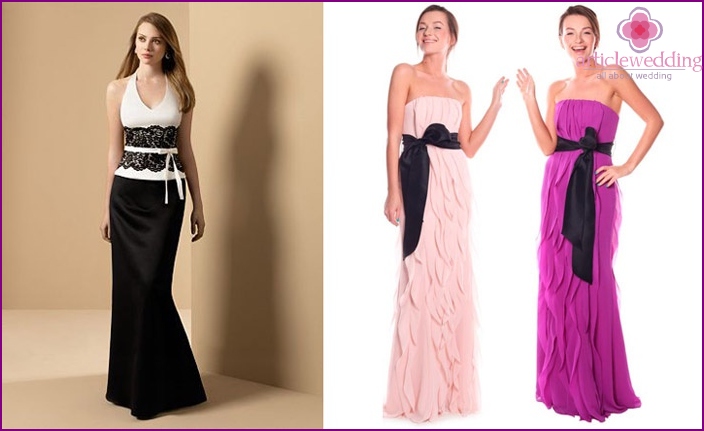 To wear a completely black model for parties is a great option, but for a wedding it is absolutely not suitable. However, if the bride herself asks you to come to her holiday in an outfit with elements of black material, then feel free to follow her wishes. The girlfriend's black dress can advantageously emphasize the snow-white outfit of the main character of the holiday. The combinations of black and white fabric in the attire of the witness and girlfriend are quite appropriate and correspond to fashion.
If the newlywed has several friends, then they are divided into «senior» and «junior». They are dressed in clothes of the same color or with similar shades. For «senior» girlfriends often choose long dresses «to the floor», and for «junior» The outfit has another shorter style. If the wedding celebration is thematic or a particular color will be preferred on it, then when choosing clothes it is worth considering these points.
The choice of fabric and style of dress?
A dress made of smooth flowing material will be a great option for a bridesmaid. Such an outfit will not distract the attention of guests from the heroine of the celebration, but it will look beautiful and festive. To make it feminine and elegant, it is better to buy clothes from noble and light fabrics. Perfect for this are chiffon, silk, taffeta and other fabric of a similar structure .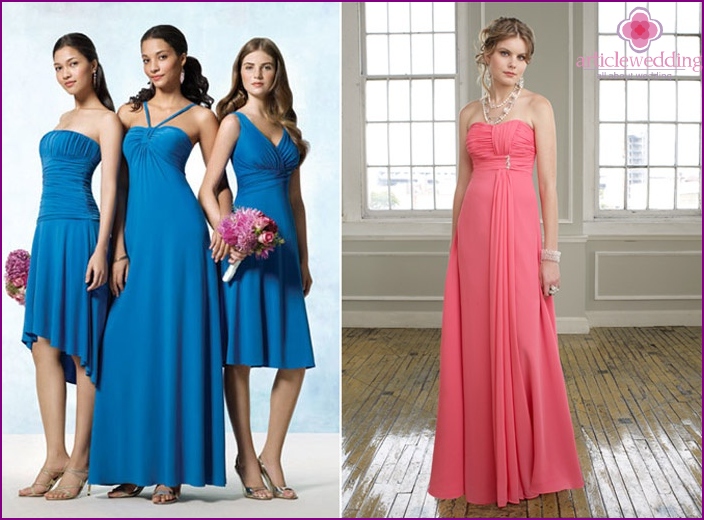 Wedding etiquette suggests that the girlfriend's dress should be sleeveless, not too décolleté. The bride's girlfriend's outfit is selected so that it is modest and in a certain sense closed. For example, festive clothing is chosen either with bare shoulders or short lengths. An outfit with transparent accents is a good option for a special occasion. It will look closed but attractive.
Choose a fashionable style of the dress so that it harmonizes with your figure. A cocktail dress or model in retro style, an outfit in the Greek style or with an A-shaped silhouette will be appropriate for the bride's girlfriend. But the model with a fluffy skirt is absolutely not suitable, because it will compete with the clothes of the bride.
Choosing the style of festive clothes, you must first find out how and where the wedding will be held. If the celebration is scheduled for the daytime and will be in the form of a buffet, then the evening outfit is absolutely not suitable for this event. In this case, it is better to wear a cocktail dress to the knees. Also, this version of the outfit is suitable for a restaurant, a ceremony in the registry office. If the figure allows and there is a desire to stand out effectively against the background of other guests, then a short narrow dress with a small neckline, without sleeves, will be an excellent option for clothing for a friend.
Does length matter?
Slender girls will look great in models with skirts of any length. But even if you have a perfect figure, do not choose too short a dress for a wedding. The average length of clothing for a newlywed girlfriend is an optimal and convenient option. Such clothes are more practical than a skirt on the floor, because it will not attract unnecessary attention and cause inconvenience during dancing and active movements..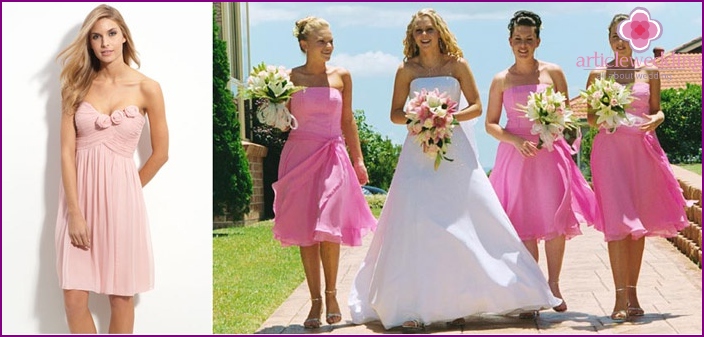 We select jewelry and accessories
The right accessories will help to make the image of the bridesmaid holistic and complete. Their choice depends on the image of the bride and groom. For example, accessories (bouquet, handbag, gloves, cape) of the bride and her friend can be the same or similar, but made in different colors. It will look original, because the image of the bride will be successfully complemented by a girlfriend.
Recommendations for choosing a dress
Follow some tips when choosing a wedding outfit for a girlfriend:
Firstly, a dress is better to choose a simple but elegant.
Secondly, it should be modest and feminine..
Thirdly, clothes for a wedding to a friend can complement the image of the bride or contrast with it.
Fourth, the outfit should be in harmony with your bouquet and flowers of the bride.
Fifth, clothes should not weigh much, heavy fabrics are not recommended.
For full
A-shaped models or sets with a skirt in the form of a trapeze will suit chubby bridesmaids. Also, long dresses of simple, but elegant cut, which slightly fit the figure, can be an excellent option for festive clothing. High-waisted models will help visually reduce the volume of the figure. Give preference to clothes in dark colors. Perfectly fit for fluffy girls dresses of blue, emerald, purple, dark red, purple. To appear slimmer, wear shoes with high heels for the festive dress.
For pregnant girls
Pregnancy is not a reason to refuse a wedding trip to a friend. To make her look great, she should take a closer look at her loose, non-binding clothing. A great option would be an evening dress with a trapeze from the chest made of light flowing material. Such a model will emphasize the chest, but will distract attention from the abdomen. In short pregnancy, take a look at the evening along with the Greek style.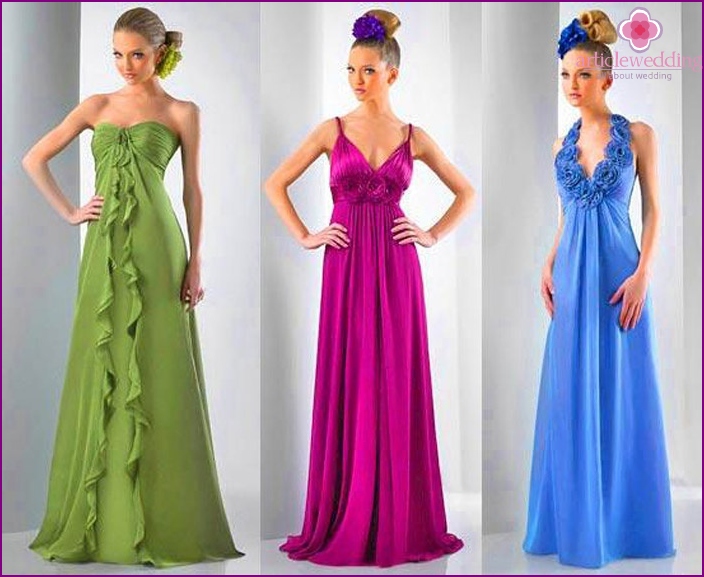 Fashion for dresses of 2016 for the bridesmaid - photo
In 2016, bridesmaids should consider three fashion trends of wedding fashion:
The current trend in holiday clothing will be pleating. This item looks great on airy fabrics similar to chiffon..
The combination of a dress "on the floor" with an open top - the trend of wedding fashion 2016.
Also, lace outfits and models with a bright palette will be to face the girlfriends of the bride this year..
Autumn winter
For cool days, wedding dresses are made more closed. Various capes and shawls are also appropriate. This gives occasion to complement the image, making it even more elegant. It is important to choose clothes so that they are suitable for a photo shoot in the park and for a celebration in a restaurant. For this, designers recommend layering outfits.
Spring Summer
Light, airy, bright and stylish outfits for the warm season will help to emphasize the figure of the bridesmaid and express their own vision of trends. Combining her attire with the style of the main character of the celebration, her friend or girlfriends will look amazing.