Contents
---
---
Any bride will easily find something of her own among a wide variety of fitted wedding dresses. Neither excess weight, nor a slight imbalance of the body, nor other shortcomings can spoil the impression of your image. The fitted wedding dresses are specially created so that on the day of the celebration every girl can feel like a princess. There are many options for this outfit..
How to choose a fitted dress for a wedding?
If classic models of dresses with corsets need special attention of girls to match their figure along with being associated with a traditional wedding, then gentle romantic styles will suit those brides who are looking for comfort, freshness of the image on the ceremony day. Here are some recommendations for choosing a dress for the bride:
For ladies who have a clear difference between the volume of the hips and waist, any fitted dress is suitable.
It is better for owners of a wide waist to opt for a model with a full skirt - this will visually make the figure more symmetrical. A corsage and a matching bodice will keep you fit. So, the waist will look much thinner in contrast with a fluffy skirt. And the silhouette itself will visually become more slender and tall. From style «mermaid» girls who do not have a thin waist, it is better to refuse.
Broad-shouldered brides should pay attention to a fitted dress with a fluffy or flared skirt from the knees.
If you are looking for an outfit that will slim you down, stop at a wedding robe with a V-neck and a closed top, decorated with vertical oblong appliques or patterns.
To hide the tummy, you must choose a dress with a diagonal drapery in this area. So the available volume will be visually dispersed.
For brides with small breasts and narrow shoulders, a style with a bare top, without straps and sleeves is suitable. Refrain from choosing a fitted wedding outfit with a fitted bodice - this is not the best option for such a figure.
On fragile girls models with a push-up and lace volumetric decor elements at the top of the dress will look great.
To emphasize the waistline, it is necessary to choose a suitable belt along with. Thin brides are recommended to choose a thin accessory, and for magnificent ladies, wide belts are preferable, which can be tied in a large bow at the back.
To attract attention to beautiful shapes, the bride should choose a dress with lace, embroidery, fabric brooch and other decorative elements.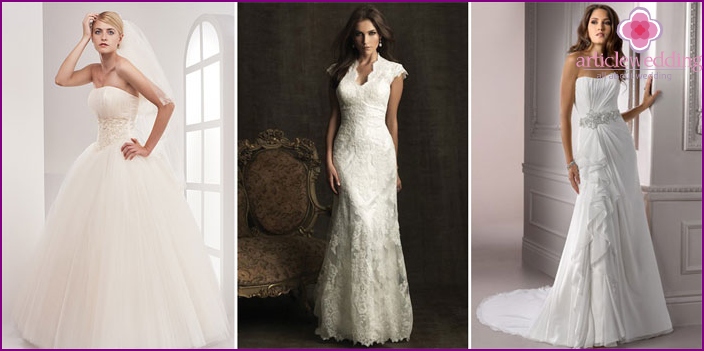 As a material from which a wedding robe can be sewn, a variety of options are used. But in most cases, silk is considered the most advantageous and universal solution. If you have a need or desire for your wedding dress to keep its shape well, pay attention to the heavier, denser fabric - satin.
Models of fitted wedding dresses
The fitted wedding dresses have certain features. All vertical seams of the style begin from the armhole zone, and then descend along the chest to the hem of the skirt. Due to such seams, the outfit takes on a trapezoidal, wedge-shaped shape. The narrow waistline here is emphasized (or created), thanks to the cut. The fitted style can clearly draw the silhouette lines and fit the figure tightly, or it can easily focus on feminine forms (for example, in models imitating antique tunics).
Long sheath wedding dress
A straight fitted dress that has no extensions in the hem is called a sheath. Despite the fact that this style looks simple, with the right choice of accessories, shoes and hairstyles, it will take on an elegant sophisticated look. The model can be made more original - using expensive fabrics or additional elements. A double dress with a satin lining and upper lace material will be a great option. The highlight will be a bright-colored belt, an asymmetric top or some decoration (embroidery, crystals, sequins).
The length of the wedding dress form of the case is different. This style looks great on girls of any height, but having a slender figure. However, it should be noted that since the dress visually lengthens the silhouette, tall brides should better refrain from choosing this option. Such an outfit requires an ideal figure, because it emphasizes all its lines, including flaws.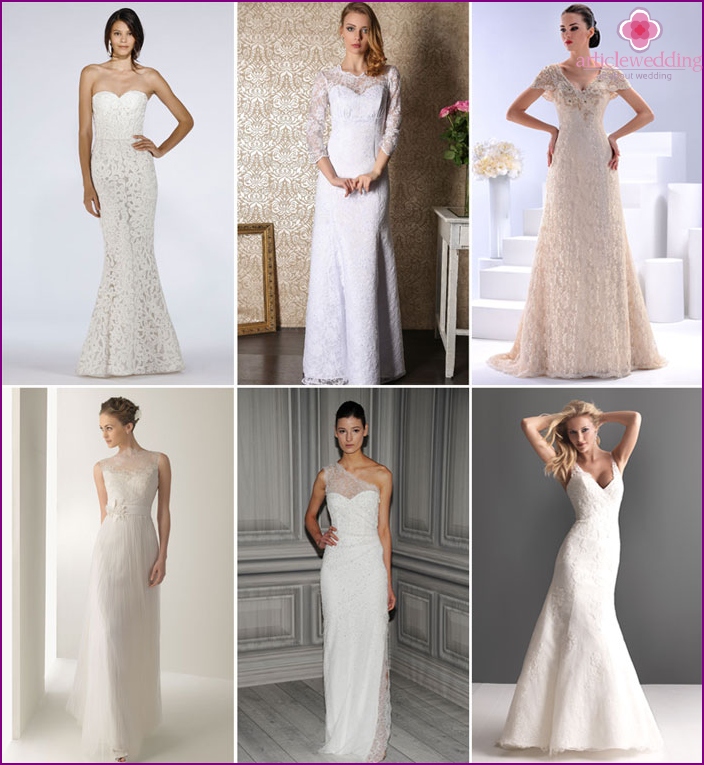 A-shaped with a fitted top
Such a dress is characterized by a tight bodice and a trapezoidal skirt. The impression of a wedding dress depends on the fabric from which it is sewn. The robe will be light and airy if silk, chiffon is used in its basis. Heavy brocade or satin will give the opposite effect and create the image of a bride in the style of luxurious classics. A-shaped dress is considered a universal model, thanks to which it is possible to visually adjust the figure.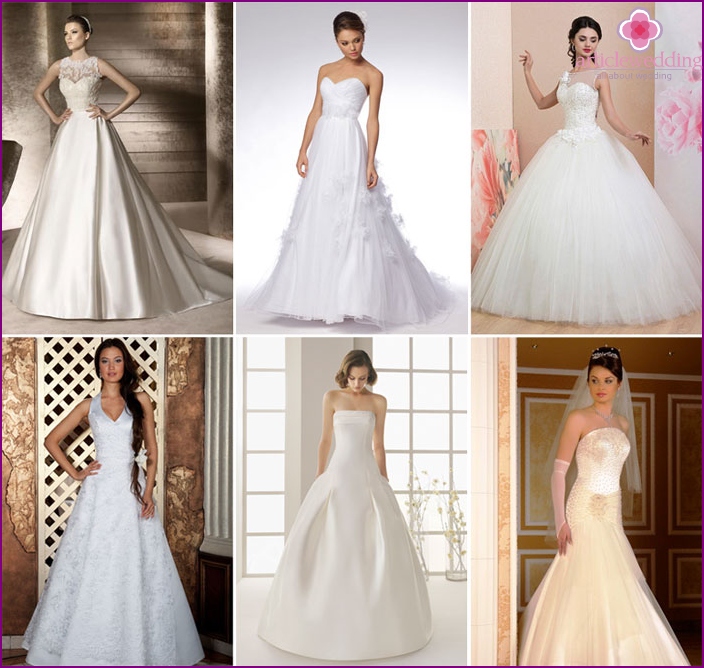 With a train silhouette "Mermaid"
Very popular style. «mermaid» suitable only for happy owners of ideal proportions. This dress emphasizes the seductive curves, forms an exquisite delicate image of the bride. A tight-fitting outfit with a tail provides a tight upper part and a flared bottom (from the knee line to the hem). Given what fabric is chosen, the dress can be completely tight or embossed. For example, the atlas creates clear contours of the silhouette, and silk leaves the body some freedom.
Outfit «mermaid» suitable for graceful brides who have smooth, but distinct bends (not very large, but pronounced chest; aspen waist; steep hips). The dress fits the figure, like a second skin, so the girl must be absolutely confident in her beauty. This outfit looks best in white and in combination with a luxurious train.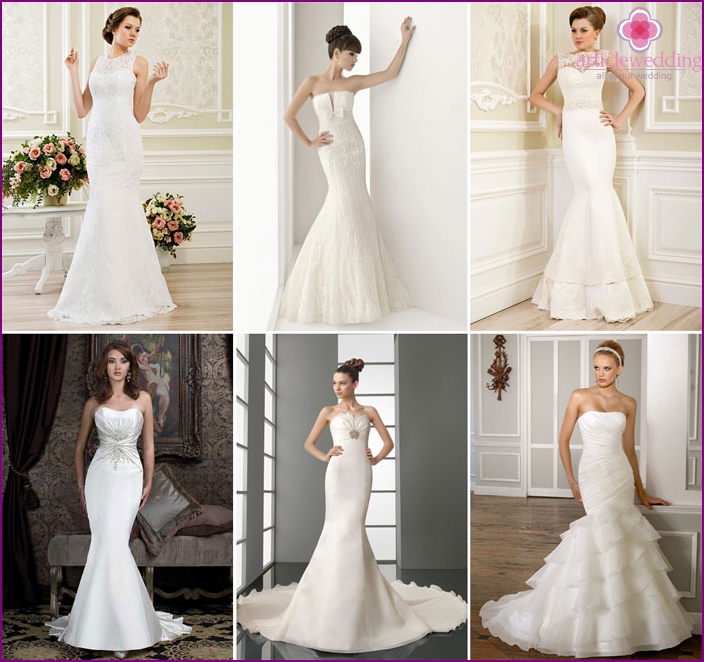 Tight short dress
This variation of fitted wedding attire is suitable for those brides who feel uncomfortable in a magnificent dress. Many shortened models emphasize the waist line, but «balloons» are rare because they are too unpretentious and primitive, according to designers. Short fitted dresses differ in the shape of the skirt, which can be straight, fancy, made in the form of a bell, a pack.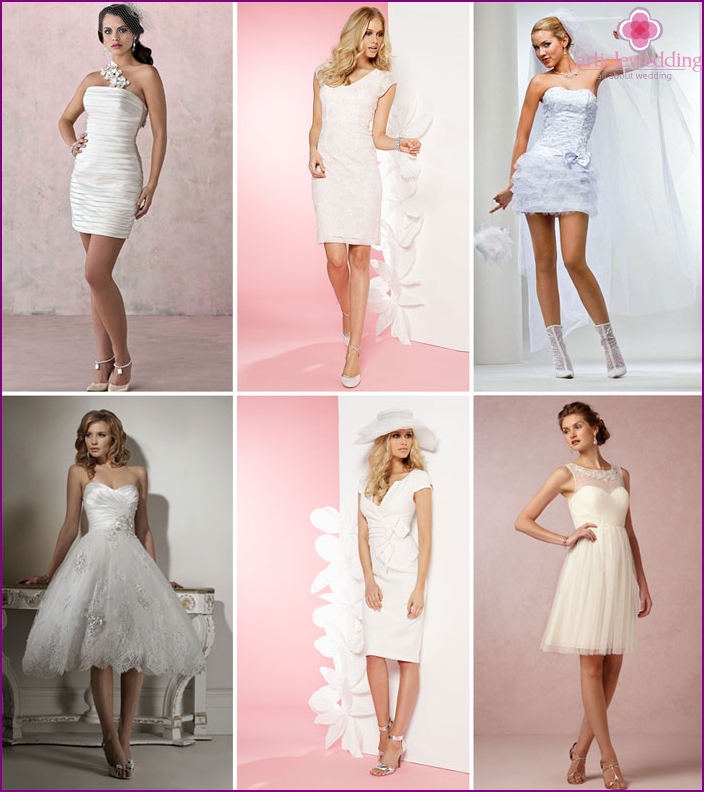 Photo of fitted wedding dresses with lace
Fitted dresses are universal, because they look great on most brides. This style gained popularity back in the days of aristocrats, when outfits of a similar cut were worn by most of the married girls. Wearing such a wedding dress, any bride will feel beautiful and will attract the enthusiastic looks of the guests and the groom gathered at the ceremony.