Contents
---
---
How to give the image of the bride more sophistication and solemnity? It is necessary to decorate the hairstyle of the newlyweds with a diadem. For a long time, this accessory was worn by kings and queens to emphasize their high position. All girls want to feel like a princess, so many brides choose a tiara as a decoration for their hair. She will perfectly emphasize the beauty of the woman and make the image of the bride and groom complete and harmonious. What could be the diadem for the bride? How to choose a wedding dress and hairstyle for her?
Features of choosing tiaras for the bride
If you decide to decorate your wedding hairstyle with a diadem, then seriously and carefully approach the choice of her model. Before buying an accessory, try it on your head and walk around in it. If the mini-crown does not slip on its side, does not fall off during movement, does not squeeze its head and keeps steady on the hair, then it is perfect for a wedding. When choosing this accessory, it is necessary to take into account the type of girl's face, color, style of the wedding dress, hair style. To choose the right mini-crown for the bride and groom, pay attention to the following recommendations:
Tall models with pointed peaks are perfect for girls with a round face because they will make the image of a woman more harmonious. And vice versa, such a hair decor is absolutely not suitable for owners of a triangular face.
Mini flower crowns are perfect for triangular-shaped faces.
Beautiful stones in a tiara will smooth, soften the image of a newlywed with a square or rectangular face.
Any kind of mini-crowns are suitable for girls who have an oval face. But asymmetric models will look especially good on them..
A mini-crown is not a good option for a bride and groom with curvaceous or short stature.
Tall, thin or medium height slender girls can safely decorate their hairstyle with a tiara and will look great
Women who have small, delicate facial features should not choose massive hair accessories. Small tiara models are more suitable for them..
For a rectangular and oblong type of face, choose models of medium thickness and uniform shape, without high peaks.
Shaped Wedding Tiaras
Before the bride and groom a huge selection of wedding mini-crowns opens. A diadem is a headpiece in the shape of a crown. It may be in the form of a vicious circle or rim. Tiaras differ in size, design, mounting method, and height. For their manufacture using different materials. It can be both precious metals and stones, as well as their cheaper imitators.
In the form of a rim or crest
Headbands are mounted on the head like a hoop. The accessory can be located around the head or put on a hairstyle, like a crown in a horizontal plane. On the inner side of the rim there may be small combs for fixing it on the styling. The newlywed in the rim in the form of a mini-crown will look gentle, solemn. The tiara comb is well fixed in installation with the help of teeth located on the back of the accessory. This model and veil perfectly match, and also a tiara comb can be used for high hairstyles.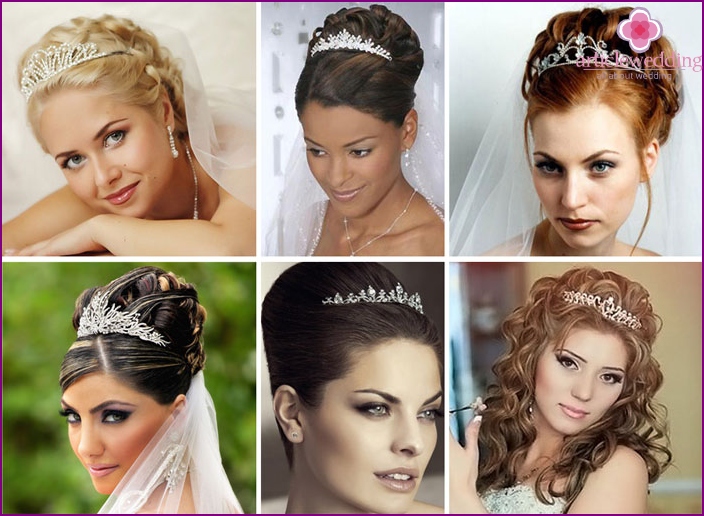 Crown shaped
The decoration of the hairstyle in the shape of a crown looks bright, spectacular. Laying the bride and groom can be decorated with precious stones, Swarovski crystals or pearls. The crown is able to make the image of the newlywed majestic and emphasize her status. If you want to feel like a queen, pay attention to the mini-crown when choosing accessories for marriage.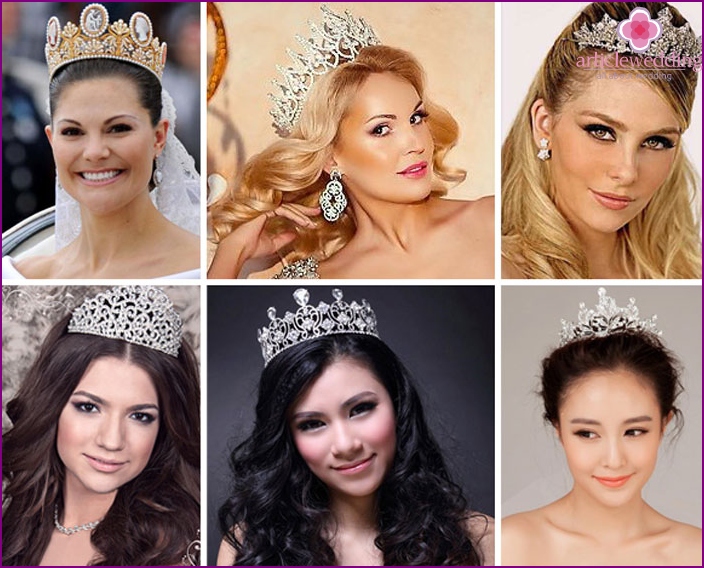 In the form of a hoop or crown
Mini crowns for brides can be in the form of a ring or in the form of a semicircle. Feronier tiaras that adorn the girl's head and forehead can make the image of the newlywed romantic and unusual. They can be beautifully decorated with precious stones and have an openwork structure. The original look has a mini-crown in the Greek style, which is made in the shape of a crown, because it is simple and elegant. In Greek crowns, all the details are in the same color scheme..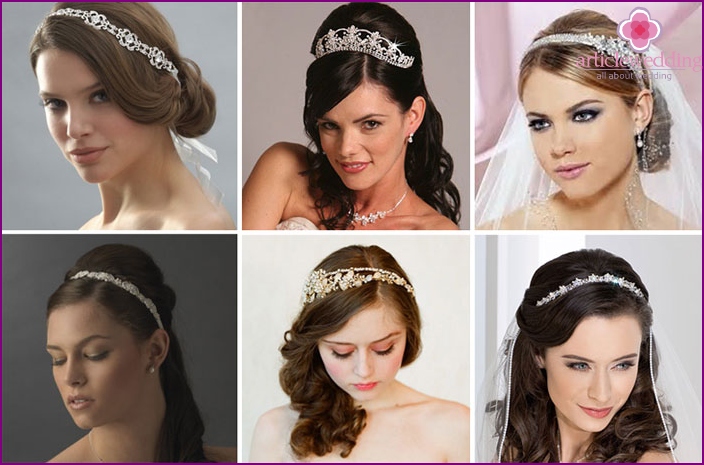 Wedding Tiaras Options
Mini crowns for brides are made of different materials: it can be gold, silver or less valuable metal. Tiaras made of precious materials are decorated with diamonds or other jewelry stones, and crowns made of simple metal are decorated with artificial shiny elements. Modern designers in the manufacture of mini-crowns use the Baroque style, Empire style. Decorations on the accessory for hairstyle should overlap with the decor of the dress or other elements in the image of the bride and groom.
Tiaras with stones or rhinestones
Expensive jewelery with precious stones is the choice of wealthy brides. Golden crowns in diamonds will give the newlywed a royal royal vivid look. If the bride's earrings, necklaces or other jewelry are made of the same elements as the mini-crown, this will make the girl's image harmonious and impeccable. Such jewelry for hair with Swarovski stones looks no less spectacular, because they emit spectacular flicker, shine. If the dress of the bride and groom will be decorated with Swarovski stones, then a hair ornament with a similar decor will suit it well.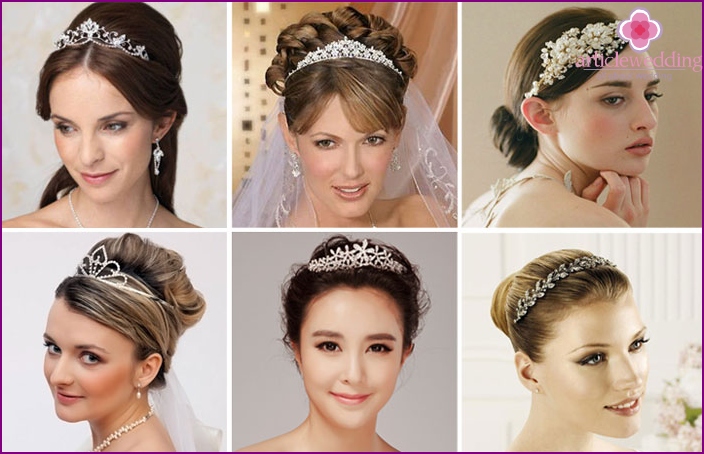 Decorated with pearls or beads
Modern brides from royal families married in crowns decorated with pearls. Mother-of-pearl beads combine beautifully with both precious metals and less expensive mini-crown materials. The white pearls in the hair accessory are in perfect harmony with the snow-white wedding dress, especially if it is decorated with precious gifts of sea shells. Graceful crowns are made from beads: these are inexpensive, but beautiful products, some newlyweds make their own or order from skilled craftsmen.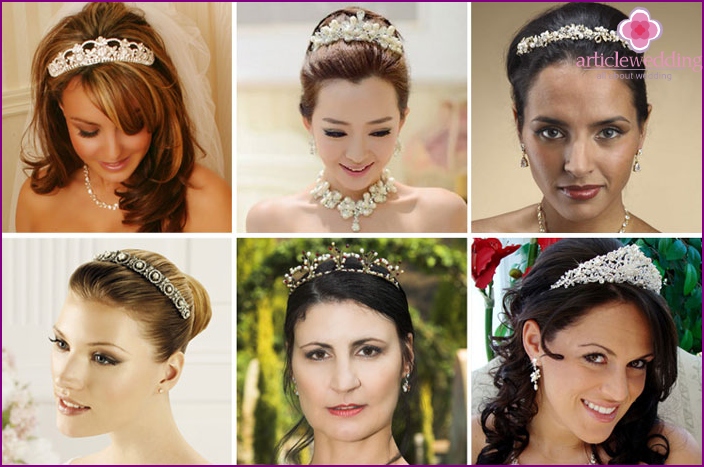 Decorated with flowers or butterflies.
Crowns decorated with artificial flowers are a fashionable trend in wedding fashion. The decor in the form of buds or petals is made of various materials - precious metals, textiles or plastic. Crowns decorated with flowers will help emphasize the romantic style of the girl at the wedding. Hair accessories decorated with butterflies look original and cute, in addition, they can be decorated with shiny stones. Crowns with butterflies give the bride a sophisticated, elegant look.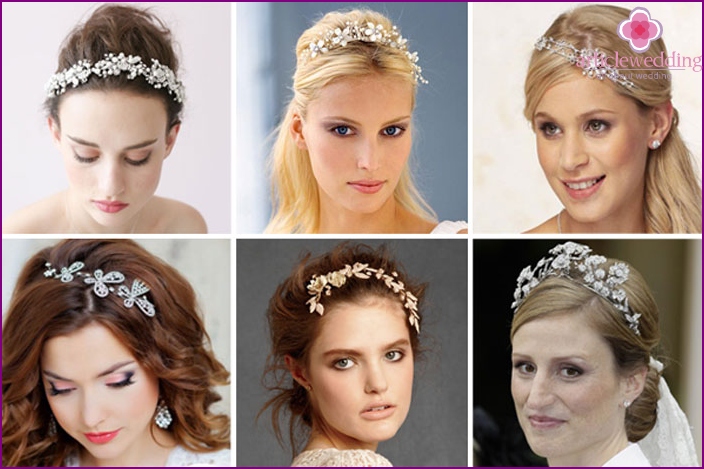 Wedding hairstyles with diadem
If you decide to decorate your wedding look with a tiara, then for a harmonious, spectacular look, you need to choose the right hairstyle:
This jewelry looks great on loose long curls.
To emphasize the beauty of curly hair, it is better to choose a small model of elegant work.
Beautifully styled long straight hair will perfectly harmonize with the mini-crown.
For volumetric hairstyles, small crown-crests are suitable. They look spectacular on hair gathered in an elegant bun.
Greek styling with crowns blends perfectly and give the image of a woman romance, femininity.
Volumetric, beautiful styling will perfectly harmonize with a small, modest decoration on the hairstyle.
Which wedding dress will fit the diadem
The style and color of the wedding dress are important factors to consider when choosing a hair accessory. Crowns look harmonious in which the pattern, stones or other elements correspond to similar details in a wedding outfit. This is not a mandatory rule, but such a combination will make the image of the bride magnificent. A girl with a floral pattern on her dress and crown will look spectacular at a wedding.
To choose the right mini-crown for the dress, follow these tips:
Hair accessories in geometric patterns or with straight lines look good against the background of a tight wedding dress.
A wedding dress in pearls will harmonize with a hair ornament in mother-of-pearl beads.
The rhinestone outfit requires that the decoration on the hairstyle be with similar elements.
Models without pearls, but with stones, will suit any wedding dress.
A silver tiara decorated with white pearls, rhinestones, artificial diamonds will perfectly harmonize with the bride's white outfit..
Ivory dress will go well with a model decorated with pearls or made in golden color..
A shiny white outfit will look great with a tiara of silver, gold or decorated with pearls.
To complement the shade of champagne, a model of gold color or with dark pearl details is suitable.
With a short outfit, it is better not to combine a royal styling accessory.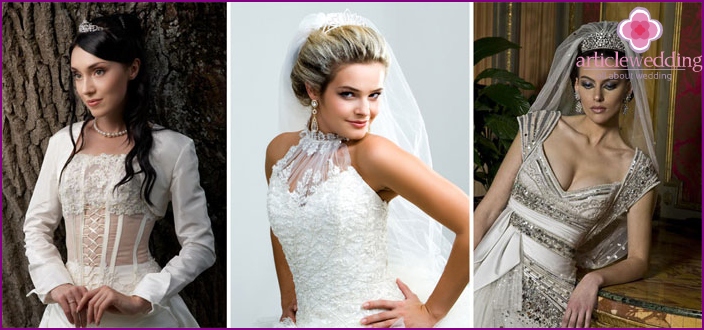 Photo of wedding tiaras for the bride
A beautiful royal decoration will perfectly complement the girl's wedding look. It looks great on its own and with a veil. Different types of this jewelry are beautiful in their own way and can make a girl bright and effective at the wedding. When choosing a tiara, pay attention to the color and finish of the wedding dress, because this will help to create a bright and harmonious image of the girl at the wedding.