Contents
---
---
The rich variety of wedding hairstyles and accessories for them introduces many brides at a loss. Among such an abundance of beautiful diadem, charming headbands, playful ribbons, bows and hairpins, studded with stones or rhinestones, organza flowers or other intricate decor elements, it is difficult to find the perfect option. The choice of hair accessories largely depends on the image of the bride, her dress and other details of the festive toilet.
What hair accessories can be chosen for the bride?
The veil is a classic element of the wedding style, which to this day remains the most popular hair accessory among brides. In the old days, the groom traditionally could not see his chosen one until the day of their marriage. When the beautiful bride removed the veil from her face in front of the altar, the groom saw his future wife for the first time. The ritual of removing the cover from the head symbolizes the acquisition of a new life for the girl as a wife. Nowadays, a veil is just a charming feminine accessory for hair.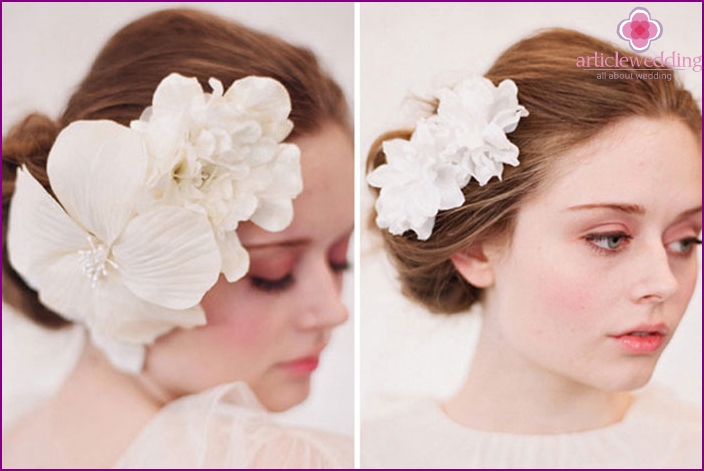 Many modern fashionistas do well without this symbolic decoration, replacing it with decorative hairpins, rims, ribbons or tiaras decorated with stones, rhinestones, pearls, artificial flowers made of fabric or clay. Fashion designers every year offer more and more original and extravagant hair jewelry. To choose the perfect option that will be in harmony with the festive image, it is worth considering and trying on various types of jewelry.
Floral Wedding Wreaths
A wedding flower wreath is a wonderful accessory for hair that will give an image of tenderness and charm. In the old days, brides adorned their heads with floral wreaths, from which a light veil fell. Traditionally, this element, along with wedding rings, is a symbol of marriage, fidelity and love. Nowadays, decorative hair wreaths are made from both artificial and natural flowers. When choosing a suitable decoration, the floral arrangement of the bride's bouquet should be considered.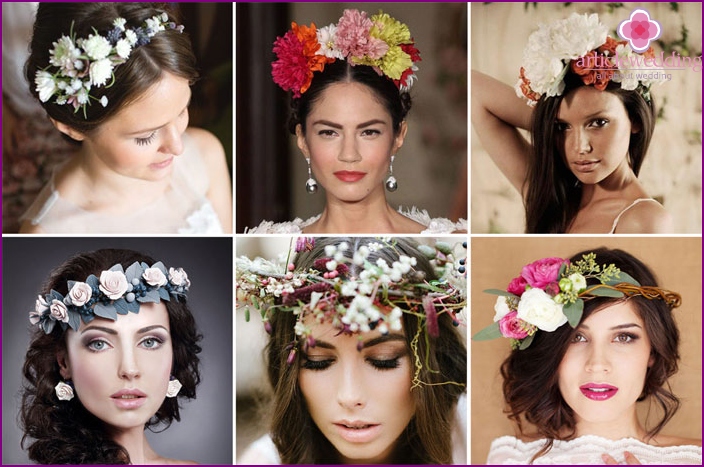 Tiaras or tiaras with sparkling stones
Accessories made of flowers look touching and incredibly cute, give the girl innocence, however, this style is not for everyone. Many modern brides prefer to shine at their wedding in the image of a real queen. For such young ladies, designers prudently prepared a rich selection of all kinds of tiaras and diadems decorated with luxurious stones and rhinestones. Such accessories are universal, they look great with almost any hairstyle..
If a girl decorates her hair with a diadem, this element becomes the dominant of the image. When choosing other accessories, including necklaces, rings, bracelets, you should be careful. Overloaded with the sparkle of stones, the image risks becoming ridiculous. Choose elegant neat jewelry that will not compete in brilliance with the main decorative detail - the crown. If the bride chose a modest tiara, a handbag or, for example, a necklace can be bright or massive.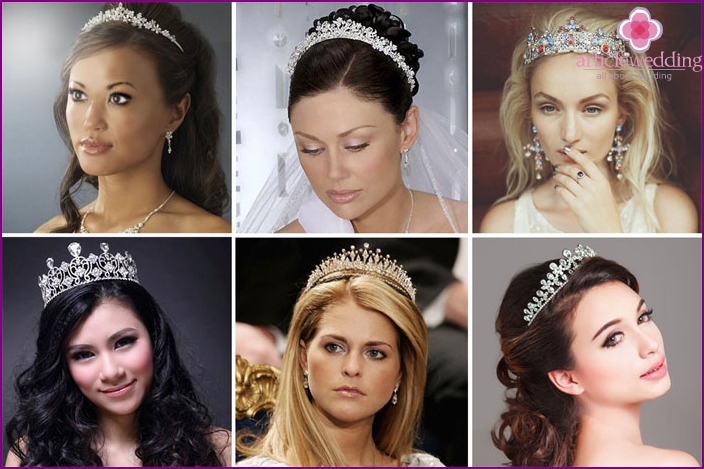 Wedding headbands and hoops for brides
A spectacular hair band will be an excellent choice, giving the image of femininity, elegance. This is an excellent alternative to a sparkling diadem, suitable for owners of short hair, on which, as a rule, voluminous tiaras are problematically attached. When choosing a rim, be sure to try it on. In no case should the hoop press or discomfort. Another interesting option is the bandage. Such an ornament fits perfectly into the image of the 20-30s of the last century.

Studs with rhinestones, beads or flowers
Hairpins, generously decorated with stones, rhinestones, pearls, and other decorative elements, will become a charming accessory on a wedding hairstyle. In this case, the studs can be unobtrusive, with one or a pair of modest stones. This is not only effective, but also a useful detail for hair, which will help fix the curls. Stylists use spiral hairpins to secure a complex hairstyle or veil. Prefer models with droplets at the ends to help avoid cuts and injections..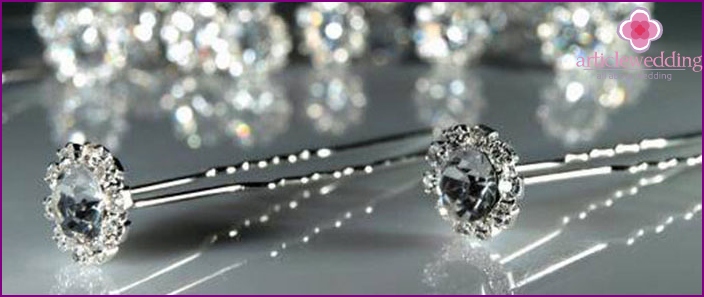 Chiffon or Organza Flower Combs
The comb, decorated with decorative fabric flowers or stones, is a simple accessory in design, which often draw up a ready-made hairstyle or fix a veil. The rich variety of hair combs allows each bride to choose the right option. Properly selected jewelry will help emphasize the femininity of its owner.

Barrettes for brides
A hair clip is a universal accessory that stylists often use to decorate a wedding hairstyle. Hairpins can have the most unexpected shape, be decorated with all kinds of pebbles, rhinestones, decorative flowers, pearls. The choice of a suitable option depends on the style of the bride, the complexity of styling. This is not only a spectacular decoration, but also a detail that securely fixes your hair.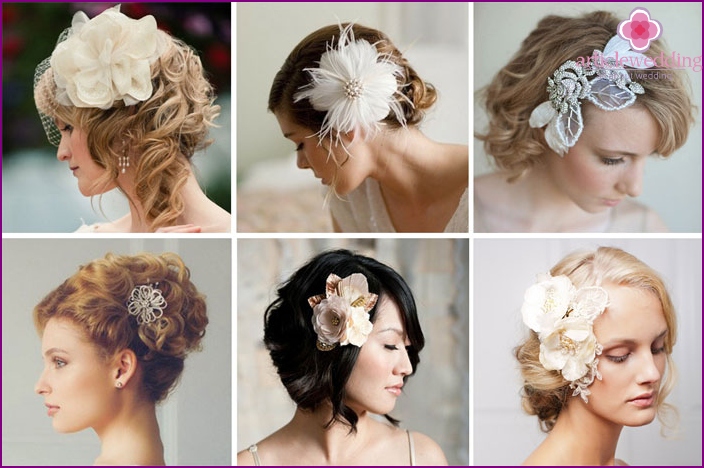 Wedding hats for hair and veils
Wedding hat - a festive hat, a spectacular decoration for hair. When choosing this accessory, one should take into account the height, age, face shape of the bride, style of the wedding dress. Caps with small margins are suitable for short, slender girls, but wide-brimmed headdresses decorated with a veil will look great on beauties of model growth. Owners of curvaceous should avoid small hats.
When choosing a hat, pay attention to the decor of the hat. Such hair jewelry can be decorated with details of organza, mesh, lace, satin. Modern designers offer models decorated with rhinestones, beads, ribbons, feathers or other elements. It should be borne in mind that rare hats are combined with lush wedding dresses. But they are great for tight-fitting outfits or pantsuits..
Veils are another charming variety of hair accessories. A neat wedding hat with a veil will add mystery to the image. In addition, the veil can be attached to a rim or hairpin. This decoration belongs to the vintage style, so this option will be a great addition to a wedding suit in a retro style or an elegant holiday toilet.
DIY video tutorial on creating a do-it-yourself hoop
This summer's trend is a charming romantic hoop adorned with beautiful buds. This wonderful accessory will be a wonderful addition to the holiday toilet. Flowers on the rim can be very different: from neat roses to lush peonies. Below is a detailed video tutorial on how to make a spectacular holiday hair jewelry yourself.
Photos of wedding hair accessories
It's no secret that to create the perfect complete wedding look it's not enough to choose a dress and make a spectacular hairstyle. Particular attention should be paid to accessories. Properly selected hair ornaments will make the bride's image feminine and charming. At the same time, the hairstyle, as a basis, can be complex or vice versa natural. A spectacular accessory will help to place accents, make styling stylish and festive.