Contents
---
---
The bride's handbag is a complex accessory, the need for which is still being discussed at wedding forums. This is the only detail at the wedding that has as many fans as opponents. The assurances that wedding bags are uncomfortable, it would seem, have a logical explanation: the bride's hands are busy with a bouquet, and there are girlfriends to wear the necessary little things like a phone, a powder box and a handkerchief. However, we will prove that the practicality of this cute little thing successfully competes with imaginary inconvenience, and its beauty and sophistication perfectly emphasize the image of the bride.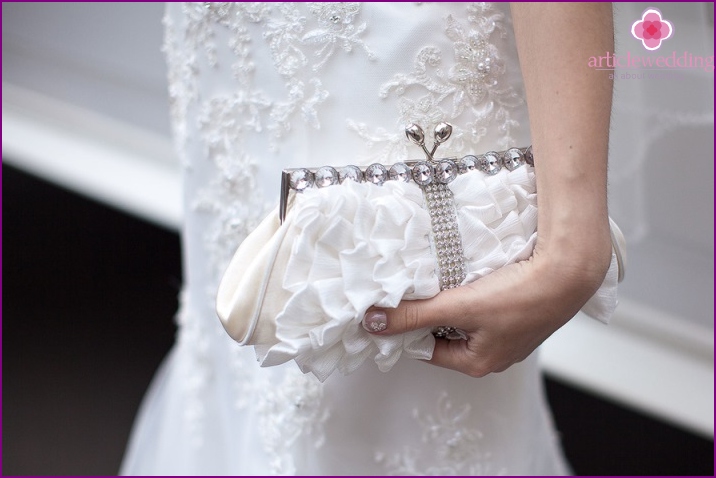 Models of wedding bags for the bride
Although the function of any bag is to store the things of its mistress, the main criterion for choosing this part for the wedding will be not so much the size (which is traditionally very small), but the appearance (shape, color, decor). A wedding handbag should harmoniously fit into the image of the bride and groom, while not interfering during the wedding at the registry office, at a photo shoot and other celebrations. Therefore, you need to think in advance whether it will be convenient for the bride to wear a clutch at the wedding, or preferably a bag with a strap.
In order not to make a mistake with the size, it is necessary to determine ahead of time what to bring with you to the wedding, and what to deposit for storage with girlfriends or relatives. As a rule, the bride puts the little things like powder, lipstick, napkins / handkerchief and phone into her purse, and the witness takes the bulky items (perfume, extra cosmetics, spare pair of stockings / tights, medicines). Before buying, ask the seller to put the selected things in a handy bag - so you will understand what size you need.
Modern wedding boutiques offer hundreds of different handbags for brides. The relevance and relevance of this accessory forces designers to work on its models as carefully as on wedding dresses. A variety of styles and shapes, colors, materials and decor allow you to choose a handbag for almost any wedding dress. A well-chosen reticule or clutch will add personality to a typical salon dress, will become a highlight that gracefully shades the image of the newlywed. What are the models of handbags in the trend today?
Wedding bag
This variety called «pompadour», perfect for dresses with a full skirt (style «Princess») The bag is considered one of the most convenient models, because It has ties, so you can put it on your hand even for lack of a handle, and it looks equally harmonious on your wrist and elbow. Pompadour is the only model worn on the belt, which is very convenient from a practical point of view. The bag-bag is universal and outwardly: the use of fabrics for such a style has no restrictions - satin and brocade bags, as well as lace or knitted ones, look good.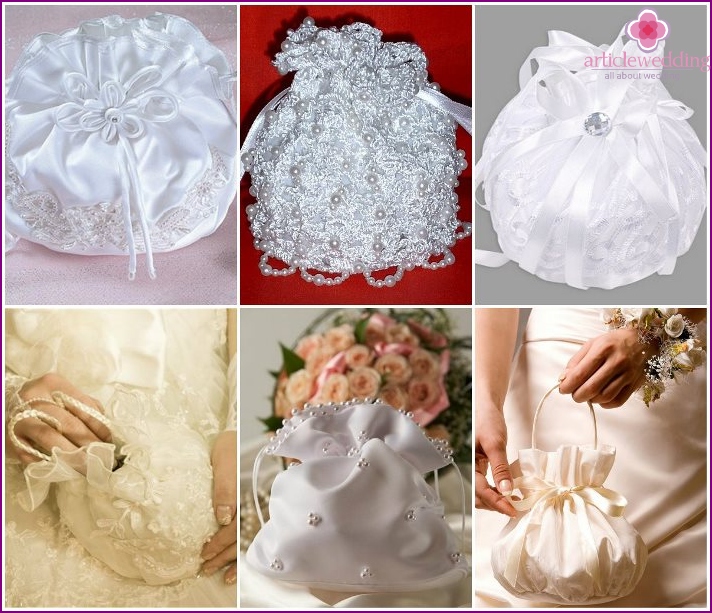 Heart bag
This is a very romantic model that fits perfectly into a classic European wedding. Clutches or cases are usually made in the shape of a heart; therefore, this type of handbag is suitable for dresses with a straight or fitted silhouette, including those in the Greek style. The heart-clutch is often completely decorated with pearls or rhinestones. Therefore, a wedding dress for such an accessory should be concise, from smooth fabrics and with a minimum of jewelry.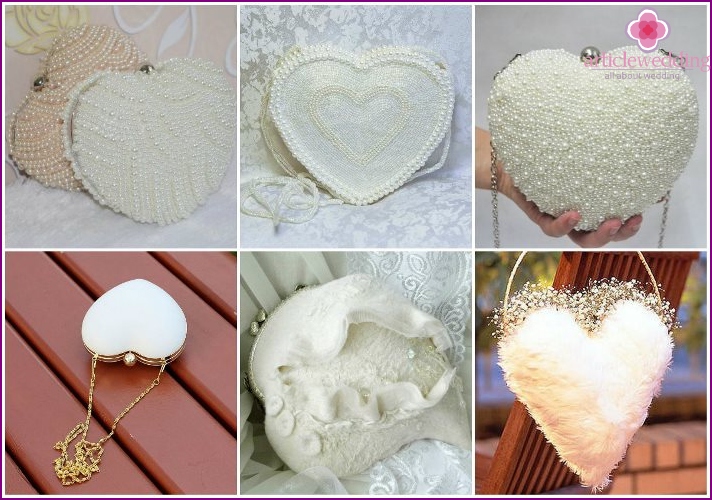 Wedding pouch handbag
This is a variation of a pouch. The difference is that the bag is more shapeless, the pouch has a pronounced elongated rectangular shape, which remains even when tightened tightly. In addition, at the pouch, the ribbons are located close to the edge (with a slight indentation or in the edging seam). And in the classic bag, the ties can be located both along the edge and far from the edge (sometimes in the middle of the bag - in this case, the tightened edges create the effect of a blossoming flower).
A pouch made of lace or noble fabrics (satin, velvet, moire, brocade) is suitable for a dress with a crinoline (image «princesses») Tapestry, felted or beaded bag - to the straight style (fitted or A-silhouette). A pouch bag made of sequins, beads or rhinestones with a fringe at the bottom - a great addition to short and long straight dresses of the 20s of the last century (for example, for a Gatsby-style wedding).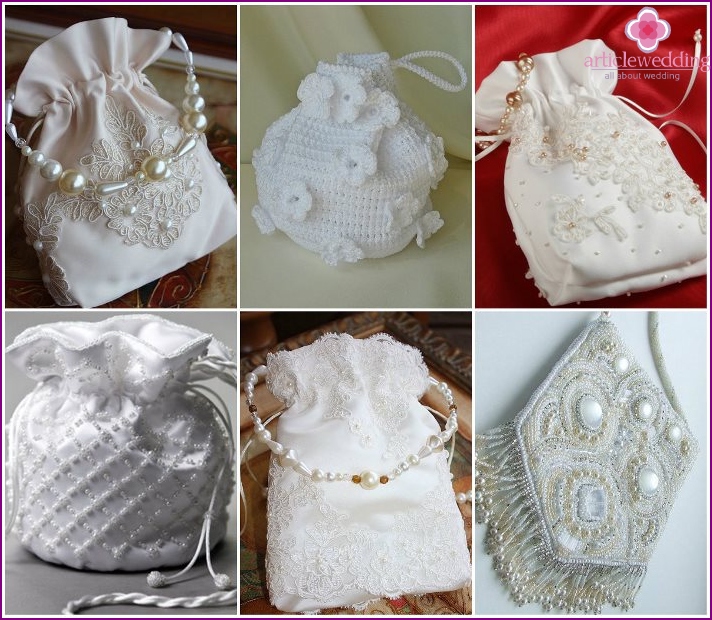 Wedding clutch bag
The clutch, actual in recent years, is an ideal accessory for cocktail models and long dresses of a direct or A-silhouette. It is good if such a handbag will have a removable strap for attaching to the wrist, which will allow the bride to free her hands if necessary. A trendy variety of clutch bag-case (especially decorated entirely with stones or crystals) will fit any modern look in a laconic style, including a complex silhouette «mermaid», which is very demanding on accessories.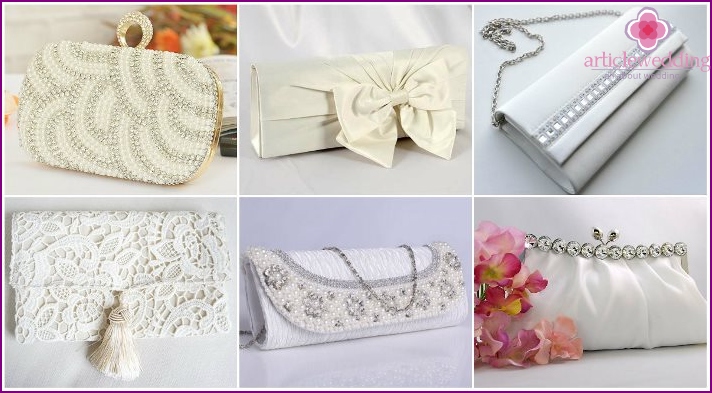 Clutch bag
This accessory is appropriate not only in winter, but also in the warm season. Modern Taschenmuff clutch bags are made of fur on a fabric lining, felt or dense multilayer materials (satin, velvet). The functionality of such a detail is added by a small inner pocket, usually with a zipper, and a chain or ribbon, so if you wish, you can hang the sleeve around the neck, giving the bride freedom of movement.
Modern wedding Taschenmuff decorate with all kinds of decorations, lace, natural or artificial flowers. The clutch fits the lush dresses of the model «Princess» or to a retro look. For more modern styles, choose Taschenmuff, decorated with real fresh flower buds or leaves. For a winter wedding, an embroidered Taschenmuff with embroidery will be a great alternative to a fur clutch.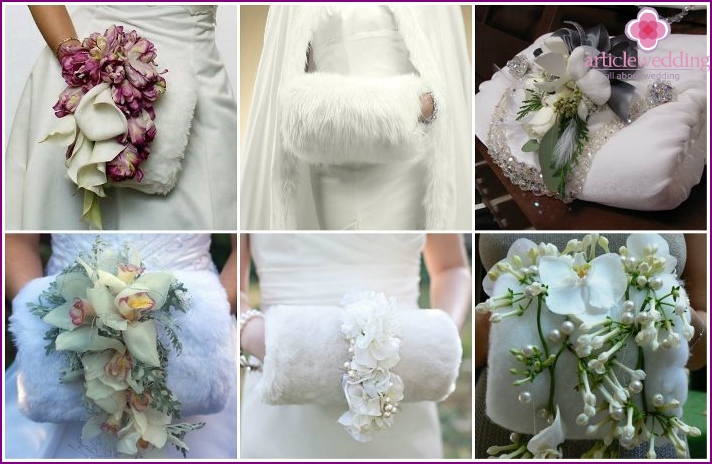 Clasp Handbag
The model of handbags with a clasp (a special type of clasp) echoes the vintage style and is ideal for a wedding model «Princess» with a not very magnificent skirt, retro styles and dresses from lace. You should not combine such a bag with a Greek dress, the clutch is more suitable for the latter. Or choose an empire model with the most rectangular clasp of delicate work for the image..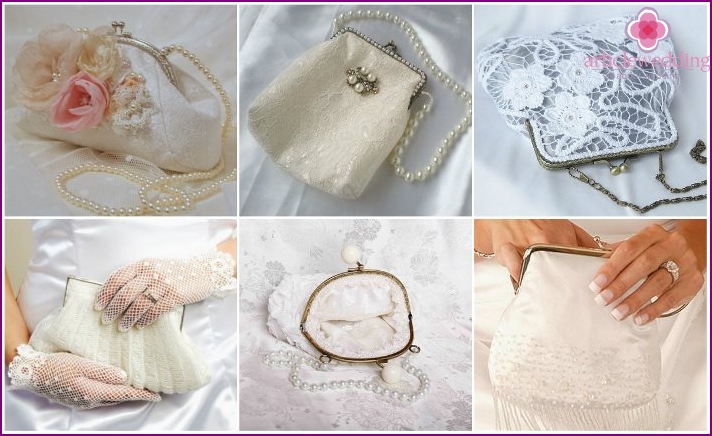 Felted handbag for the bride
Hand made style is always relevant due to its uniqueness and special energy - after all, these things carry a great positive message to their owner. Modern felted handbags are not only very beautiful, but also still rare guests at weddings, because this trend is only gaining momentum. As a model, as a rule, a bag with a clasp or a clutch is selected. Pouches or pompadour roll less often, but they look a little heavy for a wedding accessory due to the fact that the felt is much denser than ordinary fabrics and forms thick, delicate folds when assembling on ties..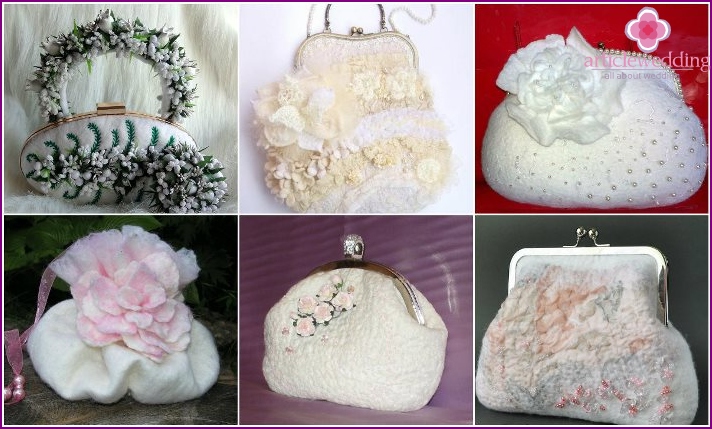 What decorate the bride's wedding handbags?
Wedding accessories should not violate the overall style of the holiday. For a thematic scenario (for example, an ethnic Indian, Gothic or rock and roll wedding), the bride's handbags are individually decorated, and details of the decor often have to be purchased to order. A classic European-style wedding has no limits: lace, fur, crystals and stones, beads, sequins, beads, embroidery, appliqués and much more are used. Fashion in this matter also exists. What will be decorated with the most relevant wedding reticules and clutches of 2016?
Fresh flowers
A handbag stylized as a bouquet is an incredible creation of designers and florists, a fresh trend in wedding fashion that will not leave any girl indifferent. It is decorated with fresh buds in whole or in part. The model, as a rule, is a clutch case or a bag with a clasp, less often a clutch with an inside pocket. A significant drawback of a handbag decorated with fresh flowers is its fragility and impracticality: one careless movement can ruin the perfect beauty of delicate buds.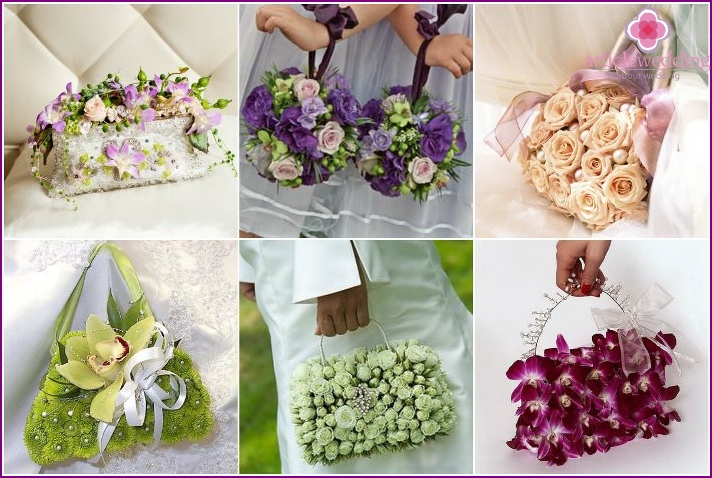 Pearls
This precious marine mineral is a symbol of innocence and purity. Therefore, from time immemorial, natural and artificial pearls - a popular wedding decor, loved by many brides. Handbags embroidered with pearls look touching and romantic. And pearl ribbon handles are a very stylish detail, especially in lipstick models. Hollywood chic in modern wedding fashion - clutch cases that are completely decorated with pearls, which will make the image of any girl luxurious and memorable.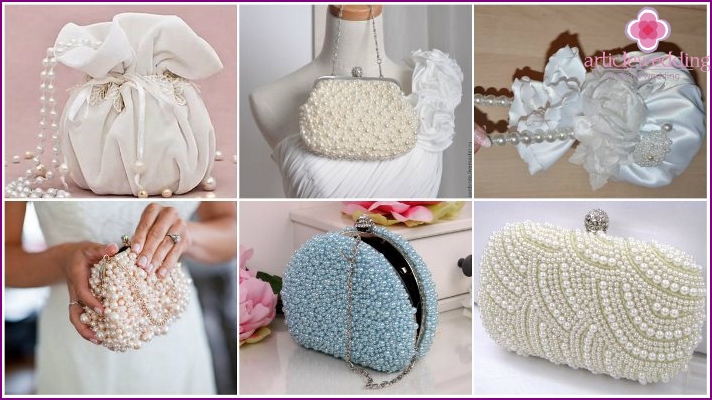 Feathers
Feathers add grace and airiness, and a handbag with a similar decor is elegant and full of aristocracy. The main rule in this decoration is restraint. If there are several single feathers in the design of the handbag, it is permissible to support them with the same finish in a bouquet or hairstyle. If the handbag is decorated with feathers in its entirety, let this accent belong only to her: in the rest of the bride's image, feather decoration will be stylistic enumeration. A bag with feathers is perfect for a fitted silhouette and fabrics with a smooth texture.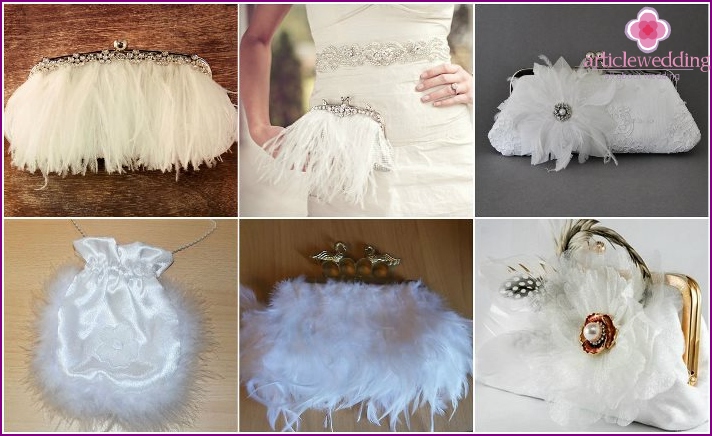 Video: Bride Wedding Handbags Review
Many girls are wondering: how risky is it to choose a handbag for photos and videos on the Internet? Is it possible to buy this thing without touching it with my own hands, without trying on an image? The answer is simple: this accessory is not as important as a dress or shoes, so it is quite acceptable to choose and purchase it in an online store. Most virtual boutiques offer versatile models of reticules and clutches that suit many dresses in style, color or finish. You can watch these bags in the video presented.
An exception for the remote purchase of a handbag will be only a complex model of the dress, requiring careful selection of details. For example, when you need to choose these two things with the identical texture of lace / fabric or in the same color like ivory, which has many shades. It is also advisable to purchase very expensive exclusive products or made in an unusual style after a personal inspection so as not to be disappointed and not regret the money spent.
Photos of wedding bags for the bride 2016
In the 2016 wedding fashion, handbags for brides take pride of place along with other accessories. Famous brands offer bags made in the same style with their collections of dresses. If you do not want to overpay, then opt for nameless, but also beautiful models that are sold in almost every wedding salon at affordable prices. You watch more photos of actual handbags for the bride in our gallery.