Contents
---
---
The Sleeping Beauty love story is one of the most beloved stories for almost every little girl. A magnificent castle, fairytale love, witchcraft and the final victory over evil - like a sweet dream.
Walt Disney Studios decided to show us a long-known story from a completely different perspective. Superbly shot motion picture captures the confrontation of two forces, two images: darkness and light, the sorceress of Maleficent and Princess Aurora.
I wonder how such an extraordinary plot of the film can be transformed into a magnificent wedding? Can an evil fairy be a bride? Gloomy shades, indecent luxury, fabulous dresses, unearthly flowers, all this, according to the wedding portal www.articlewedding.com, can be used to organize a special wedding.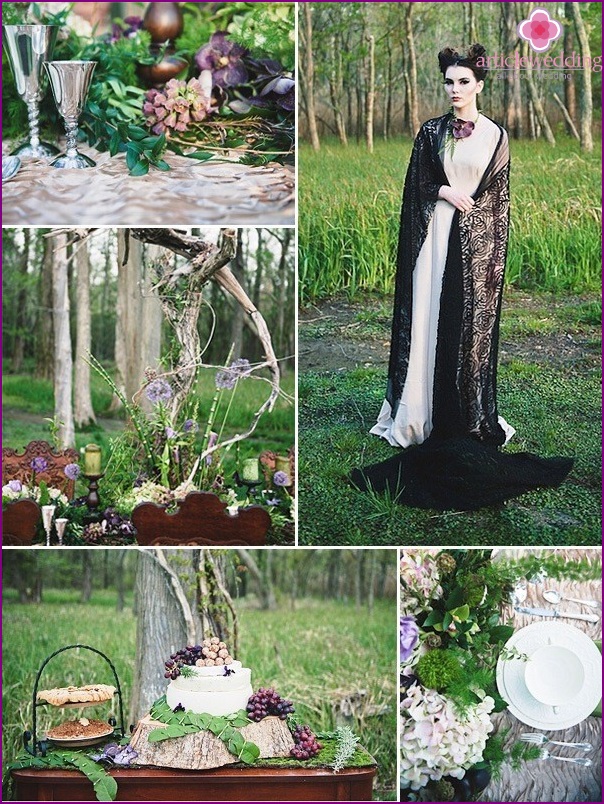 Wedding Color Picker
Color gamut weddings need to be thought out first. In our opinion, colors such as black, emerald, purple and gold will help create a magical forest wedding with features of vintage luxury. Items of mysterious, a little fantasy, dark tones will help create the right atmosphere of celebration..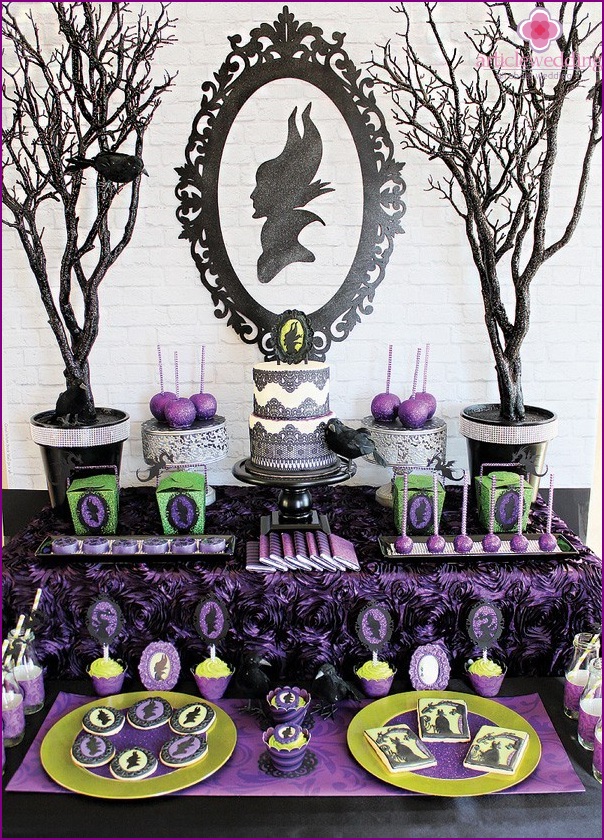 Place for a wedding in the style of Maleficent
For such a mysterious wedding, full of magic and supernatural events, it is better to choose forest glades or ancient castles. You can also consider options with abandoned estates and non-traditional restaurants..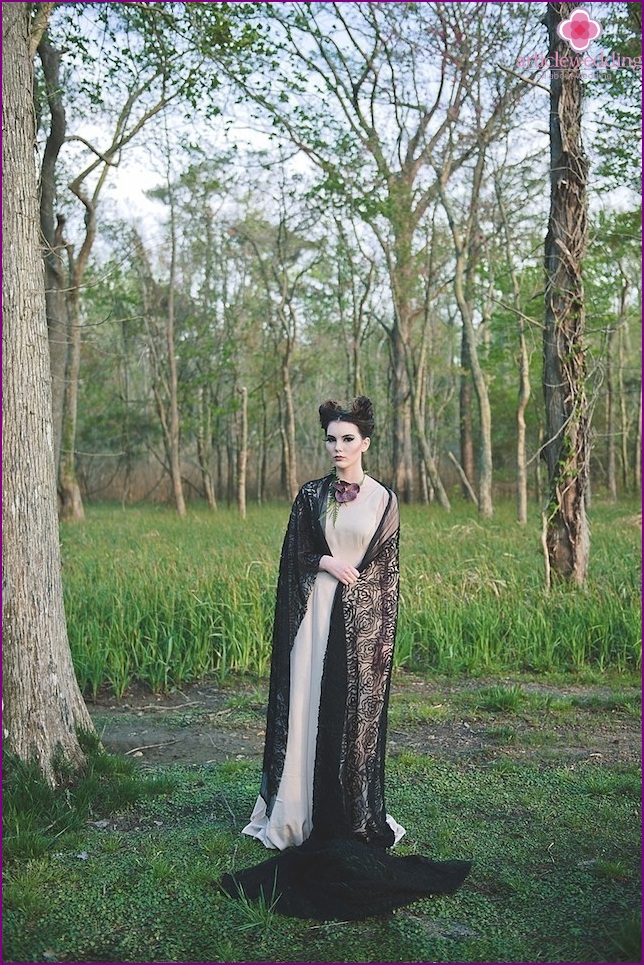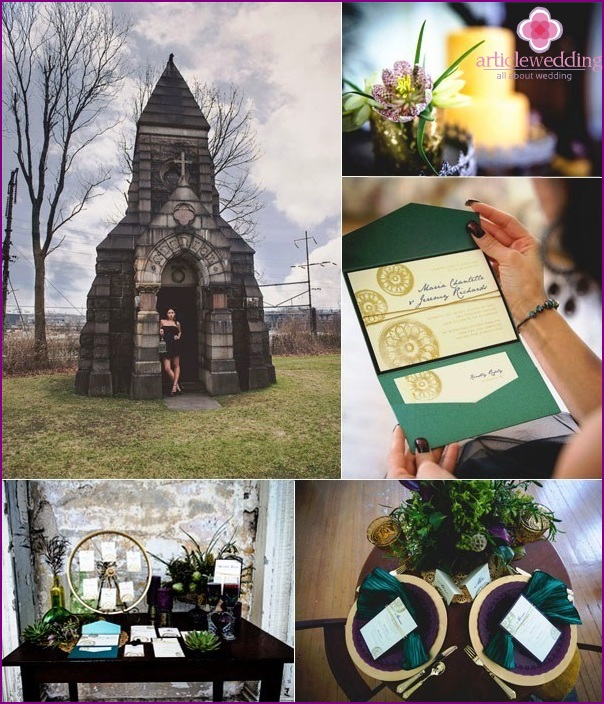 Table decor and furniture
A wedding based on the movie Maleficent involves rustic decor with a touch of vintage luxury. Tables should be wooden, with shabby paint. Arrange the plates in the color of one of the main shades of the celebration. Make vintage appliances and glasses.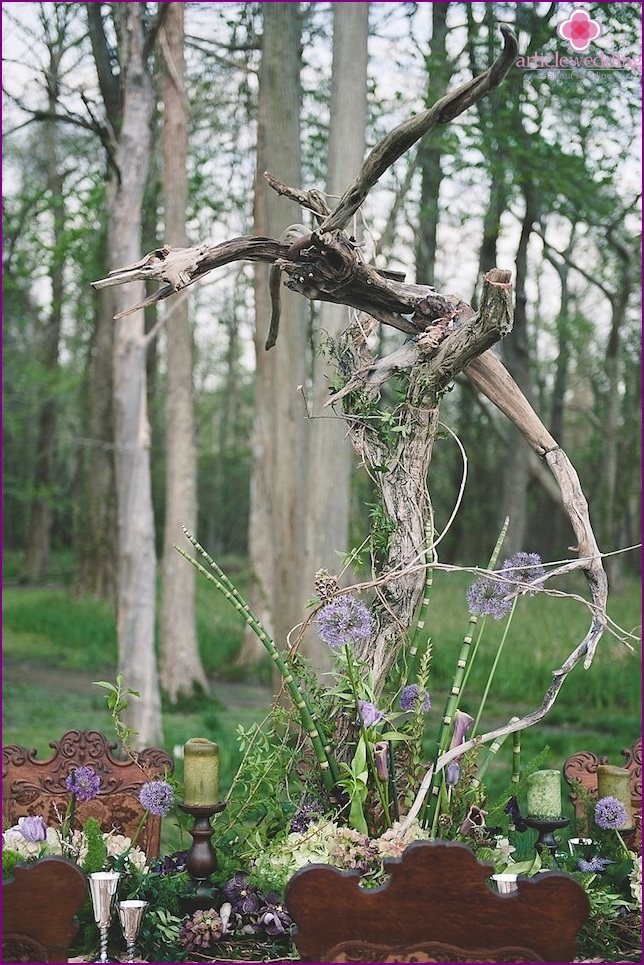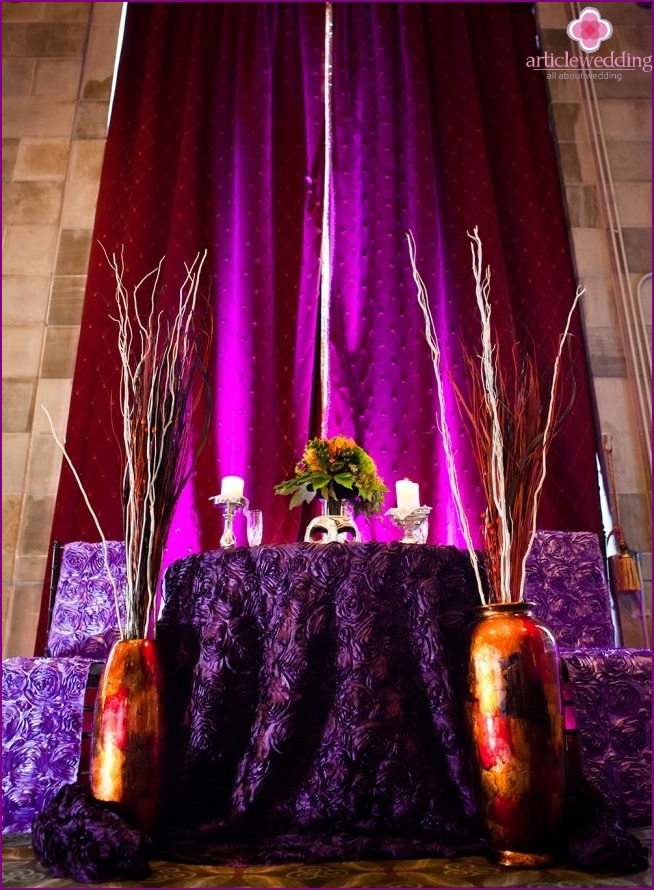 Place dishes with treats on wood cuts, decorate the table with snags, lay moss and branches with foliage nearby.
Vintage chairs, sofas, restored chests of drawers and sideboards will help to enrich the place of celebration. You will need stools and coffee tables. Mirrors in old frames leaning against trees or hanging on branches will look appropriate.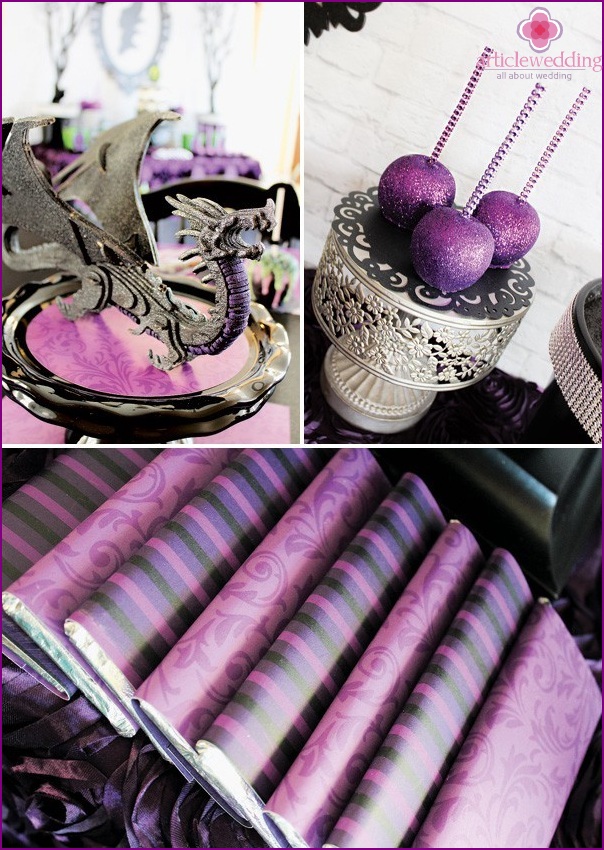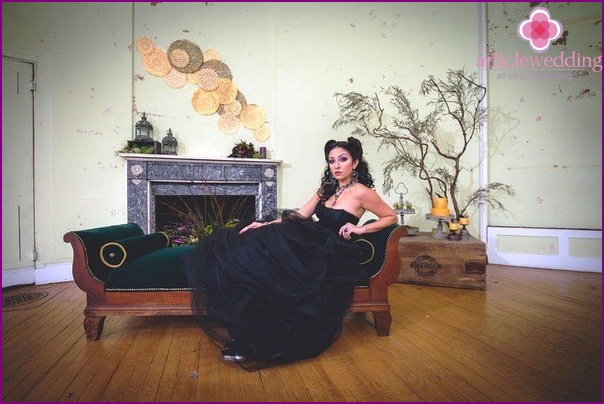 Unearthly flower arrangements
Unusual floral arrangements will help create a fairy tale atmosphere. Since two aspects are contrasted in the film, the wedding hall can also be divided into two zones: one zone will be light, the other dark. One is the personification of the light tender image of Aurora, the second is the evil forces and magical creatures who worship Maleficent. The light area can be decorated with delicate flowers, beautiful antique vases, bird cages, bushes with flowers, and unusual floral arrangements can be placed in the dark zone in Gothic vessels.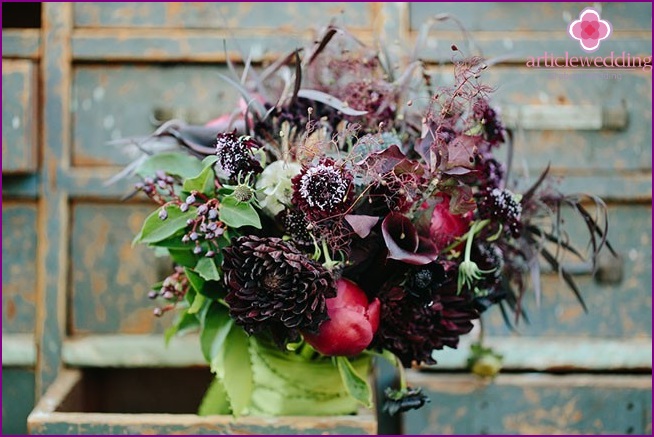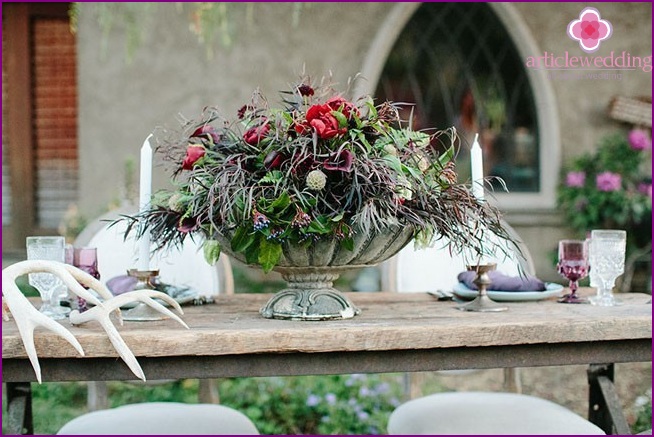 Two images of the bride
The portal www.articlewedding.com believes that the bride can choose her wedding style based on two films.
The image of Maleficent
If you chose the image of Maleficent, then you are a shocking person who, without embarrassment and long persuasion, can take an unconventional look even on the wedding day.
In the image of the Maleficent fairy, at the same time, traits of sexuality, elegance and mystery are hidden. To reflect all this will help Wedding Dress dark in color, for example black or dark purple.
The bride will have to carefully consider the wedding hairstyle. Perhaps it will be difficult styling. Instead of a veil, the bride of Maleficent can decorate her hair with an original crown woven from branches.
Maleficent's bouquet can be composed of dried flowers of dark color, branches with thorns. Makeup Maleficent should be bright, unusual and fabulous. Dark red lipstick, distinct eyebrows, smoky eyes and arrows on the eyes.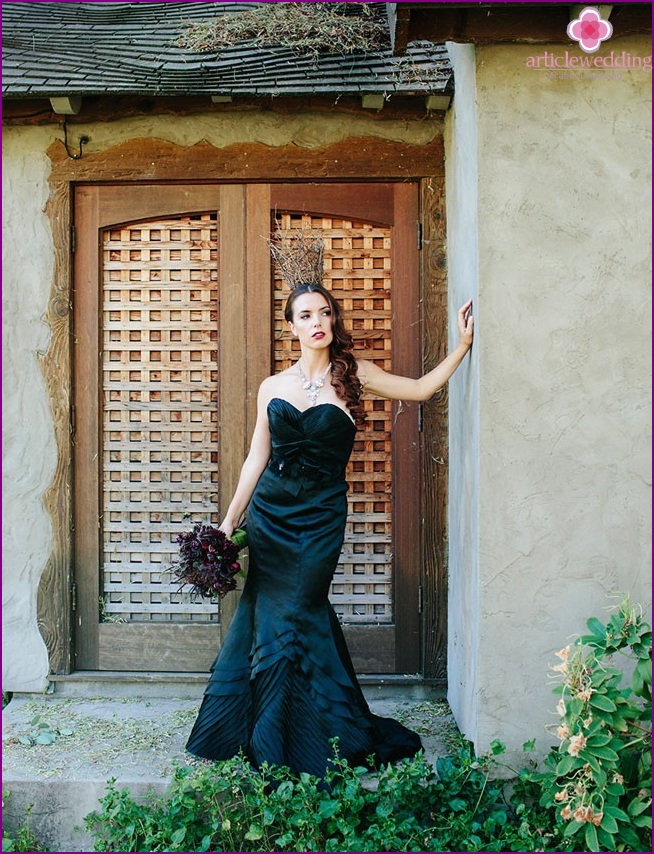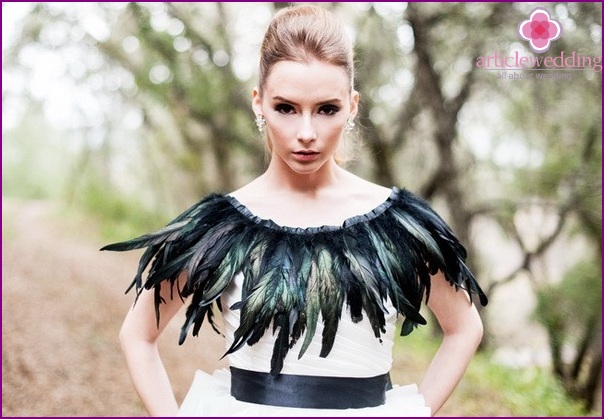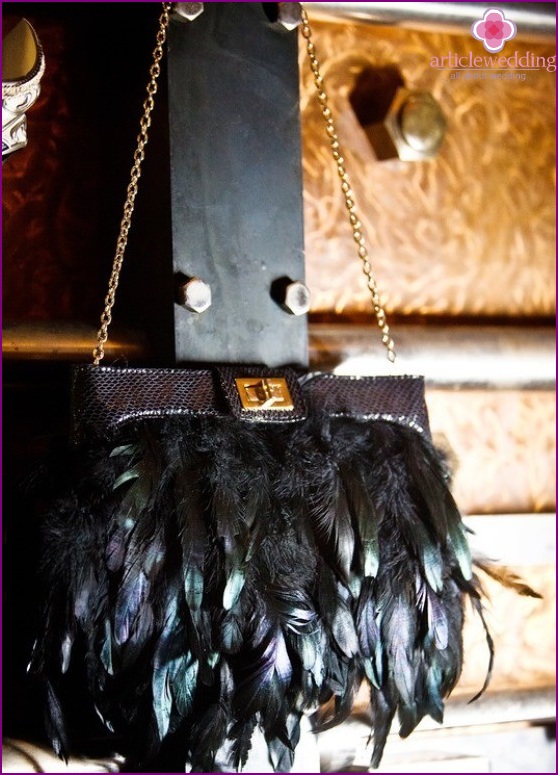 The image of Aurora
You can choose the image of the sophisticated Princess of Aurora. Her style is more familiar and traditional. White dress, flower wreath on her head, elegant jewelry, makeup in the style of "nude". The addition will be a bouquet of coral peonies, purple Veronica, pink protea, fleshy eucalyptus, elegant jasmine and orange tulips.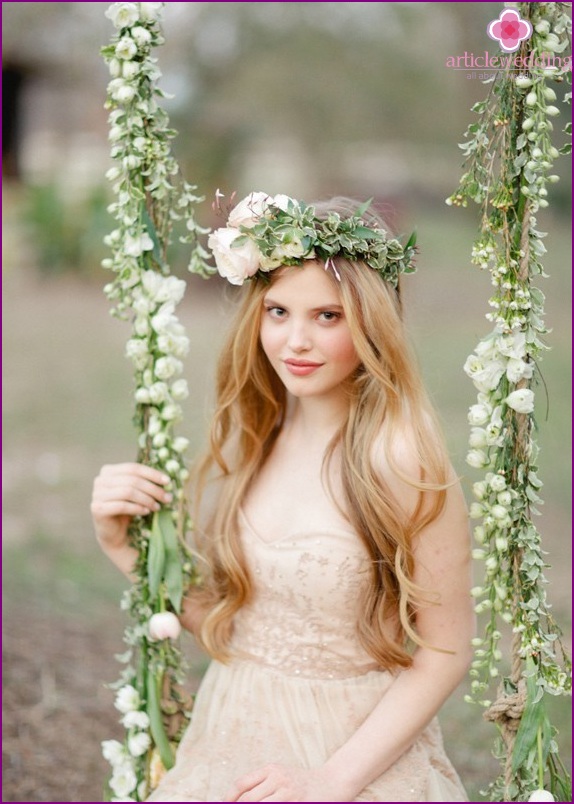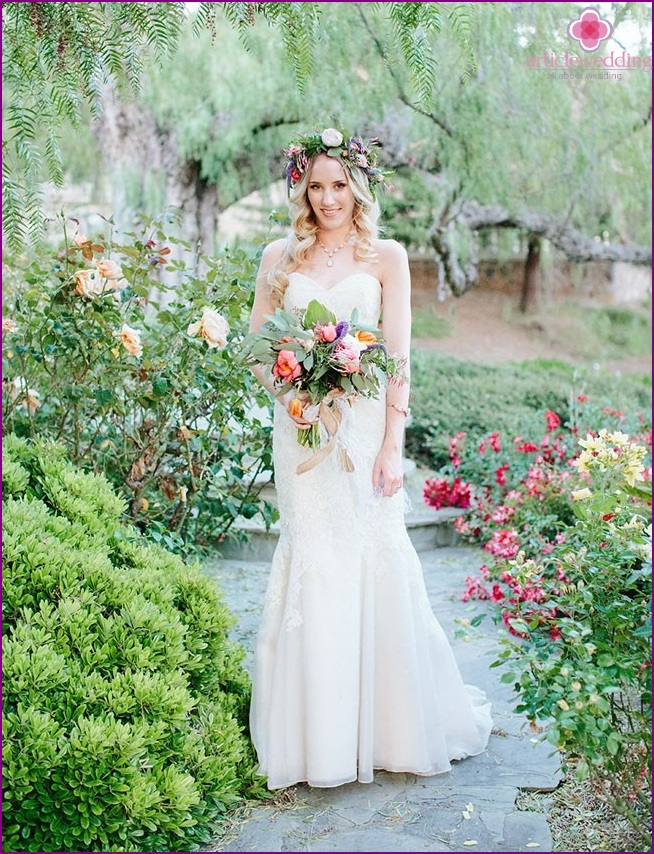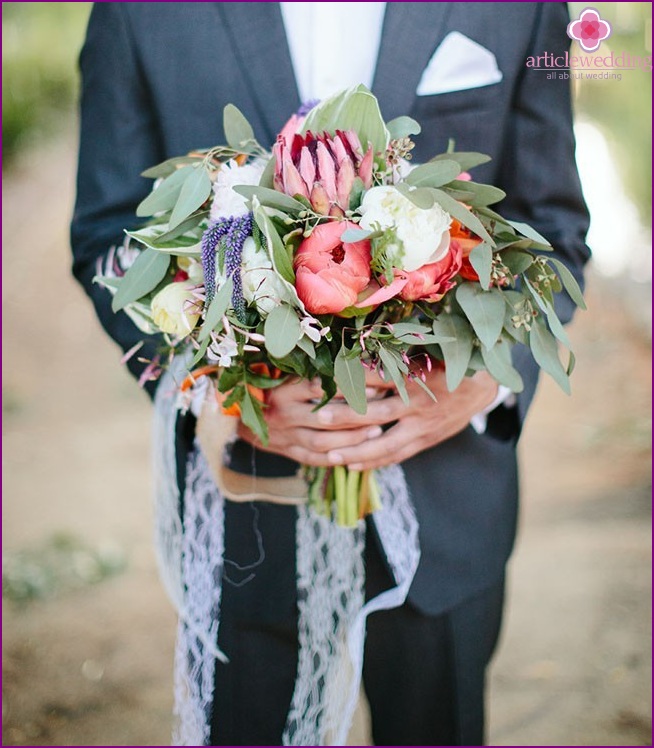 When choosing this or that image, you need to carefully consider all the details and elements that will help recreate a suitable style..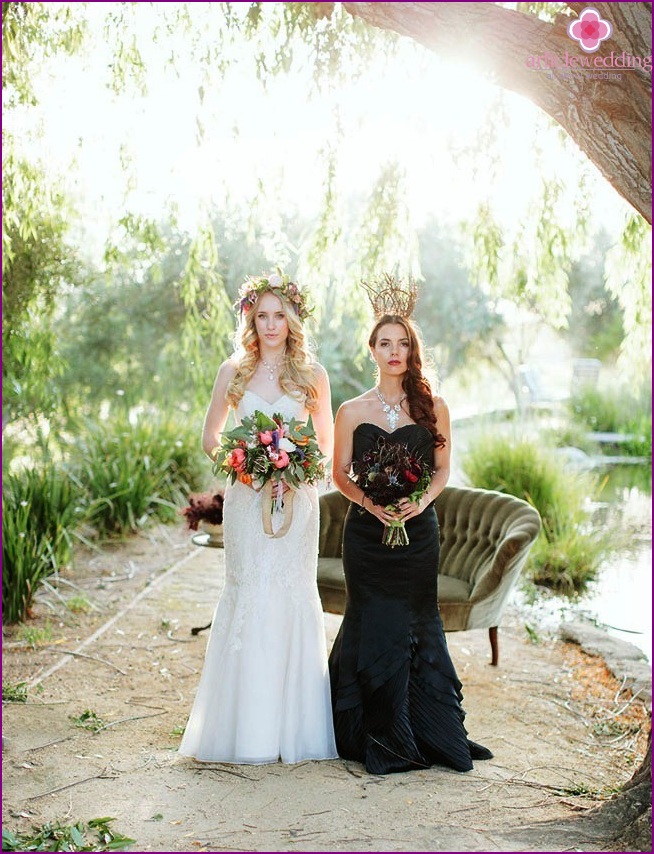 Image of the groom
The groom can easily do with a traditional wedding dress in a classic black and white color, regardless of the style his companion prefers. If desired, you can complement the image with a colored tie, cufflinks and boutonniere in the style of the bride.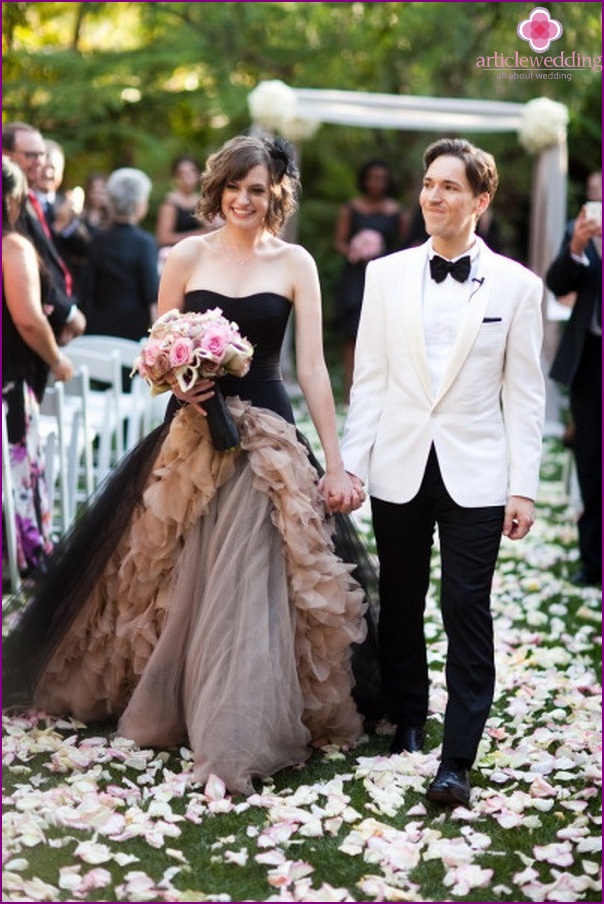 Bridesmaids Style
Unusual outfits of her friends will help to emphasize the vivid image of the bride, which should be sustained in a dark color scheme. In this case, transformer dresses will be especially relevant. Hairstyles and makeup for bridesmaids should be done in an eccentric style.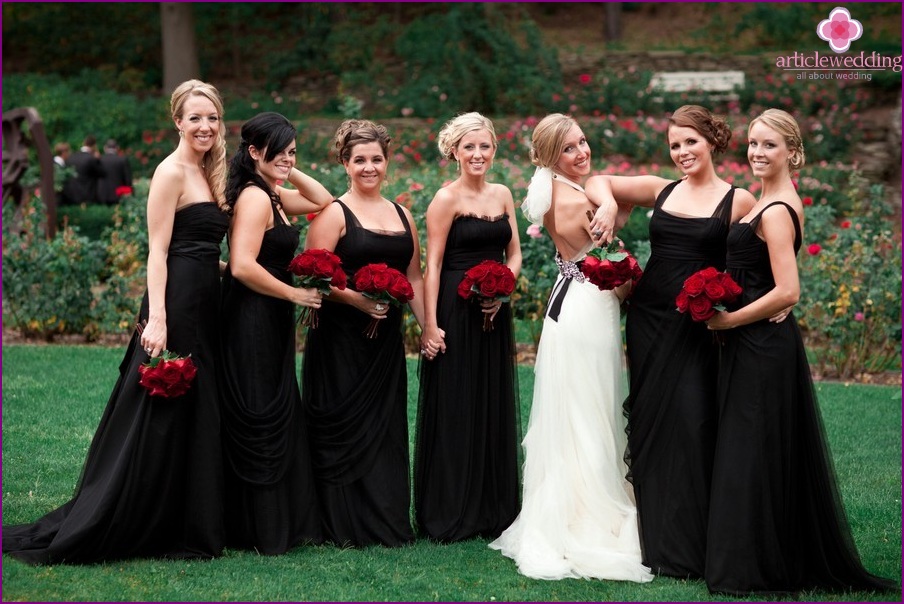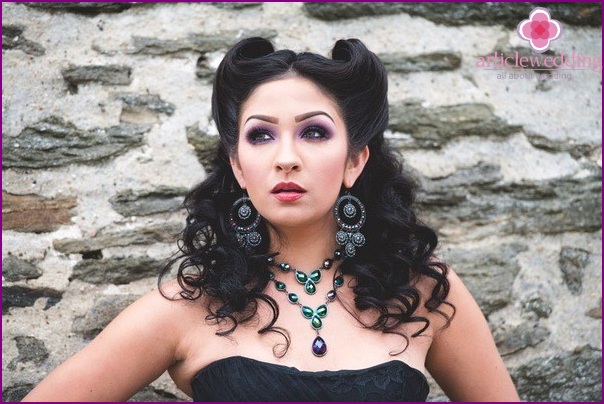 Fabulous treats
Pay due attention to the design of the sweet zone and wedding treats. In the decor, adhere to the main wedding shades with the addition of sparkles and contrasting ornaments. Cycle frightening figures of dragons, images of the sorceress of Maleficent, decorative claws, silhouettes of birds.
A wedding cake make it tiered. Dessert decoration can be a complex pattern resembling weaving or lace, as well as a symbolic picture.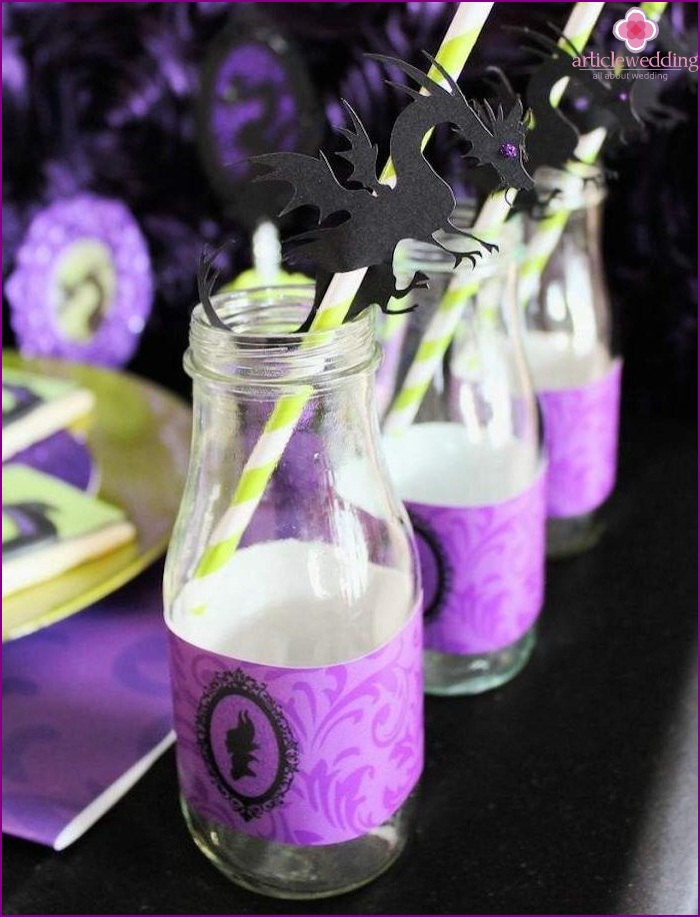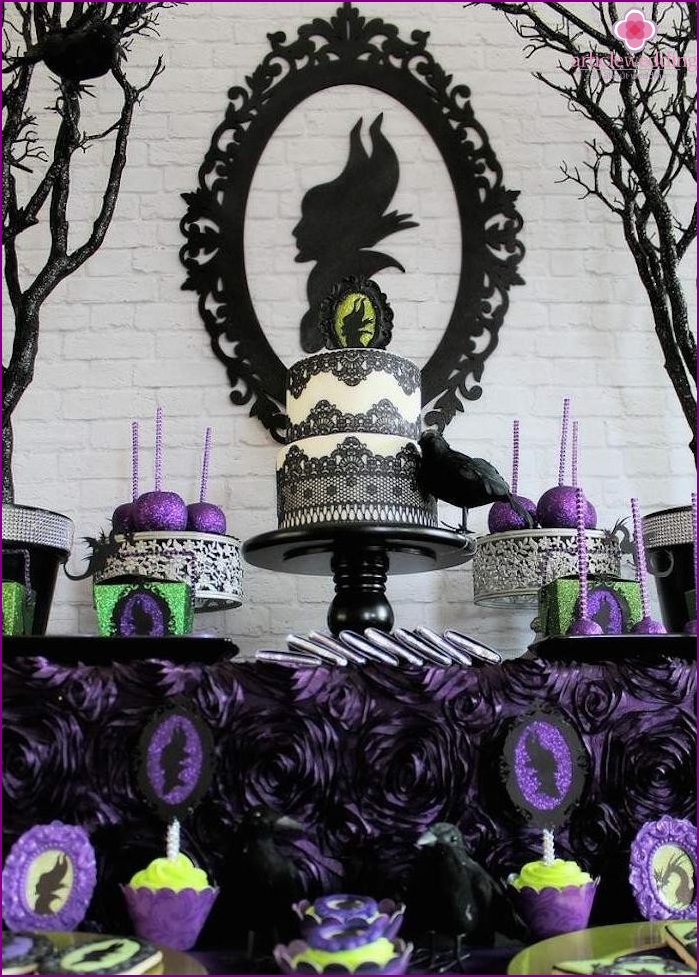 Getting ready for the Maleficent-style wedding, bring the theme through every detail: prepare gothic invitations, stylish sweet treats, extravagant surprises for guests and bewitching entertainments.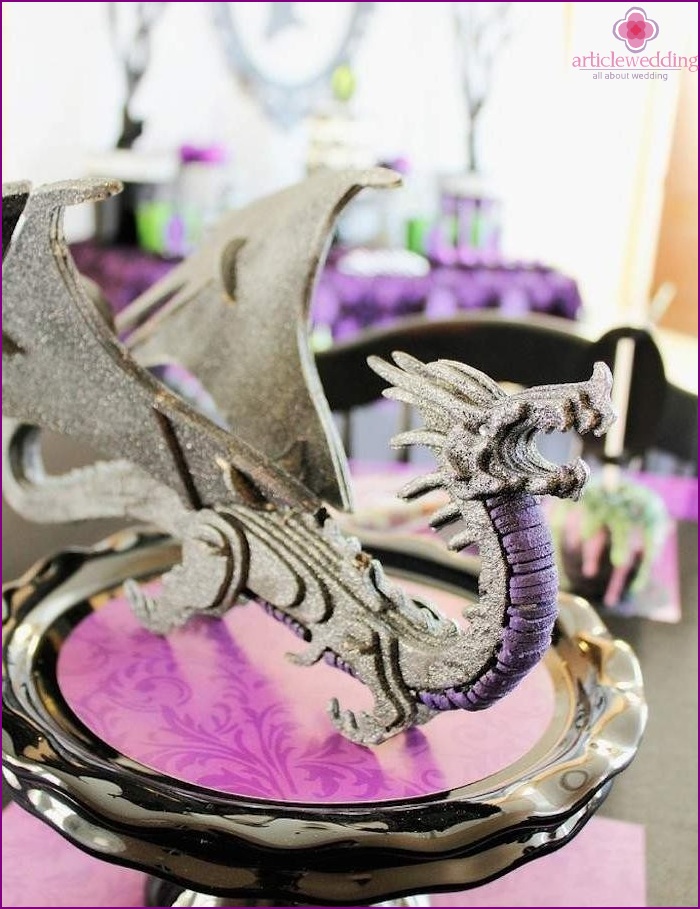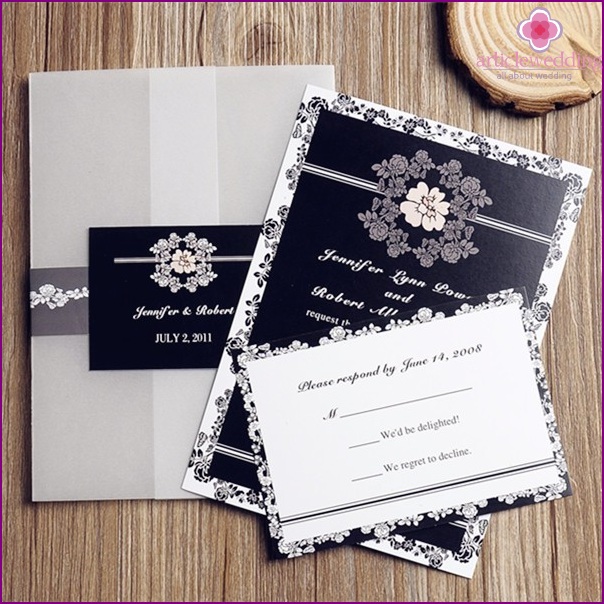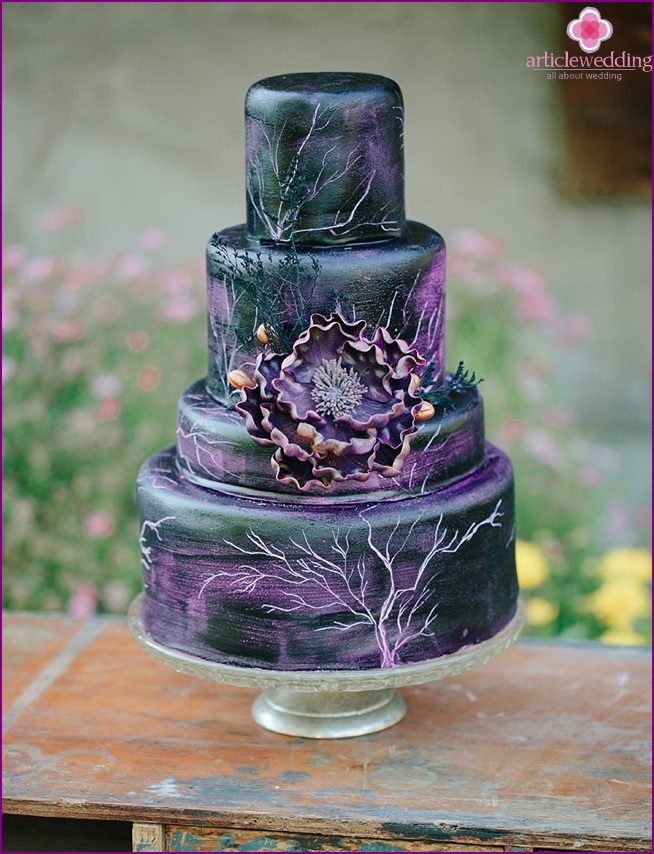 With the plot of the film Maleficent, your wedding will be a bright and intriguing holiday!