Contents
---
---
If you really cherish the childhood dreams of your chosen one, then you can very well stylize your wedding with one of the famous cartoons or comics. Such a wedding will definitely stand out against a dozen ordinary weddings without a twist. Your couple will be a vivid confirmation of how important it is to respect each other's values.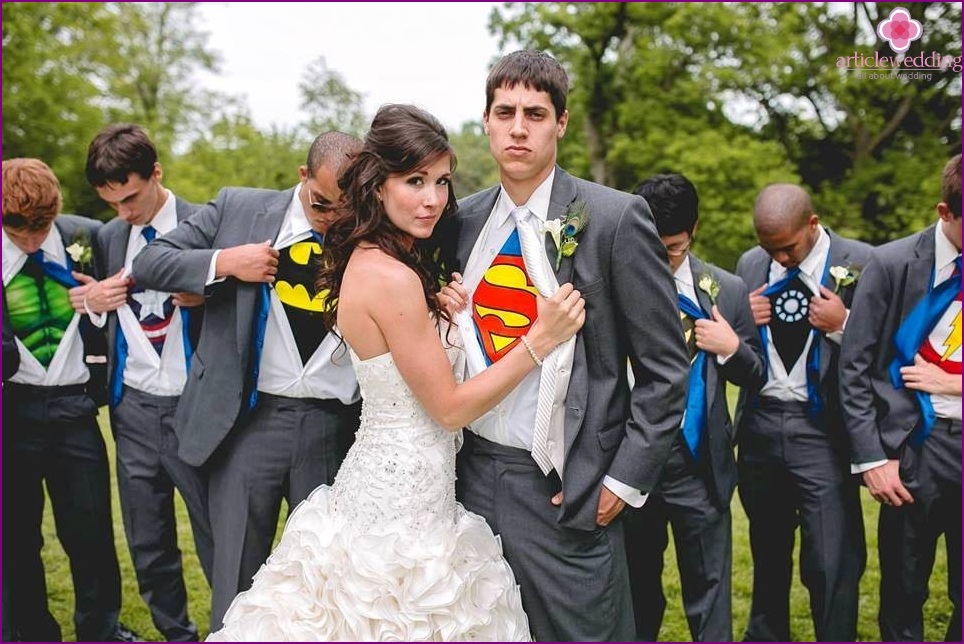 Batman Style Wedding
So, if your beloved man loves movies about Batman and secretly admires the strength of your beloved hero, you should show him how much you appreciate his hobbies and that you are ready to stylize your wedding in Batman style to please him. Of course, your groom will not be dressed in a classic suit or dress coat. All that remains traditional in it is the classic black color of the Batman costume. The face in such a mask is usually open, so you can safely kiss your brave hero. The image of the bride can also be styled as a Batman movie. If you remember, one of his heroines was a catwoman. You can use a bright black mask and red lipstick to make your chosen one crazy about your look.
Also, the whole atmosphere of the holiday should be permeated with the style of a superhero. Bat images may be present everywhere. Use mainly black dishes and tablecloths, diluting the color with a golden or white tint. The site www.articlewedding.com gives many more tips for decorating your wedding table and hall.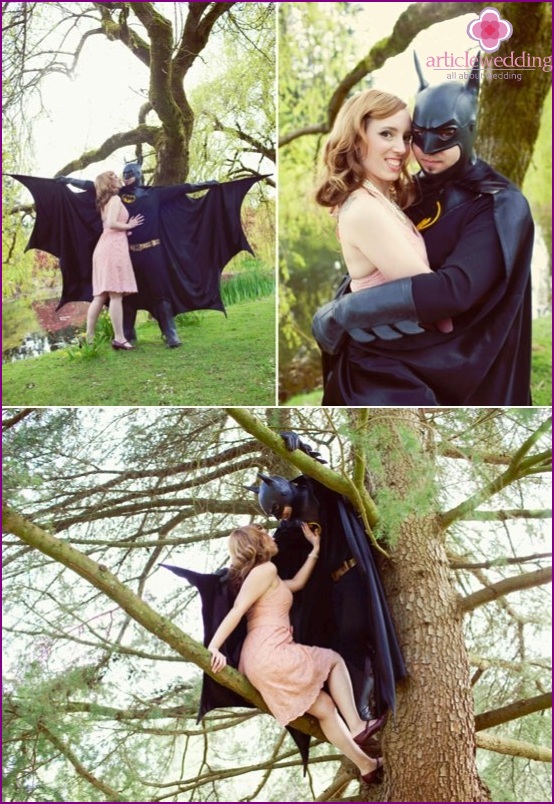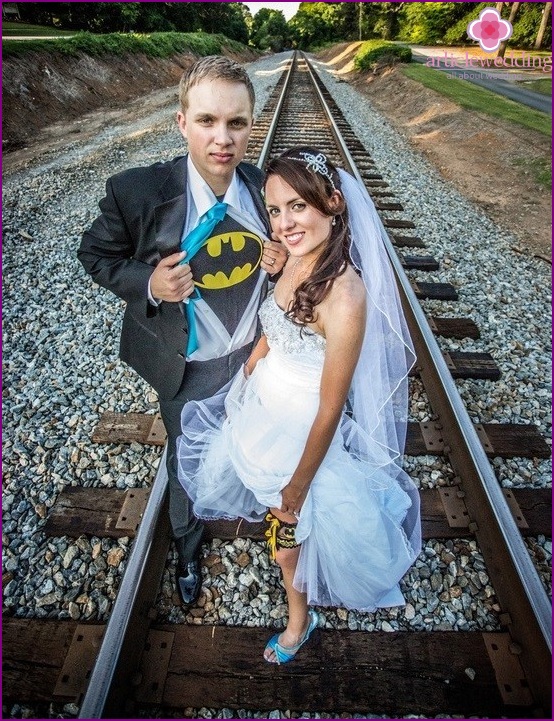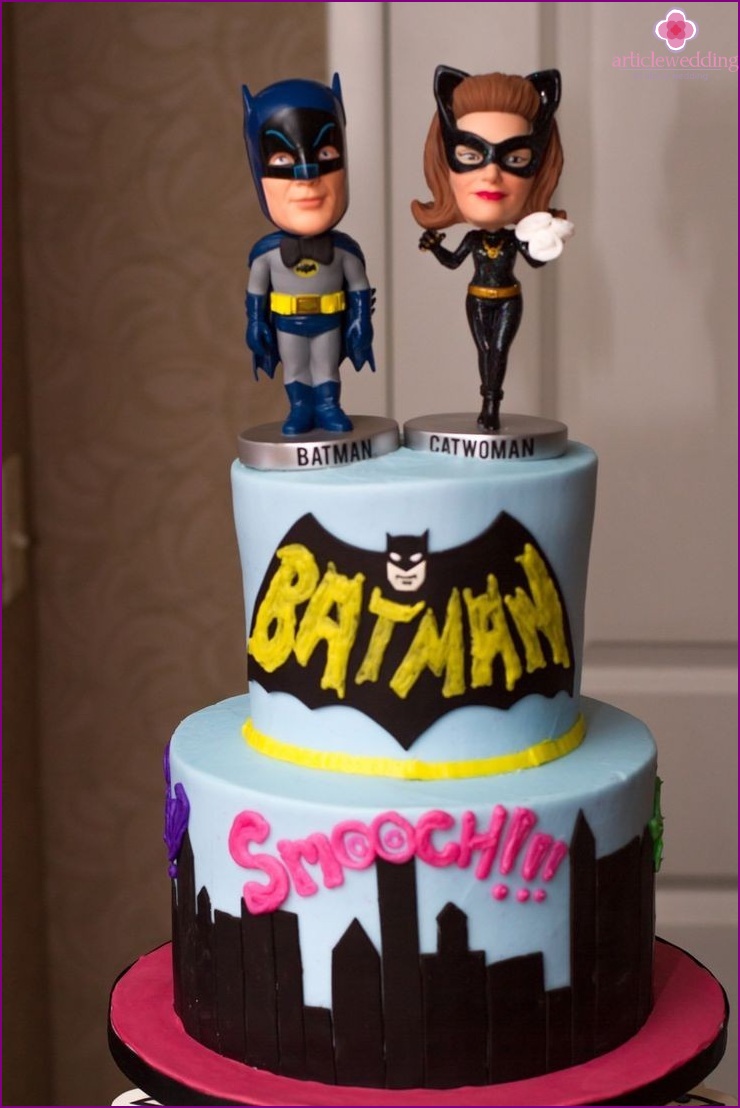 Spider-Man Wedding
If your chosen one is simply crazy about the superpowers of Spider-Man to release cobwebs and climb walls, you can give him this wonderful opportunity to feel like a superhero. Your groom can choose a wedding suit in the style of Spider-Man, but it is unlikely to be convenient. You can leave a classic jacket and trousers, wearing a superhero costume instead of a shirt.
Details of your favorite cartoon can be placed everywhere. Even a wedding cake can be made in the style of Spider-Man.
Since the main colors of the costume were blue and red, you can design a wedding table in these colors to match the chosen style. The image of the bride can also undergo some changes. It can be makeup, hairstyle or manicure. The main thing is to show your groom how much you love and support him in everything!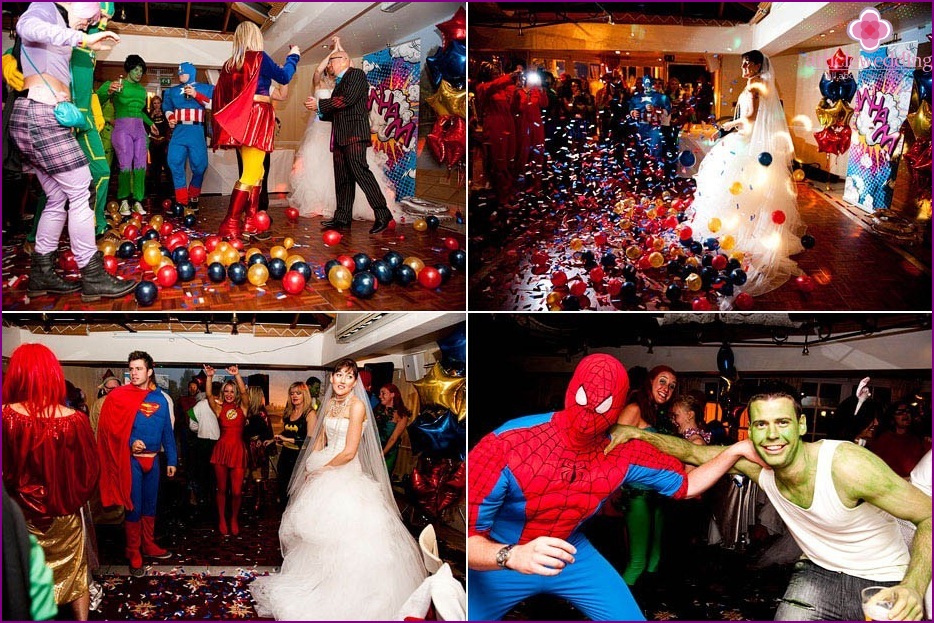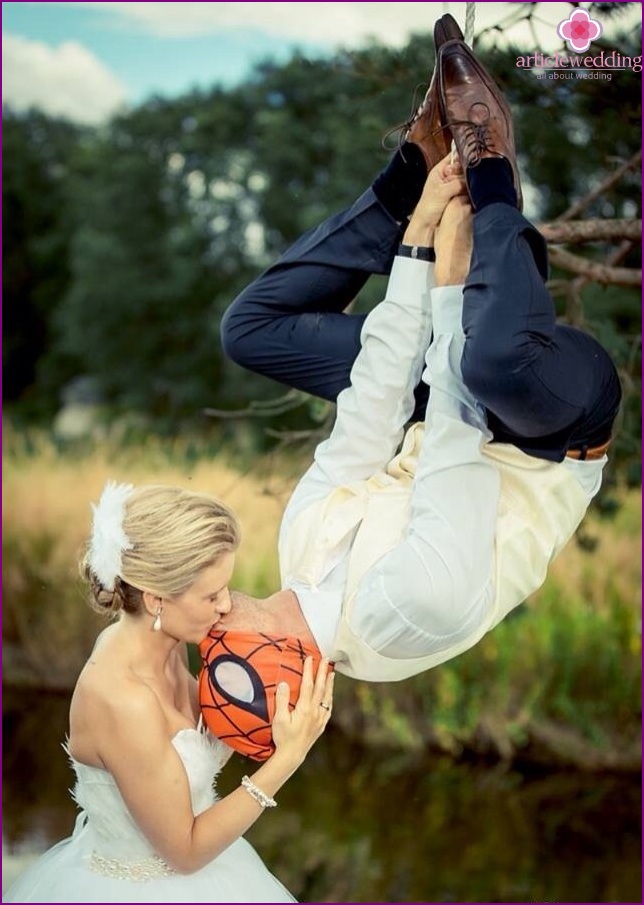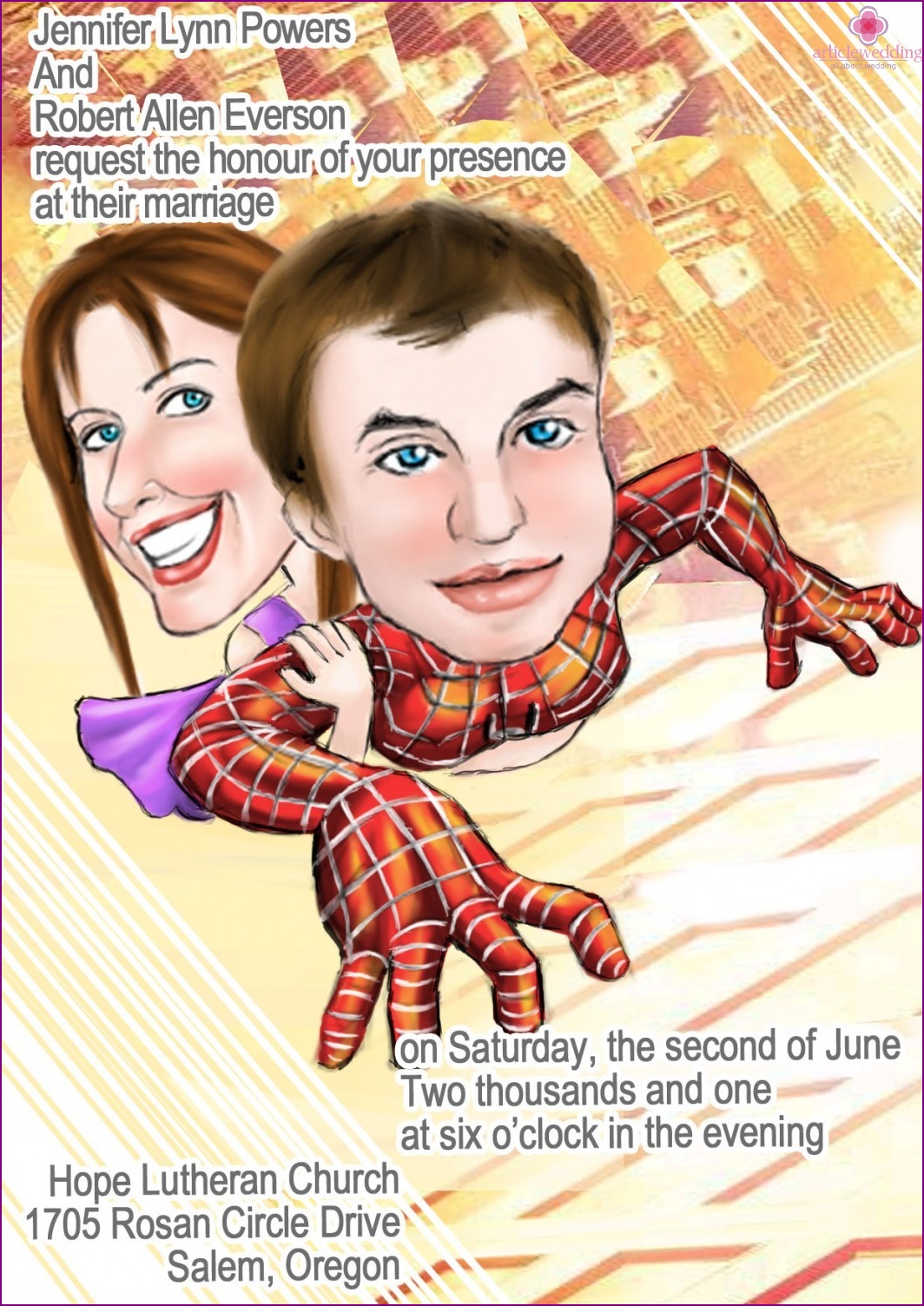 Superman Style Wedding
Perhaps your chosen one from childhood dreamed of saving the world, being a superhero who surpasses any villain in strength. Let his dream come true. Superhero costume can be sewn to order or purchased at the costume store. Put it on under the traditional outfit for the groom and do not show that you are a superhero. When the time comes for the tradition to steal the bride, and you learn about it, tear your shirt on your chest and hurry in search of your beloved with the look of Superman! Guests will appreciate your sense of humor, and you can finally feel like a real lifeguard, Superman!
The bride can also play along with the groom. In Superman style, a garter or other detail of the wedding look can be made..
The Internet portal www.articlewedding.com will tell you how to create a unique wedding look. Tables and the hall can also be decorated with the letters S, which symbolize Superman. You may also be able to purchase dishes in the style of your favorite superhero. It can be glasses or plates. You can also pick up napkins with the image of your favorite hero.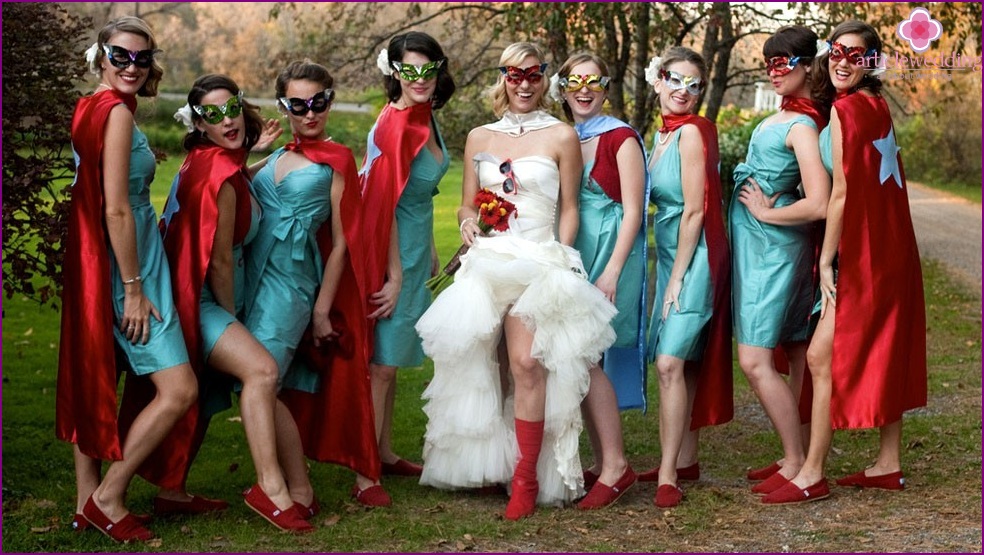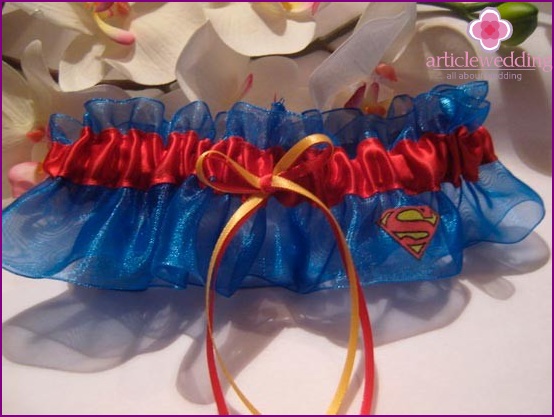 A wedding in the style of a superhero is always a cheerful mood and a charge of positive. You have nothing to worry about when a real superhero is standing side by side with you, ready to rush to your aid at any moment! Enjoy a themed wedding, which you will remember as the most unusual and bright event in life!