What movies are useful for preparing for the wedding? If you look carefully, you can find many ideas that will inspire you to organize a unique celebration. Firstly, each film is an integral and coherent work in itself. Secondly, professional designers and decorators are working on the creation of films, which means that you can peek at the finished decor for the celebration. And thirdly, thoughtful images await you, many of which you want to translate into reality.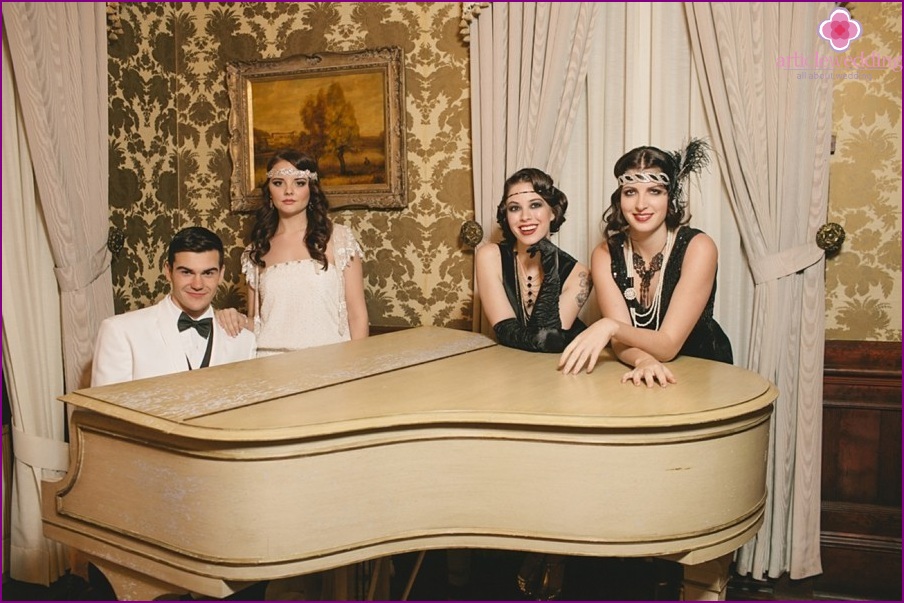 "Breakfast at Tiffany's"
A wedding in the style of the cult film of the 60s "Breakfast at Tiffany's" is one of the most relevant. You can borrow the ideas of impeccable hairstyles with hair pulled up and makeup with an emphasis on the eyes. Holly Golightly wore magnificent tiaras throughout the film, and if you dream about the image of a princess, the wedding portal www.articlewedding.com recommends that you pay attention to harmonious stylistic decisions from the movie "Breakfast at Tiffany's". In addition, black dresses and pearl jewelry in the style of Audrey Hepburn is a good option for a wedding dress code.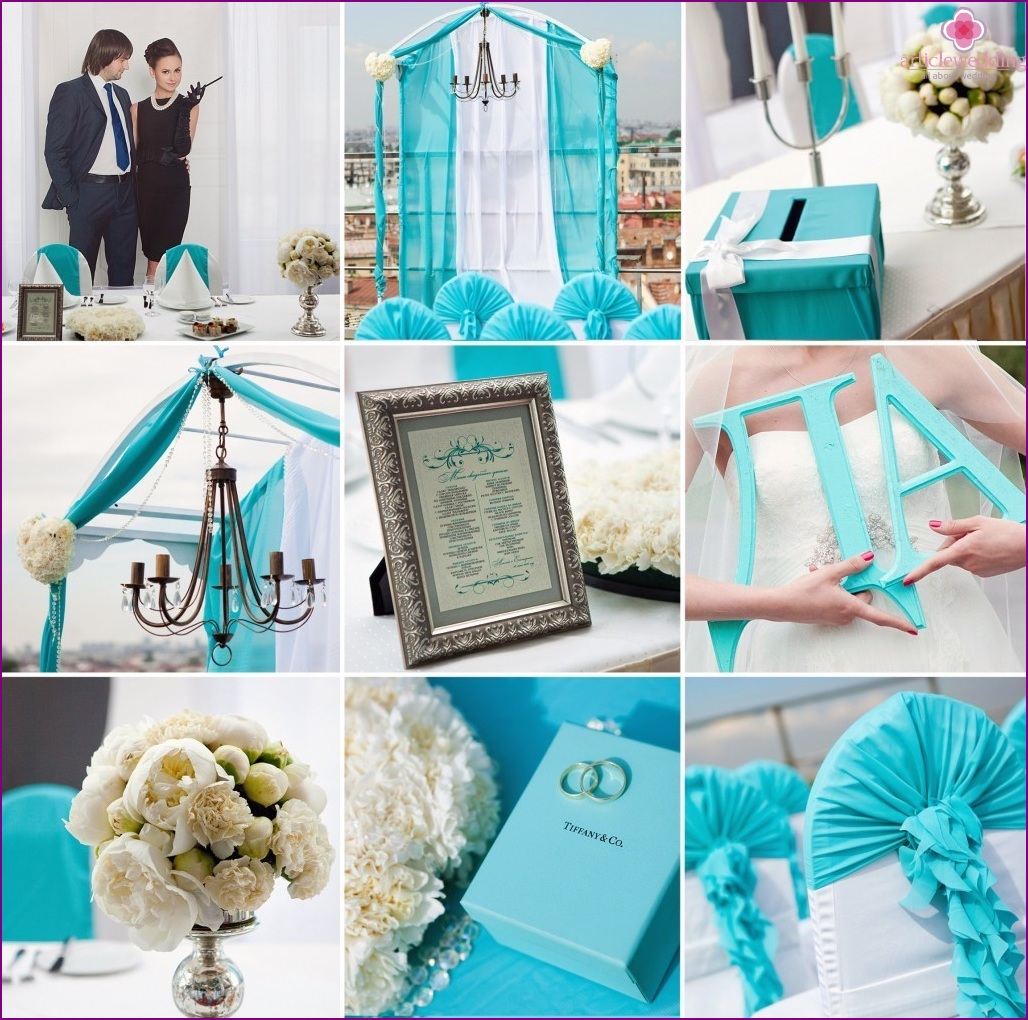 "Pride and Prejudice"
Books by Jane Austen are a living source of inspiration for the film industry. A wedding based on the movie Pride and Prejudice is a measured, thoughtful, romantic celebration in the spirit of 19th century England. These are old mansions, picturesque landscapes, antique dishes, luxurious table setting, lace and satin in decor, sophisticated etiquette, live music and dancing. What else is needed for a romantic wedding?!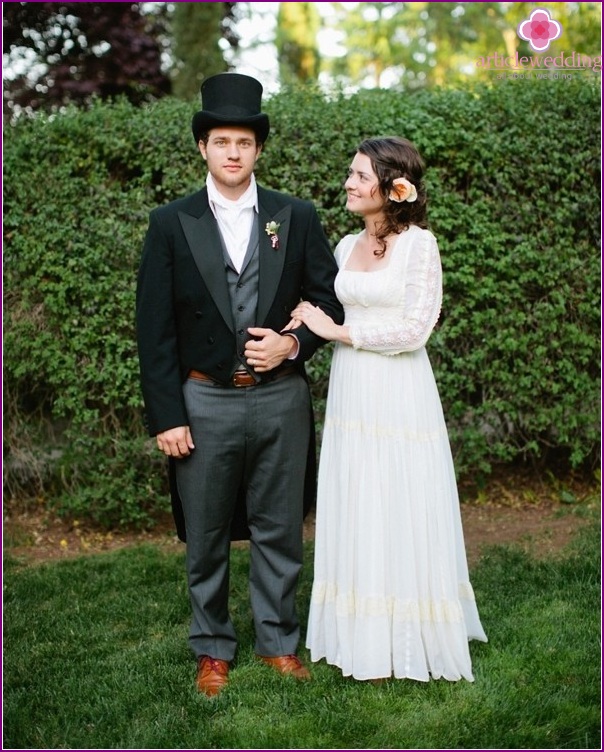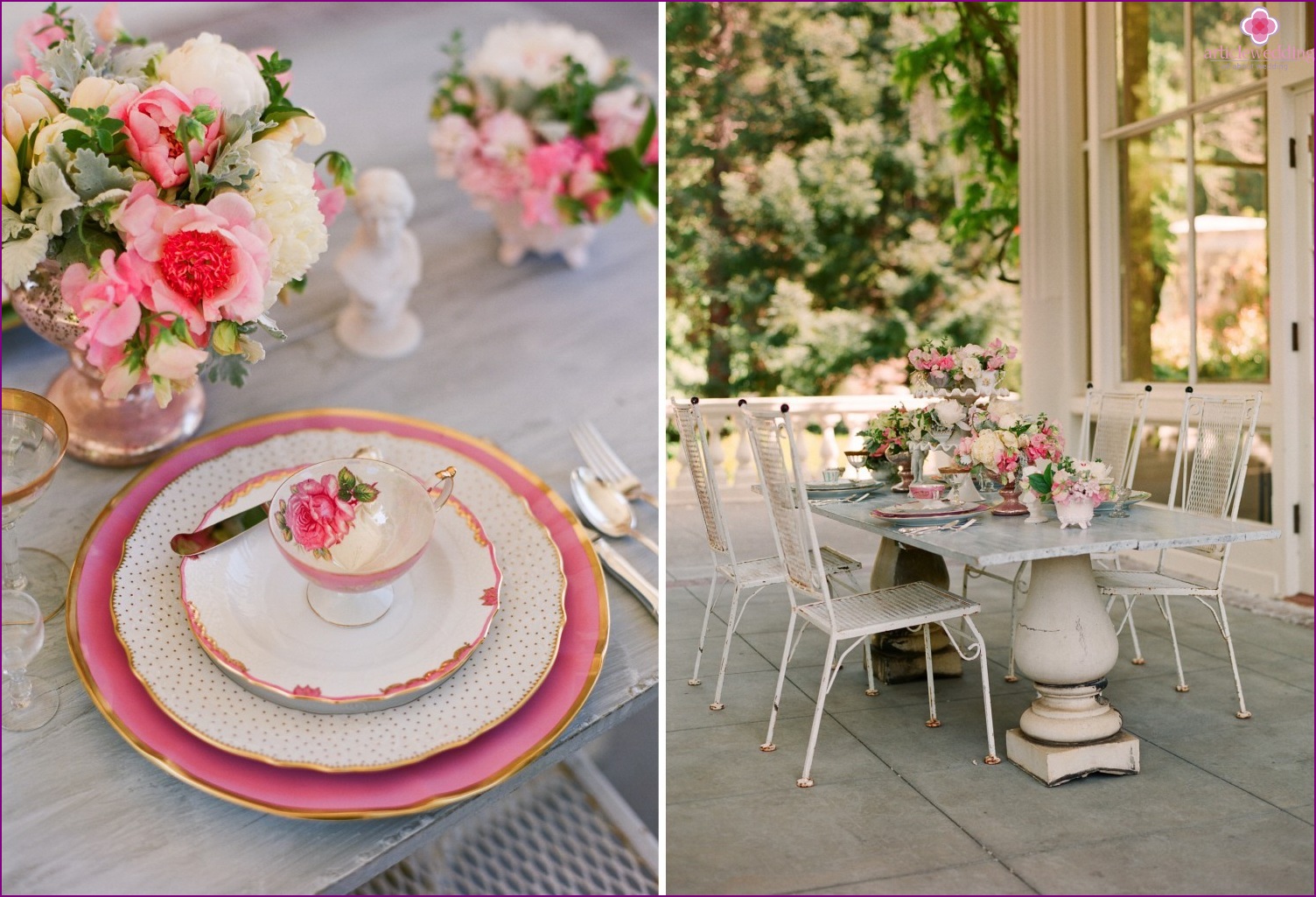 "The Great Gatsby"
A recent hot wedding theme is The Great Gatsby. Stunning art deco decor, brilliant 20s outfits, bright lights and colors, music and dancing, fireworks and sparklers, surprises and an unforgettable show - that's what
movie based wedding "The Great Gatsby"!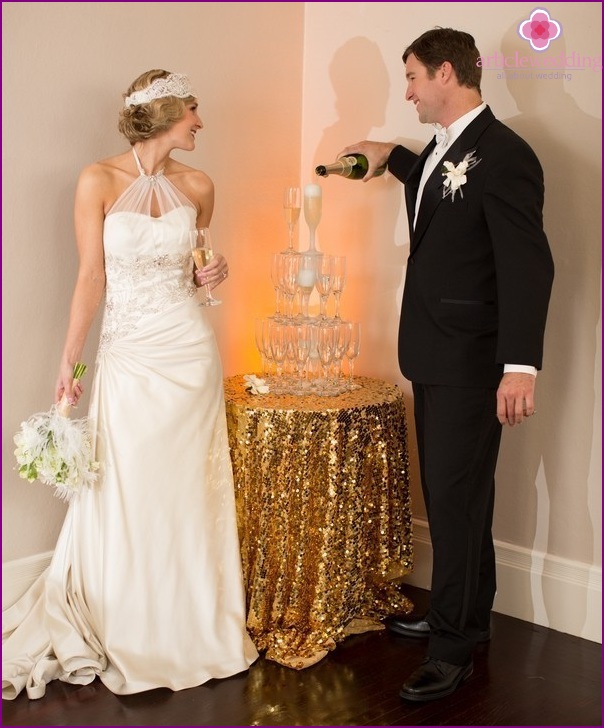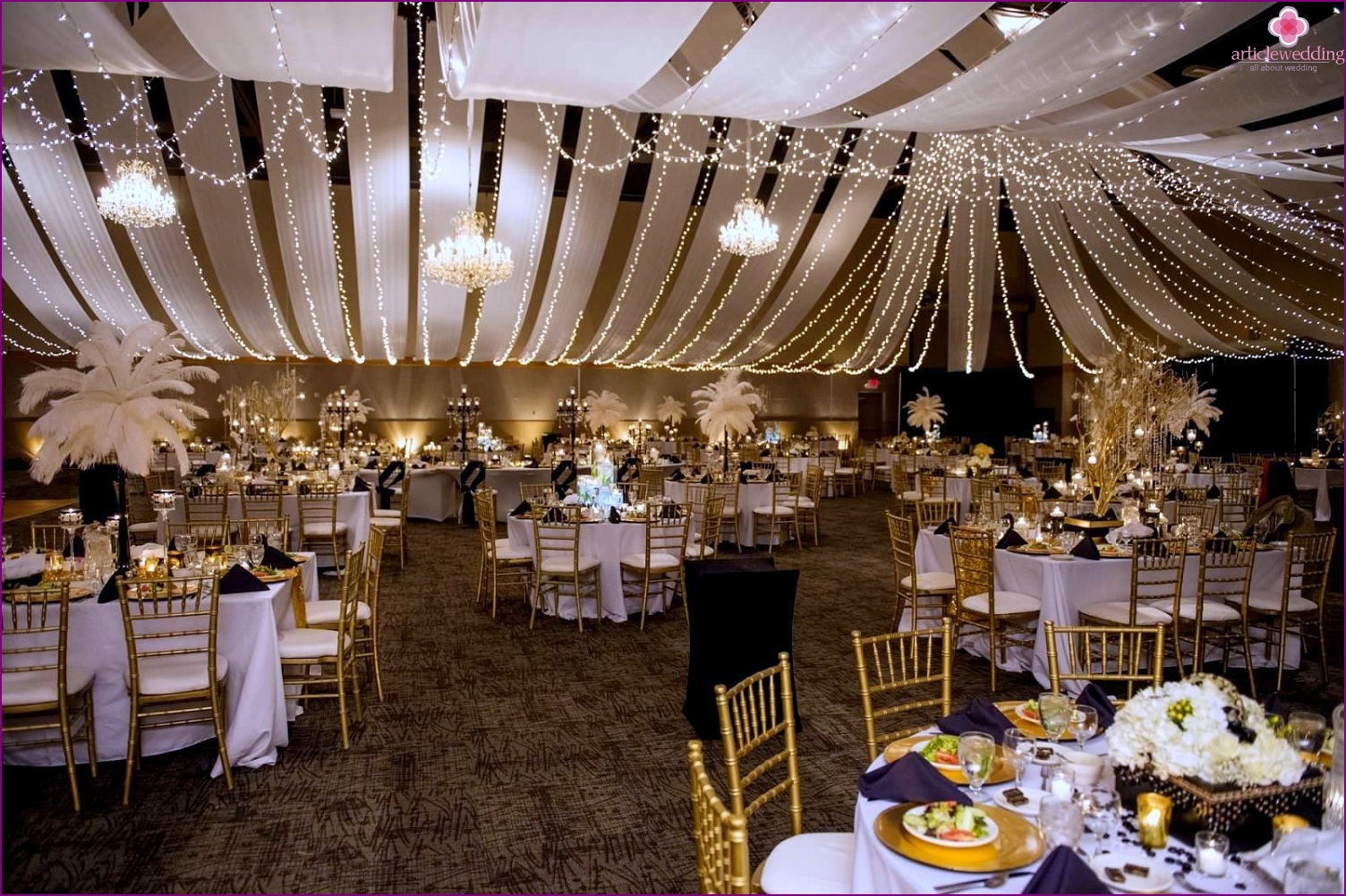 Coco Do Chanel
Madame Chanel is an icon of style and taste at all times. A celebration based on Coco Do Chanel suggests the French style of the holiday, exquisite treats, good music and, of course, excellent outfits and accessories for both newlyweds and guests. French chic and rebellion are key moments of this wedding.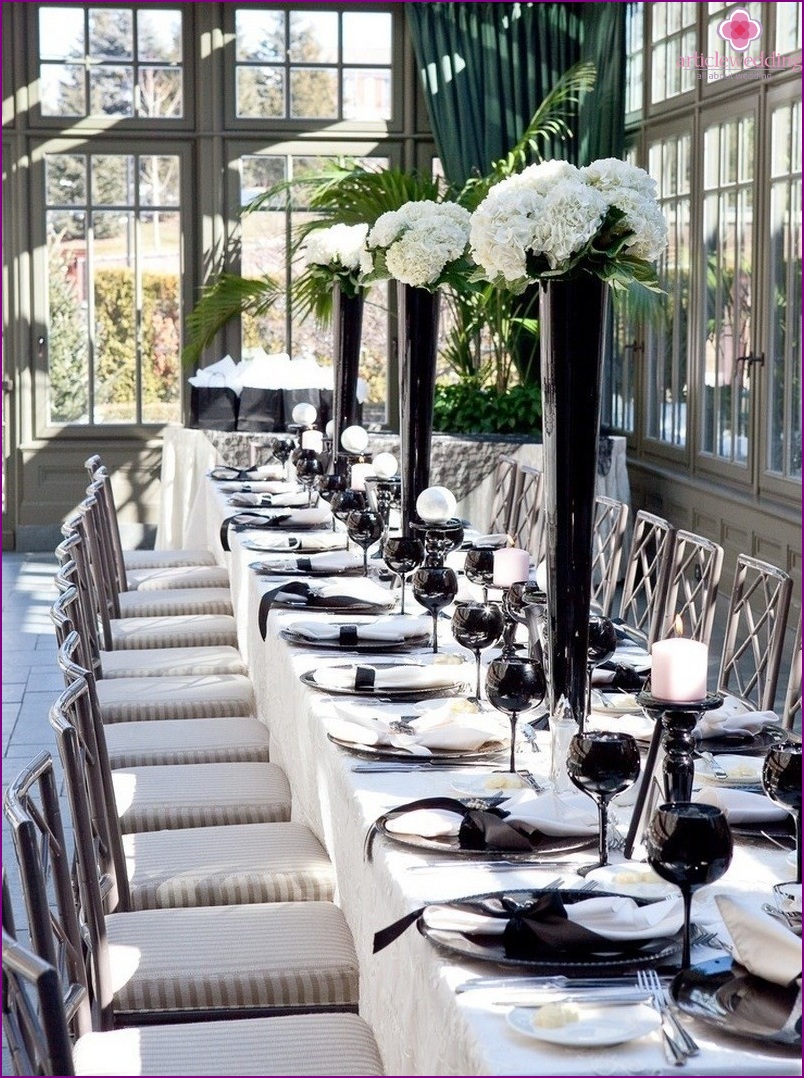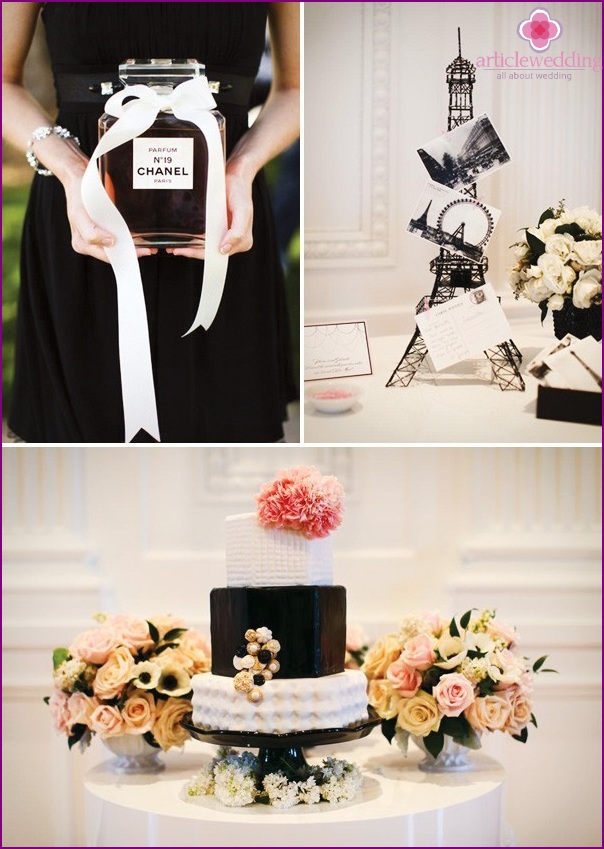 "Pirates of the Caribbean"
Why not have a nautical theme party? The pirate style will give the holiday a special courage and enthusiasm. For summer celebrations, a good venue for a banquet is the beach, decorated according to the example of Tortuga. Exotic flowers for the bride's bouquet, bright dresses for guests, a variety of entertainment and special areas. Fun and positive experiences are guaranteed..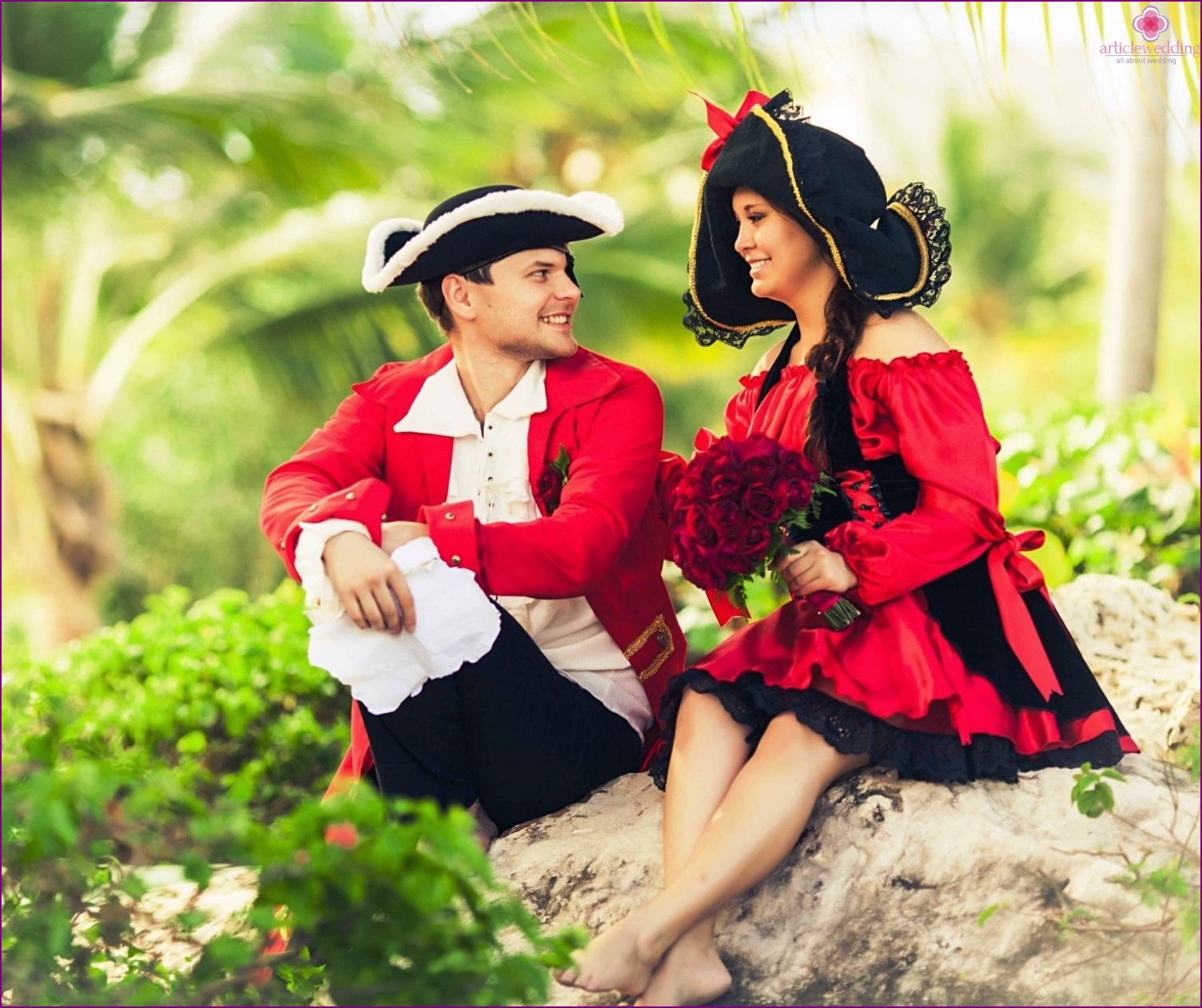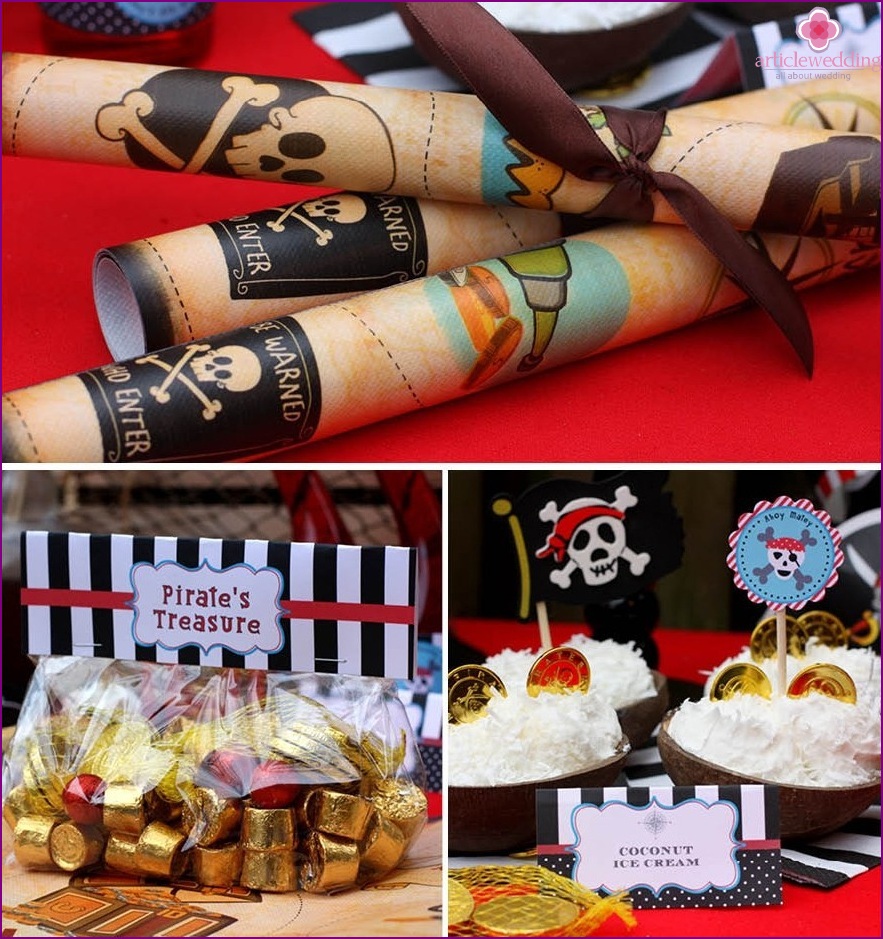 "500 days of Summer"
The above film is a wise and at the same time light-hearted love story that is close to every romantic. The film is interesting in its color scheme, which was carefully developed by designers especially for Zoe Bechamel, who has bright blue eyes. If you can brag of a similar shade of eyes, attentively study a palette of a film "500 days of summer". Make invitations, banquet cards, menus and decor elements in the likeness of bright cards, add to the wedding decor architectural elements, a huge chalk board (for contests and wishes), a little positive music - and you're done!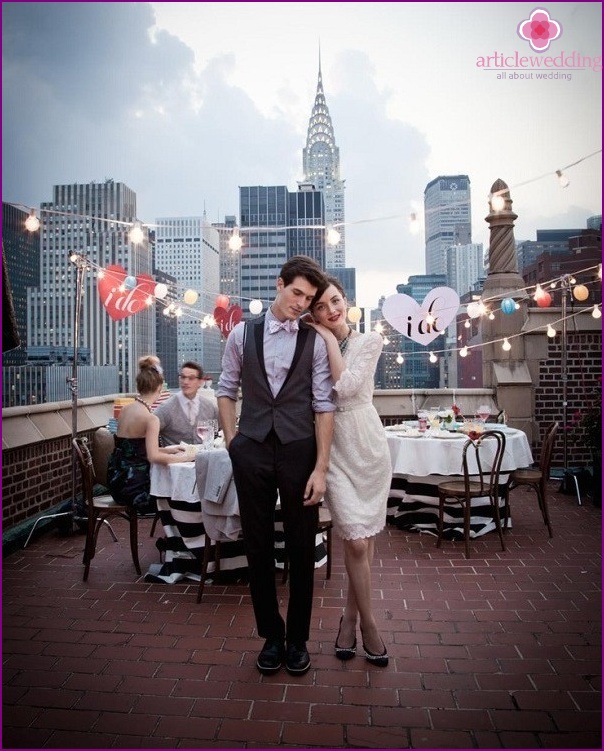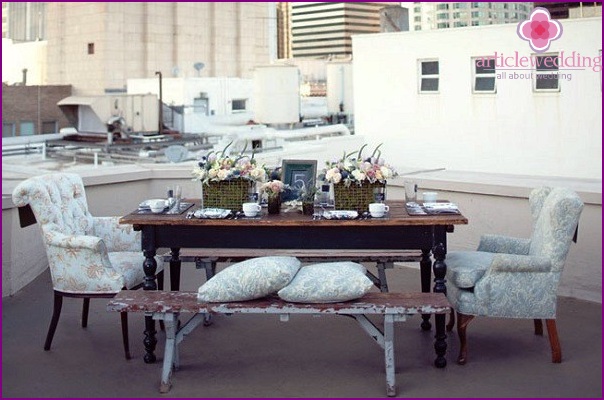 "Young Victoria"
Dreaming of a luxurious and aristocratic wedding? The film "Young Victoria" will inspire you with chic palaces, perfect decoration and serving of banquet tables, English decor of the mid-19th century. It makes sense to borrow the image of the bride: a traditional white dress with elegant decor, discreet makeup, a wreath of orange blossom flowers - all these details will make any bride irresistible.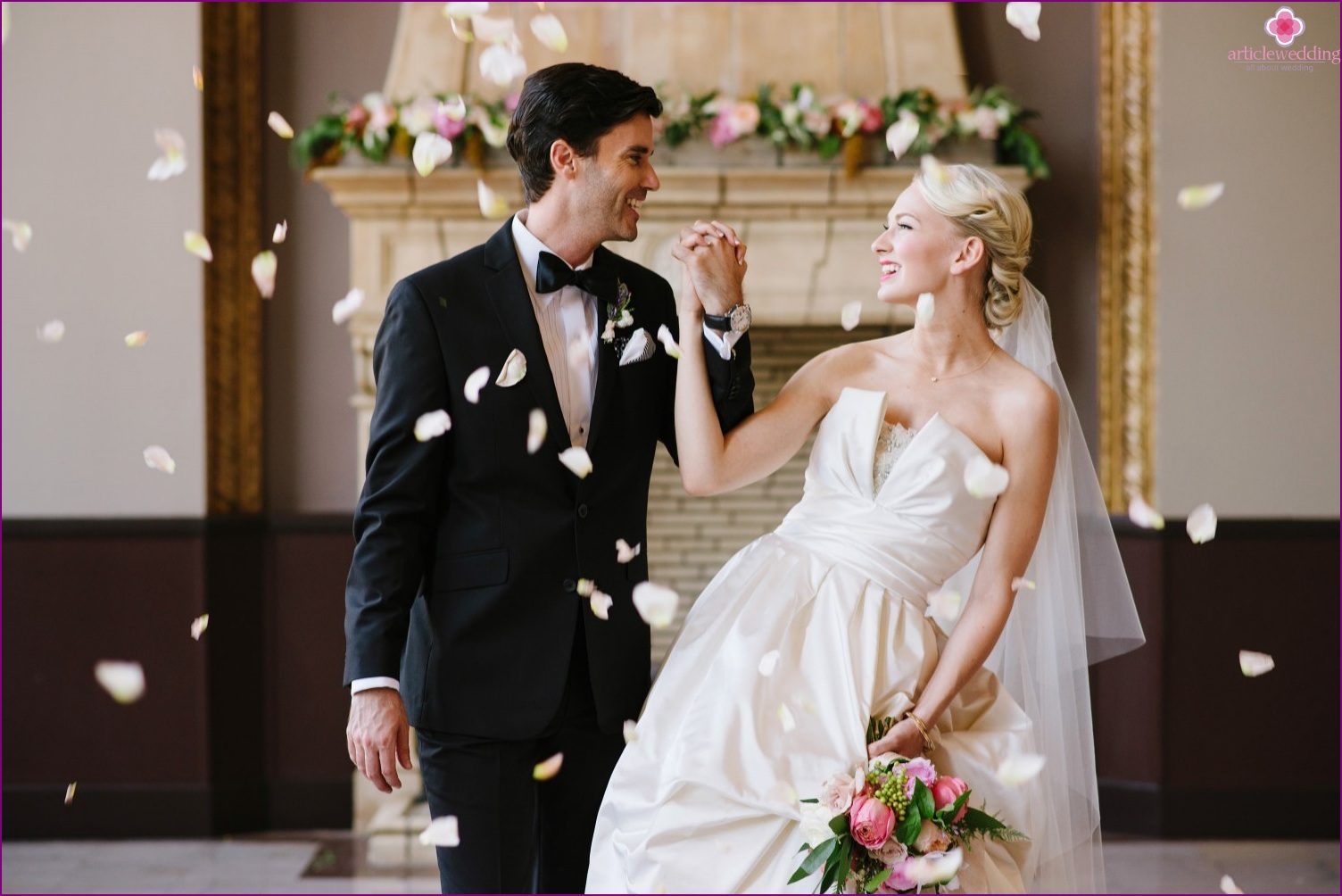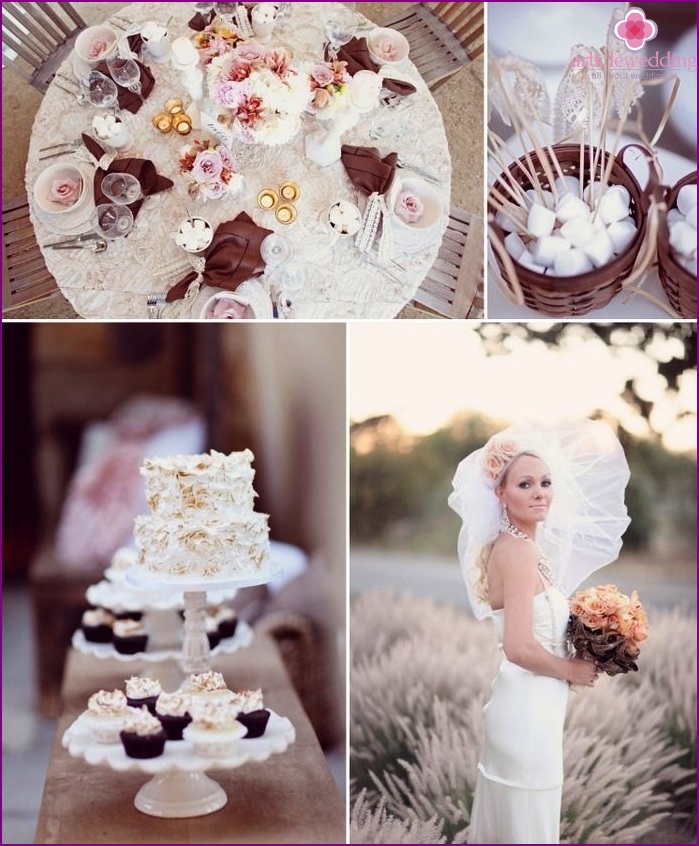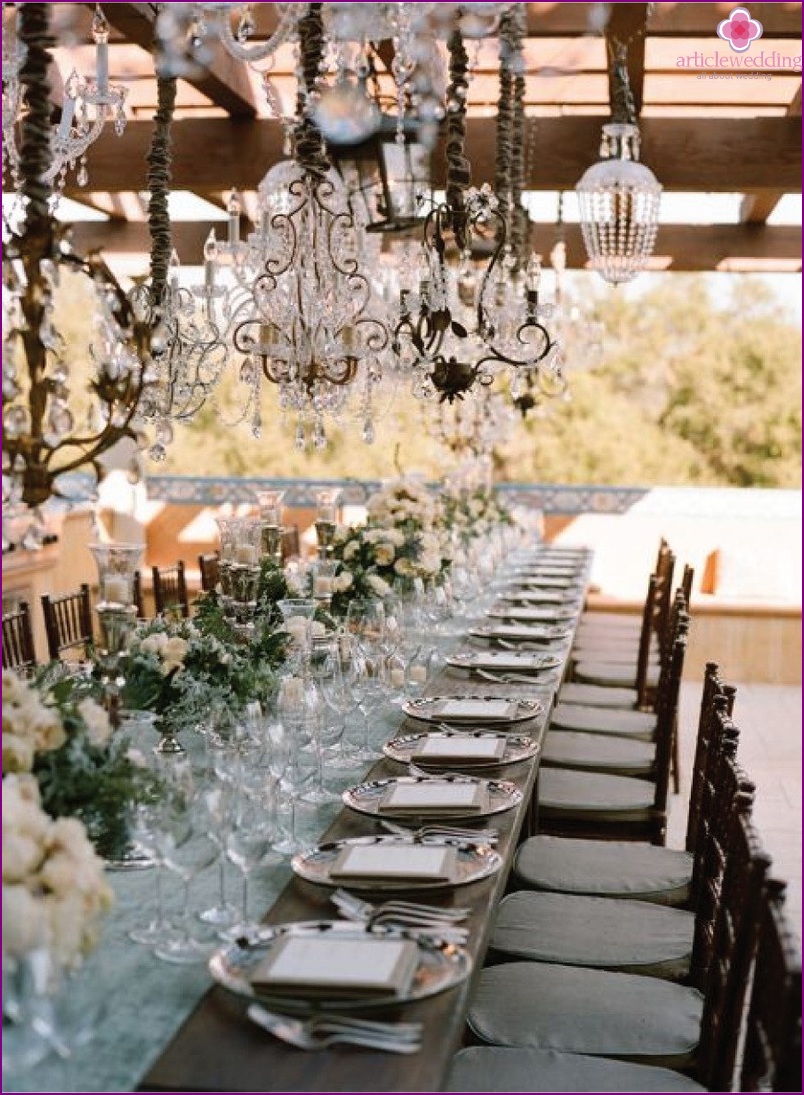 "Singing in the Rain"
According to the website www.articlewedding.com, one of the most spectacular themes for autumn weddings is the film "Singing in the Rain." Why?
You can be sure that no weather will ruin your triumph.
Positive and budget wedding accessories - these are umbrellas (guests can bring them, umbrellas can be used in decoration and during the photo shoot; the brighter and more diverse the umbrellas, the more interesting the decor will be). You will make amazing wedding photos, because with competent shooting and backlighting, frames with raindrops are simply amazing.
You can take care of carefree musical compositions for staging a wedding dance.
A beautiful and joyful wedding is provided for you!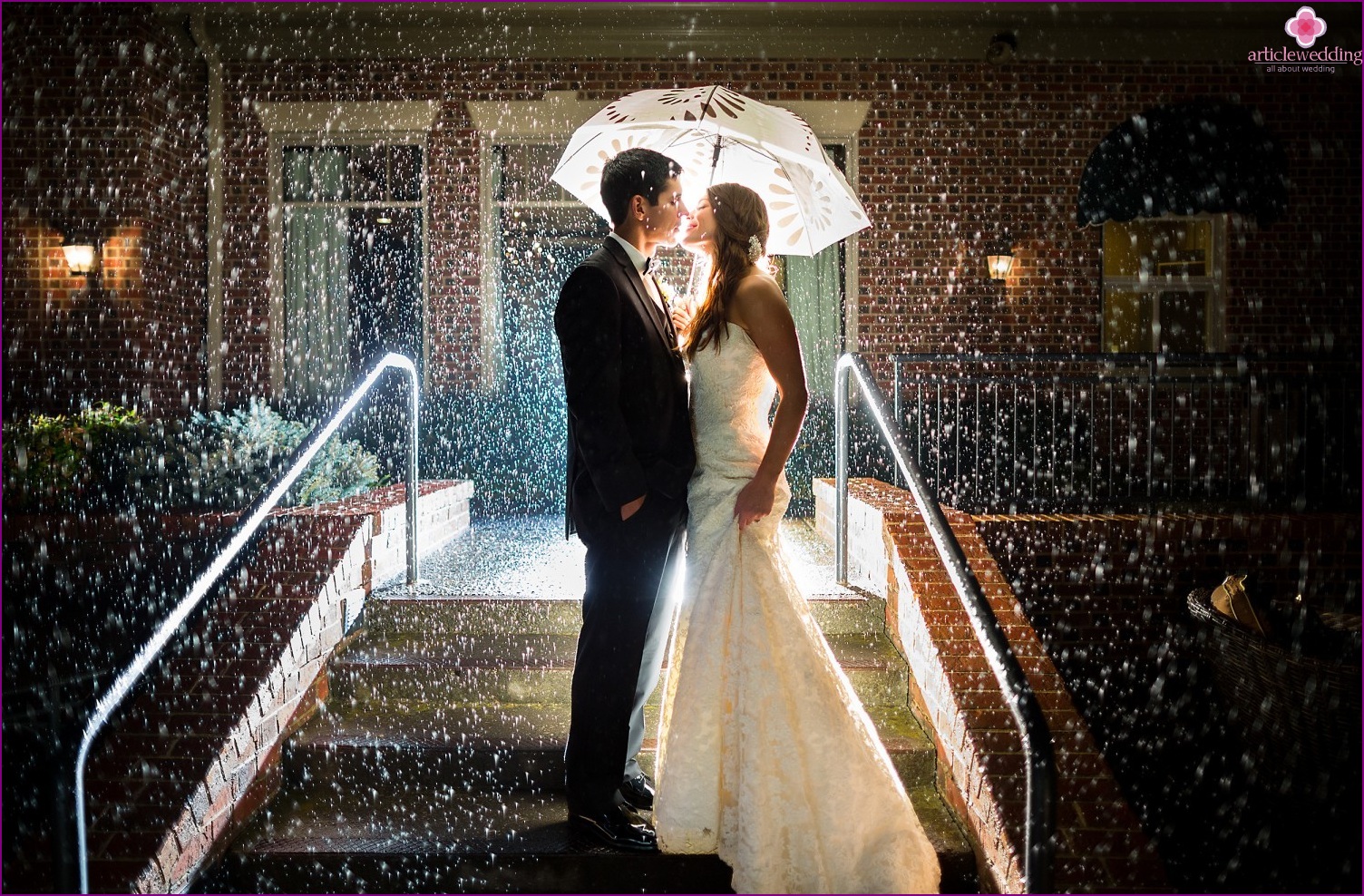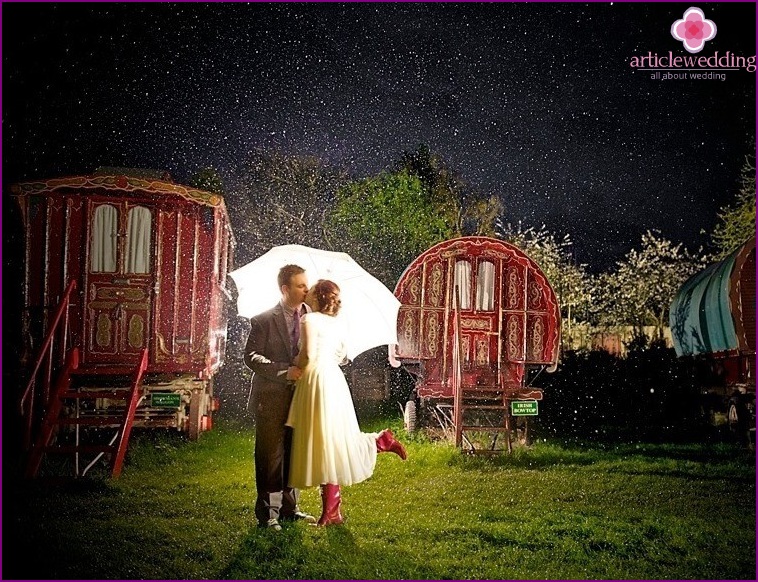 "Agent 007"
Do you like puzzles, technical innovations and social gloss? Why not organize a 007 style movie wedding then? Tuxedos, chic evening dresses and accessories, elite drinks, detective contests and glamor - a real secular celebration with intrigue and adventure..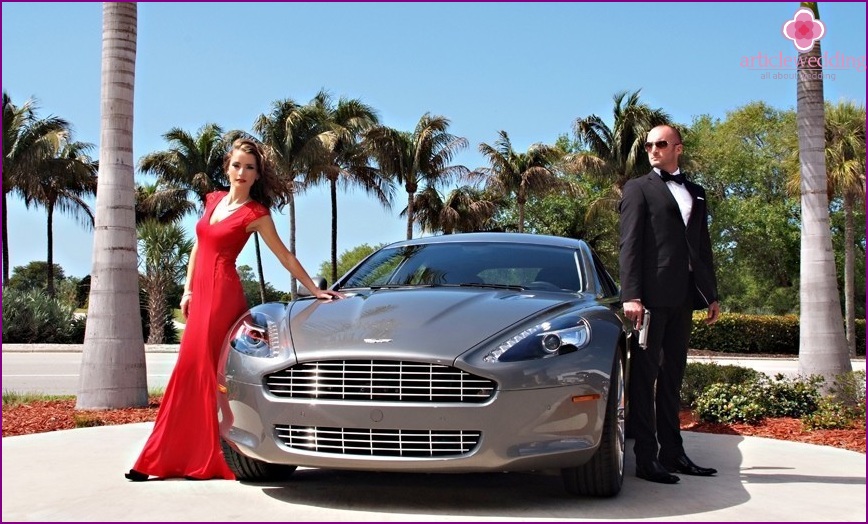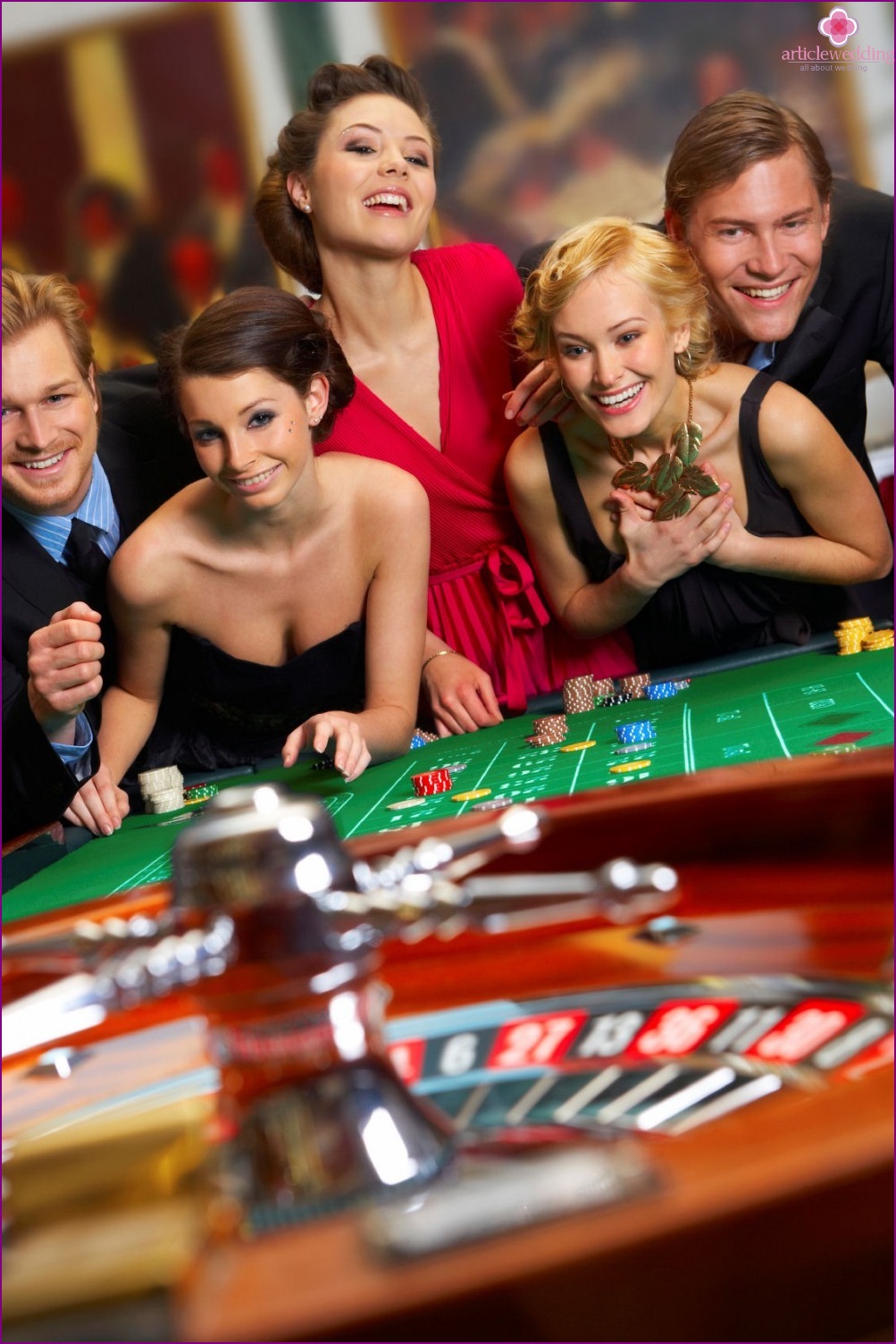 Maleficent
Love the tale "Sleeping Beauty"? Then we have a great idea for you. The film industry has given us a new creation on this topic - the film "Maleficent", which is increasingly taken as the basis for the wedding celebration. Fairytale decor, the contrast of gentle and daring images, unique ideas for a photo shoot - this is what a wedding is based on the movie "Maleficent".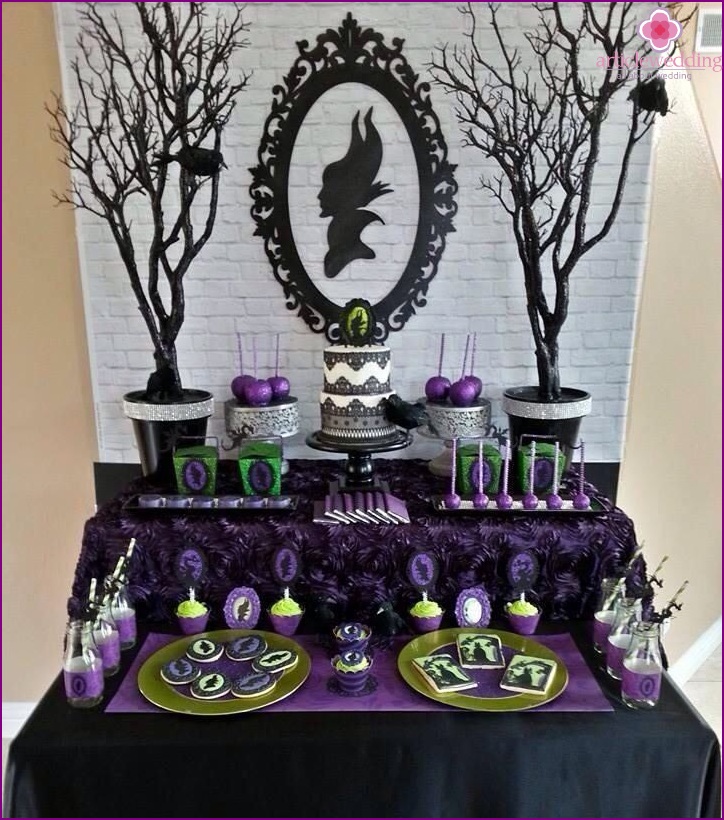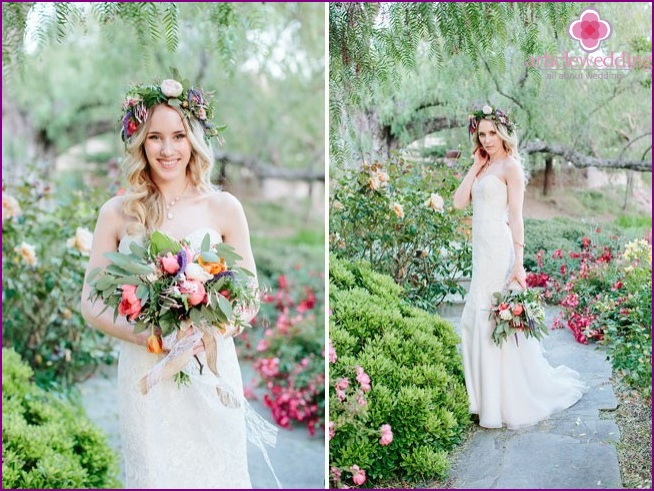 The film industry offers a variety of options for organizing weddings. Choose a film that is close to you in spirit, and take on the arsenal of ready-made ideas for outfits, decor, photography and accessories. Let your wedding be truly unique.