Contents
---
---
If you have always dreamed of trying something new and dreamed of exotic, why don't you arrange a wedding in Indian traditions? An Indian-style wedding is suitable for every connoisseur of true exotic and beauty, because any Indian wedding is a riot of color and festive beauty. At first glance, everything resembles "chaos", which in turn includes splendor of clothing, mastery of dancing, the beauty of Indian culture. Wedding decoration in this style is more suitable for sociable and creative people who appreciate the combination of the real art of dance, singing, folk clothes and natural beauty.
Create stunning Indian decor
When creating a wedding in the Indian style, first of all, you need to think about where this event will be held. There are many options here: it can be a country house, a restaurant, or you can gather outdoors under the tents. Despite the venue, the hall should be decorated with a lot of flowers, combined with fruits and symbols.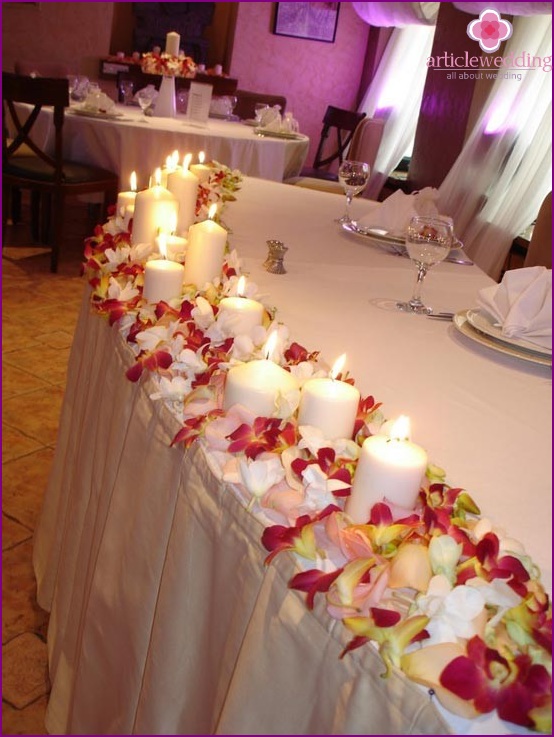 Also, the main attributes include carpets, statues, curtains. Most often, all of the above is made in golden or red colors, as these colors symbolize the wealth and success of the future family. Everything around should be decorated with Indian symbols to give authenticity to the image. Spicy dishes and plenty of spices are welcome on the table..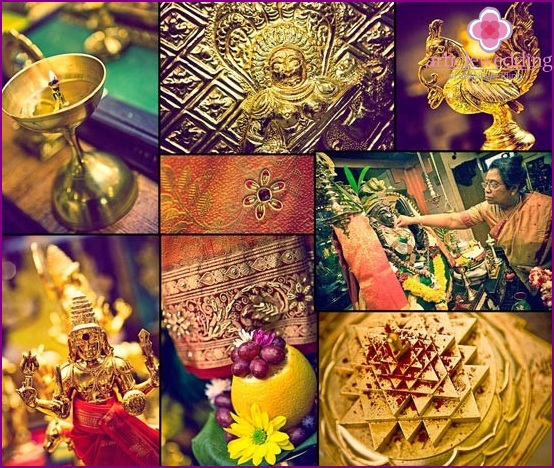 The site www.articlewedding.com gives many tips for creating the original decor of the wedding table and banquet hall.
Creating images of the bride and groom in Indian
The Indian style adds a touch of mystery to the look. Wonderful Indian outfits look just amazing! Traditionally, this dress is called a sari. As a rule, a dress is a piece of beautiful fabric that wraps around a body in a special way. A special blouse is put on underneath, also embroidered with beautiful patterns and embroidery. For a wedding, you can buy saris in your favorite shades, just be sure to learn how to wear such a dress. Concerning bridal makeup, then the inhabitants of India love the abundance of makeup, bright and catchy. Black eyelashes, bright eyeliner and delicate lipstick - all this is used in holiday makeup.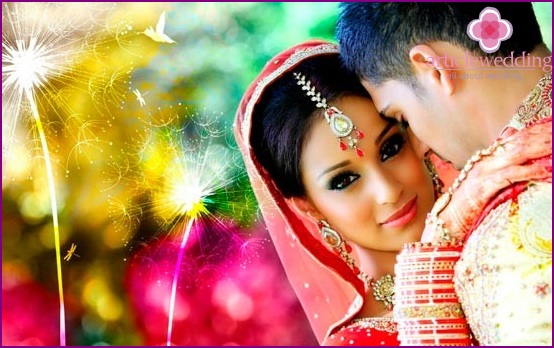 Also, do not forget to apply bindi on the forehead - the traditional point that women apply in India as a sign of wisdom. Use also a lot of jewelry, preferably large. It can be necklaces and large earrings that accentuate your facial features and add you even more Indian charm.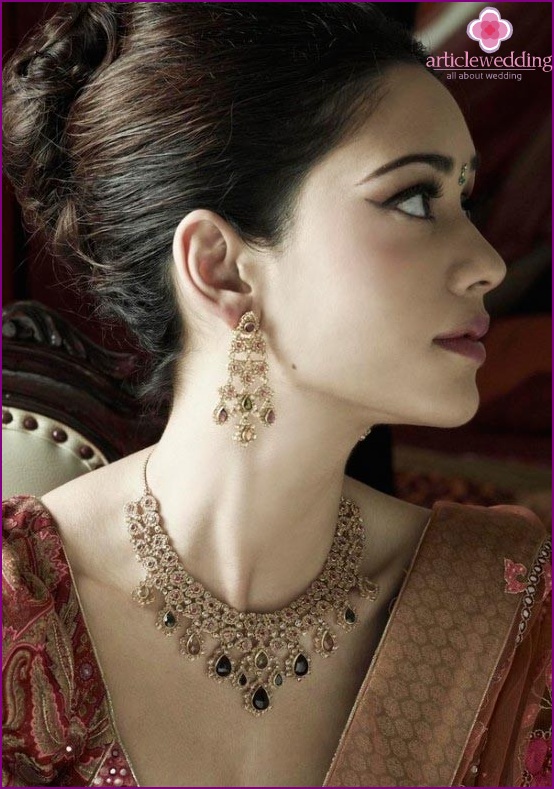 On the website about wedding traditions www.articlewedding.com you can get even closer acquainted with the traditions of applying makeup and creating a wedding look.
Indian Style Photo Shoot Ideas
Each couple certainly wants to feel at least a little the art of the past time on themselves and capture these moments. Mendy is a great idea to create an extraordinary image. To mehndi include the application of henna patterns. This tradition has existed for about 5 thousand years: according to it, girls decorate hands and feet with traditional Indian patterns. Mendi combined with sari is an art worthy of real beauties. Decorate your body with patterns and go to the shore of the sea or lake. To create a delicate image, you will need a long transparent fabric, which will easily develop in the wind, creating interesting patterns. Here is an unusual idea for wedding photo and video shooting!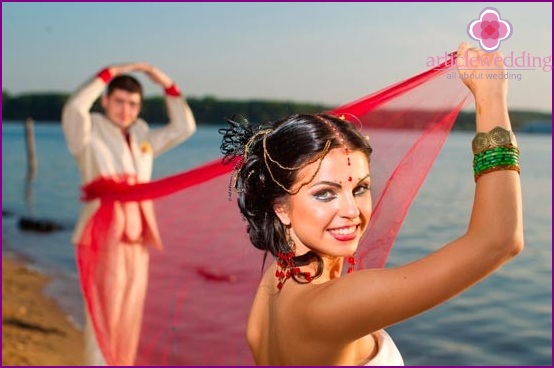 An Indian wedding is a reverence for other people's traditions, an opportunity to plunge into a foreign era and become part of a large culture. Do not miss the chance to feel the beauty of the traditions of India, to feel its uniqueness and uniqueness.