Contents
---
---
Today, most newlyweds are trying to make an enchanting wedding. For example, in a balloon, under water or in the mountains. Imagine how pleasantly your relatives, friends and colleagues will be surprised to learn about your creative decision, what your children will say when they see a wedding album in the future. They will undoubtedly be pleased with the unusual wedding script your parents.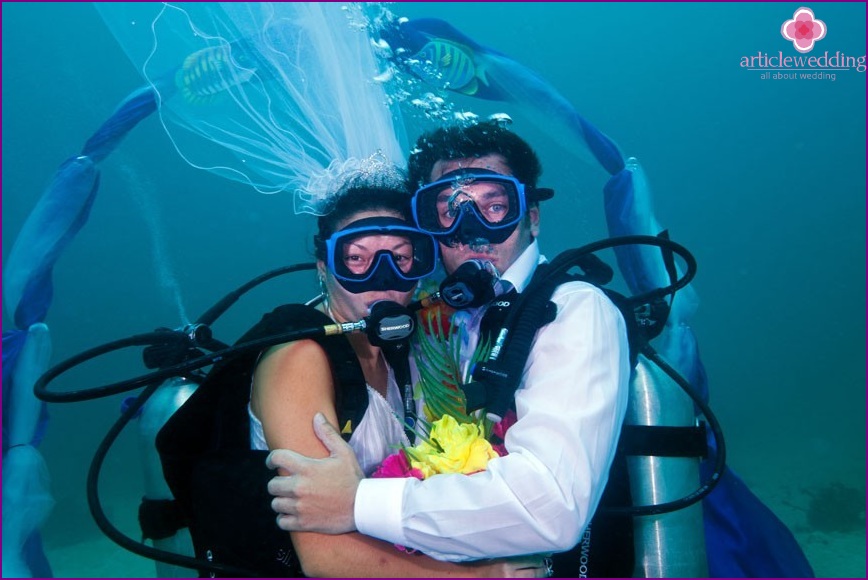 Wedding under water
An unusual wedding under water will leave an impression for a lifetime. However, it is worth remembering that you need to prepare well for such an event, because the depth of such a ceremony, as a rule, is at least five meters, and sometimes can reach nine.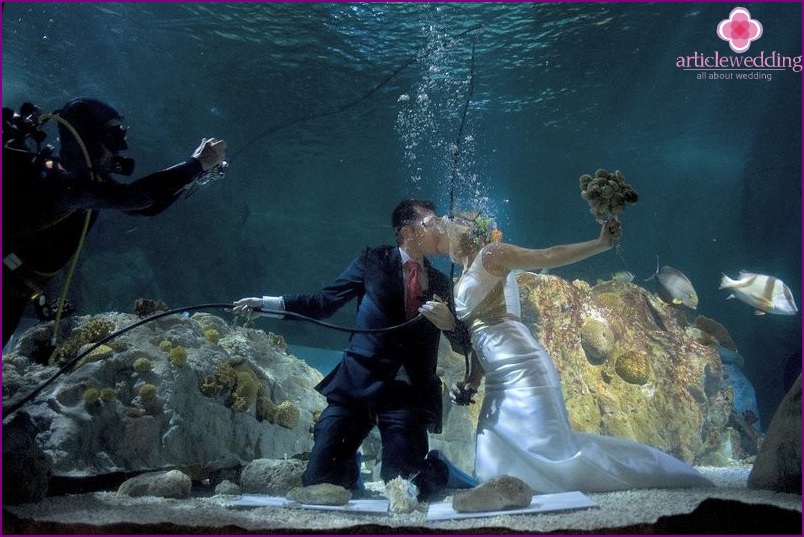 Often, for an underwater wedding, they go to islands that have already established themselves in this area. Firstly, there are people who have repeatedly come across this. And secondly, it is recommended to undergo at least minimal training in diving, so as not to get lost under water. On any island there are enough sites for such training.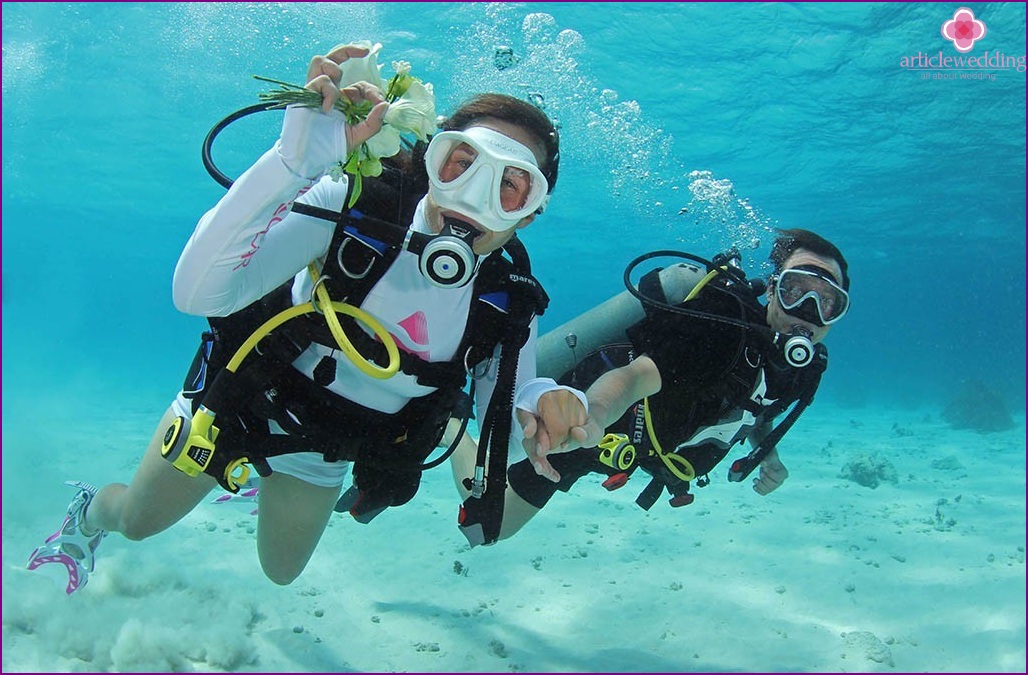 Ceremony time
If you are sure that you can handle equipment and gear, the wedding can be held almost immediately. Our portal www.articlewedding.com warns that such actions do not require an amateur, but a professional approach, because this is an event of your whole life. Today, an underwater wedding is a much more simplified version of the very first wedding with such a creative approach..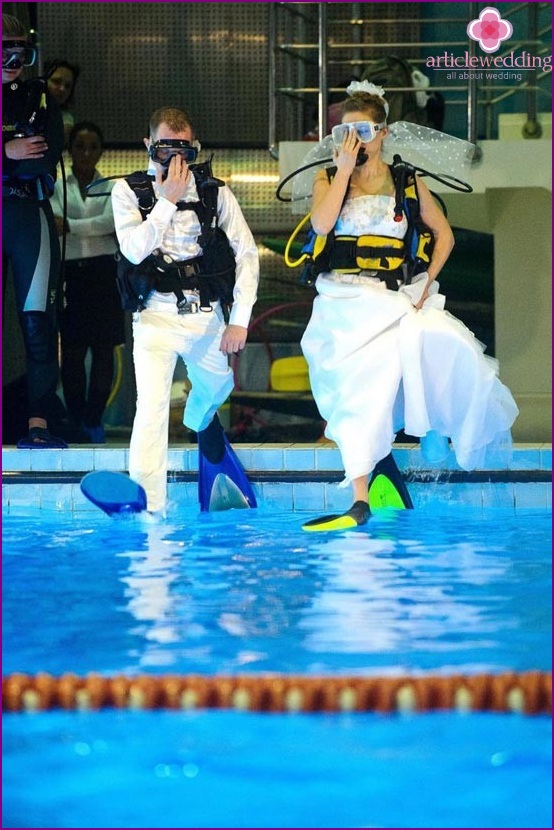 How did the first underwater wedding?
The bride and groom were brought to the venue of the wedding ceremony on a large boat, where besides them there were close relatives. The bride was dressed in tight-fitting white dress with a large neckline, so as not to hamper movement, and the groom in a white shirt and trousers. After they put on equipment on the young, they were immersed in water, where after reading the oaths, which took place with gestures, the newlyweds kissed. Especially worth noting is the fact that the kiss was a very big step. The bride and groom trained for almost a month to kiss underwater, so that everything went smoothly and safely. After the kiss, an exchange took place wedding rings, and a special chemical pencil was prepared for painting, the ink of which did not dissolve under water. The young were supported by witnesses who went down to a depth of 7.5 meters with them.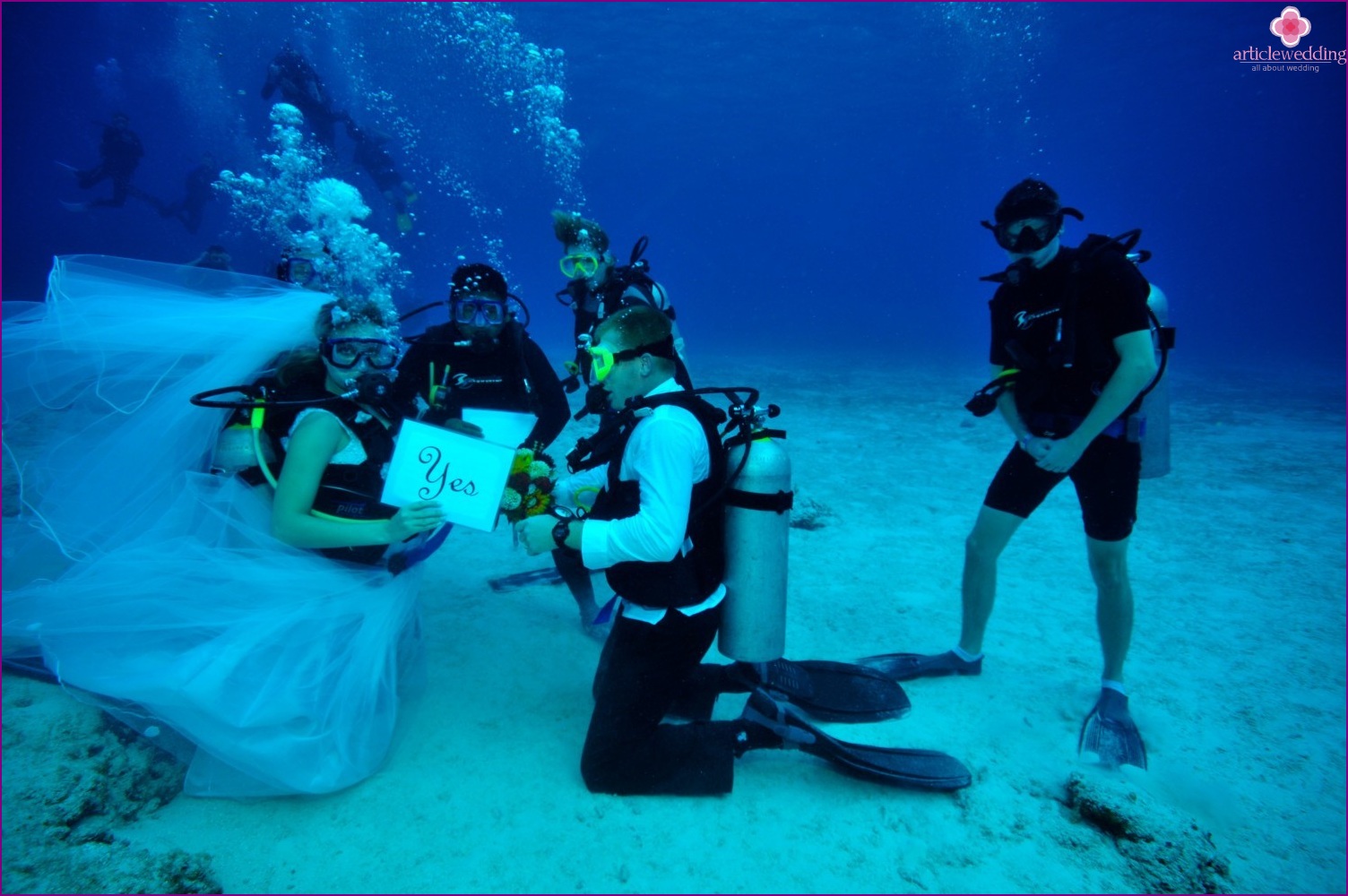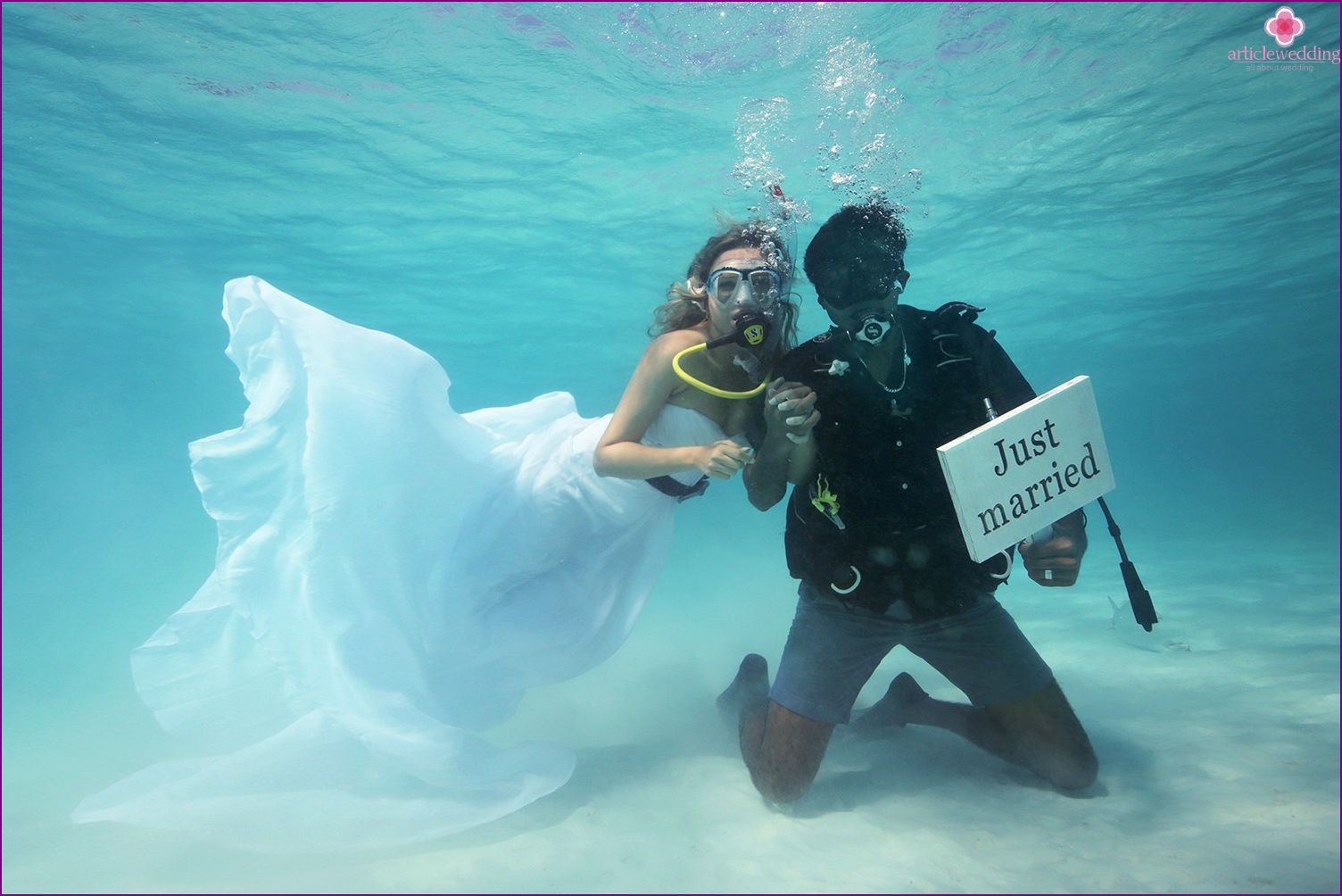 Underwater Wedding Pictures
Today, there is a whole "division" of professional photographers who are ready to shoot you in any conditions. However, remember: in order to shoot under water, you need not only equipment, but also experience. The first newlyweds, undersigned under water, were shot not just by a professional. Especially for these purposes. photographer took a series of underwater pictures for more than a month, picking up lenses.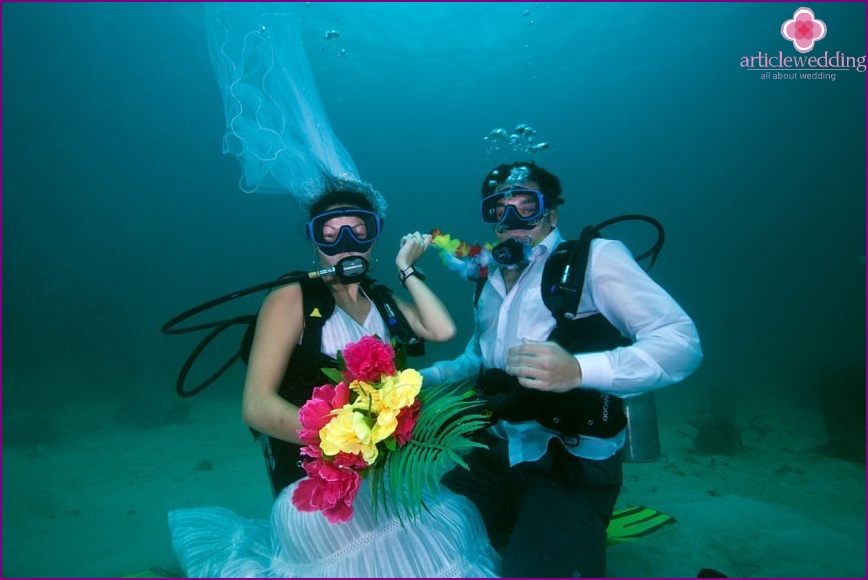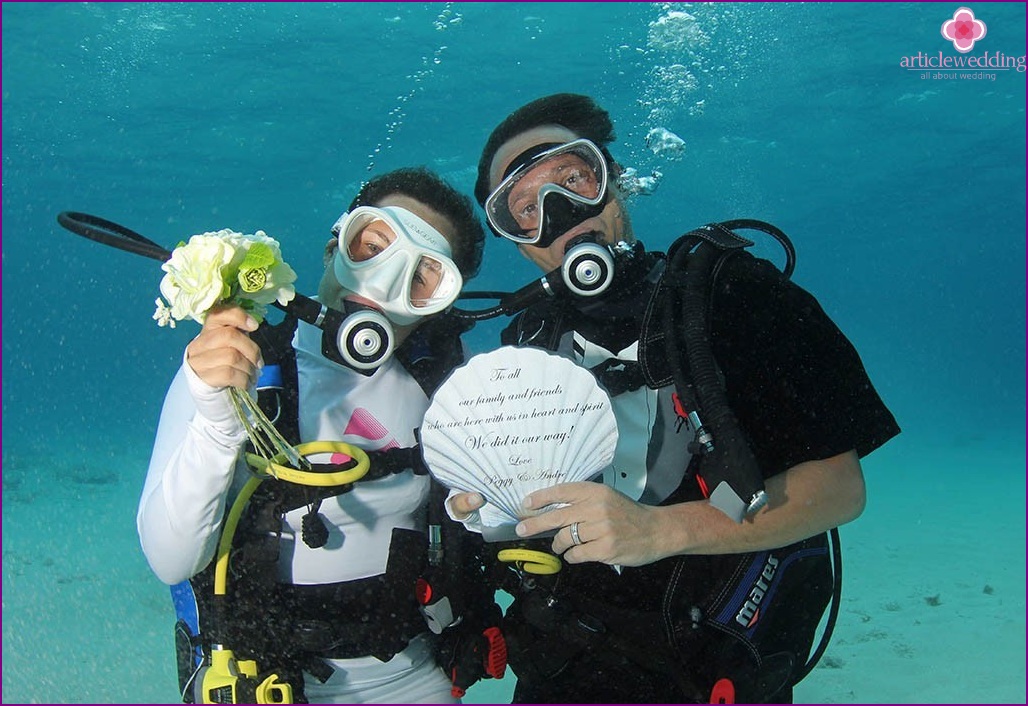 Why exactly an underwater wedding?
The wedding portal www.articlewedding.com is convinced that a creative wedding is always valued more. Remember, an idea can be borrowed and there is nothing wrong with that. In addition, an underwater wedding is a memorable event that cannot be forgotten. But you always need to contribute something of your own. For example, make a light version near the shore, where the water will be very transparent and you can take pictures both directly in front of you and from above (above the water).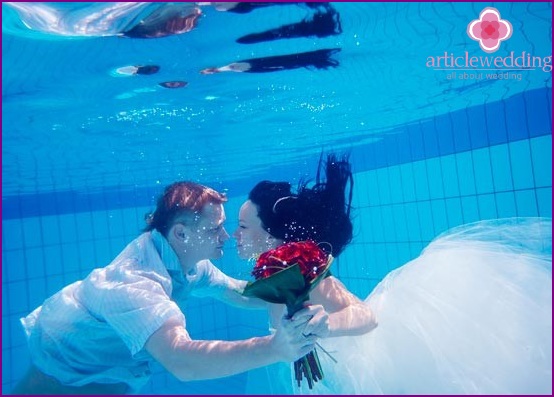 If you are thinking about such an unusual wedding, bring in as many of your details as possible, which you will definitely remember!