Contents
---
---
Pondering the style of the wedding, each couple of couples wants to stand out and be remembered. Most young people in the modern world are trying to avoid accepted and established traditions in terms of holding and celebrating weddings. Want to stand out? Then have a retro wedding! Such stylization of the wedding will make it possible to plunge not only into the turbulent 80s, but also to know the world of primitive people or to attend a princely celebration. It all depends solely on the desire and determination of the young! On our website www.articlewedding.com we decided to offer you some retro style wedding options..
Primitive times
Perhaps, a wedding in the style of primitive people will cause a storm of emotions, both among the newlyweds and their guests. Agree, you rarely see a wedding in animal skins and with batons in their hands! Of course, for such a primitive wedding, you must have serious determination and a sense of humor.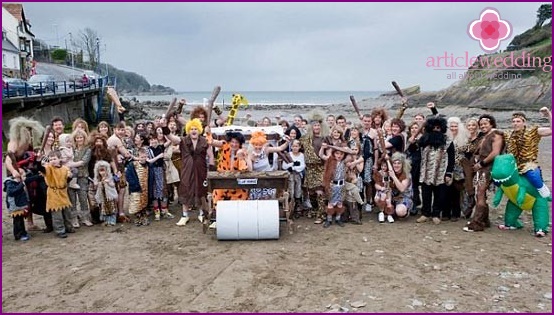 Wedding dresses of the newlyweds will not require significant costs, as would be the case with a classic celebration. You will need loincloths and elegant skins. It is worth noting that in such an image it will be rather strange to appear in the registry office. Here you have two options: dressing after painting or designing an exit registry office. Guests also need to purchase primitive outfits..
Weddings can be arranged in the sauna or pool. For a more complete stylization, it is best to choose a place where there will be a grotto with waterfalls. Such a wedding will take you to the very origins of human origin and will certainly remain in the memory of everyone present for a long time..
Antique times
Antiquity in every person is associated with the brightness of colors. Therefore, the wedding portal www.articlewedding.com notes that this should be followed when choosing wedding suits and wedding decoration. An ideal option would be draped clothes made of soft flowing fabric.
An antique-style wedding can take place in different scenarios. For example, you can convert your guests into athletes for the Olympic Games. You can also consider the option of gladiatorial celebrations, or hold a ceremonial reception visiting Caesar, or you can even give preference to the script of the divine triumph.
An antique wedding will allow each guest to feel like a particle of past times, will give a sense of heroism and a desire for adventure. It is important to make sure that games and contests match the given wedding theme..
Ancient Egypt
No one will argue that Cleopatra is rightfully considered one of the most attractive women of centuries and peoples. Why don't you become at least for one evening this magnificent queen? And the groom will turn into an omnipotent Tutankhamun for the evening. An unusual and memorable celebration will be provided to you.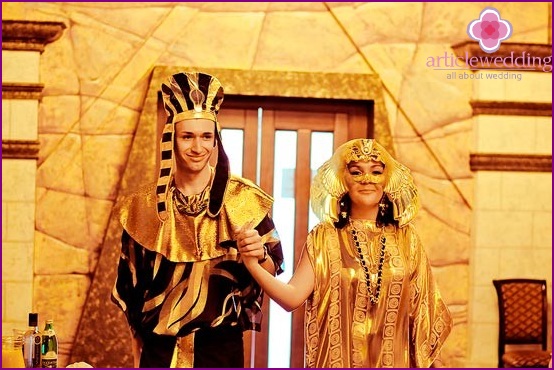 To create an image, look for suitable hats, ask the stylist to make you a wedding make-up «cat's eyes». It is also important to have luxurious tunics that will be abundantly decorated with stones and gilding, do not forget to purchase massive jewelry with gilding. Well, the last finishing touch will be a fan of ostrich feathers.
In the festive program, you can include dancers (necessarily on the topic!), Order a fire show that will surely captivate everyone present at your celebration, and if possible use a camel!
Middle Ages
Do you want your beloved to become your knight, and you - his lady of the heart? Then a wedding in the style of the medieval era is your option. For male guests, an unforgettable experience will be left by a knightly tournament. Each guest can also take an active part in creating the coat of arms, which in the future will belong exclusively to a young family.
Particular attention should be paid to the selection of costumes. And we are talking not only about young people, but also about guests. Therefore, warn in advance about the wedding style so that guests are not dressed «off-topic». In principle, choosing a wedding dress for the bride will not be difficult, difficulties may arise when looking for a knightly costume for the groom. Here you will have to contact the organizers and participants of the knightly tournaments.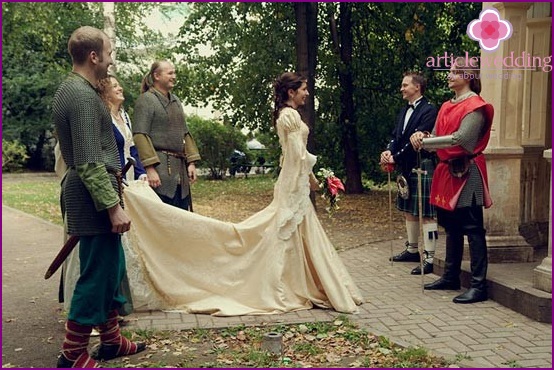 For a medieval wedding, if possible, you should choose a castle or restaurant in the appropriate style. An ideal option for conducting fights would be a rented hippodrome. By the way, at which wedding you can't do without horses.