Contents
---
---
The style in which your wedding will be performed largely determines how bright and memorable the event will be for you and your guests. If you want everyone to remember it, why not use strawberries for your wedding decor?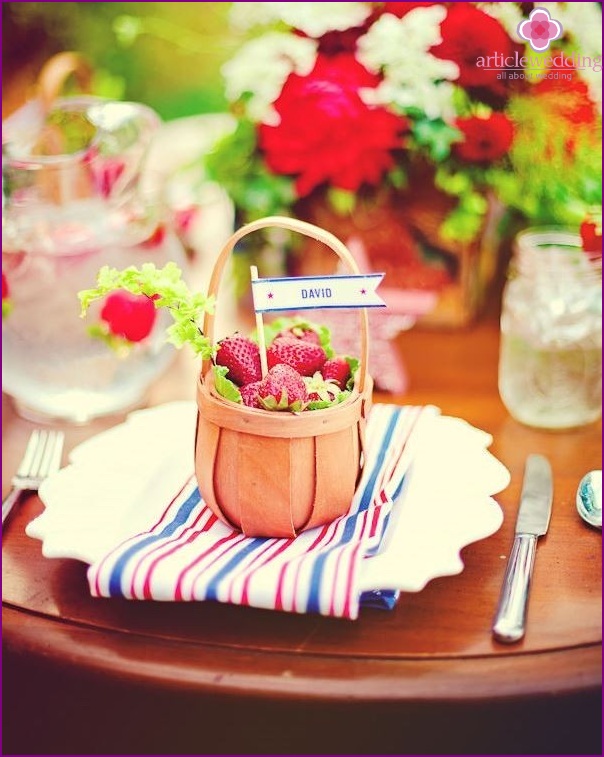 Wedding decor and accessories in strawberry style
Strawberry itself is a very bright accessory. Sweet, juicy, summer - it gives any triumph a sea of ​​positive mood. Strawberries can be used as a decoration. First of all, you should decide on wedding colors. It is best to combine colors such as red and white. These colors must be used in the decor of the banquet table. Combine red and white in the design of tablecloths and chair covers, as well as in the elements of decor.
To decorate the table, use transparent glass containers that must be filled with water. Place strawberries inside, you can cut it out, add mint leaves and ice into the container - and your decoration is ready!
You can also arrange bright bouquets of flowers on the table, in which you can add strawberries as an accessory. Or you can just sprinkle berries on the festive table.
Be sure to use berries and images of strawberries in the manufacture of accessories: invitations, banquet cards, etc..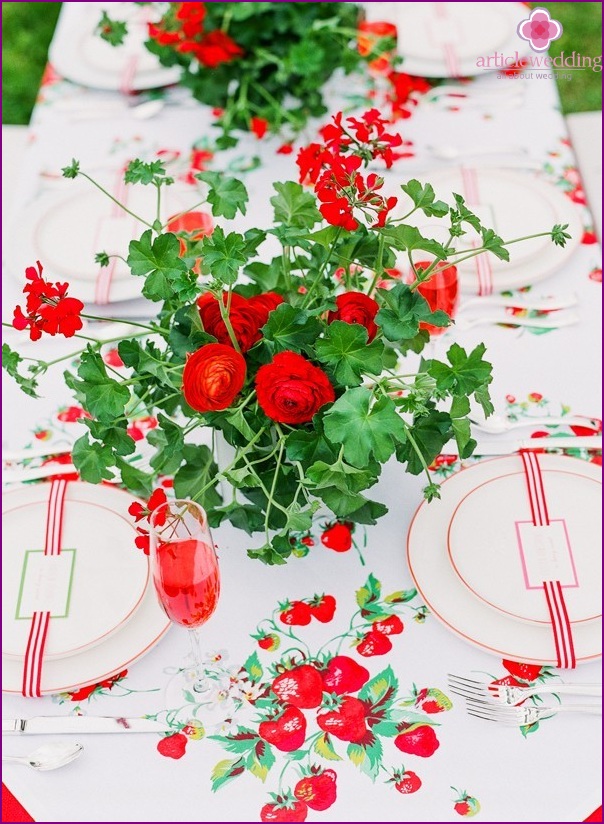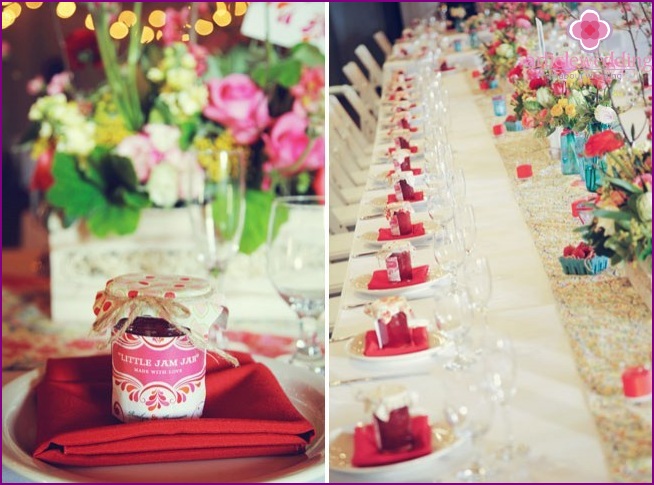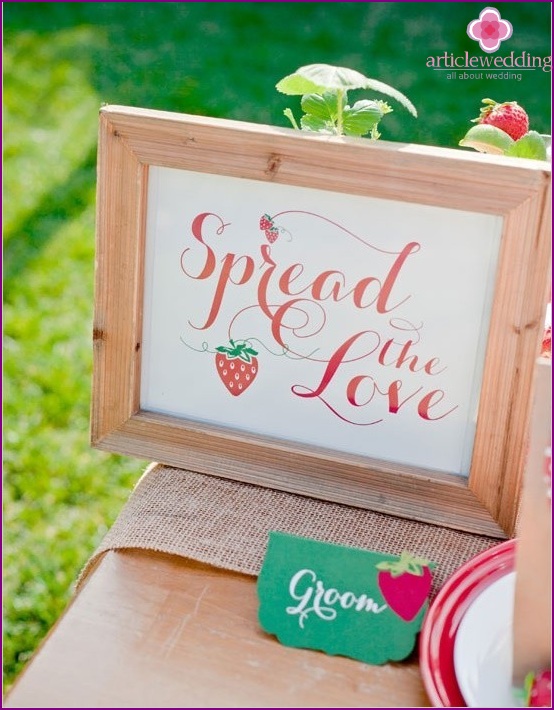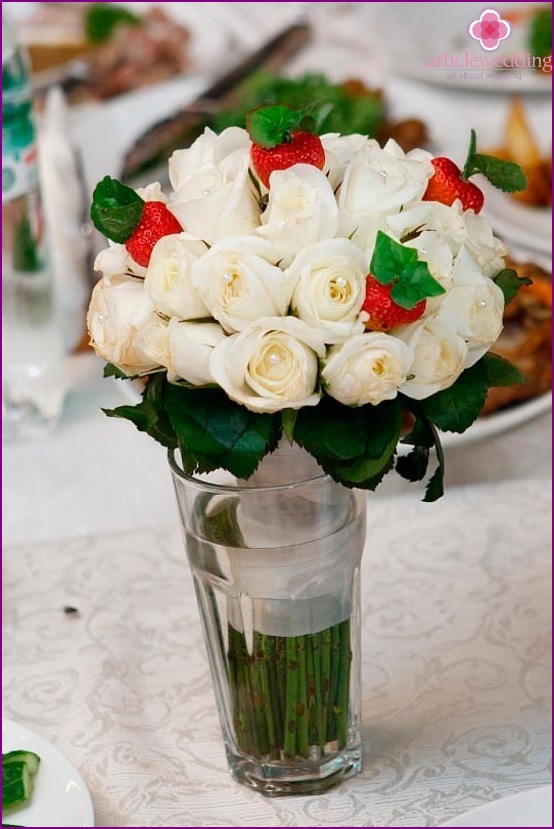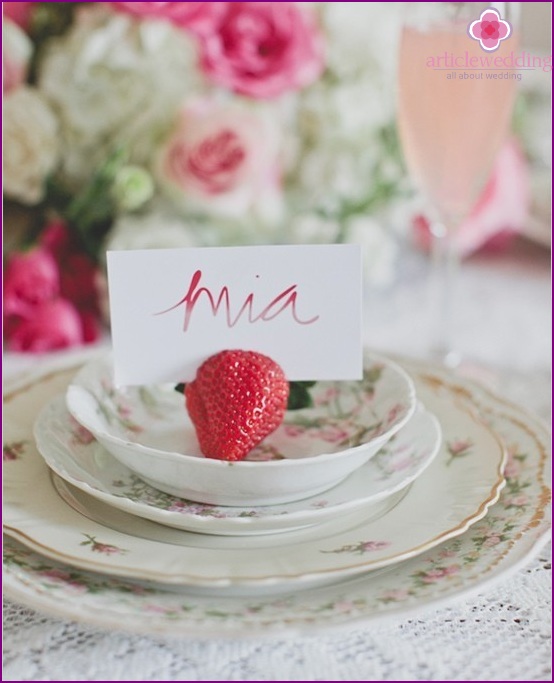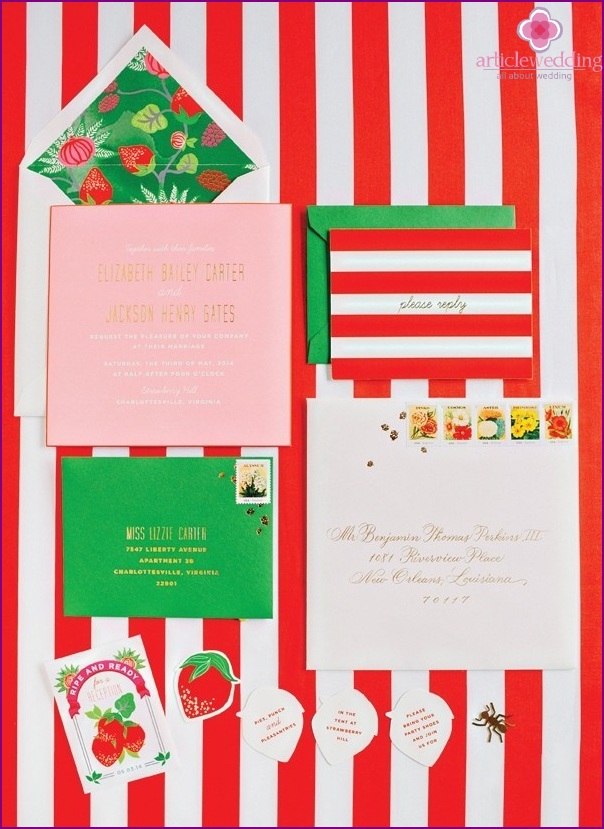 You can find many ideas for decorating your wedding table on our portal www.articlewedding.com.
Strawberry-style wedding photo shoot
If you want to make a thematic photo shoot, just hang on the trees lovely strawberries that will create a juicy summer mood and charge you with a positive. Strawberry is a passionate berry, so it gives the image a touch of seduction and piquancy.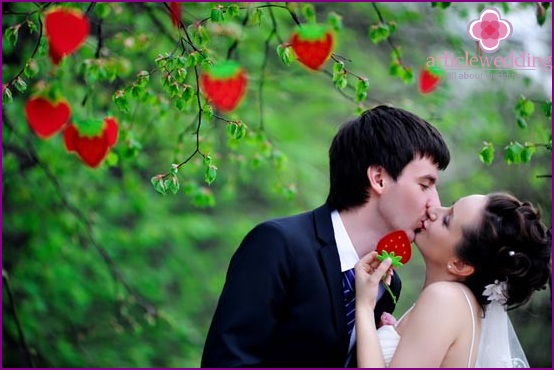 The bride and groom in a strawberry look
The strawberry look does not require special cardinal changes in the classic wedding look. Just add bright colors to the image, namely the red juicy mood. The bride can pick up red wedding shoes, the groom - a bow-tie or tie.
Jewelry in hair looks beautiful. It can be charming hair clips in the form of strawberries. You can also use earrings or a bracelet with the image of strawberries.
In the image of the groom, you can use a pink shirt that will match your strawberry style. In the rest, in the image of the groom, you can stick to wedding classics.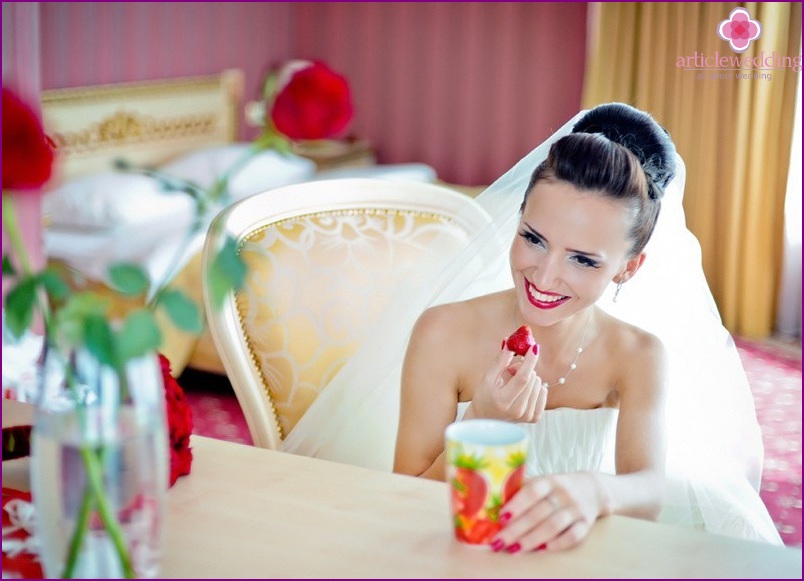 Strawberry Wedding Cakes and Treats
The best use of strawberries can be found in making a wedding cake. Such a cake will look fantastic. Firstly, strawberries look very aesthetically pleasing, and secondly, it gives the cake a great taste and aroma.
The cake will become the focal element of your wedding table and, of course, will delight guests. You can also make various strawberry muffins and pastries. Strawberries go well to taste with whipped cream, which makes it a very delicate and sweet dessert. What else wedding cakes can be prepared for a wedding celebration, you will find out on the website www.articlewedding.com.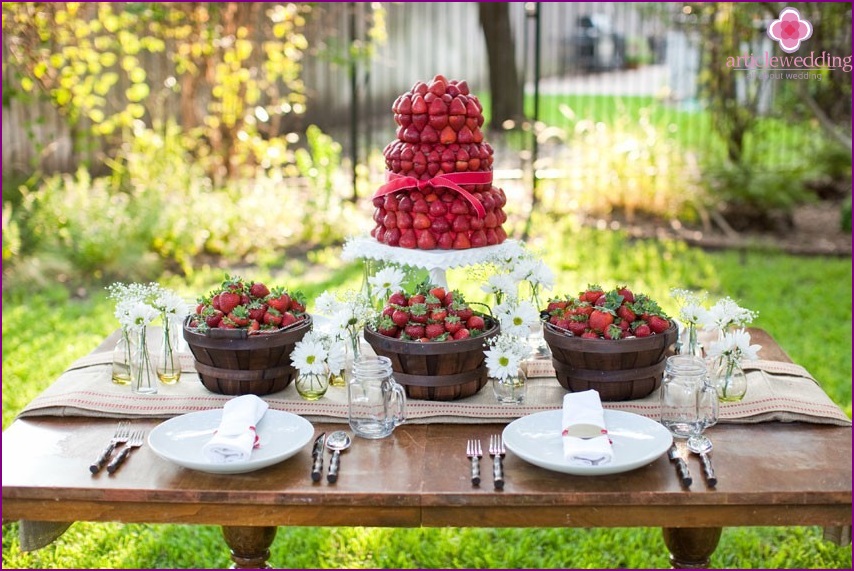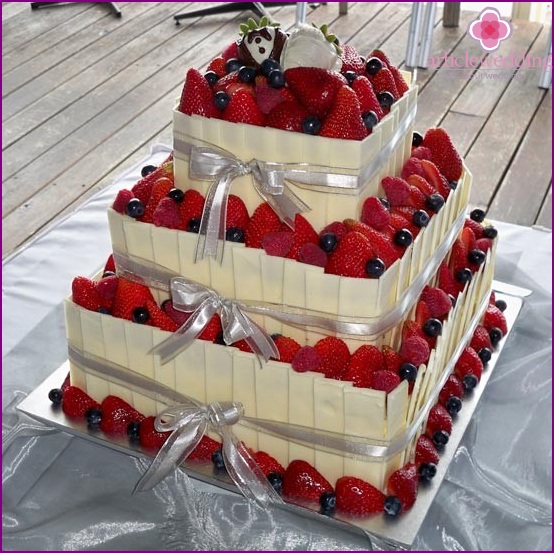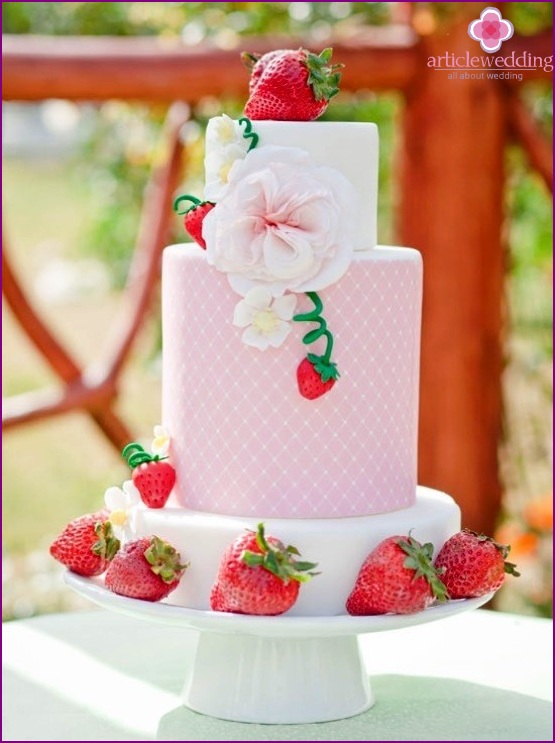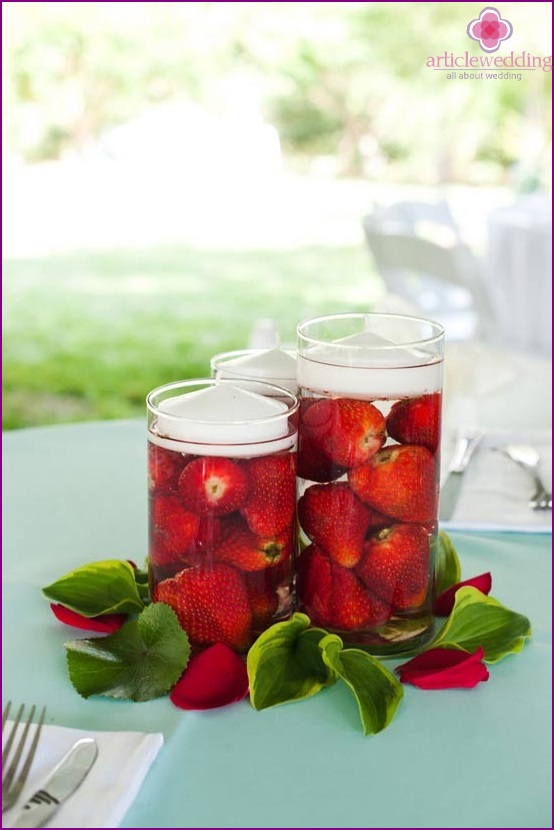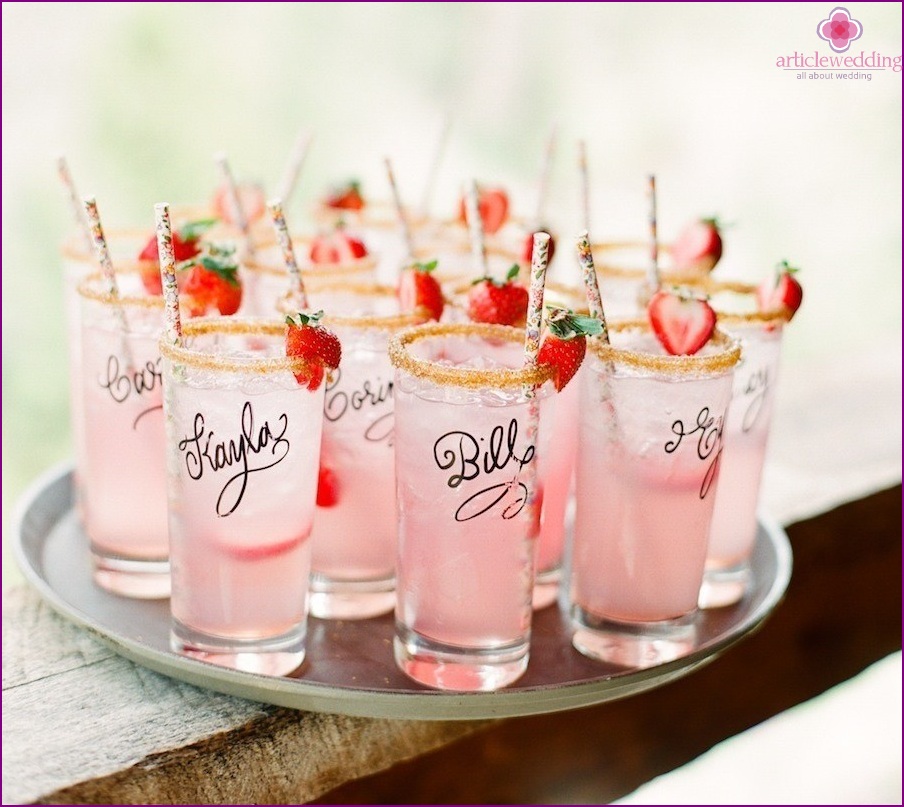 Tips to the groom
A wedding is a day in which it is customary to surprise your soul mate. If you are a creative person, you should want to please your beloved. Give her a box of strawberries.
She will remember such a gift as romantic and funny. It is best to give a strawberry gift at the time of the year when there is no question about strawberries. Strawberries obtained in winter will warm the heart and kindle even more love in it..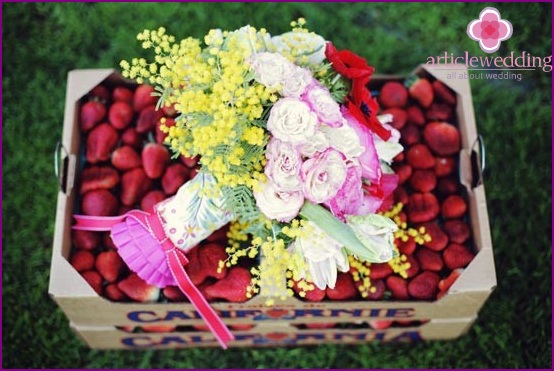 A strawberry-style wedding is not only a bright colorful mood, but also a bouquet of juicy berries full of sweetness and aroma. Create a wedding in this style to please yourself with a summer mood and create for you and your guests a real celebration of taste and love!