Contents
---
---
If you are a bright and mischievous couple who loves fun experiments, then you need to come up with an original wedding style to make your celebration unforgettable. An apple-style wedding is a wonderful celebration that charges positively and gives a summer mood.!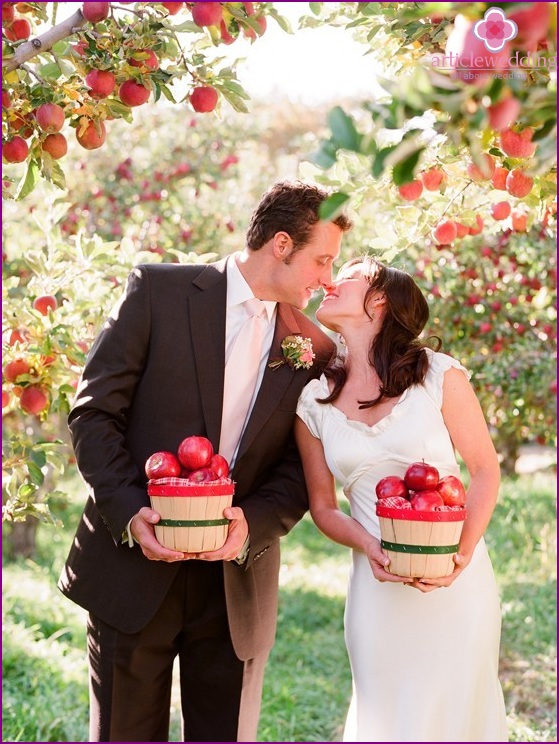 Banquet room decor in apple style
First you need to decide what color apples you are going to use in your wedding design. Green apples look charming and summer-like, which will become an adornment of any wedding table. Red and yellow apples are ideal for the autumn celebration..
In the decor, use apples, both real and drawn. Apples can be laid out in tiers on plates, filled with vases, just scattered on tables, etc. You can also hang apples by the tails on the ceiling. Such pendant jewelry will add originality. decoration of the wedding hall.
Apples are freshness, summer and cool. To add to the holiday a summer mood, take glass decanters and fill them with water. Place green or red apples inside, as well as delicate gerbera or rose inflorescences. Place such decanters on the wedding table so that it looks bright and juicy. The website www.articlewedding.com will share with you many more great ideas on the design and decoration of the wedding hall.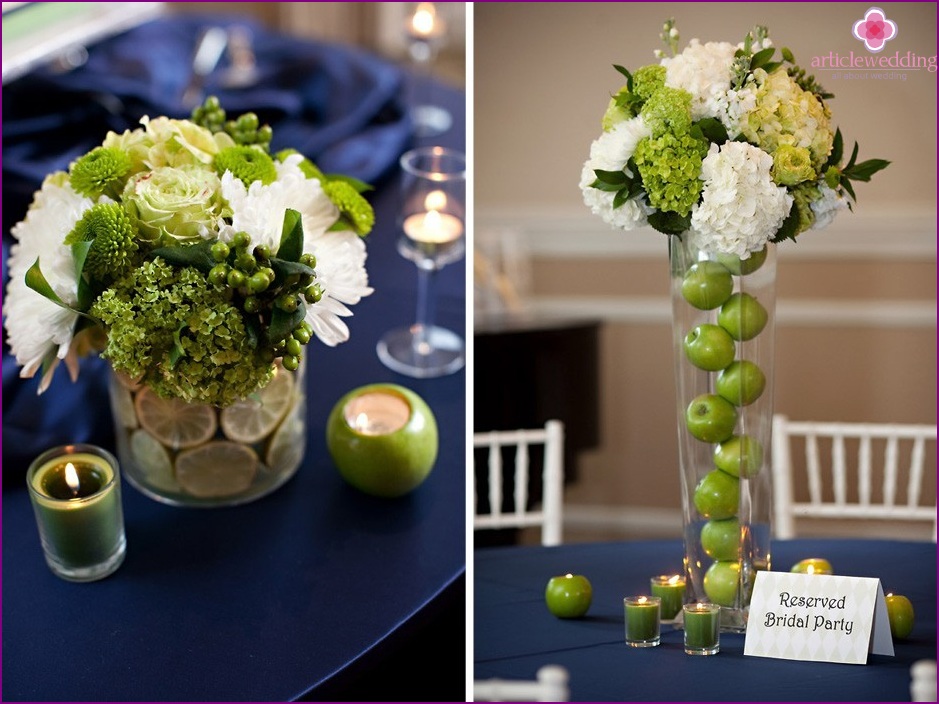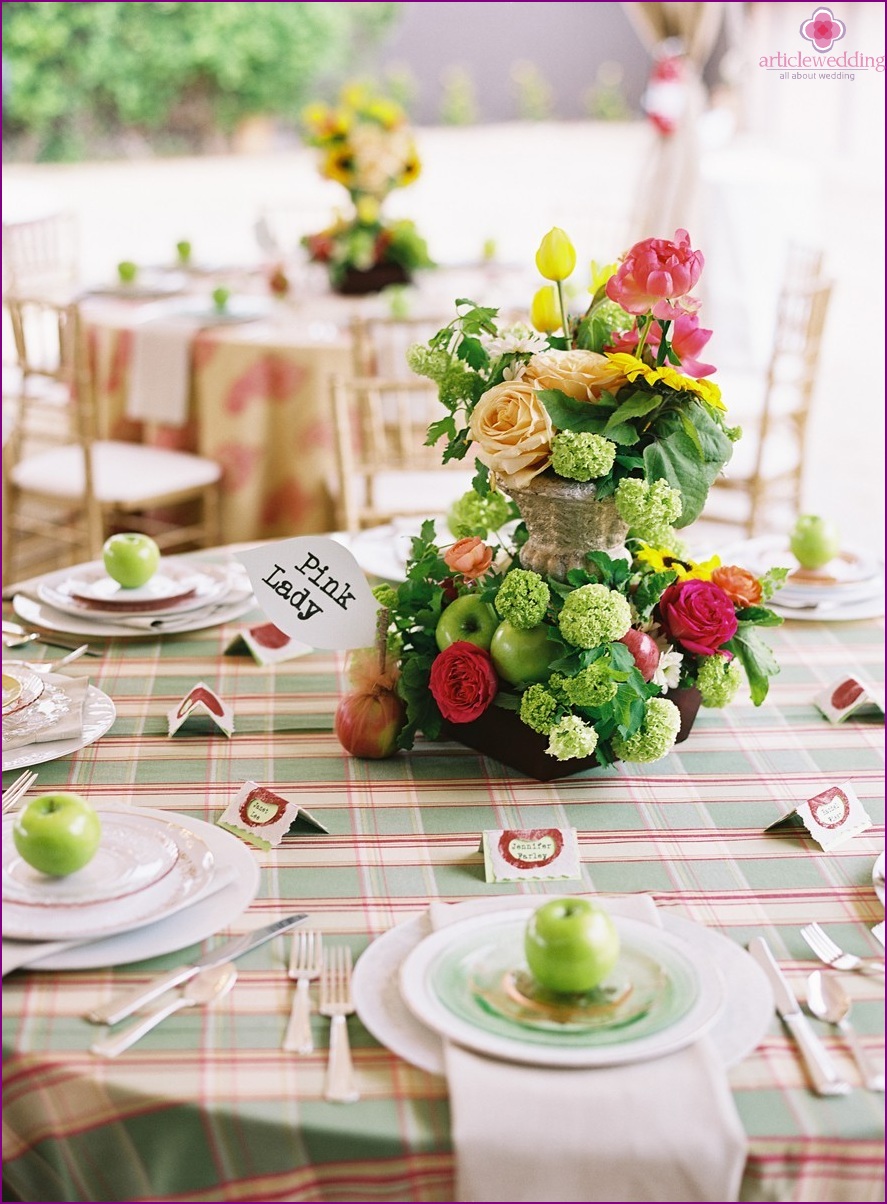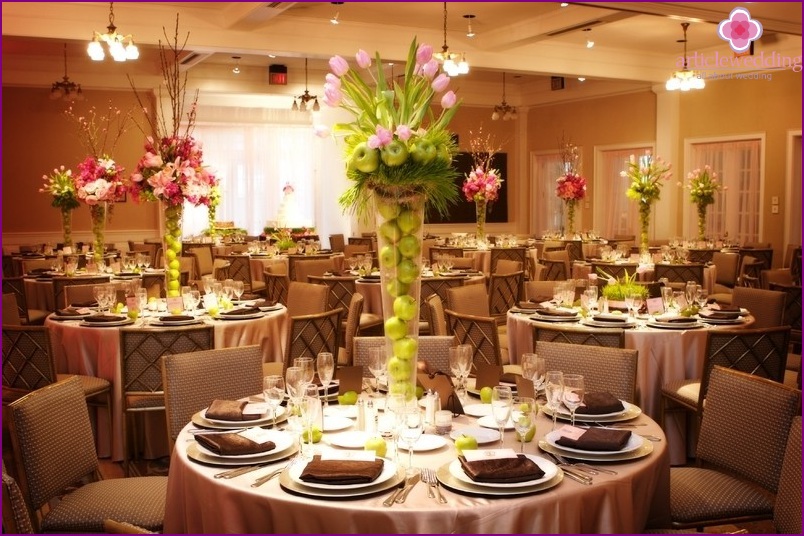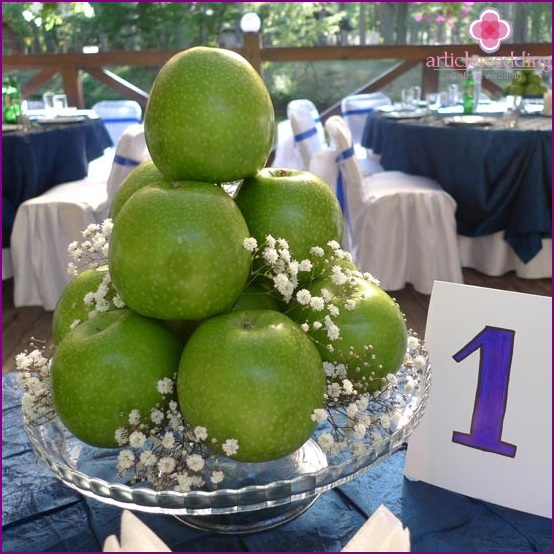 If you decide to arrange your wedding in the apple style, try to use only fresh, strong apples, without dents or black spots, so as not to spoil the aesthetics. Also try not to cut apples, but use them whole, since cut apples darken quickly and lose their attractiveness..
The main treat of the evening - a wedding cake - is better to make to order. Ask the pastry chef to have apples in the cake decor.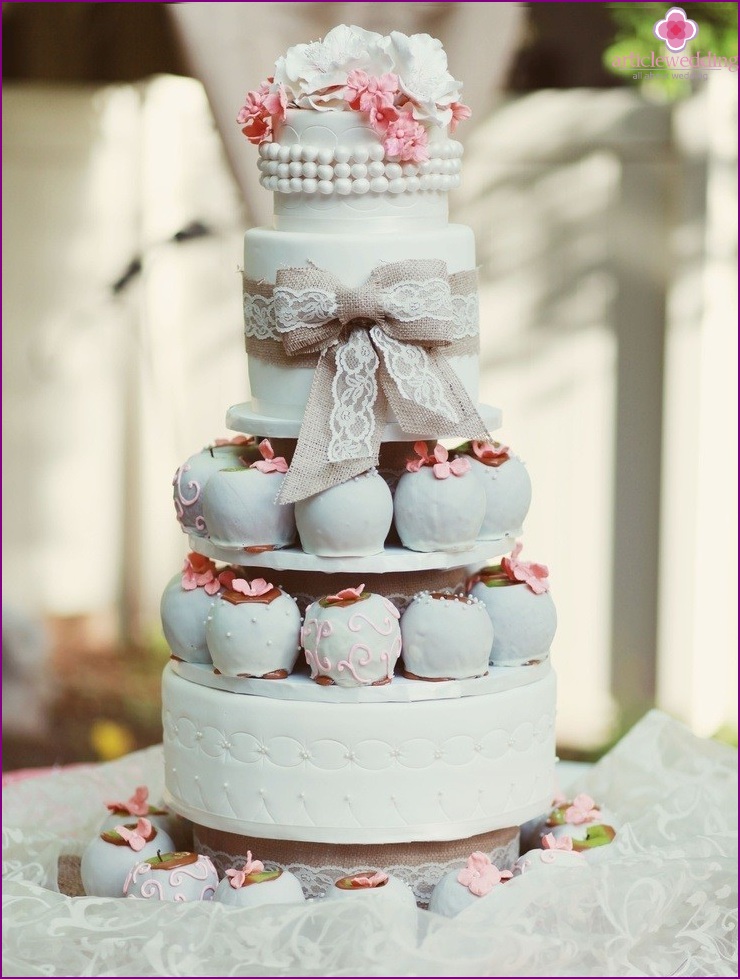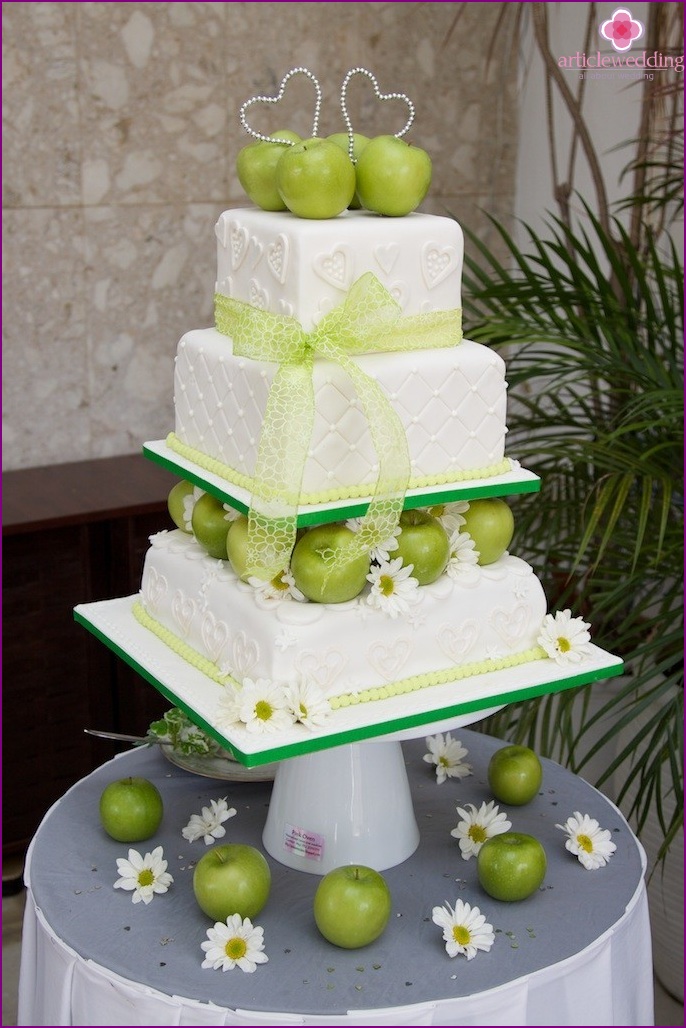 Apple Accessories
At the time of buying wedding accessories note that they must be traced apple theme. Invitations should have an apple print, or you can even make a spectacular and original photo invitation from apples.
Make seedlings from apples: insert a special plate with the name of the guest in each apple so that everyone can find a place in accordance with the seating. You can also use ready-made cards for seating with paper or plastic apples.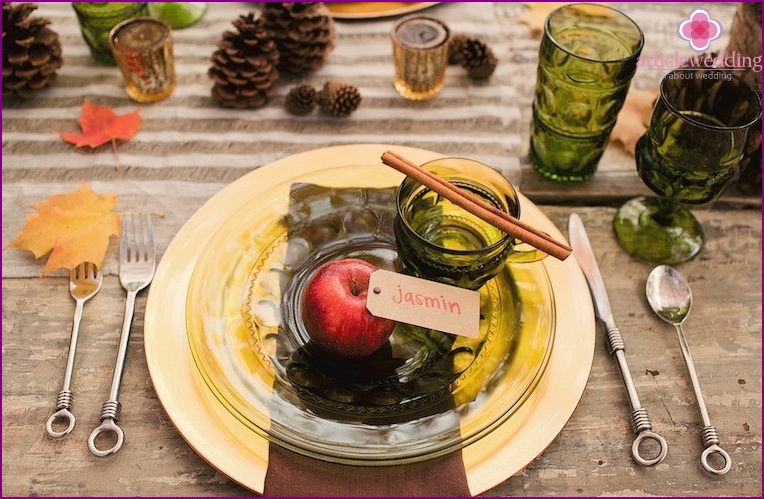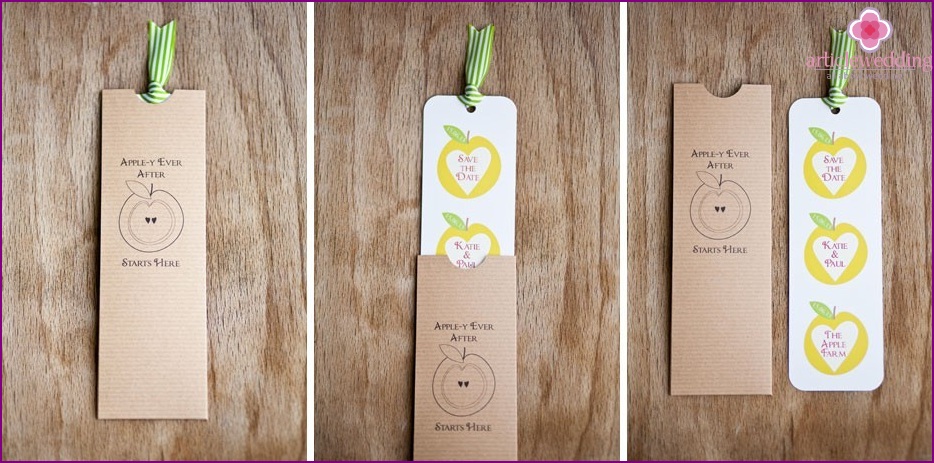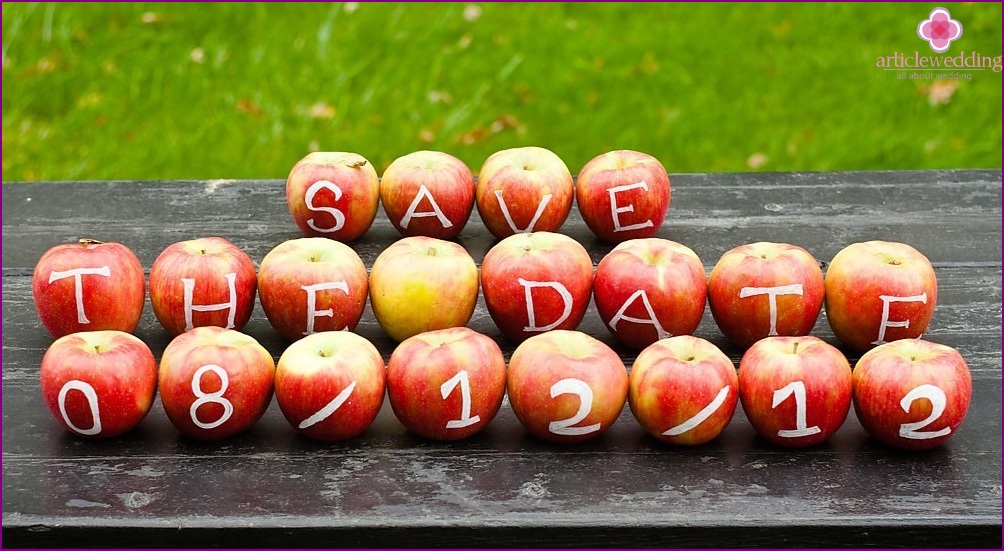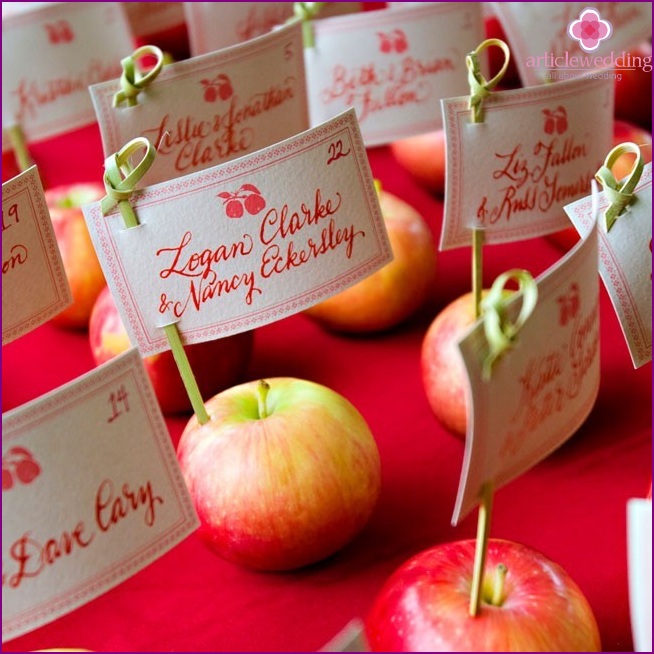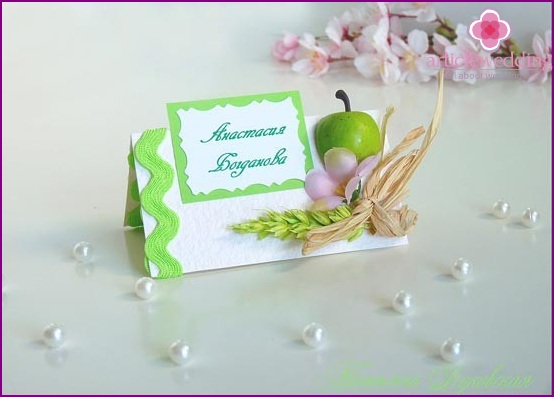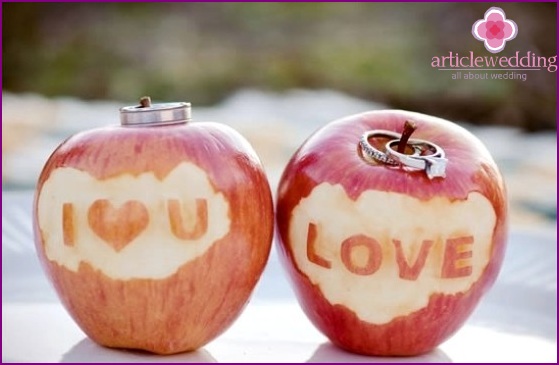 The image of the newlyweds
You can choose classic outfits for the newlyweds, but here you can choose creative wedding accessories. It can be light green slippers for the bride or a tie in apples for the groom. Everything should be in style. Concerning hairstyles for wedding, You can add green elements to it, namely fresh flowers or hairpins. Do not forget about the bride's bouquet, in which you can add bright apples. You will find a lot of amazing and creative ideas for creating images of the bride and groom on the wedding portal www.articlewedding.com.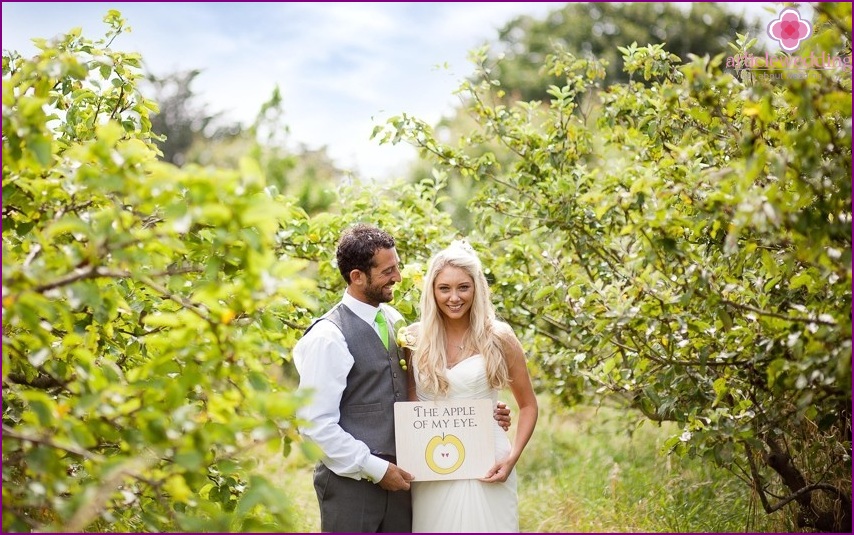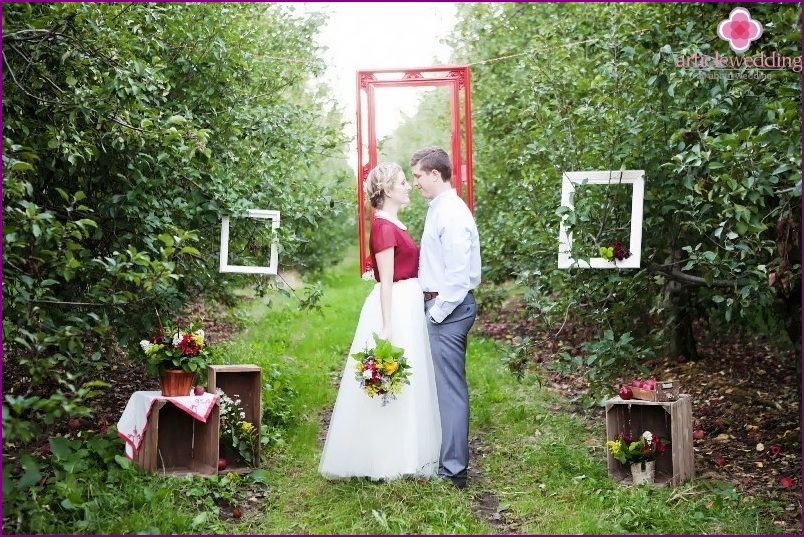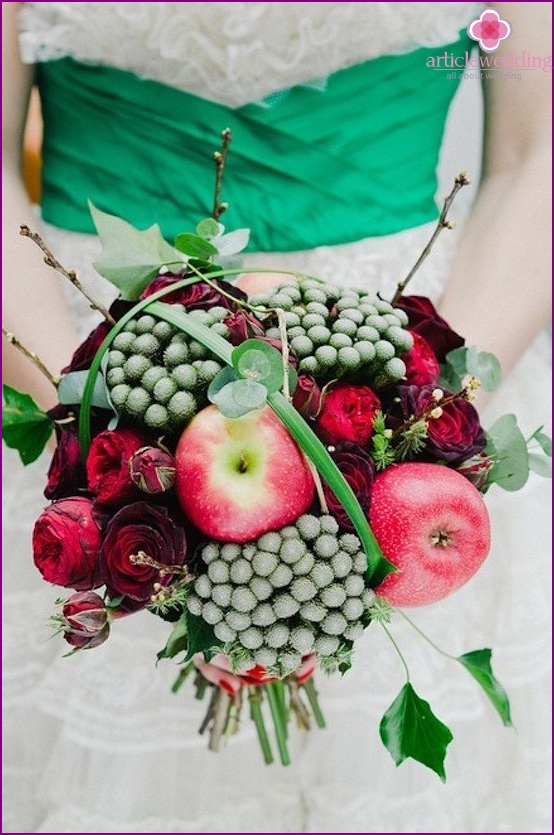 Ideas for Apple Photo Shoot
While flowers are the main accessory in an ordinary wedding, apples will be the main characters in your apple wedding.
Your wedding photography should be original and bold. Best photos will turn out in nature. Bright colors of foliage and trees are the best suited for apple shooting. Lay a blanket on the grass, sprinkling apples everywhere.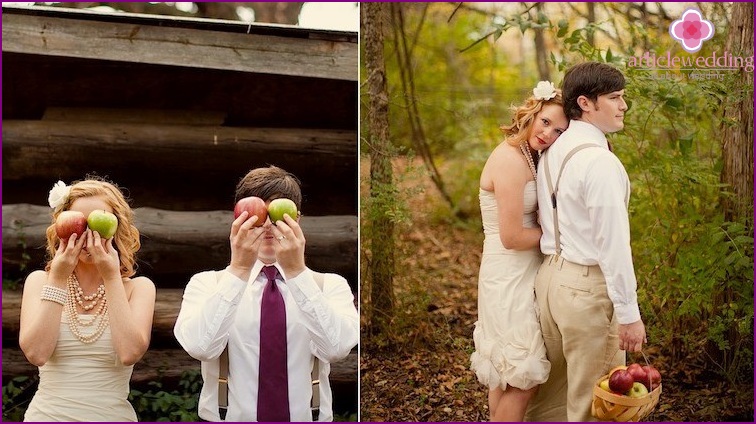 If you are taking pictures indoors, select the appropriate equipment. Good shots will turn out on a background of green fabric. The bride can hold apples in a glass vase or in her hands. If your fiancé has some juggling skills, it's time to apply them during a photo shoot.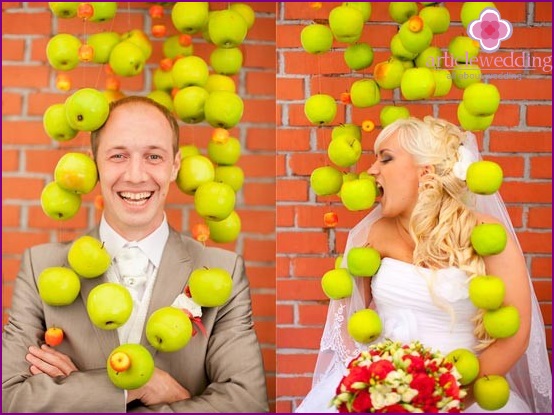 If you decide on an apple wedding, you will surely remember it as a tender and romantic event that will give you and your guests a positive charge for the whole summer!