Contents
---
---
Every girl dreams of a wedding day since kindergarten. Flowers, a white dress, rings, happiness in the eyes - in such unforgettable moments I want to look perfect, so every detail should be thought out and chosen wisely. You should not forget about your nails, which can be taken care of by a wedding manicure master brought to your home. A professional will offer a lot of design options, build up nails, apply varnish. In full pre-wedding days, not every bride and groom can set aside time to go to the salon, and calling a manicurist at home solves such a problem.
The benefits of a wedding manicure at home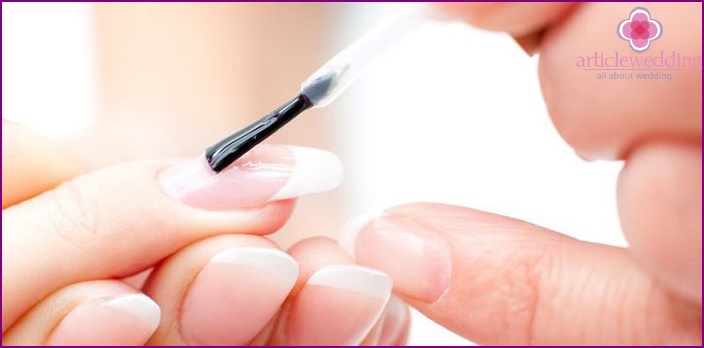 Wedding nail design at home has the following advantages:
Saving nerves - you do not need to worry, sit on needles in thought, will you have time to return to the time when the hairstyle and makeup are assigned. If all services are ordered at home, some may be provided in parallel..
Save time - you do not have to spend time on the way to the salon and back, and on a wedding day this is an important criterion.
Opportunity to make a remark - on your territory you will feel more courageous, relaxed, so it will be easier for you to make a remark if something does not like it. The master will quickly orient and correct the error, because the wedding manicure should live up to your expectations.
The opportunity to get advice from a manicurist - after seeing your outfit, other wedding accessories, the specialist will quickly choose the most suitable, in tune with the general image of the bride nail design, designed to decorate the hands.
You will feel like a queen, around whom everything revolves - on the wedding day you need to not only look perfect, but also have fun, enjoy, because getting married rarely.
Which wedding manicure to choose:
Wedding manicure, performed at home, must meet the following requirements:
firmness - a bride who, in the midst of a holiday, discovers that a fingernail has lost its appeal, will receive little pleasure;
practicality - the manicure should be comfortable, not cling to the hair and dress, not to interfere with the newlywed, therefore it is better to choose an oval, short shape;
harmony - the wedding design of nails should be in harmony with the outfit, successfully merge into the look.
Glitter, rhinestones, glitter, beads, foil, sequins and other decorative elements are often used for nail design. Classic colors for a wedding manicure - pink, white, beige, other pastel colors. But the bride can not be limited and choose a bright color, if such is present in the dress, bouquet or other accessory. You should prepare for the wedding manicure procedure in advance and think over all the details:
It is better to turn to a trusted specialist for help, think through the design in advance and discuss it with the master. If you chose to build, it is advisable to make a trial version to test the length, convenience.
A couple of weeks before the wedding, you must begin to actively care for your hands so that they look neat and beautiful. You can do baths, body wraps, paraffin therapy, massage with oils.
It is better not to choose too long nails, as the bride will have to constantly wear a bouquet, to be very active. The tip of a long nail can accidentally break, which will bring only frustration to the bride and groom.
In the decor of nails, it is better not to overdo it, because the light decorations of all nails look beautiful or only on the ring finger. Modeling, glitter, elders - everything should have a small neat size.
Gel or acrylic extension
On the wedding day, the bride's hands should be perfect, well-groomed, beautiful, because a lot of attention will be riveted to this part of the body. Nail design is designed to emphasize the uniqueness, beauty, focus on the hands. But by nature, not every representative of the fair sex has a beautiful shape of marigolds, not everyone manages to grow the desired length. Stuffing with acrylic or gel helps to solve this problem. This technology of wedding manicure will correct such aesthetic moments as fragility, brittleness, insufficient length, will allow to realize any design.


Wedding manicure shellac
Shellac looks very elegant, gentle and natural, since this technique of wedding manicure does not include manipulations to lengthen the nail. The coating can be different: pastel, plain, with a complex pattern, a variety of decor with rhinestones, sparkles, beads, etc. This technique was developed for those ladies who prefer coating with varnish, which dries quickly, does not roll, does not lubricate and lasts a very long time. This is an ideal outlet for girls with brittle, fragile, thin and exfoliating nails.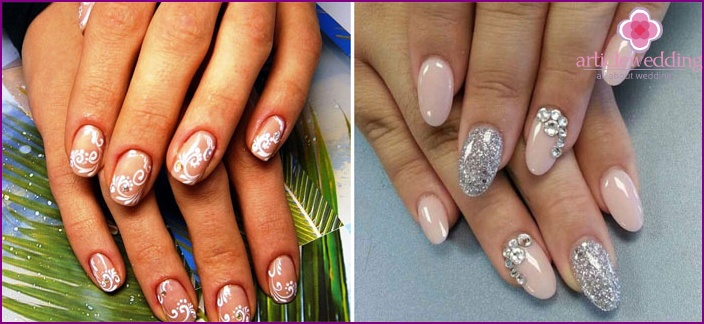 French manicure for long or short nails
Many brides prefer the classic French nail design. It looks sophisticated, stylish and can be made in different variations:
chevron - the line of a smile is made in the form of a check mark;
asymmetric - white varnish is applied diagonally;
millennium - the tip of the nail is laid out with decorative sand, sparkles;
different decor options - drawing on the ring finger nail, acrylic modeling, decoration with rhinestones, beads, sparkles.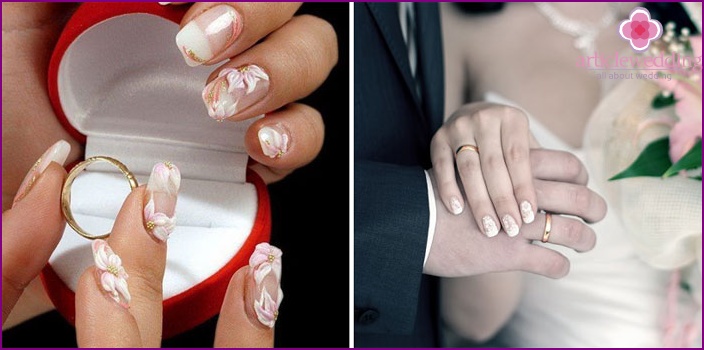 How to choose a wizard?
To choose the right master of wedding manicure, you should pay attention to the following:
the presence of letters, diplomas, prizes, other achievements in the field of nail design and manicure;
neat appearance of the master (however, one should not judge the work by the state of the nails, because with constant contact with chemical solutions, heavy workload, the specialist's own manicure quickly loses a presentable appearance);
a good master always has a lot of workload, and the record of clients to him can be extended for several days or weeks;
cleanliness of the workplace.