Contents
---
---
Each girl has her own secrets of beauty. Each morning, they make a special make-up that emphasizes their individuality. Others like to make beautiful hairstyles, while others know how to stylishly choose clothes for any holiday.
However, when it comes to weddings, girls prefer to trust professionals, hiring makeup artists, hairdressers and designers to create a wedding look. There is another trick that will make the image of the bride complete - a stylish wedding manicure. It should be special, gentle, romantic. The wedding portal www.articlewedding.com advises you to decide in advance exactly what your nail design will be in order to create a truly harmonious look.
Caviar Design
The so-called «caviar» Nail Design - Caviar. Small beads applied to the nails attract the eyes of others. In the case of a wedding manicure, do not do it «caviar» design for all nails, you can effectively highlight the finger on which the wedding ring will show off.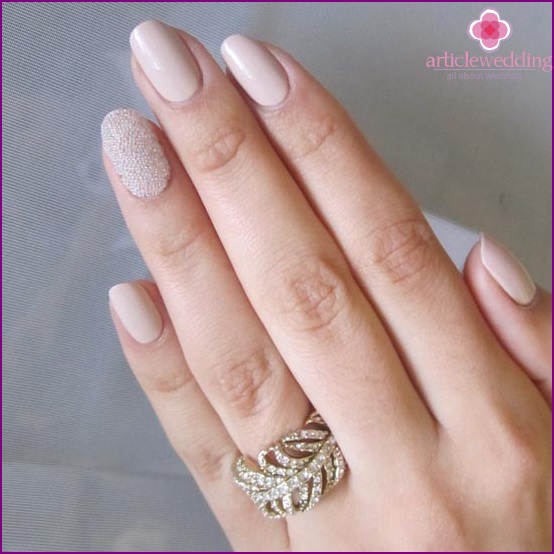 Rhinestone design
Almost every girl loves bright sparkles and rhinestones that make manicure expressive. Most often, brides choose voluminous rhinestones that are firmly attached to the nail plate. If your dress also has stone embroidery, then such a manicure will be very relevant. Such a beautiful nail design will look luxurious in the light in the banquet hall, as well as in the sun.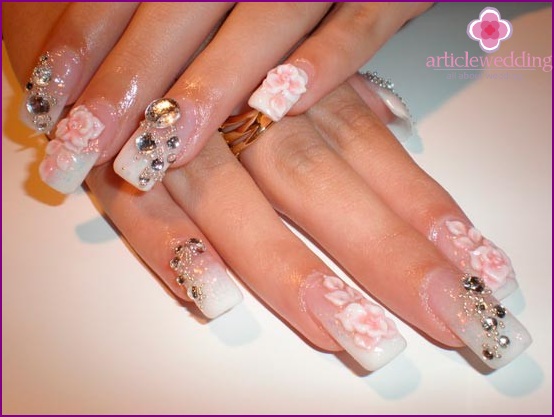 Glitter Design
In everyday life, we cannot afford a bright manicure, since we go to work and to educational institutions where it is not customary to stand out very much. However, your wedding is a great occasion to add sparkle and chic to your look! Glitter nail design looks bright and stylish. Sequins are best chosen in silver or gold, as these colors will go well with a white wedding dress. However, if your image has a contrasting color, for example, blue or red, you can safely use these shades in the design.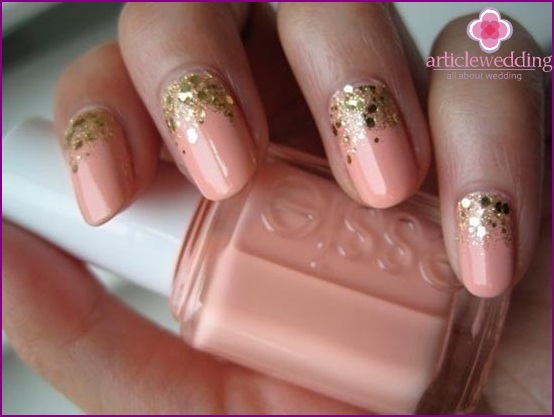 «Lunar» manicure
The selection of the arc of the nail in a different color looks unusual and stylish. However, do not choose too bright or dark colors for a wedding manicure. To make your manicure look harmonious, give preference to colors that match the colors of the wedding and your style.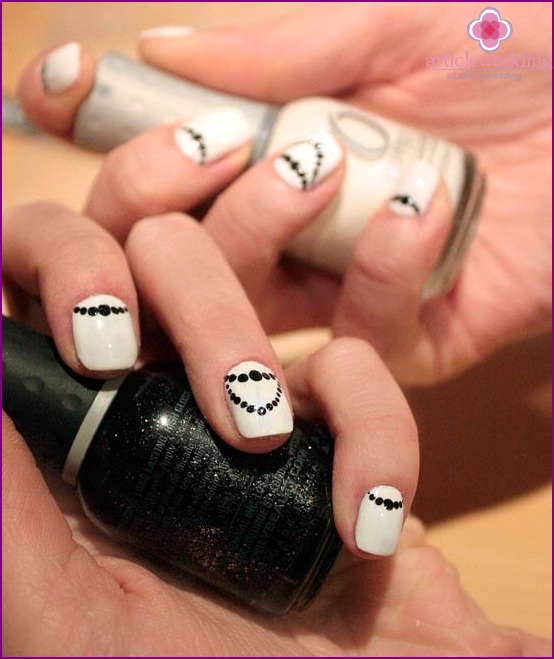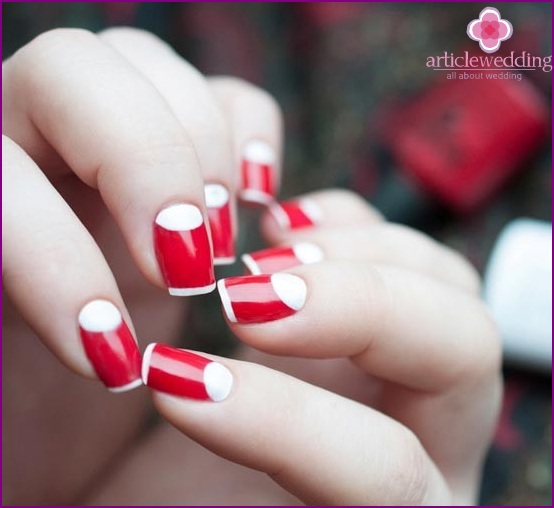 Matte Design
Matte coating, which makes nails seem velvet, is gaining more and more popularity. For a wedding manicure, light tones of varnish will be relevant. It is worth considering only that your nails should be just perfect, because each dimple and hump will be visible when applying a matte varnish on them. Although there is a way out - first apply a varnish base on them. Moreover, you can do such a manicure yourself, proving that home nail design can also look stylish and original..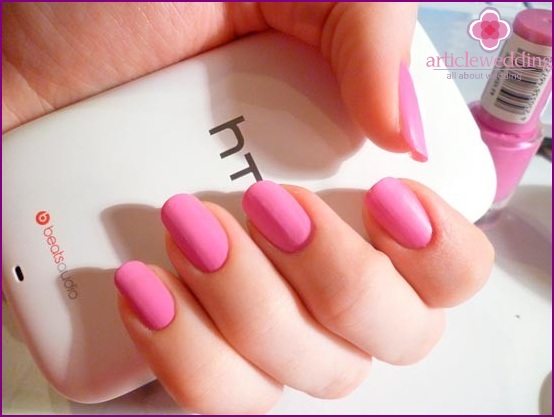 «Lace» manicure
Since lace is at the peak of wedding fashion this season, this trend has not bypassed the bride's manicure. Cute lace patterns will add elegance and elegance to your look, especially if your wedding dress uses lace elements..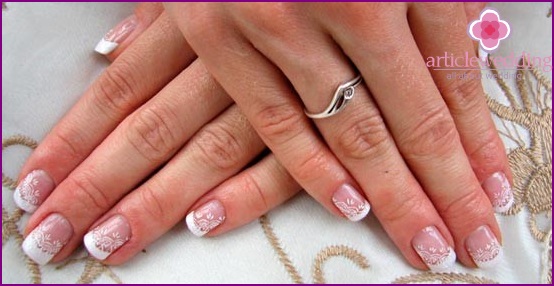 Design with Fimo
If you want an original manicure with which you really will surprise your chosen one, feel free to choose a design with fimo. The designer with the help of small figures of berries, fruits and flowers will create an interesting composition on your nails. However, it is best to build your nails so that Fimo will delight you for a few more weeks. The design of extended nails is so diverse that you will be determined for a long time which figures to use for wedding manicure. In any case, according to the portal www.articlewedding.com, such a manicure will turn out to be very funny and gentle, but it's not suitable for every bride, but only for brave beauties!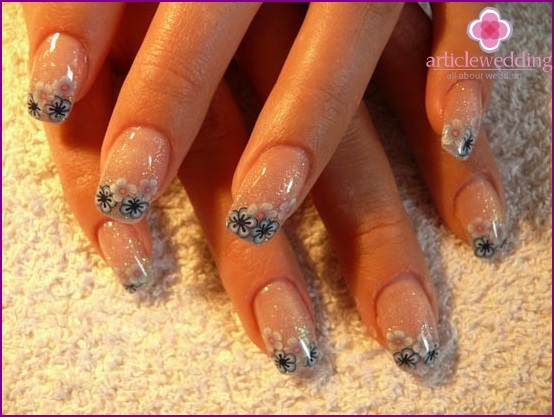 Acrylic paint design
Of course, sticking stickers on nails is much easier than painting with paint and a brush. However, you should definitely find a magnificent master who will draw true beauty on your nails. Design of nails with paints is an opportunity to create a unique drawing, a real work of art! A thin brush allows you to depict fine lines, shapes and flowers. Also, such a manicure can be done on your own, if you have some skills in nail design. The easiest way to do a French manicure is to decorate your ring and thumb with a small pattern..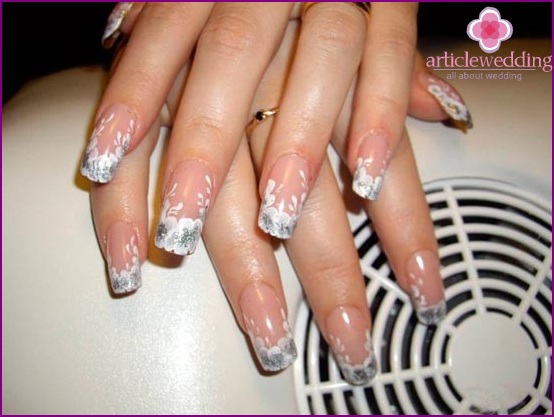 There are many nail designs for the bride - and the choice is yours, what kind of manicure will make you a real queen!