Contents
---
---
Even trifles are important in creating a wedding look, as they are sometimes key in complementing a wedding outfit. Of course, first of all, every bride picks up a wedding dress, shoes and veil. Then you need to choose makeup and make a manicure. It is worth remembering that hands are a reflection of our inner world. The fact that they look beautiful and well-groomed indicates how responsibly you take care of your hands. The wedding is no exception, because the bride's hands will be in full view of guests and photographers. A close-up shot of the moment when the bride and groom put on each other's wedding rings. And this means that your manicure must be perfect! If you have beautiful long nails, you can just make a beautiful pattern on the nails. Often, brides choose a French manicure or complement it with bright accents in the form of rhinestones or stickers. But what about girls whose nails are naturally short and weak? After all, every girl dreams that at the wedding she looked perfect in absolutely everything. The wedding portal www.articlewedding.com recommends that you do a nail extension that will become a lifeline in this situation. The main advantage of extended nails, of course, is their strength and length, which you can choose to your liking. Also a large selection of drawings and all kinds of jewelry that can not be used in traditional manicure. The only problem the bride may face is the selection of the optimal manicure from such a wide variety. Let's try together to determine which shape and color is best for you.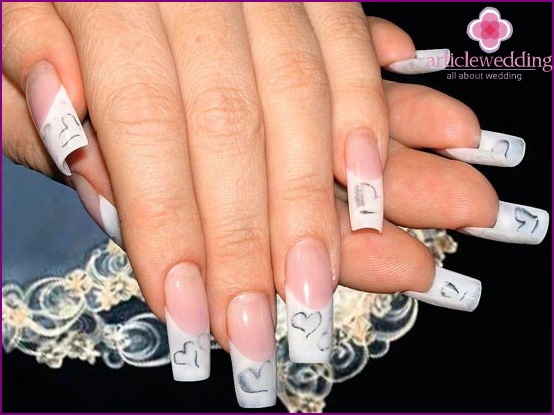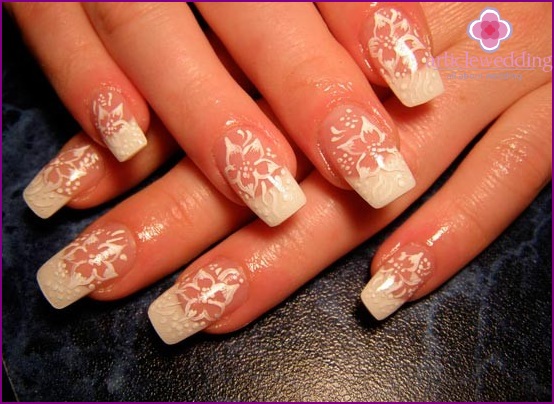 We select the shape of the nails
A few years ago, when nail extension was a real trend, the girls chose the most unusual forms of nails. From short to very long, square and pointed - all this could be seen among fashionistas. However, now long sharp nails are more likely to scare than attract your fiancé. Wedding manicure should look restrained and gentle. A very fashionable shape is a slightly rounded or square shape. It is also very fashionable to build up nails of small length, bringing them closer to their natural appearance. Try to make your nails look like your own, only a few millimeters longer. This shape and length will be a very convenient option, since you will never catch on during a wedding celebration. In the end, with such nails you can easily cut the cake and just have fun.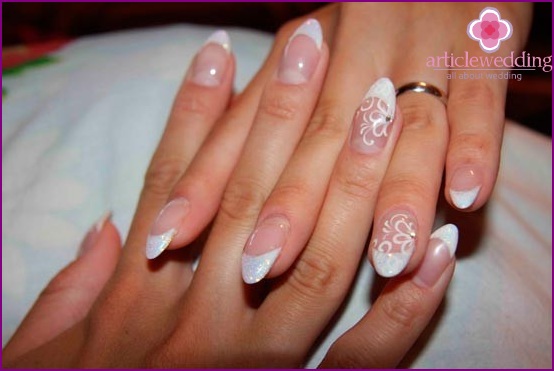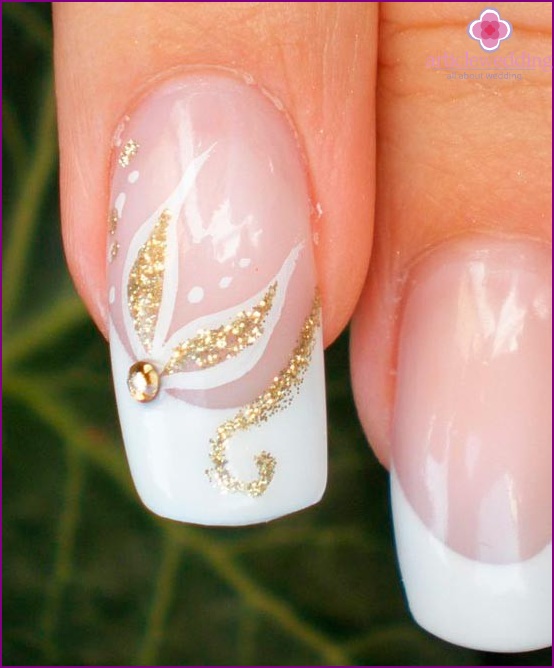 We select the color and pattern
Surely you have already guessed that the most popular color of nails for a wedding is white. However, you can choose a completely different color scheme. It is highly recommended that you abandon acid shades that simply get out of style. It is best to choose the gentle shades of pink, blue, purple and peach. Do not abuse black or dark shades of gray, brown and green. As for the picture, you can choose the original floral design or decoration with flourishes. Add shine to nails with silver and gold polishes. Growing nails with voluminous patterns also look very modern, but with such a manicure you should be very careful. However, the master will try to fix any volumetric inscriptions or drawings on your nails as firmly as possible. Also try to keep one color scheme so that your nails do not look like a rainbow.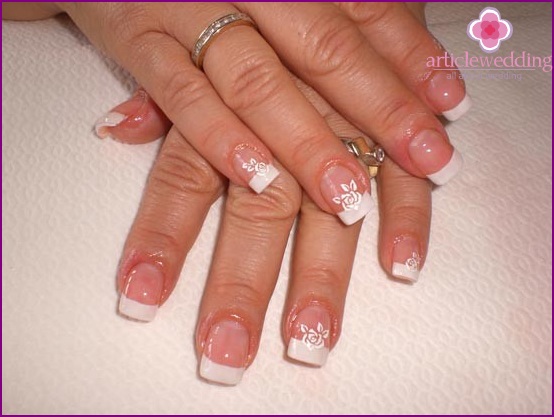 The main plus of the grown nails is their durability! For some time before and after the wedding, you can enjoy an unusual pattern and a beautiful combination of colors. With such a manicure you can feel confident, because the varnish will not peel off, and the manicure will not deteriorate. The wedding portal www.articlewedding.com wishes you a wonderful wedding with a charming and reliable manicure!