Contents
---
---
Wedding hairstyles have always been distinguished by special beauty, solemnity, because such a festive event obliges you to look delightful. Since ancient times, beautiful braids have been an adornment of women. Wedding hairstyles with weaving in our century are relevant when creating the image of the bride. With the help of various techniques, the master works wonders, turning an ordinary girl into a romantic, original, fabulously beautiful young lady.
Wedding and evening hairstyles with weaving (PHOTO)
Weaving hairstyles are simple and straightforward, but due to their beauty they are able to give the image a special elegance. A variety of variations of braids will suit any style of dress, they are performed on long and short hair. A simple braid on the side or complex, somewhat tiered weaving is a matter of your preferences, but both the first and second options will look charming and stylish.
On medium hair
To do hairstyles with weaving on medium hair is no harder than long ones, only certain skills are needed. For example, the Greek braid will give your appearance femininity, tenderness, will beautifully frame your face. Start braiding it from the bangs itself, gradually grabbing strands along the weave. At the nape of the braid, fasten in a tight or air bundle.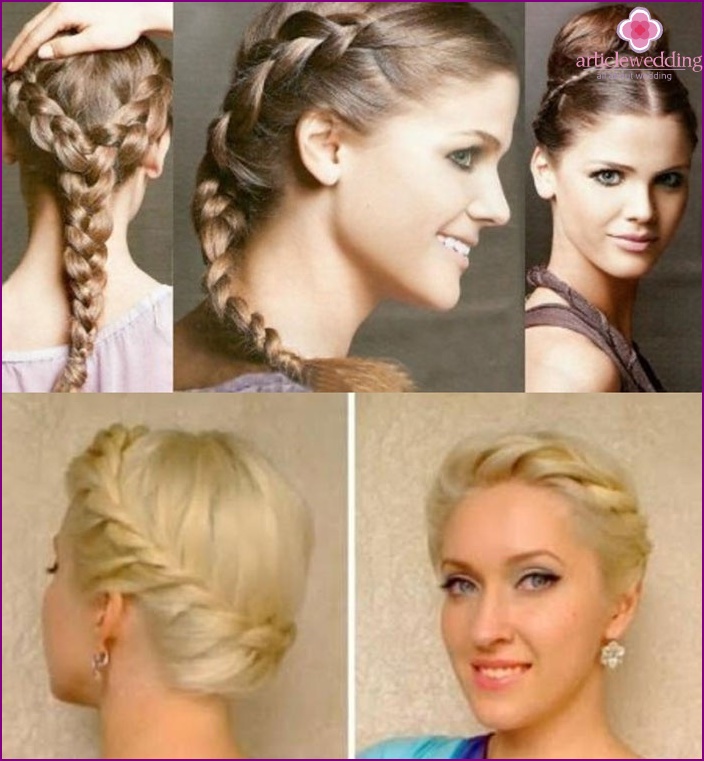 Original looks French braid, braided diagonally.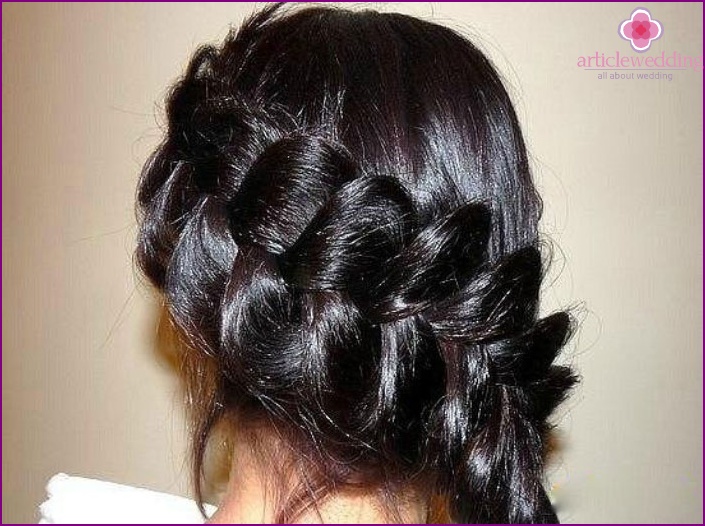 The same weaving, starting from the bangs, looks good with a side part.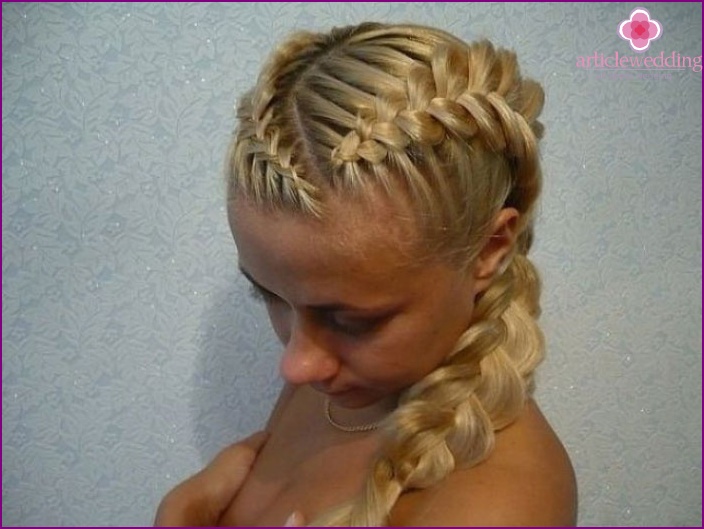 Two loosely braided French braids are perfect for young, funny, mischievous girls.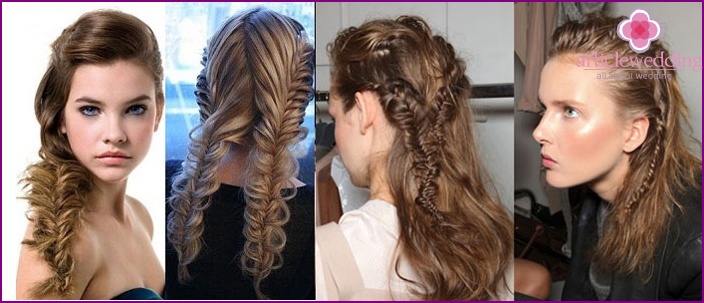 If you wear a fashionable haircut - an extended bean or a square to the shoulders - in this case, you can easily make a cascading scythe-waterfall. Light waves, starting from the braid, fall to the shoulders.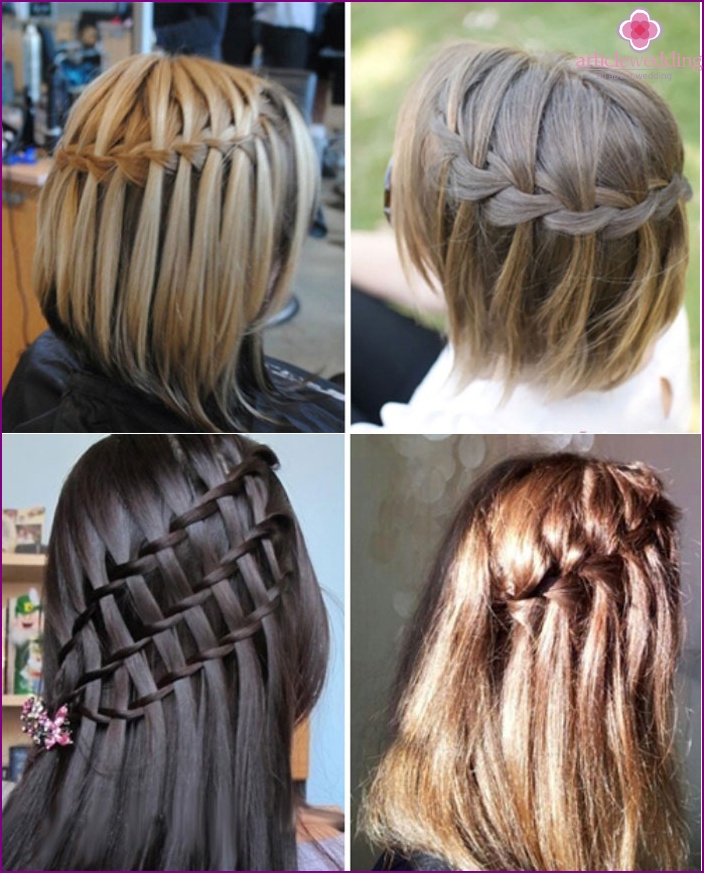 How this hairstyle is performed, see the video:
An ideal holiday option would be a Dutch braid. Braids, neatly laid and fastened at the back, give harmony to their mistress.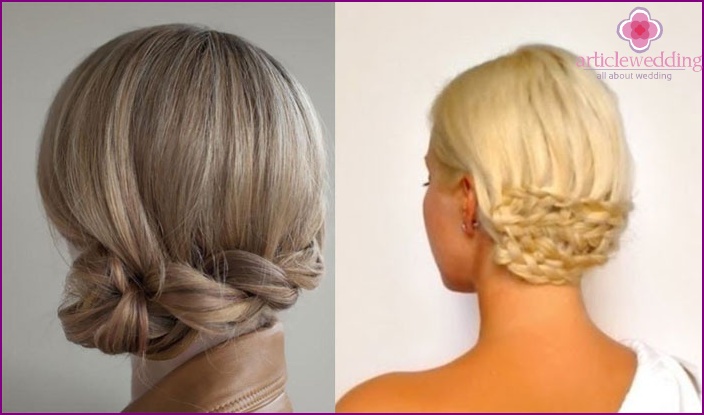 On long
Hairstyles with weaving on long hair always look beautiful, you can use almost any weaving technique, the main thing is to perform it correctly. Owners of long braids should not worry about a wedding hairstyle - braids are suitable for any outfit and style of clothing.
Elegant, fresh, unique look bridesmaid made by French weaving. They can have a complex structure, consisting of many weaves, bundles, and can be completely simple, but this is no less attractive. An ordinary French braid, made by interlacing lush curly strands, comes out voluminous, looks gorgeous.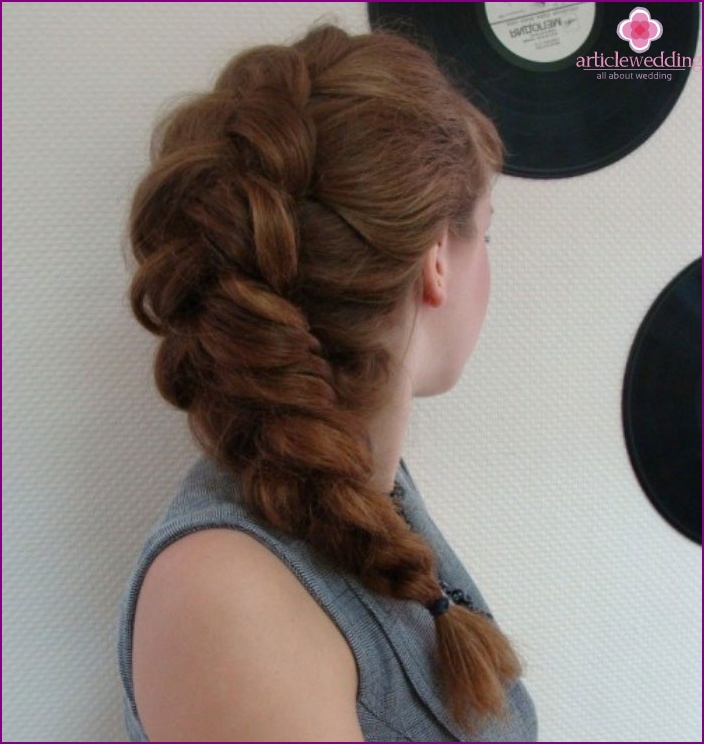 Spit, pinned up or laid back in a bun, looks elegant and stylish. Its various variations create different wedding hairstyles, depending on the style of the dress.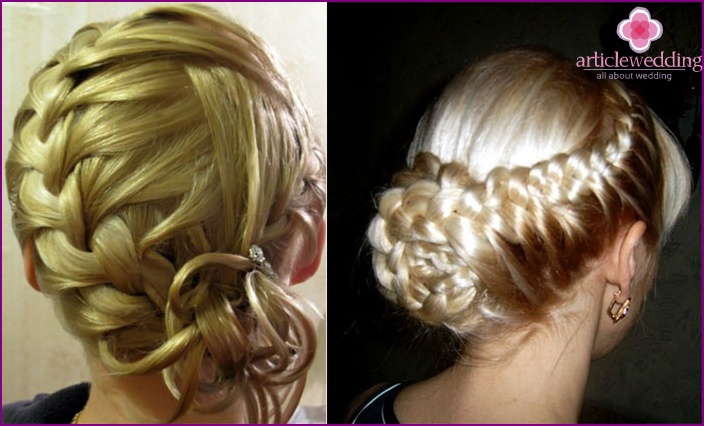 Wedding hairstyles with French weaving are notable for the fact that they do not require any special devices, only the skills of the master. With the help of talented hands and a simple comb, real works of art are obtained.
Interesting and original are evening hairstyles based on the classic Greek braid. Pigtails are braided around the head; they look like a laurel wreath worn by the ancient Greeks.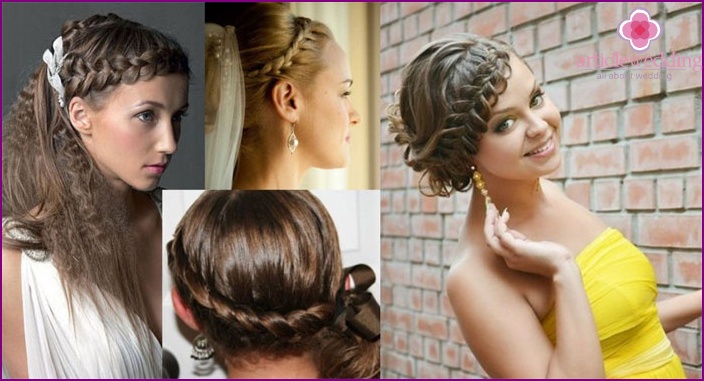 The Italian braid is the simplest type of weaving. It is formed as ordinary weaving in two or three strands, which are twisted behind the beam. This styling looks very feminine, stylish, emphasizes the beautiful shape of the neck..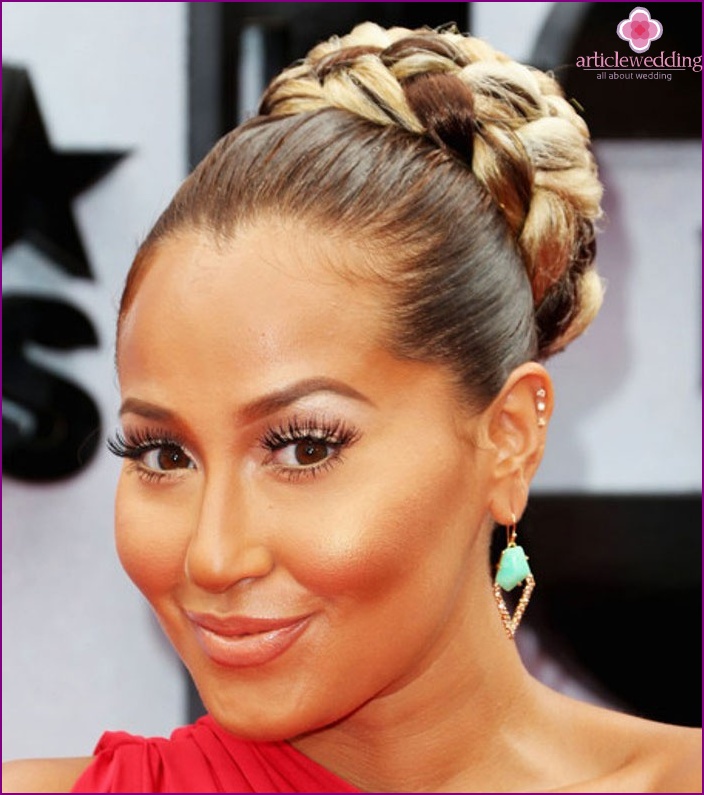 The new trend of Hollywood stars is a circular braid. If you want to follow this trend, braid yourself a scythe-basket. It can be anything according to the technique of weaving, but be sure to weave around the head, like a crown.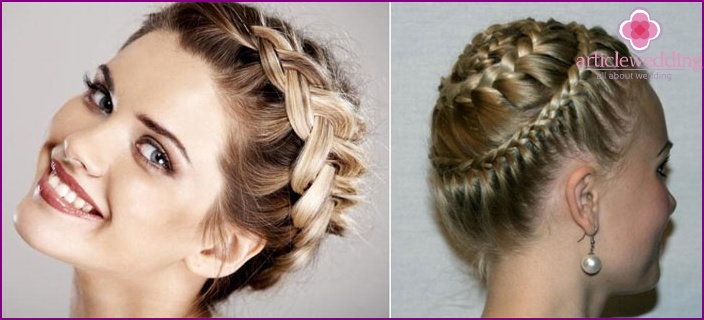 Complex designs are not limited only to braiding, they can be made by stacking locks, interlacing flagella, go well with letters on the back of the head.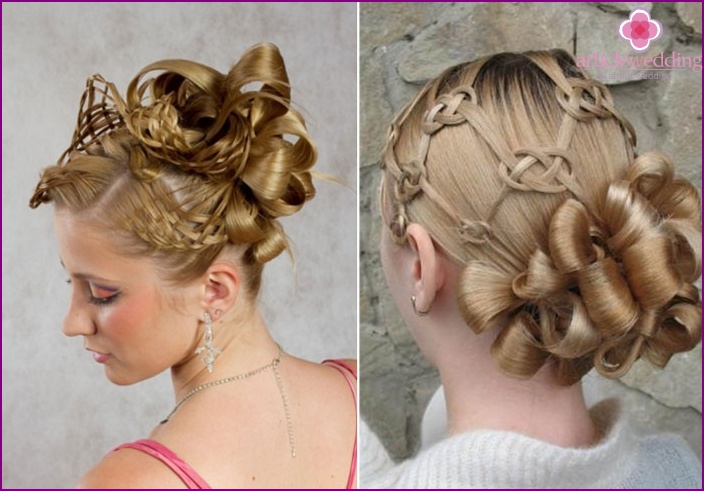 Especially popular among fashionistas are evening hairstyles in the form of a wicker flower. They give the girl a unique French charm, charm. The flowers created from hair, decorated with rhinestones, look amazing. They are widely used at themed weddings. It's better not to try to create such masterpieces yourself, but to turn to a real master.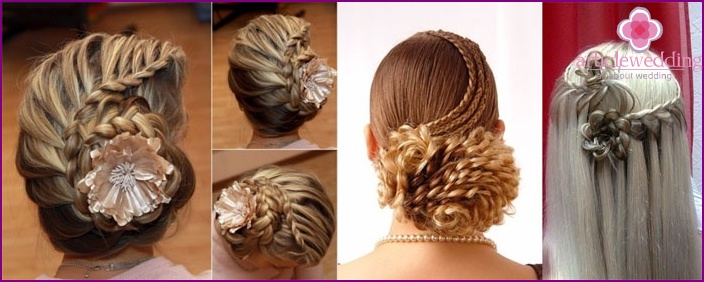 The braids decorated with various accessories look wonderful: ribbons, graceful hairpins with pebbles and roses, beautiful hairpins.
For short
Weaving is possible when the girl has long or medium hair. But what if she wears a short haircut? Do not despair, there is a way out! Wedding hairstyles with elements of braiding for short hair are available to you! But for this you will have to purchase overhead strands. Using them, you can create a romantic image of the bride and simulate any hairstyle you like.
Beautiful holiday options for hairstyles for the bride with elements of weaving
Outstanding wedding hairstyles with pigtails have become one of the brightest options for special occasions. Choosing such a hairstyle, the girl emphasizes her good taste, creating a touching romantic or stylish cold look.
Greek
Greek wedding hairstyle - perfect for a wedding, if the bride's outfit is matched in the same style. Such styling personifies fantastically beautiful ancient Greek goddesses - owners of thick, long, healthy hair, woven into a careless, free braid and tied with a beautiful bright ribbon, beads or garlands of flowers.
For a wedding hairstyle with Greek weaving, the hair should be lush, shiny, have uncut ends. It is performed both with a straight and oblique bangs, and without it at all, tiaras, hoops, beautiful pearl hairpins, buds of fresh flowers are used for decoration.
The base element here will be the French braid-bezel, braided in the direction from the forehead to the back of the head. The weave will look more voluminous and free if the pigtails are not tightened. Next, the braid is fixed in a light bundle on the back of the head.

Owners of long strands can be completely calm, they can openwork weaving of any shape - loose woven snakes, plaits, lace effect. In this case, the master has many tricks, thanks to which a harmonious wedding hairstyle is modeled from ordinary hair.
Separate strands can be intertwined in the upper part of the head, and in the lower one fall off with beautiful curls, and light weaving along the entire length can be performed.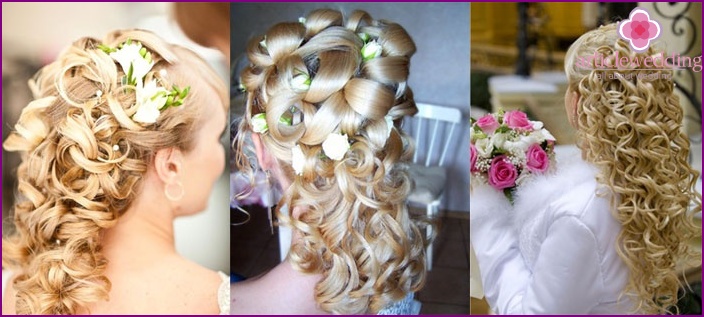 Only experienced stylists can create a wedding hairstyle that personifies a flower. Flowers created in this way look great with loose hair, creating a fabulous effect.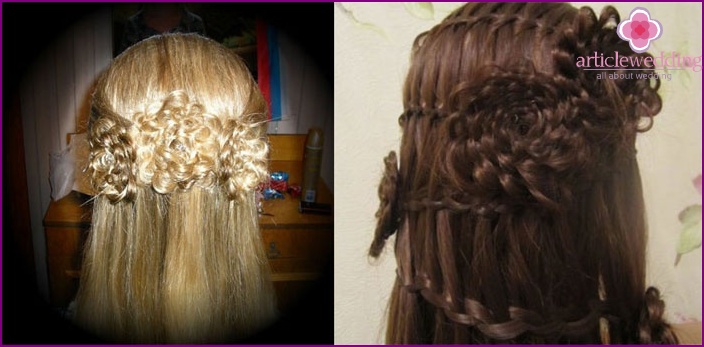 A special grace is given to the wedding hairstyle lace located horizontally at the forehead or on her loose hair. They are like a fragile thin pattern, which seems to strive to scatter in different directions. But in reality, the lace is tightly fixed and will not prevent you from dancing the whole wedding.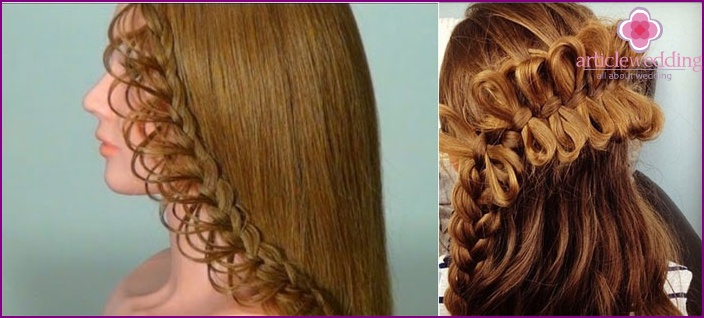 Fashionable curls
Many wedding hairstyles are made from loose hair wound around curlers. But luxurious curls in combination with beautiful weaving will look much more spectacular. Hair is usually braided in the parietal part of the head, and then remains loose. It can be in the form of a braid, intricate lace, flower. This style is good for a ceremony and for a wedding..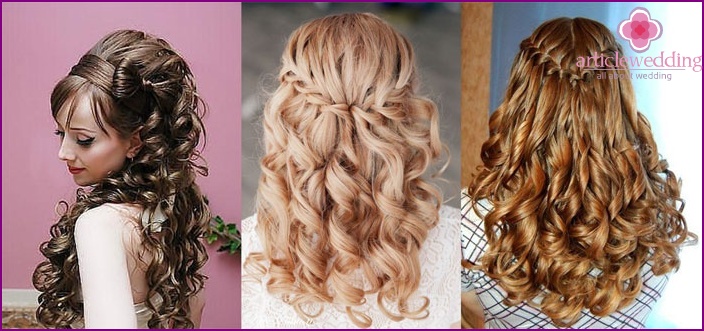 Sideways
Asymmetric side-to-side wedding hairstyles are extremely popular. They are especially useful for those girls who want to hide the wrong facial features with such a stylish solution. After weaving on one part of the head, it is possible to put the braid on its side without the use of hairpins. Any braid is braided in this way - ordinary Russian, spikelet, French.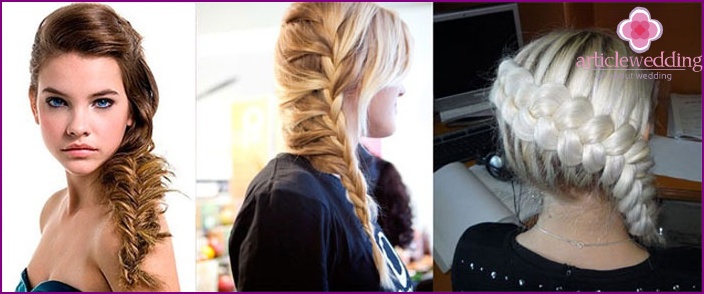 A spikelet laid diagonally looks beautiful.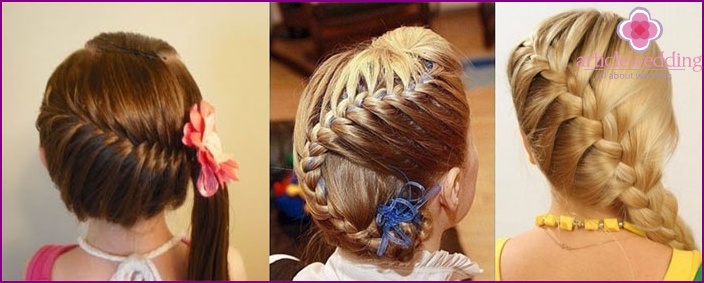 The scythe looks pretty «fish tail», side braided.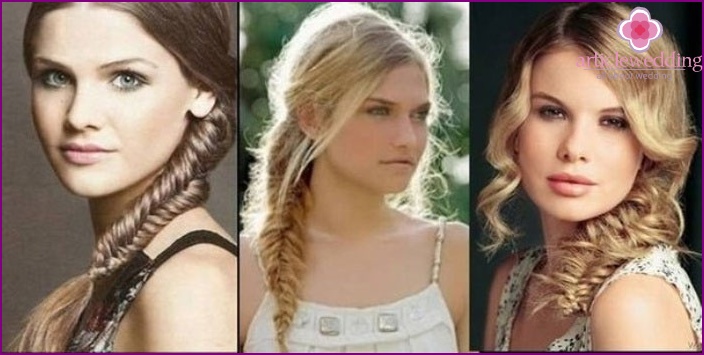 To create the image of a naive young girl, release several strands on the side along the face.
How to make a braided hairstyle: master class
Step-by-step master class with a photo: a simple hairstyle for the bride with her own hands
We invite you to study a master class with a photo on creating a simple elegant wedding styling with your own hands. It does not last long, looks great, is quite suitable for a wedding ceremony, a veil is conveniently attached under it.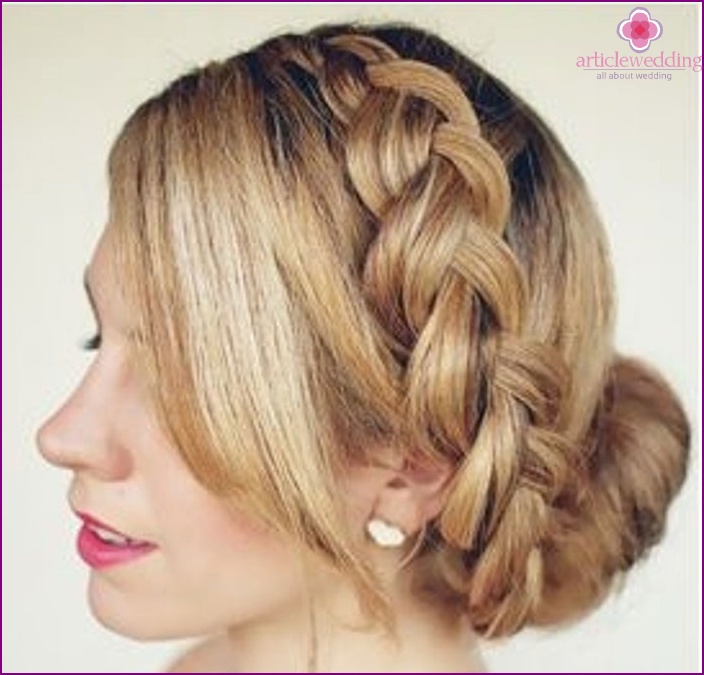 If you liked this hairstyle, let's start modeling it. Before this, you should wash your hair well, apply a nourishing balm, dry it.
Separate well combed hair with a comb on the side parting.
On the larger side, we take three thin strands, weaving a traditional Russian braid, not weaving about a quarter.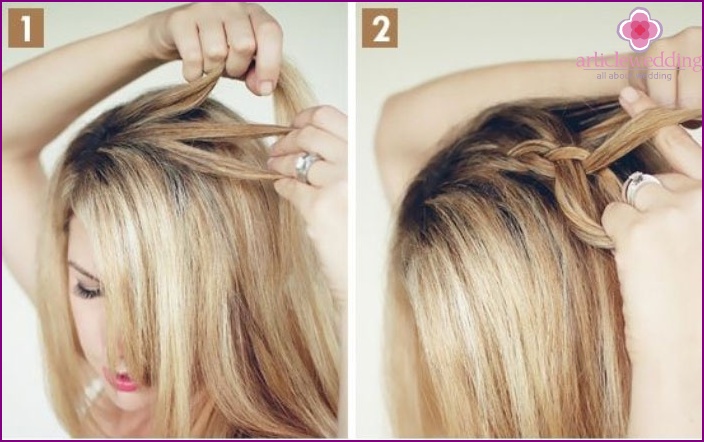 In the process of weaving, you can add several strands from the bottom. We fix the end with an invisible rubber band..
From the obtained braid, you need to carefully pull out the strands to give it a larger volume. Keep in mind that the gum will slide below. From above the pigtails to the level of the eye, pull the strands more than from below.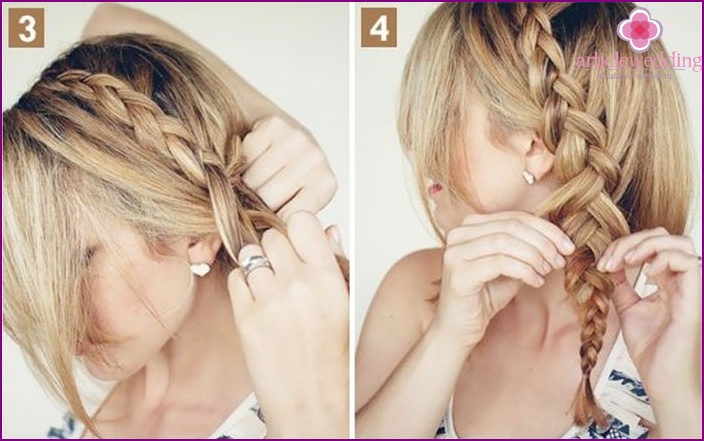 Collect the hair remaining free from braids in a ponytail, fasten with an elastic band.
Put on a wide elastic-roller over the elastic band to give volume to the hairstyle.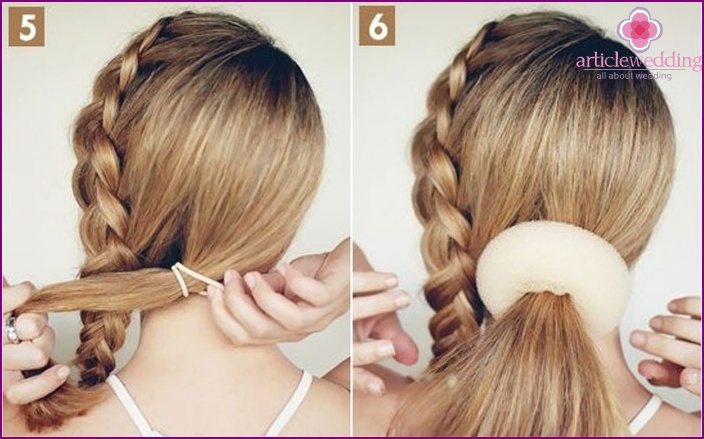 Using hairpins, carefully tuck your hair under a wide elastic band, as shown in the photo.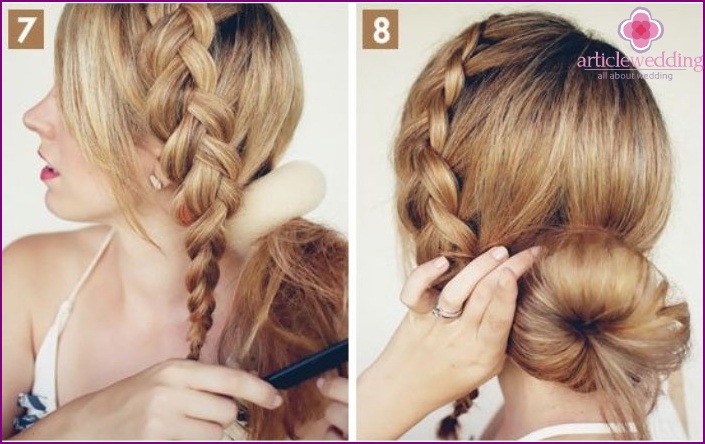 Around the resulting roller, wrap your braid, secure with studs and invisible.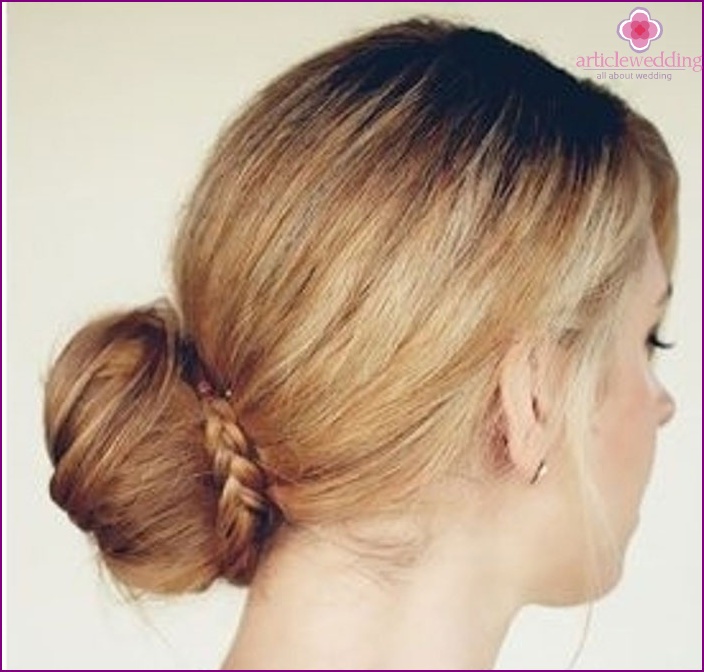 To make the wedding styling romantic, pull thin curls from your temples and wind them lightly.
Fix the hairstyle with varnish.
Creating a simple wedding hairstyle is within the power of everyone, for this it is not necessary to seek the help of a designer. We examined what wedding hairstyles are and how they are made. If you find the information you need or want to add something, write in the comments.