Contents
---
---
The veil has long been a symbol of purity, symbolizing the purity of the bride. People in Russia believed that she protects the girl from evil forces, protects the girl on her wedding day, when the bride is especially vulnerable. Now wearing a veil is rather a beautiful tradition than a talisman. The girl who chooses this decoration during the celebration looks feminine and tender. Hairstyle with a veil can take a variety of forms - be elegant, luxurious or romantic. Below is an overview of the wedding styling decorated with this element..
Wedding hairstyles with veil
To make the hairstyle look perfect, it is necessary to take into account many important details: the veil should be a harmonious part of the wedding attire, match it in texture, match in color, decor elements. If the dress of the hero of the occasion is decorated with rhinestones, beads, pearls, embroidery, lace, the headpiece should have the same jewelry. Remember that the veil focuses on the bride's face: the makeup should be fresh, beautiful, and most importantly - appropriate to the image.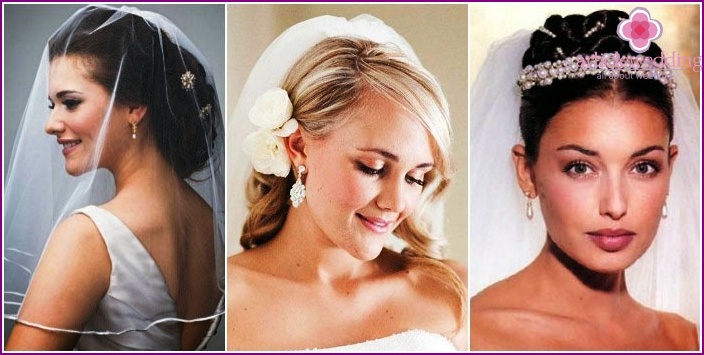 On long hair
Owners of thick hair can easily choose their image: for long-haired brides there are many options for styling. Funny bukli, elegant Greek hairstyle with veil, perfectly laid-out loose curls, cute little girls, all kinds of bunches, knots - smooth and careless, grandiose high hairstyles, asymmetrical are very popular. «buildings», horse tails. The veil is mounted on the crown or back of the head, depending on the hairstyle and the bride's desire to show it.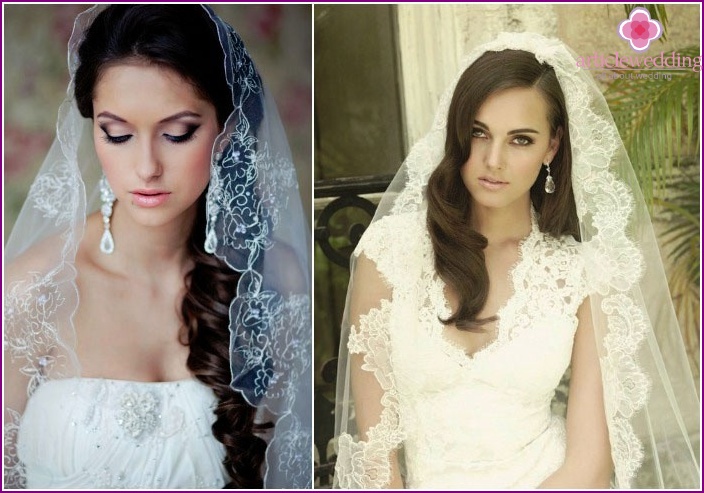 On medium hair
Medium-length brides also have plenty to choose from. The romantic image is emphasized by smooth Hollywood waves, playful curls will suit mischievous natures, elaborate weaving will give the look a feminine look, the shell hairstyle, strict and neat, will adorn brides who prefer to always look elegant, and curls twisted around the temples will add an image of tenderness. Retro lovers will love the babette hairstyle with a veil this season «cold waves» out of twenties.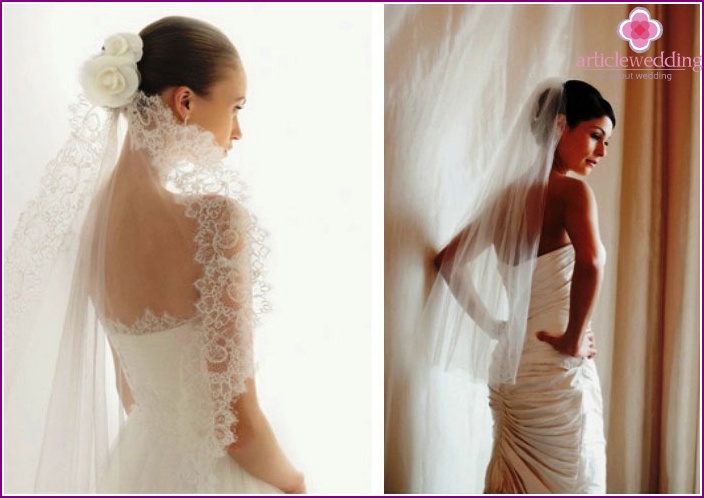 On short hair
Hairstyle with a veil for short hair has many variations:
popular high comb bob haircuts that add volume;
lungs «feathers» from the locks lifted and fixed by varnish;
beautifully laid back hair;
swirling curls that collect in the parietal zone;
Hollywood wave;
waxed ends for a careless brushing effect.
If you definitely want long hair, ask the master to use a chignon or to grow strands for you.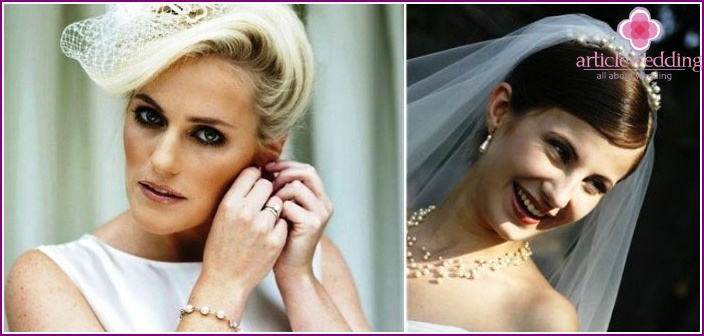 With veil and diadem
The diadem is a beautiful elegant accessory that will allow the bride to feel like the queen of the holiday. A hairstyle with a diadem and a veil looks solemn - it fits perfectly as a chic, magnificent «Princess», and a modest narrow dress. Usually tiaras are decorated with stones, Swarovski crystals, pearls.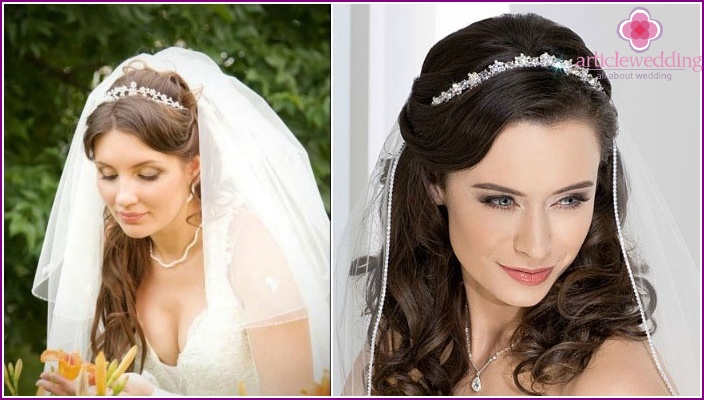 Options for using veils in hairstyles for the bride photo
A suitable veil can be selected for almost any hairstyle, however, it is worth considering its size parameters. Single-layer - a modest version that is perfect for any dress, but is unacceptable for a church wedding. Two-tier - a classic version that will decorate both a magnificent, voluminous dress, and a straight line. A multi-tiered long one is ideal for a dress model with a train.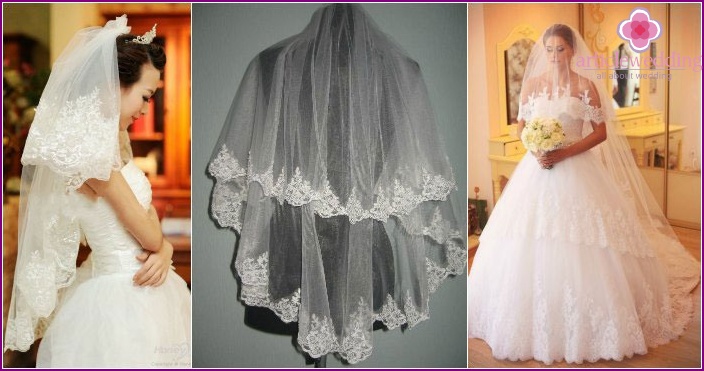 With a bang
Every girl knows how bangs adorn her appearance - she hides her high forehead, «rejuvenates», makes the face cute, enjoyable. A hairstyle with a bang and a veil looks good, you just need to choose a bang that suits the shape of the face. Asymmetric bangs will look beautiful if they are laid to one side, and a straight line, additionally treated with iron and varnish, looks good, making hair smooth.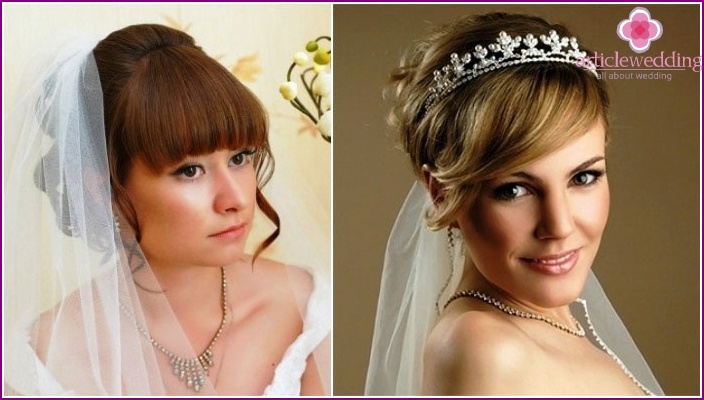 High hairstyles
A high hairstyle with a veil looks really majestic at the ceremony. It will suit brides who have chosen a royal look - generously decorated puffy, train dress, long voluminous veil.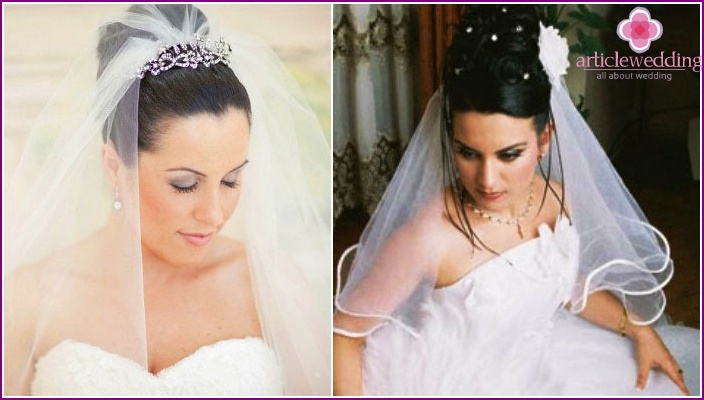 Locks
A hairstyle with curls and a veil looks romantic. Loose hair, curls curled on curlers, emphasize girlish tenderness, will draw the attention of those present to a gentle face. In this case, it is better to choose a natural makeup that emphasizes the natural beauty of the bride..
Watch the video, how a beautiful hairstyle from an air knot of curls was selected under a veil:
On the side
An openwork braid, a low tail, curled with curls, laid on its side, will be perfectly decorated with a laconic simple veil. The richer, more elaborate the hairstyle looks - the easier the bride's headdress should be. For more options, see the photo.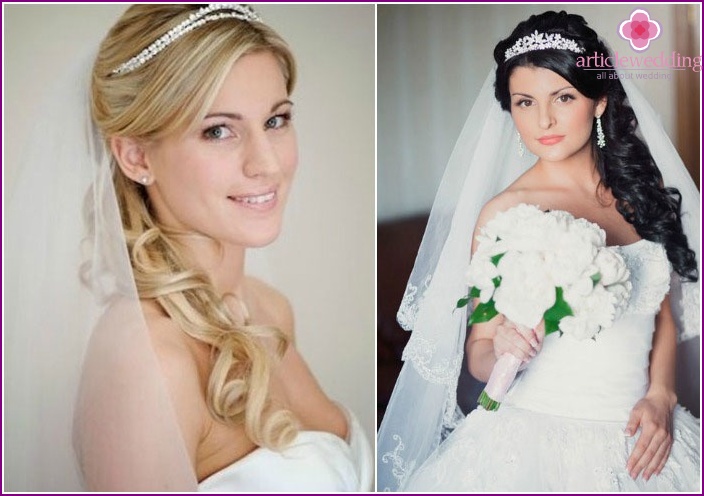 With her hair
Hairstyle with a white veil and her hair looks tender, feminine. So that during the celebration you will be decorated with loose hair, it is necessary first of all to ensure their healthy appearance - take care to improve the hair in advance. There are several ways to style your loose hair: curl beautiful curls, completely straighten the strands, make a funny cute little girl or with invisible hair stab on one side.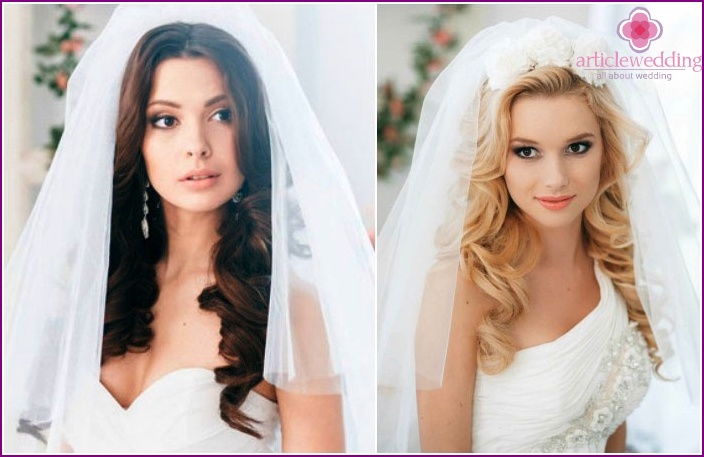 With fresh flowers
For natures who love nature, its natural beauty, the option of a hairstyle with flowers and a veil is suitable. Living plants adorning the bride's hair will make her look like a fairy fairy. You can create an entire composition of flowers, decorate the styling with one flower or wear a luxurious bright wreath.
Pick the plants to the shade of the eyes: brown - yellow or red roses, green - white and light green lilies, blue - pink orchids. The decorative version of plants is better not to use - it looks cheap.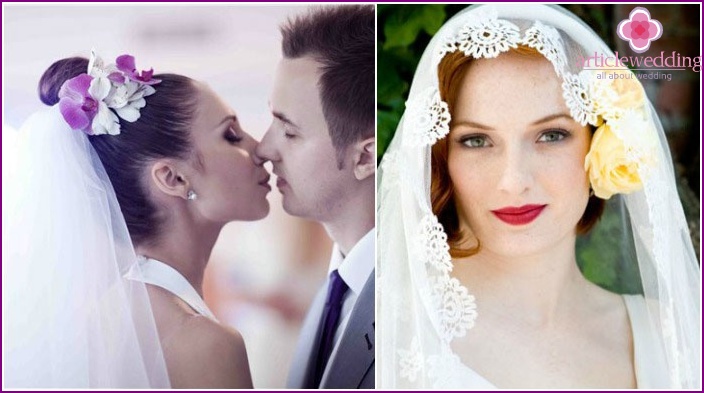 With a scythe
Long unusual braid - a classic wedding hairstyle. It can be performed in the original weaving of your stylist or according to the pattern that you found yourself.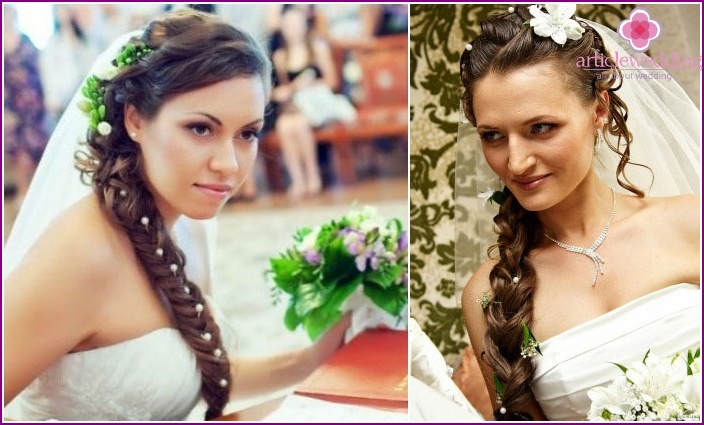 In greek style
Greek hairstyle looks elaborate, interesting. Usually it is done on long hair - locks are curled with curls, then unusual compositions are created from them. The master can collect curls in a high hairstyle or fasten the part to the back of his head with his pins, putting his tail to one side, or make a kind of malvinka. Richly decorated with styling - ribbons, hairpins, flowers..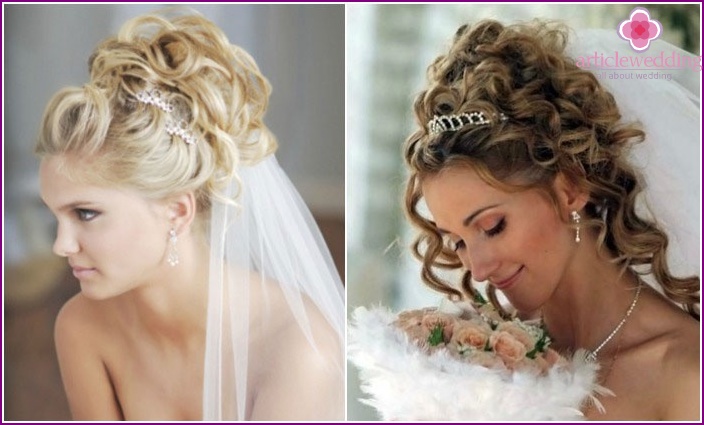 Square
A short or long hairstyle with a veil looks romantic - straighten your hair or twist it in mischievous curls. This haircut will open the bride's delicate neck, and in the form of a veil, a veil is perfect.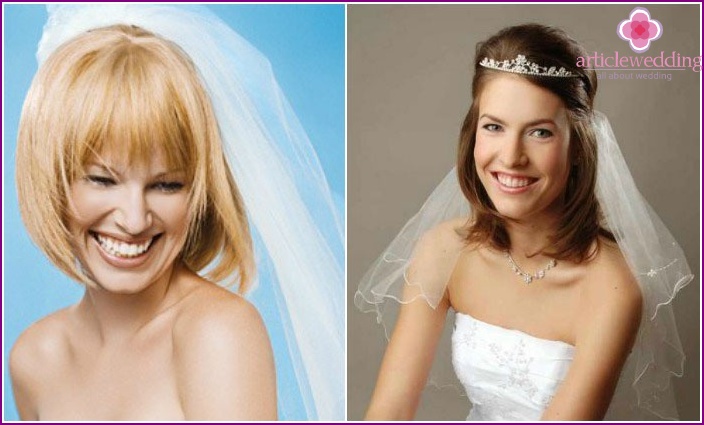 Bundled
Bundles do not leave the vanguard of wedding fashion hairstyles for many years - brides choose this option for a celebration from year to year. The bundle can be tall, low, smooth, voluminous, careless, neat - each bride will be able to choose the perfect styling. The veil decorating this hairstyle can be attached under or above the bun, depending on the bride's desire.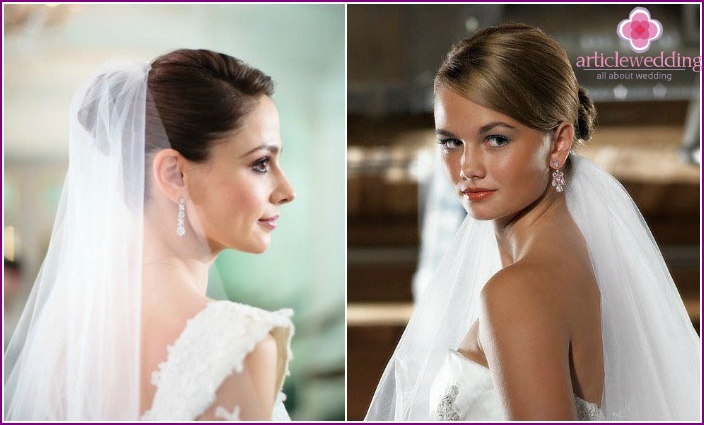 Veil Options
To enjoy your reflection in the mirror all day, select in advance a veil style that fits your hairstyle.
With long
A long veil will suit narrow and lush dresses, decorate various types of hairstyles. If it consists of several tiers, so that it would not be difficult for the bride to wear her considerable weight all day, it is better to choose a mount in the form of a hoop. A multi-tier veil attached to the hairstyle with hairpins and hairpins can distort the hairstyle under its own weight, as well as create discomfort in the form of a headache from its severity.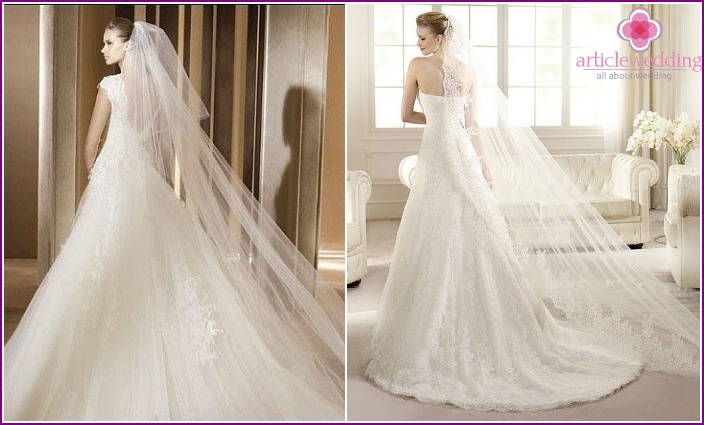 Lush
A lush multi-tiered veil will decorate the image «Princesses». High elaborate hairstyles, all kinds of curls, are the best suited for this type of accessory.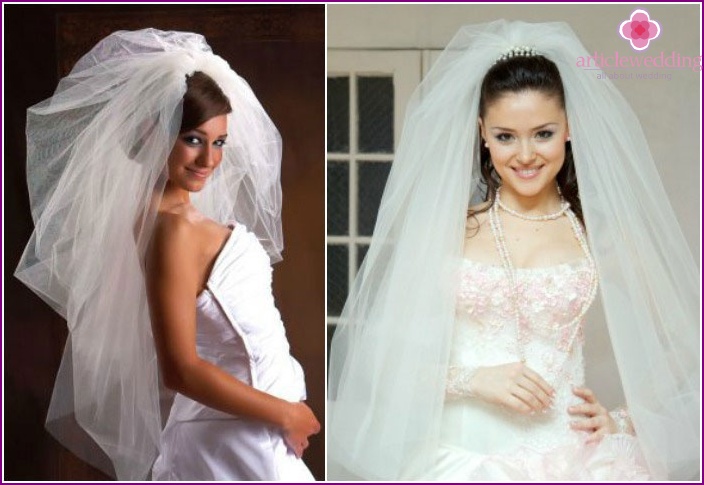 With veil mantilla
Fata-mantilla - the decoration comes from Spain, but many European, and after, Slavic brides adopted the tradition of putting it on a celebration. Such a headdress is sewn from the lightest fabric, which makes it weightless, airy. Classic hairstyle for mantilla - loose hair, bun or braid.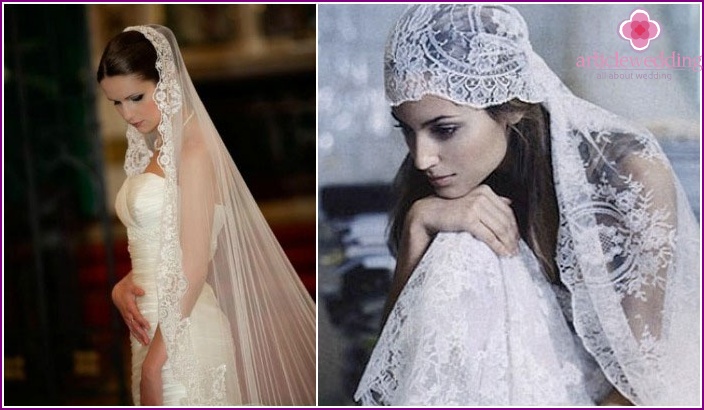 It may not be easy for the bride to choose the perfect hairstyle adorned with a veil for the celebration, so you should take care of this in advance. Material, color, jewelry should be in harmony with the whole outfit. It is necessary that the decoration fit the shape of the face, visually make the physique slimmer. Carefully study the ideas of wearing a wedding veil, make trial hairstyle options.
How would you like to put your hair under a veil? Leave a comment, share your ideas.
Photo hairstyles bride with veil