Contents
---
---
The bride thinks through her wedding image to the smallest detail long before the wedding day. The girl pays special attention to the choice of a wedding dress, shoes, and accessories. And the festive styling will be the final touch in the image of the newlywed. What are modern wedding hairstyles? What to consider for a newlywed when choosing one or another hair styling for marriage?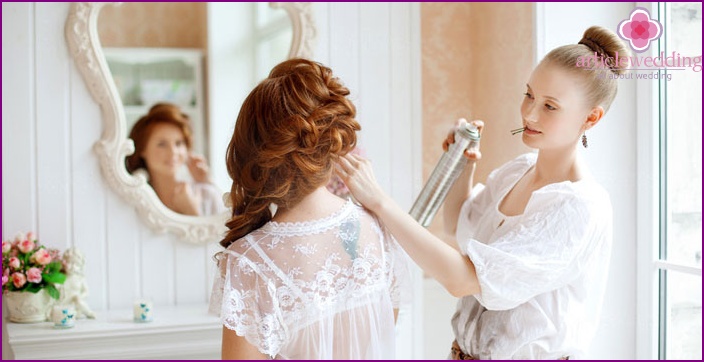 Options for Modern Wedding Hairstyles
Modern wedding styling should be chosen by the bride, given the style of the wedding dress. If you have an outfit with a neckline, then strands gathered in a bundle or loose curls will ideally harmonize with it. The closed styles of modern wedding dresses will go well with highly raised hair and beautiful weaves, flowers.
In bridal fashion, naturalness is a trend. In this regard, stylists recommend adhering to naturalness when creating modern holiday hairstyles. Naturally and naturally laid long curls are considered fashionable. Some of them are collected and stabbed with flowers on stilettos or a hairpin. High and retro hairstyles remain relevant for modern newlyweds. In the style of styling, characterized by simplicity and conciseness, but Greek and French braids (for example, «fish tail») remain at the peak of popularity in modern wedding fashion.
Volumetric beam
A popular styling option for modern brides is a volumetric bundle. It can be done in the style of the 60s or complement the bundle with weaving, plaits, well-fixed smooth curls with flowers. With the help of a beam, you can make the image of a newlywed modest, but refined. This wedding styling is stable, it will not crumble, will not fall apart at a celebration under any circumstances. To get a beautiful modern volumetric hairstyle, use a false chignon, which is decorated with braids and ribbons made of silk for masking.
The fluffy bunch is perfect for a retro dress, but it is also considered a universal complement for any type of dress, makeup and appearance of the bride. A beautifully voluminous hairstyle in the form of collected hair will look with clothes in which the back is open. If volumetric styling has many additional elements, then it is better to combine it with elegant outfits. The low fluffy bunch decorated with accessories with pearls, rhinestones and a veil looks original and feminine. Volumetric beam styling options:
Classical. To create it, use a special roller, overhead strands.
Ballet. The bundle in this case is complemented by a strand or serpentine pigtail around its base.
With weaving. Pigtails can wrap around a bundle or be placed on one side of the head..
Careless. The bundle will turn out especially curly from curls.
Snail or shell. The original spiral hairstyle will suit a modern short wedding dress or Empire style dress.
With curls. Curled and styled strands will give the bride a sophisticated and feminine look.
Smooth. Beautiful, precise, modern styling will amaze all guests with its perfect look..
Twisted. Twisted strands are connected into a bundle, which looks impressive and stylish.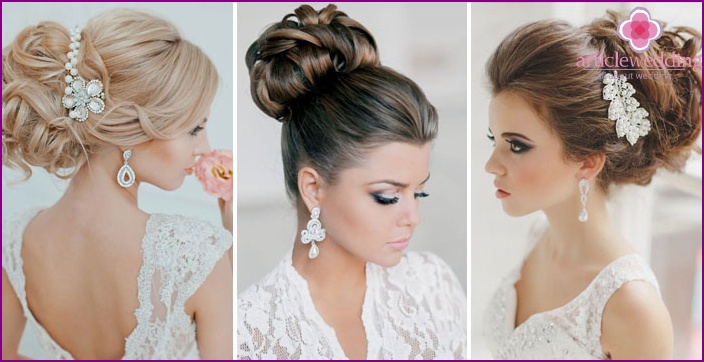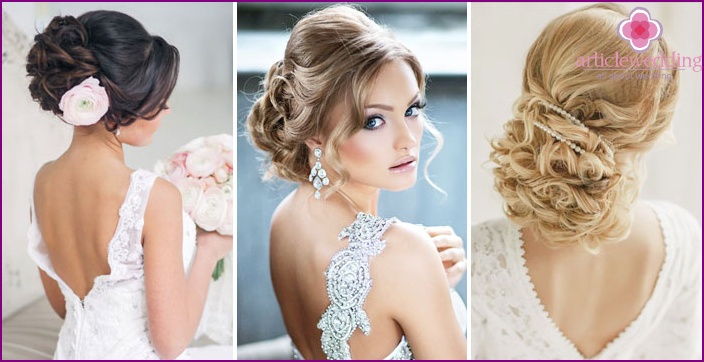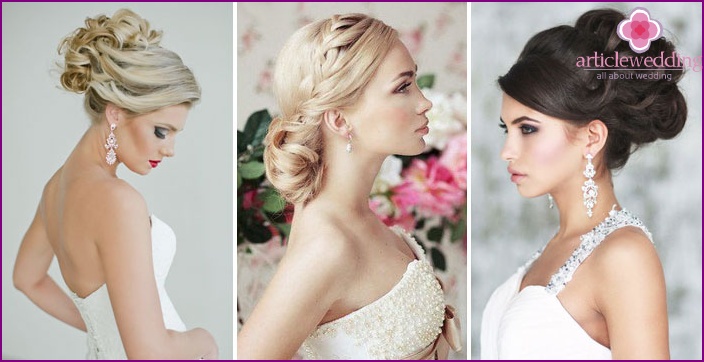 Falling curls with fleece
Wedding modern styling with fleece is especially relevant, in addition, they are ideal for girls with a round face. Long, large flowing curls in combination with a pile on the top will help to create at the same time a restrained and romantic image of a modern bride. A bride with this form of hair will look luxurious and aristocratic. To make a wedding hairstyle with a pile to the bride is easy on her own. To do this, you must adhere to the following scheme:
A comb from the forehead we comb back.
We remove one wide upper and two lateral temporal locks.
We put a roller on the vacant seat. On top of it we lower the upper strand, and from the sides we close it with temporal strands. Volume can be created without using a roller, only with the help of a pile. To do this, on the top of the head we separate several strands. We comb them and give them the shape of flagella, which we place in bulk and fix. On the resulting hill, lay the upper and side strands, which we fasten with clamps. As a result, we get a volumetric area of ​​hair.
We wind down falling locks on nippers or curlers.
At the base of the pile on the front, we decorate the hair with a tiara or other suitable accessory.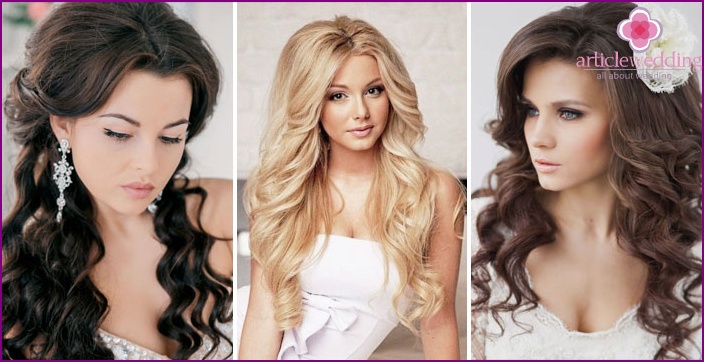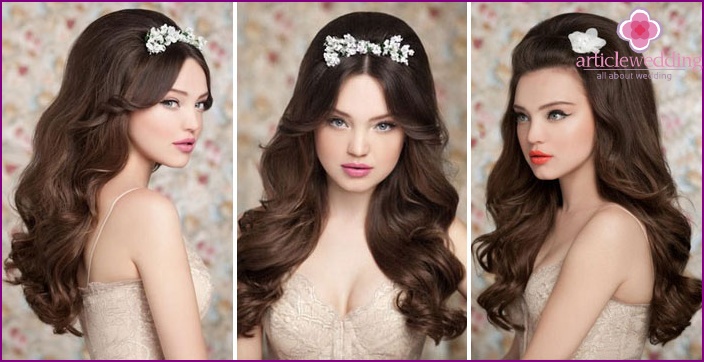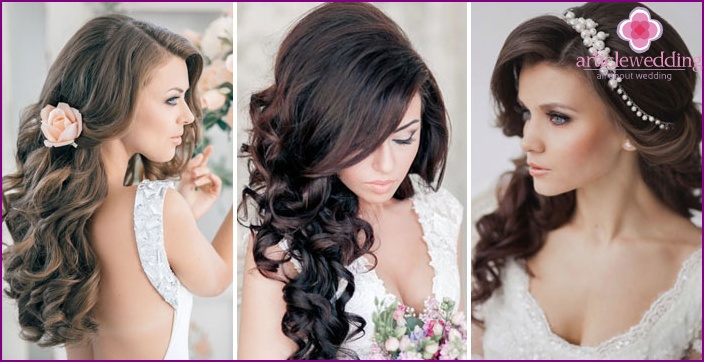 Cascading waterfall
Modern hairstyle French waterfall is suitable for creating a gentle and romantic image of the bride. It can be done on its own, because it is simple to perform. As a result, you get an elegant wedding styling, suitable for a special occasion. On the basis of weaving a cascading braid make beautiful hairstyles for the bride and groom. In an original way, the lying strands give the impression of a flowing waterfall. Beautifully wedding cascading braids look on highlighted hair, which emphasize the hairstyle and give it an unusual color.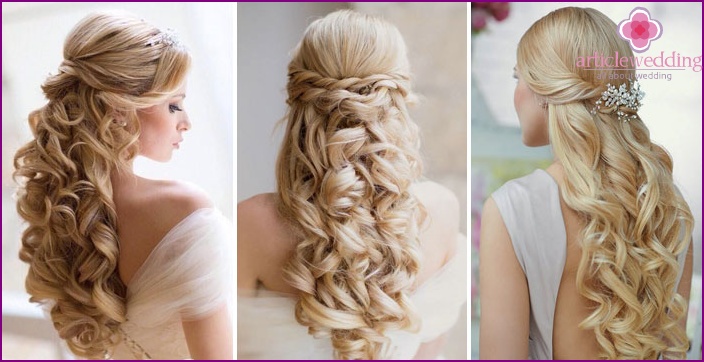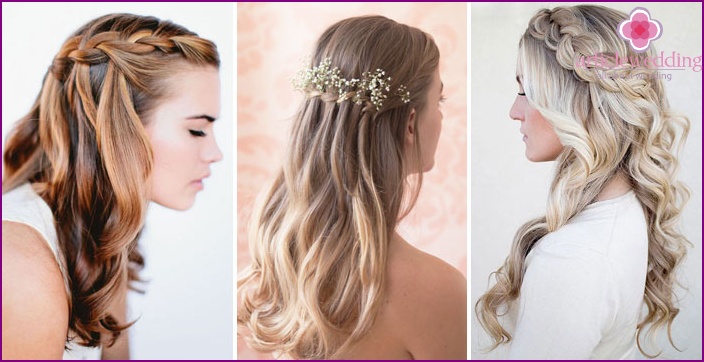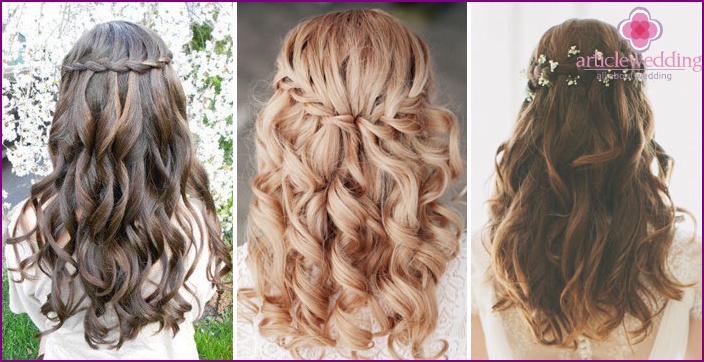 Light curls laid on its side
With an outfit of modest style and a minimum of accessories, light curls laid on one side will perfectly combine. The image of the bride with such a modern hairstyle will gain special tenderness and femininity. A wedding dress with an open back, shoulders in combination with curls on the side will emphasize the beauty of the exposed parts of the body. To create hairstyles, curls are made using tongs, curling irons or curlers. Then comb the curls with a comb with rare teeth, sprinkle with varnish. Then make out curls on one side, using hairpins, hair clips or invisibility to fix hair.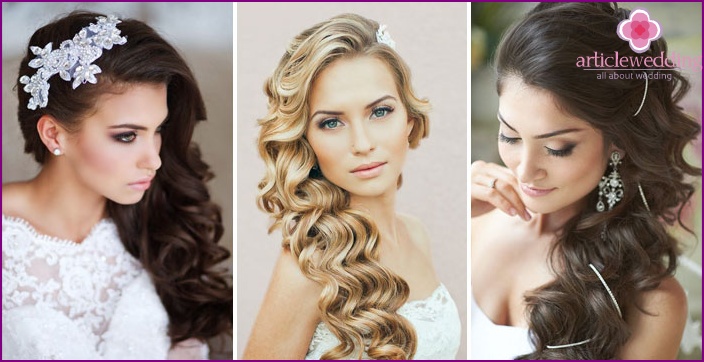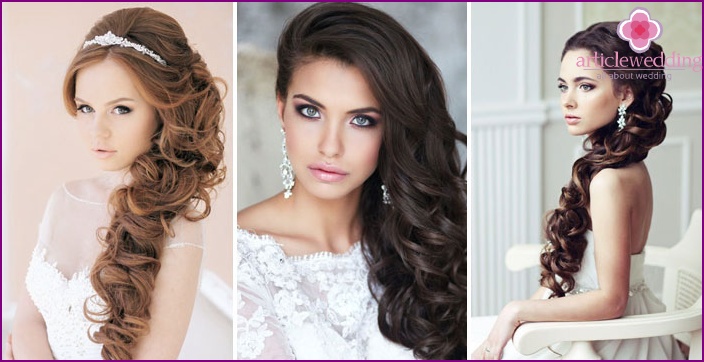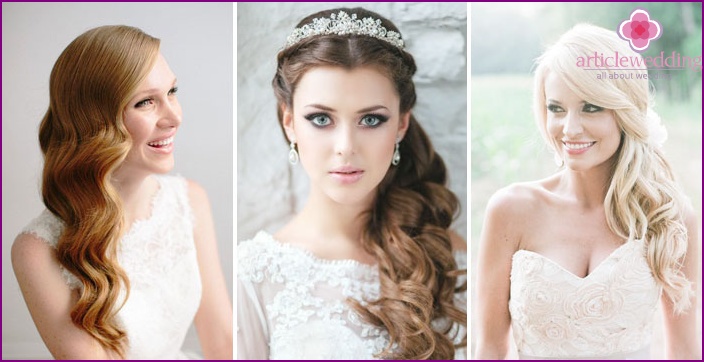 Greek braid
The leading place among the hairstyles for brides is the Greek braid. She perfectly emphasizes the sophistication and romance of the image of the bride and groom. The modern braid in the Greek style goes well with any wedding dress and accessories. The original weaving in the style of the beauties of ancient Hellas favorably emphasizes the beauty of the cheekbones, neck, shoulders, face, arms, chest. The main features of Greek wedding braids are a clear parting, tight curls, a kind of braiding hair. There are many hairstyles in this style:
Tightly braided greek braid.
Free weaving, characterized by an abundance of curls knocked out of the braid.
Beautifully laid tight curls around the rim.
Asymmetrically located braid, which is formed on one shoulder of the bride.
Crown braid.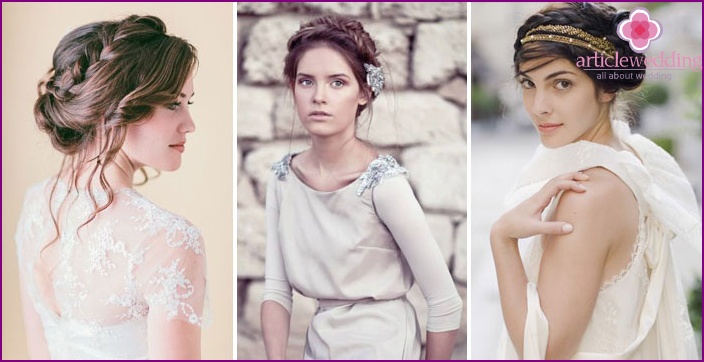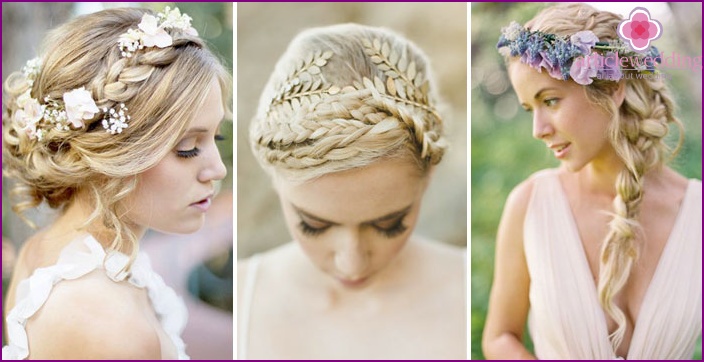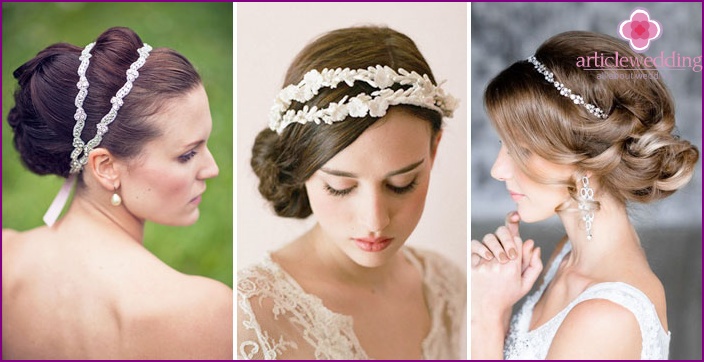 Hair Bow Hairstyle
For extravagant modern brides, wedding styling of strands in the form of a bow will be an excellent option. An unusual hairstyle will emphasize the originality of the girl. A bow from hair can be made small in size as a complement to the main hairstyle, or all strands are used to create it. The size of the bow from the strands depends on the density of the hair.
In the presence of thin hair, it is possible to use artificial locks to create extravagant styling. Charming modern hairstyle in the form of a high bow will make the bride childishly cute and naive. This image of the newlywed will perfectly complement a short wedding dress. You can decorate a wedding hairstyle with a hairpin attached under its base.
A hairpin with pearls or rhinestones in the center of the bow or a bright invisibility on the side will add special beauty to the hair. Decorating such an original hairstyle is not necessary, because it alone is too bright and unusual. If you plan to wear a veil, then it is better to attach it under a high bow. But you can refuse this element in the image of the bride. If the bow from the strands is a small addition to the hairstyle, then it will perfectly harmonize with any outfit of the newlywed.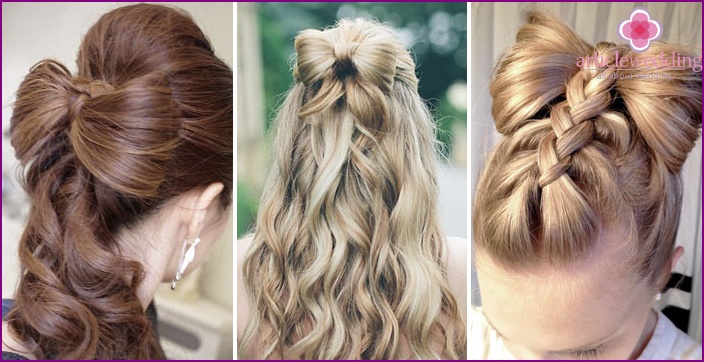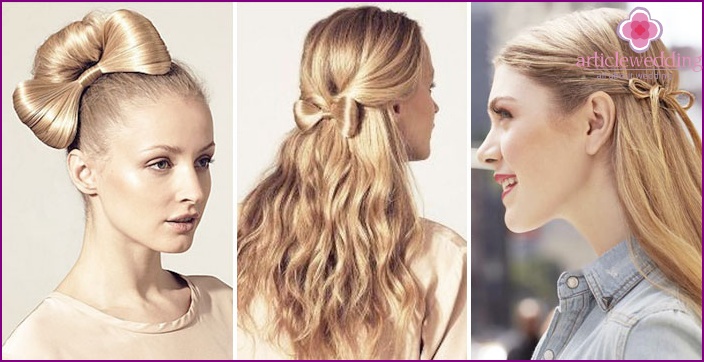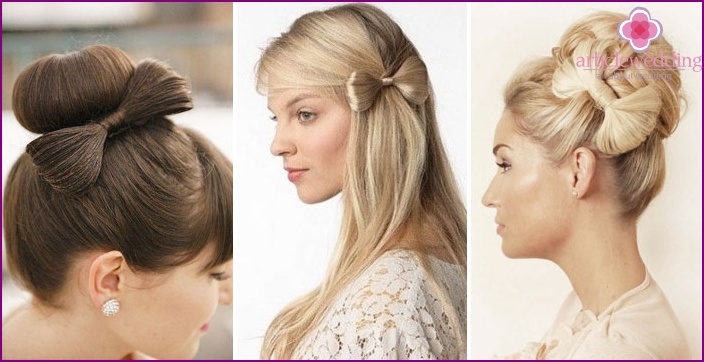 Photos of modern wedding hairstyles 2015
Choosing the type of modern wedding styling for the bride is a responsible decision. In this case, the following three factors should be taken into account: face shape, girl preferences, dress style. Modern hairstyles for the bride and groom are so diverse that each bride will certainly be able to find among them a wedding option. A hat with a veil, feather, living flower, tiara can give the bride's hair a beautiful look. Some useful tips to help you make the right choice when creating your image:
Dark hair makes the girl older, so in this case it is better to choose a styling with an open face, without bangs.
Curls look spectacular on fair hair when they are thick and long.
The weave looks bright on light strands, and on dark braids «are lost».
Voluminous hairstyles are not recommended by tall ladies. They will be more likely to face flowing curls.
Large curls are ideal for chubby brides.
A long nose will become visually smaller in combination with fluffy hair and a voluminous bang, and a wide hairstyle will help to reduce a hairstyle with strands combed back, which are raised high above the forehead.