Contents
---
---
Wedding hairstyles with gathered hair
Each bride wants to shine at her wedding, so you need to pay special attention, considering all the little things, to think about your own image. It is necessary to choose not only a beautiful dress and accessories, but also to choose a stylish hairstyle that will make an additional bright accent. Many brides choose varieties of collected wedding hairstyles for the celebration. What are they like? Having learned about the features of the choice and creation of collected hairstyles, you can decide on a hairstyle for yourself.
Options of collected hairstyles for long hair
Girls with chic long hair are given a great opportunity to demonstrate the incredible beauty of their hair. Collected wedding hairstyles will help create a sophisticated, delicate, romantic look. Such styling has several advantages:
In combination with a veil, the collected hair looks much neater, unlike loose hair.
Smooth hairstyles for weddings are in special demand among brides all over the world, because they help create a fashionable, stylish look..
In bad weather, such styling will remain neat, and broken curls will not be able to spoil the bride's mood.
When choosing collected hairstyles for a wedding, brides should consider several nuances:
The styling should be in harmony with the image of the young, as well as her dress.
Brides with a short neck are perfectly suited for such a collected wedding hairstyle, like a babette or a shell. High styling will help close your shoulders and ears. Long earrings complement the look..
Girls proud of a long swan neck should choose a low version of hairstyles, complemented by beautiful curls.
Smooth assembled styling fits perfectly round face.
Stylists recommend lengthy, lush styling for brides with an elongated face..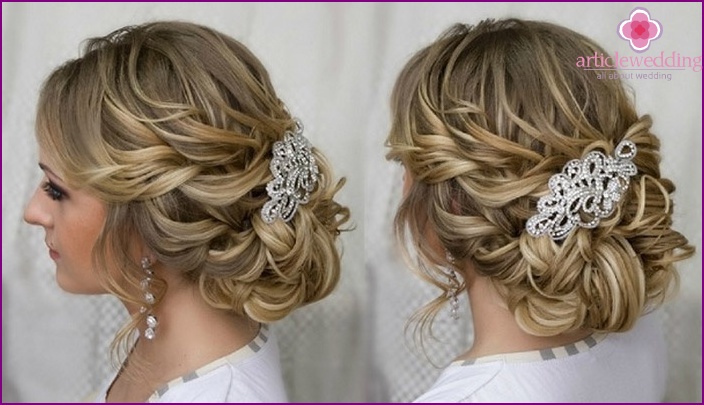 French twist
This option of wedding hairstyles is one of the elegant evening hairstyles, is a variety «shells». To do such an assembled styling is necessary for medium or long hair. There are several options - without bangs or with it, perfectly smooth or with individual locks. You will need the following materials:
hairpin;
hairbrush;
mousse;
Invisibility
strong hold varnish.
To make such a wedding hairstyle collected, follow these instructions:
Wash my hair well, thoroughly blow dry.
If you want to add extra volume to your hairstyle, then apply a little mousse to slightly damp locks..
We comb the hair well, do not separate several parts, but stab the top with a hairpin.
We make the tail from the back, carefully fold it, fix it with the help of hairpins.
Comb the separated upper strand slightly (do not make it too lush), wrap it on previously collected and chopped hair.
As a result, a shell is formed, which we fix with several studs so that they are not visible, we spray with varnish.
The wedding hairstyle is completely ready, if you wish, you can decorate it using a beautiful hairpin.
Collected curls at the bottom
One of the most popular wedding hairstyles are the curls collected below. They are not only very beautiful, but also easy to create. Such assembled styling can at the same time look elegant, sophisticated, elegant, romantic and sexy, in contrast to simply curled thick hair. Use large, spiral, lush or Hollywood curls. To make this collected hairstyle, curl clean hair and gently collect it below with hairpins. Use an additional element for decoration - hairpin, diadem.

A bunch
For long and thick hair, a bridal hairstyle is just perfect. Do it by following the steps below:
Tie well-washed, dried hair in a tight tail (about 2-3 cm above the level of the ears).
We divide the tail into two equal parts, with the help of a comb with small cloves we make a voluminous pile, so that the visual hairstyle will look more magnificent.
We twist the collected combed hair in the shape of a donut, hide the ends (if necessary, use invisibility).
We fix the wedding hairstyle with the help of hairpins (at least 4), spray with varnish. It is necessary to ensure that the bundle is perfectly smooth and individual hairs do not stick out.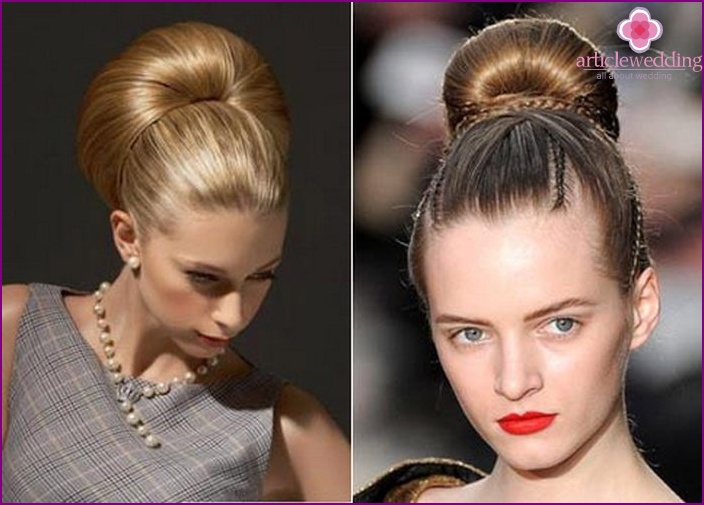 Interesting ideas of collected hairstyles for medium hair
The average hair length in girls is not uncommon. It allows you to create almost any styling that will look beautiful, stylish and natural. Having trained a bit according to the step-by-step instructions below, you can make a wedding hairstyle for such a hair length. Try to weave a braid with a bun, create a babette, styling with flowers, a diadem or weaving.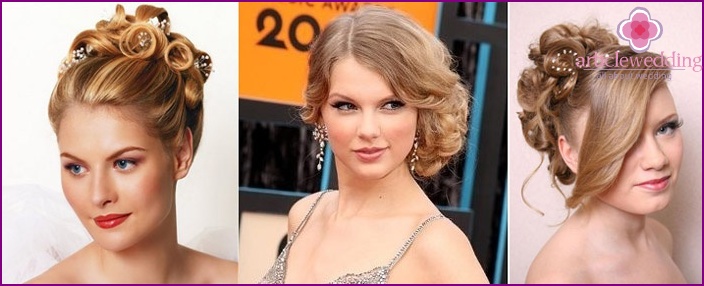 With weaving
A wedding hairstyle looks very interesting - a French braid braided on its side. Such assembled styling is an elegant and chic option. It helps to remove hair from the face on a hot day and provides an excellent opportunity to keep styling until the evening. To do this, follow the instructions below:
Moisten clean strands slightly on one side (from which we will start weaving), use a little gel or mousse. From the front line of growth we take part of the hair (about 5 cm wide), divide it into three approximately equal strands.
Then weave a simple braid - cross the center with the right strand, then with the left.
As soon as the braid foundation is ready, we begin to gradually add thin strands of hair from both sides. To do this, take one strand from the hair line and add it to the right main part of the weave, then direct it to the center. We perform the same procedure with the left strand. So repeat almost to the end of the braid.
Weaving continues along the hairline, and at about 2 cm from the neck we turn the braid (if you started to braid it on the right, then turn left).
Collected hair, continue to braid the braids to the very end, fasten with a beautiful brooch or hairpin.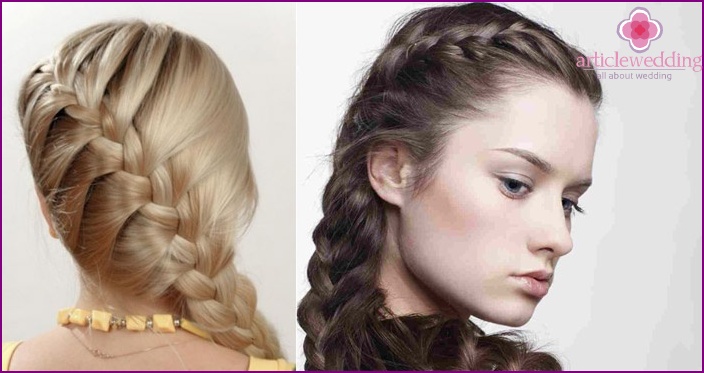 With diadem and veil
A veil is an accessory that makes the image of the bride tender and sweet. Exquisitely looks wedding hairstyle, complemented with a veil. It is easy to make such a styling, the main thing is not to miss a single nuance. Follow this instruction:
We prepare in advance the tongs, the iron, the varnish, the mousse, the invisibility, the brush (preferably with natural bristles).
Thoroughly wash, dry hair, apply a small amount of mousse, evenly distribute along the entire length of the hair.
If you have a bang, it must be neatly laid using an iron.
From the top of the head to the back of the head, we separate part of the hair, we do a not-so-large comb using a comb with small teeth.
We collect hair on the back of the head, gently smooth with a brush, fix using invisible and varnish.
We remove back all the remaining strands, twist it in a reamer and fix it with hairpins on the back of the head.
Before combing the crown, carefully put on a diadem.
We fasten the veil on the back, fix it with invisibility (under a pile).
If desired, you can leave a couple of strands near the face and curl them with tongs. The most important thing is to make sure that there is no noticeable fastening of the veil and diadem, and then the wedding hairstyle will be perfect.
With flowers and veil
In combination with flowers and a veil on medium hair, you can create a stylish wedding hairstyle collected. These tips will help you make it:
Wash well, dry hair, do not very strong root pile.
We divide the hair parted, we collect in two high tails.
We carefully select several thin locks from each, smooth it with wax, then wind it using an iron.
We wind the hair in a chaotic manner, creating air loops, we fix each strand with a hairpin.
Insert a bridal veil under the finished wedding hairstyle.
In the place of fastening the veil with invisible attach any small flowers and one large, creating a game of contrast.
To make the wedding hairstyle more tender and romantic, leave a couple of curls wound with a curling iron near the face.

You can use another version of the wedding hairstyle collected below with flowers and a veil:
First wash, blow dry hair well.
Starting from the back of the head, twist the curls.
At the roots we do not very bulky bouffant.
Separately, throw each curl, fasten them using invisibility.
Ready curls with fingers give a little negligence.
We spray hair with strong fixation varnish, carefully process each strand so that by the evening the wedding hairstyle does not crumble.
Insert any natural flowers or hairpins that mimic them.
We attach the veil over the hairstyle or under the curls, fixing it with hairpins.

How to beautifully collect hair with bangs?
Bangs are an important part of a hairstyle, but sometimes it can be hard to style. There are several options for wedding hairstyles with bangs. For example, you can braid it. When choosing this styling, weaving should continue to the ears, and at the end, secure the braid with a beautiful hair clip. The remaining hair is collected in a neat bump or braided with a spikelet, for decoration we use flowers, a diadem, a veil. You can simply straighten your bangs with an iron and gently lay it on one side, fixing it with varnish.
Photos of stylish hairstyles with collected hair 2015