Contents
---
---
The most scrupulous and reverent of pre-wedding preparations are brides. This is especially true of their own wedding image. It is important for them to foresee every detail..
To be ideal for the groom and invited guests is the primary task of every bride. Dress, shoes, accessories and hairstyle should be harmoniously matched to the type of bride. One of the main components of the wedding image of the bride is a hairstyle and jewelry for hair. Jewelry for a wedding hairstyle is very important and complement the delicate image of a girl.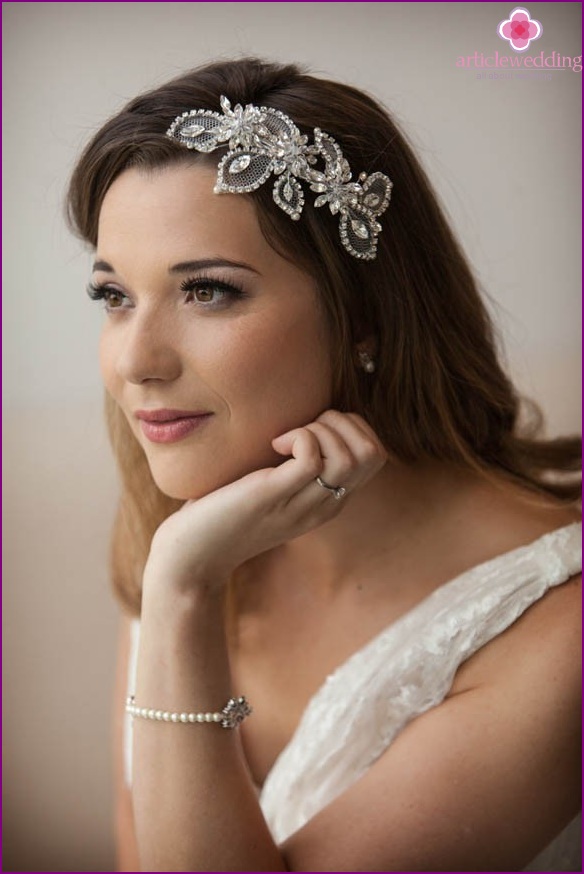 Before you start choosing hair accessories, you need to decide on a hairstyle. You may need to stab long strands, comb your hair one side. All this requires thorough preparation and thoughtfulness. Therefore, the website www.articlewedding.com asks you to devote a little more time to this important stage than you previously thought..
Let's look at what kind of jewelry for wedding hairstyles brides are offered by modern wedding fashion, and how to combine them with a hairstyle.
Classical decoration of a wedding hairdress - veil
Veil is perhaps the first and universal decoration for any wedding hairstyle. Depending on the length of hair, hairstyles, dresses, you can choose a short, long, single-tiered or multi-tiered veil. Today, brides are offered a non-standard way of attaching a veil, which gives a touch of modernity and creativity. A bride in a classic look always looks gentle and elegant..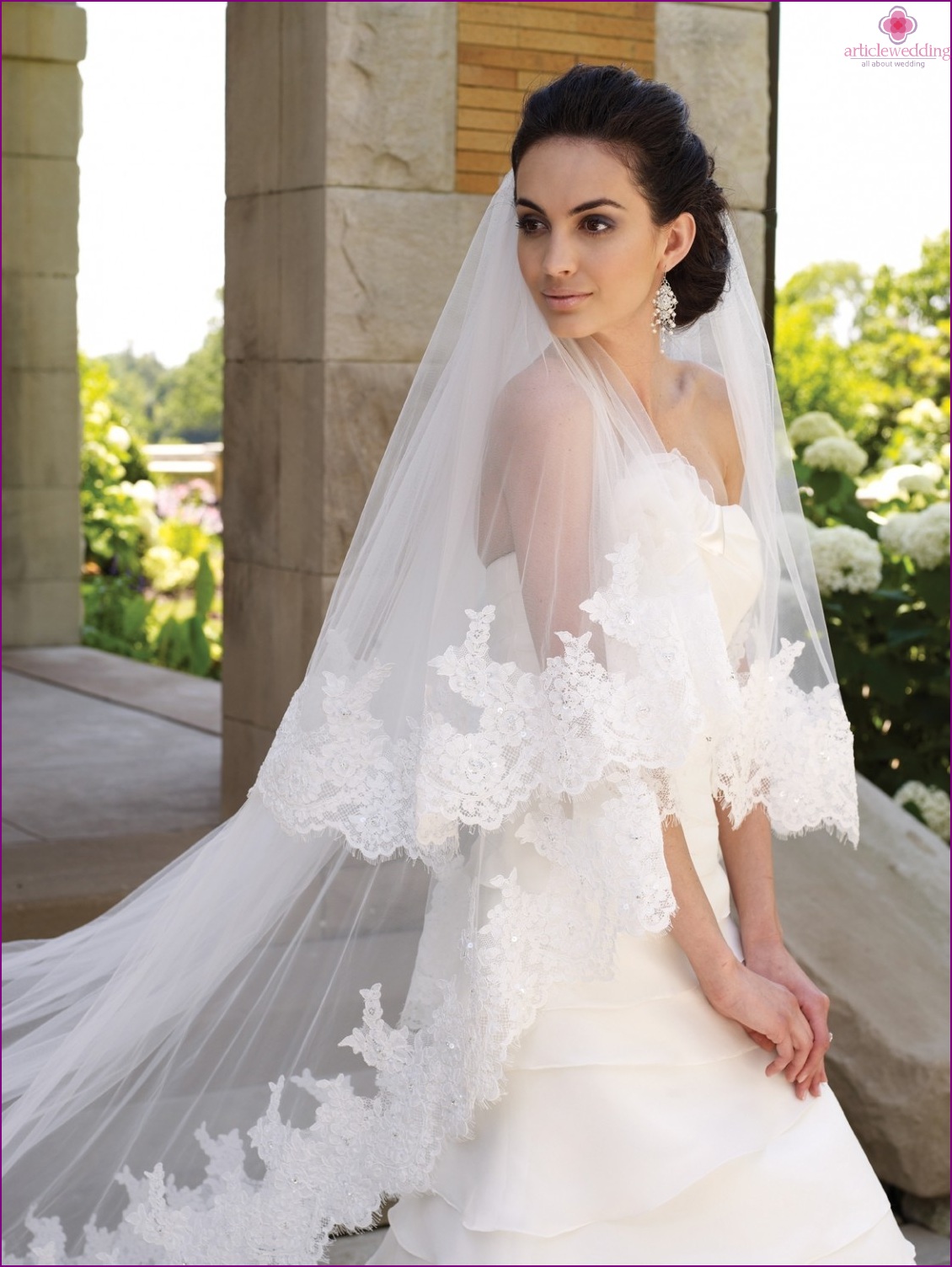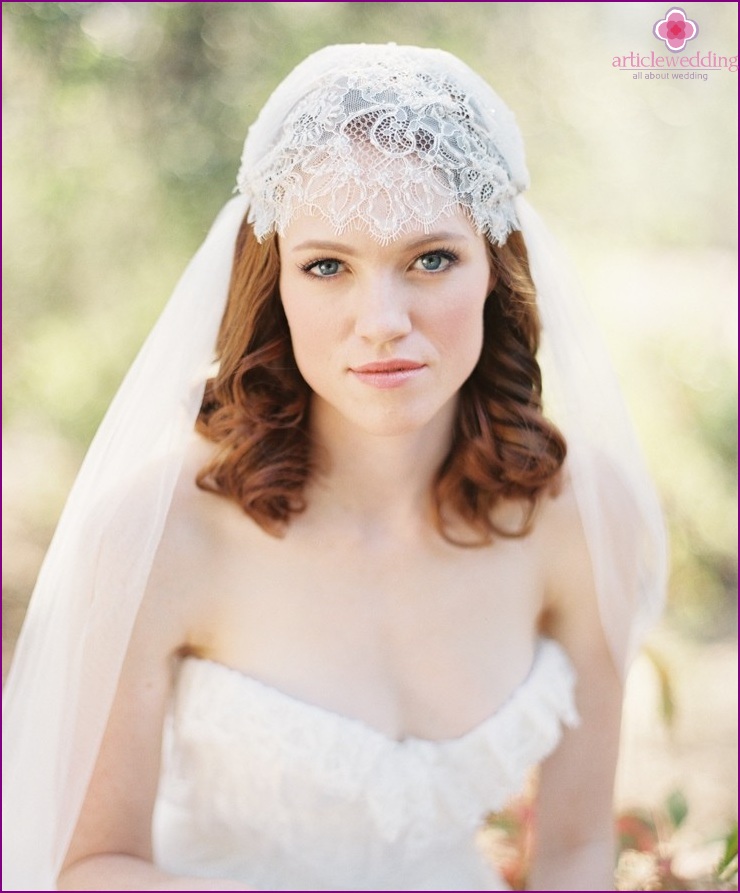 Recently, there has been an increasing tendency to combine veils with various accessories. It can be hairpins, wreaths, hoops and more. Great opportunity to present multiple looks in one day..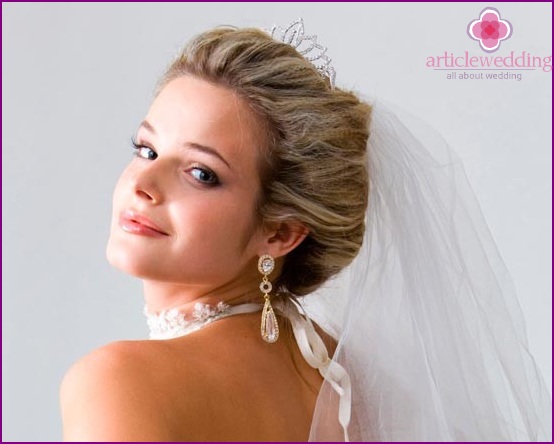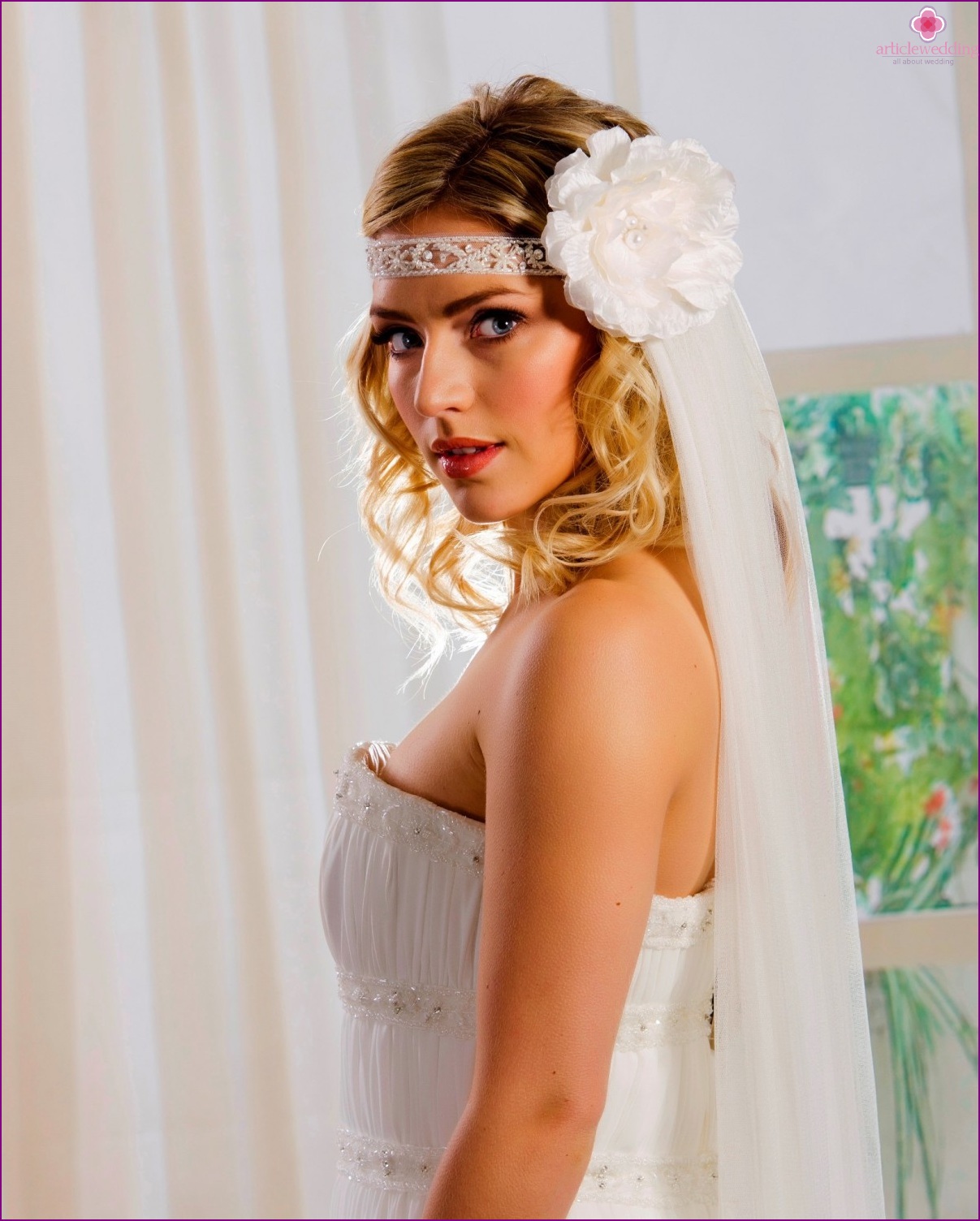 It is believed that a veil gives a certain mystery and romance to the image of the bride. This is a fashionable and comfortable decoration for the bride, whose image is designed in the French style. In addition, the veil is an alternative for those brides who do not want to be rolled in an abundance of tulle and organza.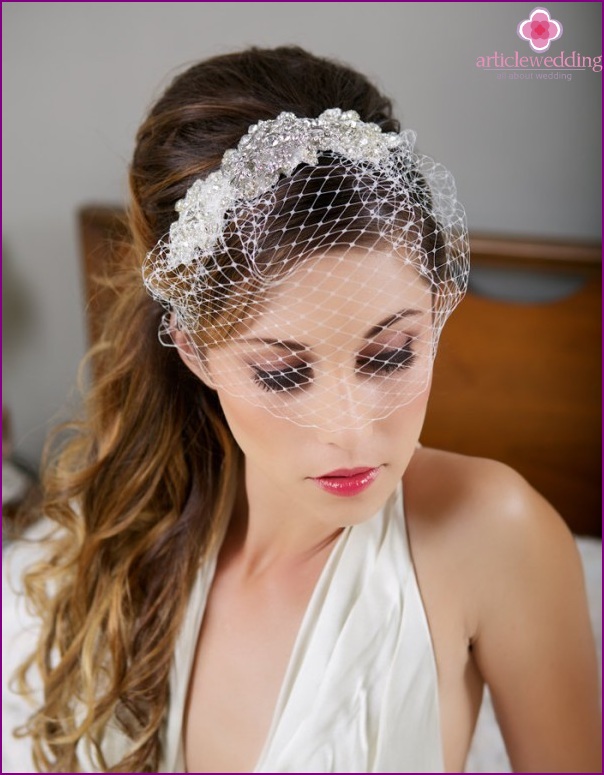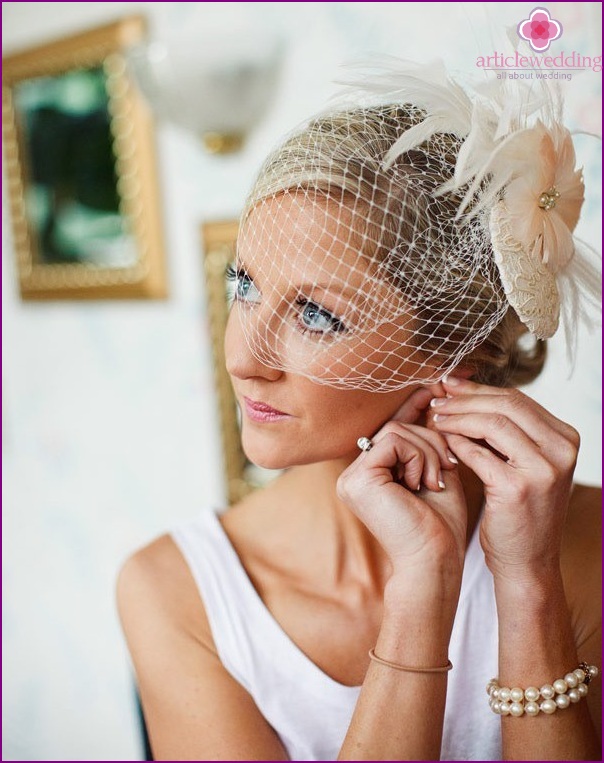 Tenderness Tiaras and Tiaras
A stunning emphasis on hair will serve as a diadem or tiara. These accessories give the image of the bride femininity, elegance and tenderness. A win-win option for a wedding in retro style. Diadem and tiara can be used for hairstyles, both with long and short hair. Asymmetric tiaras are most relevant this season..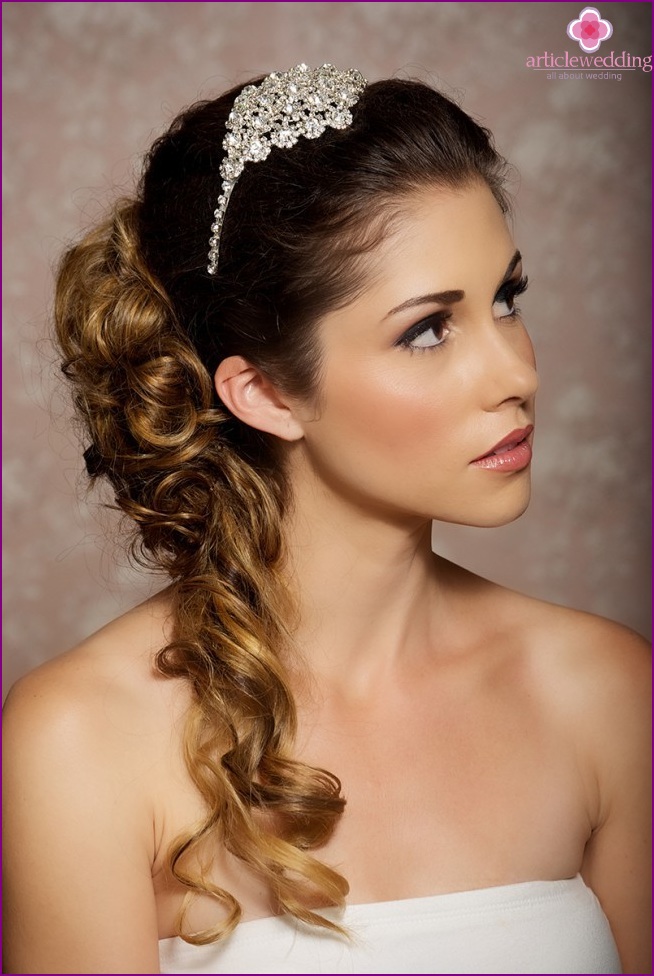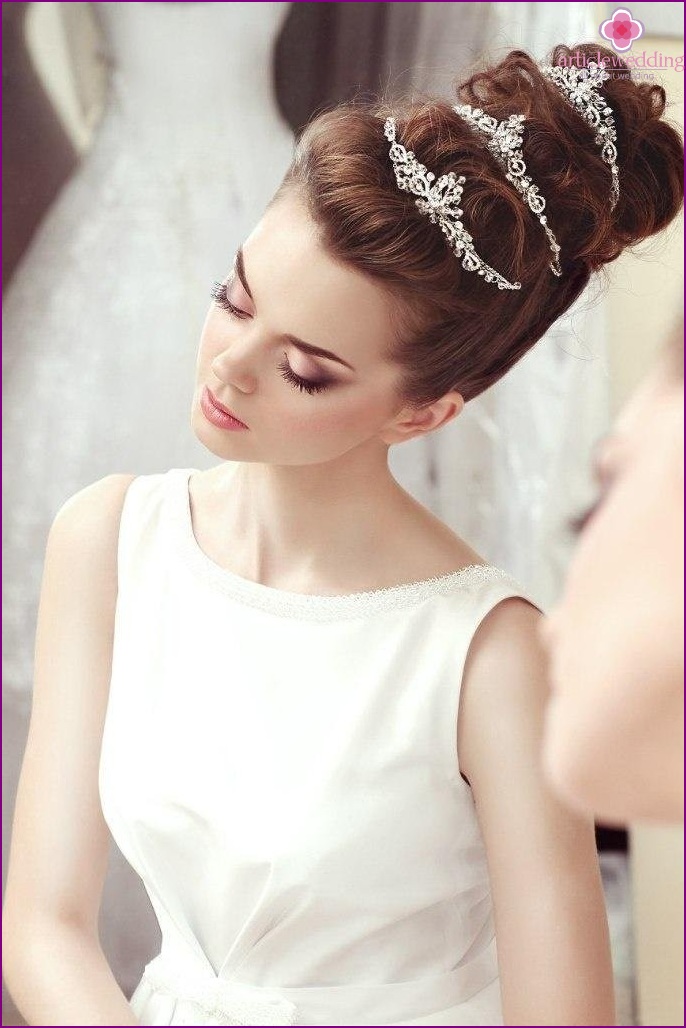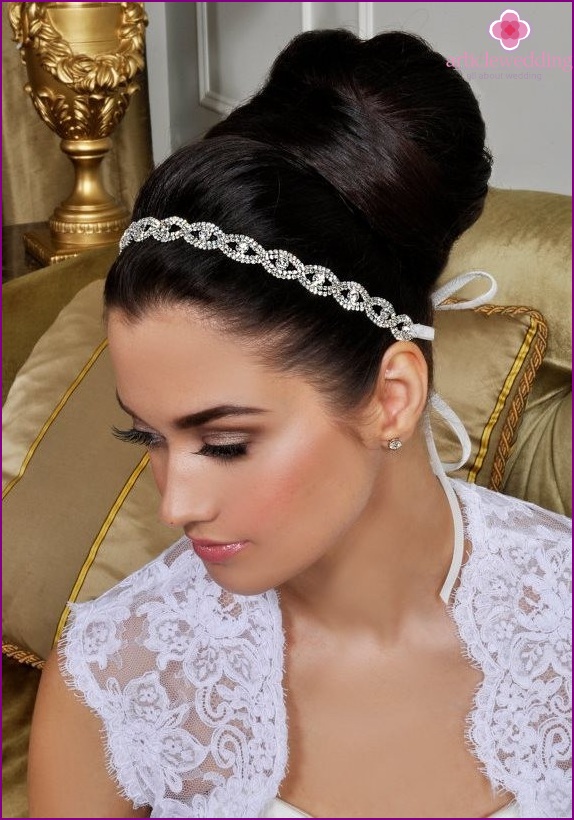 Fresh and artificial flowers - «romance in the hair»
Today, many brides prefer to decorate wedding hairstyles with flowers. Choosing fresh flowers or artificial ones depends on your desire. Both in the first and in the second case there are pros and cons. As for fresh flowers, perhaps this is not the best option, because not all flowers can do without water for a long time. And wilted plants do not look aesthetically pleasing. Before ordering fresh flowers as a decoration for a wedding hairstyle, find out which ones are the most persistent. And, of course, do not forget that the flowers in the hairstyle should be in harmony with your wedding bouquet.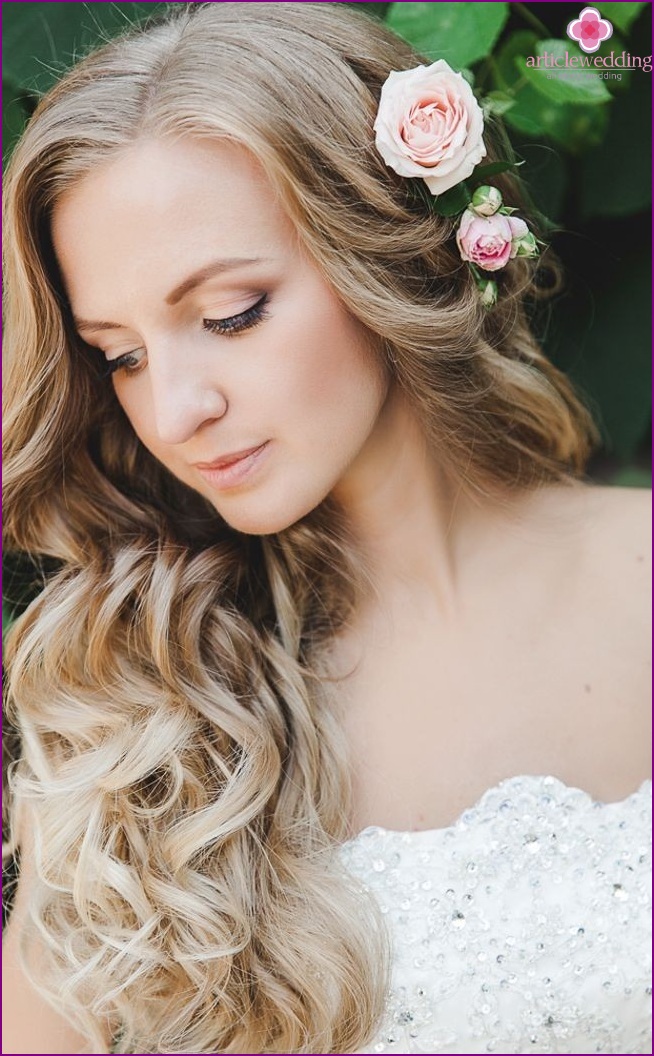 Regarding the durability of artificial colors, you do not need to worry. Moreover, their assortment will please you more. In the case of artificial flowers, you can order a nonexistent flower from specialist florists that will be created specifically for you. Materials for creating artificial flowers can be very different: paper, fabric and others.
Hairpins - minimalism hairstyles
The range of hairpins and hairpins that are used in creating a wedding hairstyle is very diverse. Without consulting an experienced master, it will be difficult for you to choose what really emphasizes your personality, and not ruins it. Such miniature hair accessories will give the bride femininity, sophistication and romance. Remember that you should not buy a lot of such jewelry, one or two hairpins will be enough.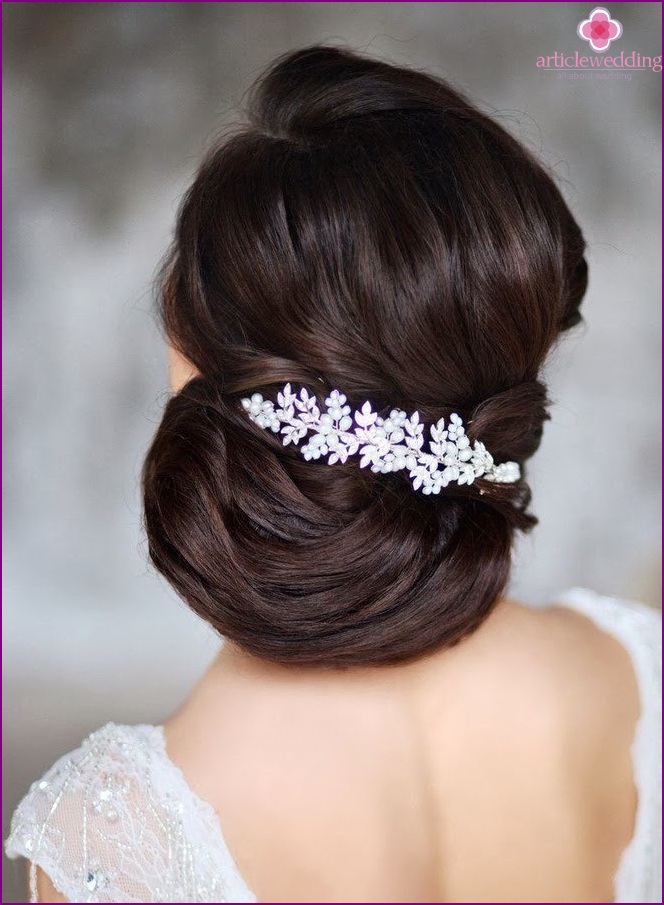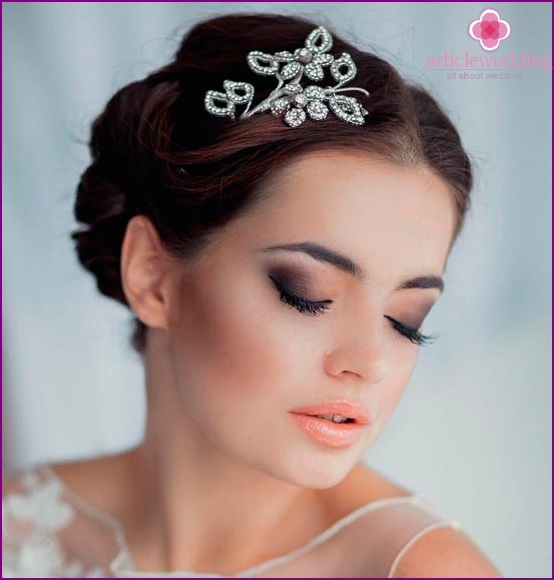 Ribbons and hoops - solemn decor of a wedding hairstyle
More recently, hoops and hairbands have come into the bridal fashion. Such hair accessories are simple and at the same time chic in their performance. Hoops can be made of fabric in addition with pearls, beads or feathers..
Ribbons, wide or narrow, acquire completely unexpected textures. From everyday decoration, these accessories have turned into a festive decor for a wedding hairstyle.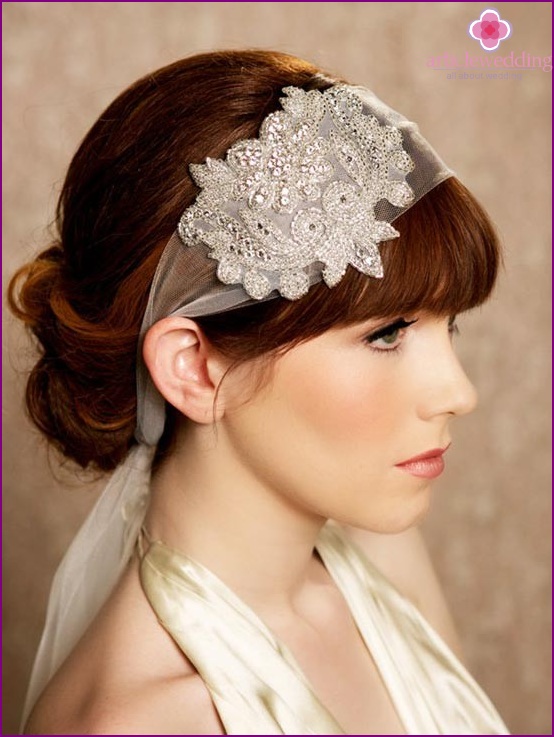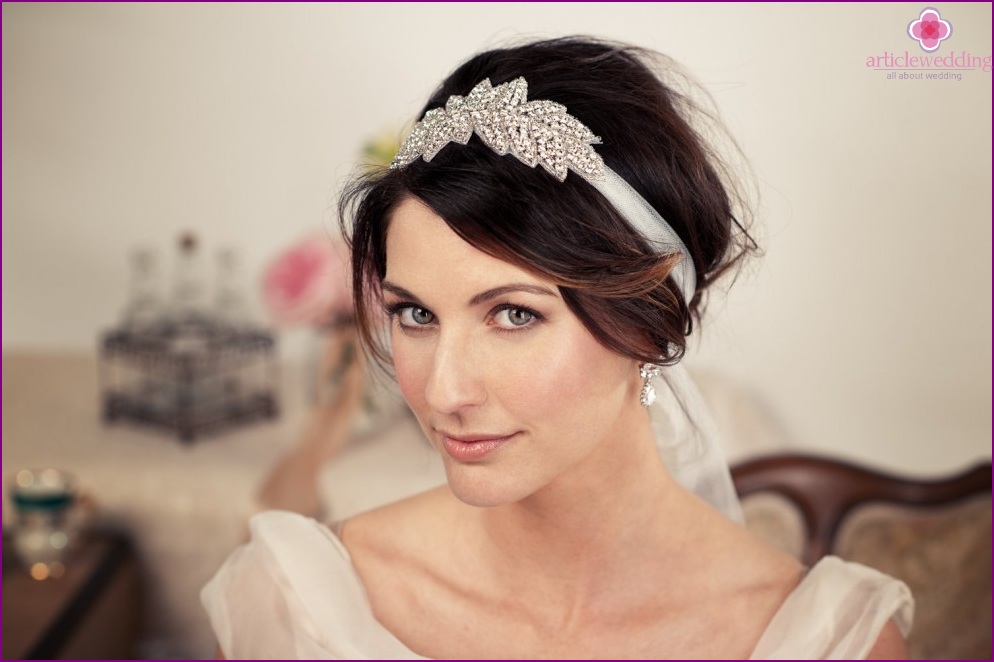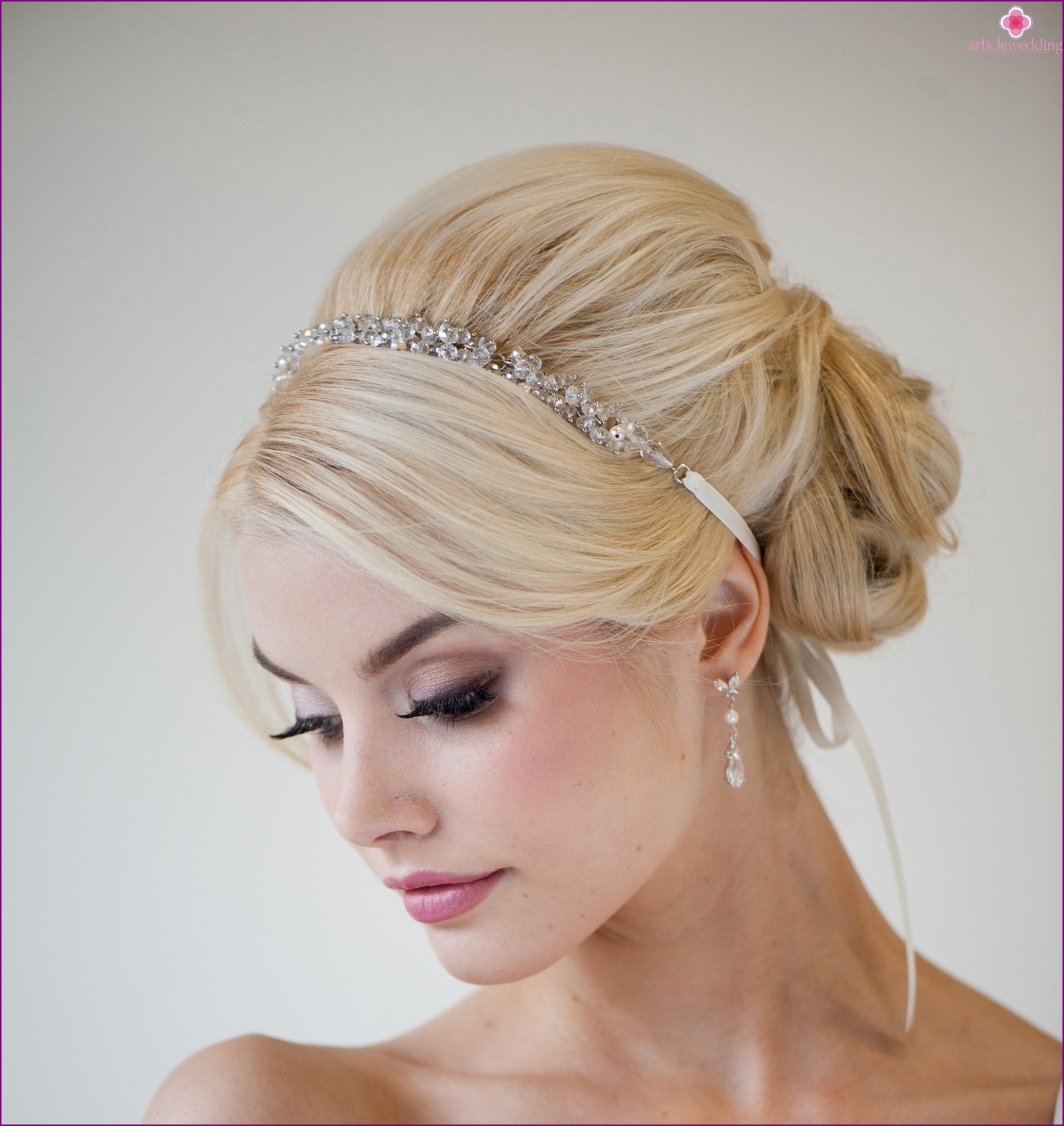 Feather airiness
Hair jewelry with feathers can create several images at once: refined and delicate, or extravagant and daring. This accessory is not recommended for use with other jewelry..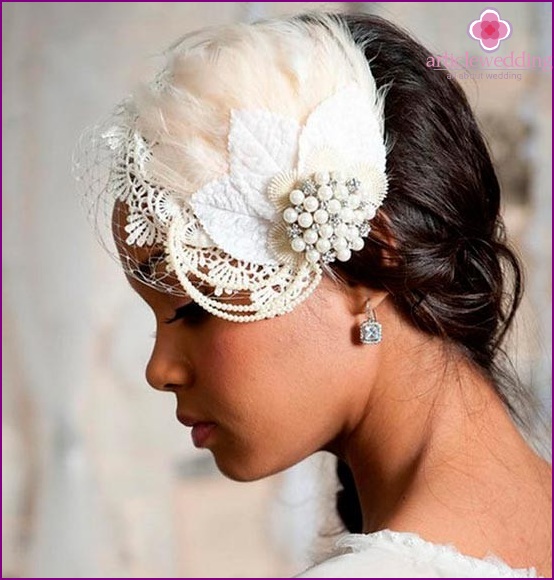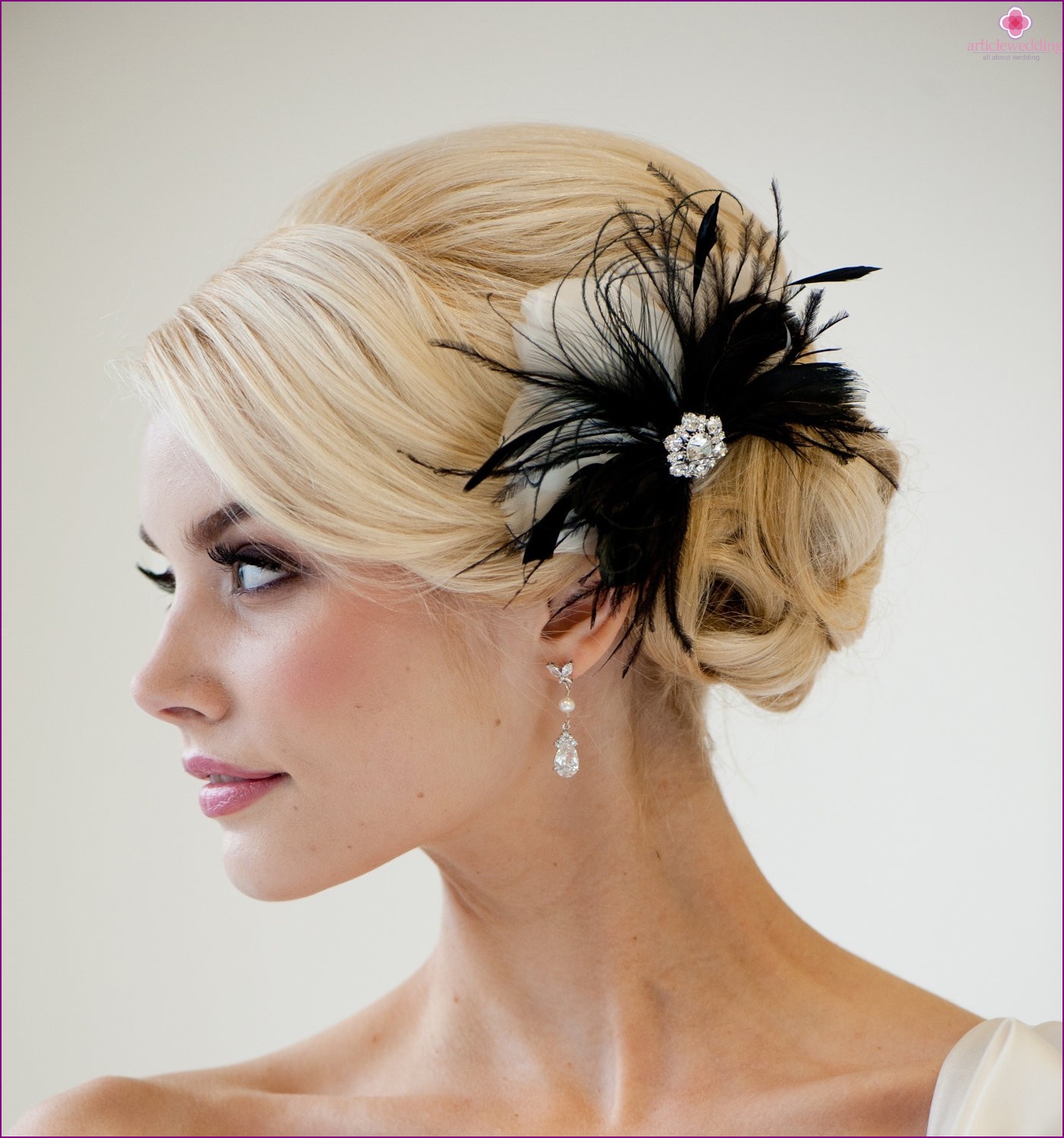 Wreath as a wedding decoration for hairstyles
It is not strange, but wreaths, as a wedding accessory for hairstyles, are gaining special popularity in recent years. Such an accessory will decorate a young lady and is suitable for a wedding in the spring-summer season. The wreath can be used alone or in combination with a veil. Wedding wreaths for hair are created, both from natural and artificial flowers. The wreaths from the buds of roses, chrysanthemums, lilies look most advantageous. You can add wreaths with any accessories: beads, ribbons, feathers.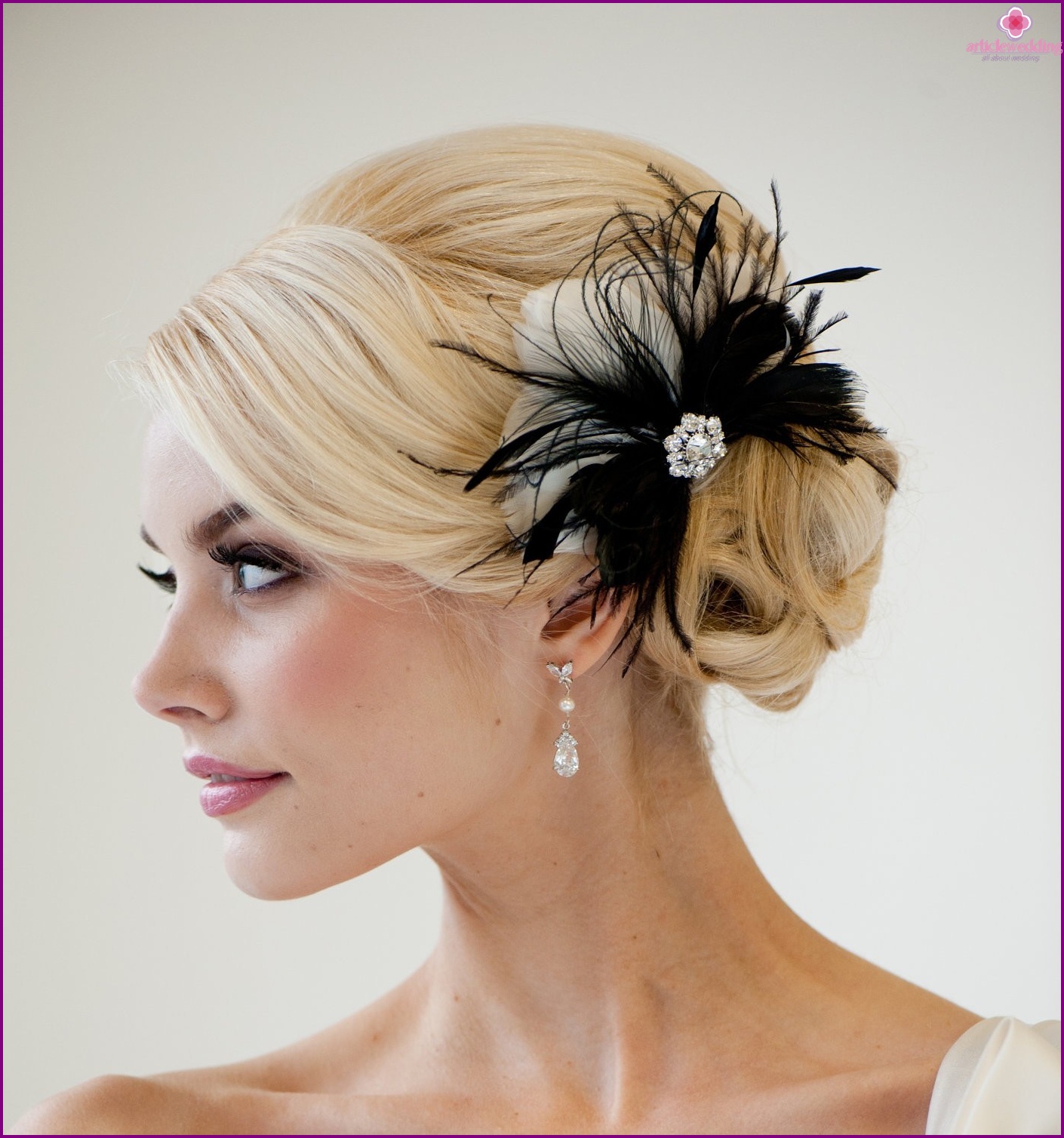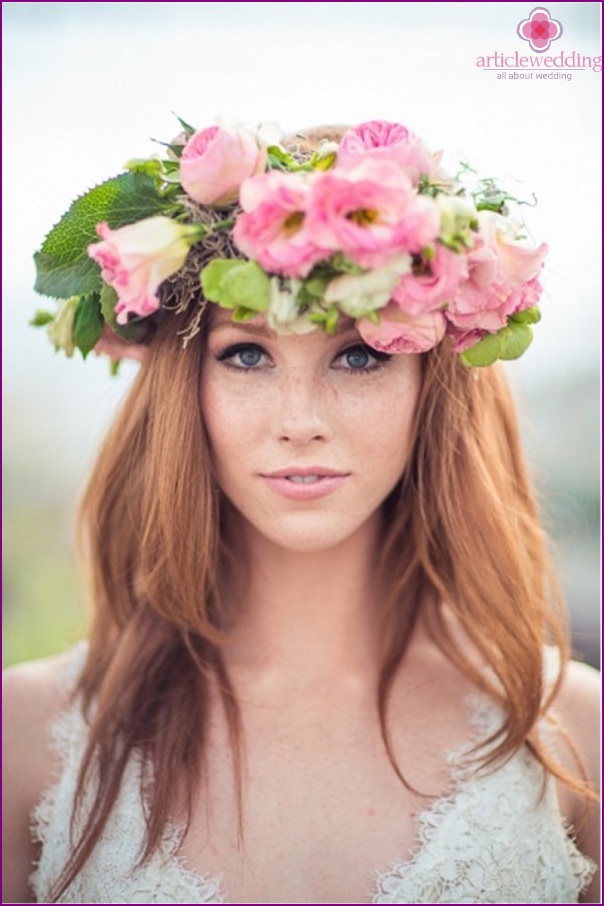 To add the finishing touch to the wedding look, one of the presented accessories will help. Indeed, accessories, according to www.articlewedding.com, are those important details that make the bride unique, individual and perfect.!