Contents
---
---
Wedding is an important ceremony for the bride and groom and their guests. Friends, relatives, acquaintances are worried about the same question: what to give for the wedding? If the sacrament and painting in the registry office takes place on the same day, then there are no problems, because in this case any wedding present is appropriate. But difficulties begin if the couple is married a month after the official marriage. In most cases, the newlyweds invite their closest people to once again share with them the happiness of joining a family union already under the vaults of the church.
Do they give wedding gifts in the church?
There is an opinion that it is impossible to give gifts for an Orthodox wedding. There are practically no explanations for this, because clergymen do not state bans. The opinion of the newlyweds themselves should be taken into account: if they insist that it is not worth making presentations at this ceremony, then respect their desire. In another case, you will have to wonder what to present to the spouse for the wedding? After all, there are things that look completely inappropriate as a presentation at such a spiritual festival.
There are times when a young couple is married only because it is fashionable and relevant. In this case, you should not puzzle over what to present for the holiday. Choose dishes, household appliances, dinner sets, interior textiles, envelopes with money, because a young family always needs the most ordinary things, especially if they just started living separately from their parents.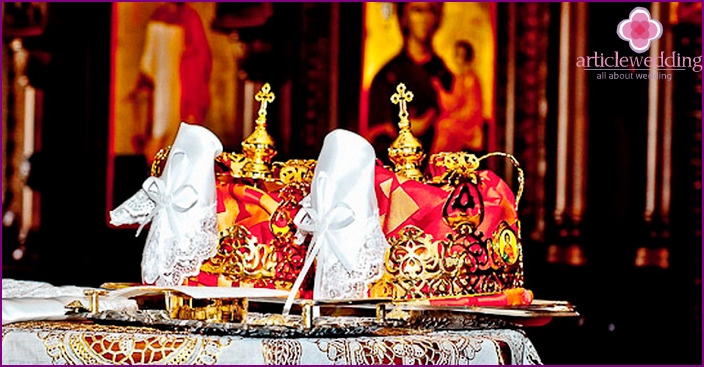 What to give for a wedding if a couple takes a church sacrament seriously? Spouses can be young or already mature, but they believe that only in heaven can they make a real union of two loving hearts, so they need the blessing of feelings from above. In this case, the present should symbolize the spiritual connection between the man and the woman. And it is not at all necessary to acquire an expensive thing if the couple herself is financially secure: the wedding gift should embody spiritual unity, express the sincerity of your intentions, and wish all the best.
What is customary to give to a wedding for young?
Whatever was chosen as a gift for the wedding ceremony, it is necessary to supplement the box or package with warm wishes, a beautiful bouquet of flowers. On this day, it is very important to express your sincerity, kindness. Remember that you were not invited to just a wedding, you were chosen to share happiness, initiation into the great mystery of love. In this regard, congratulations should emphasize an understanding of this important point for a couple.
Gift options from parents and relatives
It is customary to give icons of Orthodox saints on the occasion of the church marriage ceremony. The wedding couple - the images of the Holy Virgin Mary and Jesus Christ - are very popular. Parents should present such a gift that will become a talisman of a young family, protect it from misfortunes, adversities. Some families have a tradition of transferring such icons from one generation to another. If a young couple has not yet received such a present, then it will be quite appropriate to present it.
The next suitable wedding gift for son and daughter is the images of Fevronia and Peter. They are considered among the Orthodox patrons of all lovers, personify an inextricable connection on a spiritual level between spouses. At the same time, do not forget to wish the young family spiritual purity, fidelity, mutual respect, deep love.
If the spouses who make a vow under the church vaults are deeply religious, then relatives can cooperate and give a tour of the holy places as a gift. Near abroad, Israel, a trip to the famous monasteries and temples of Russia - there are many options. This gift is sure to be appreciated by young people, which will allow them to relax and receive spiritual food..
The next wedding gift that can be presented to a sister, brother, and children is the Gospel or the Bible in a beautiful binding. In addition, you can choose other spiritual literature. The most suitable option if the publication is a gift.

Wedding Gifts from Witnesses
An excellent choice as a gift will be things that symbolize comfort, hearth. Coffee and tea sets, a set of holiday plates, inscribed cups with inscriptions will be a magnificent decoration in any home.
Items made of cupronickel and silver are ideally suited as wedding gifts. Chains for crosses, candlesticks, collection coins with the faces of saints, glasses - choose at your discretion.
A pair of silver cups engraved with the date of the wedding and the names of the spouses is a great gift. He will always remind the couple of such an important event for them, the donor who made such a unique surprise.
A beautiful album as a wedding gift is also suitable. It will serve as a repository of family history. Replenished with recordings, new photographs, such a present will turn into a family, family relic.
A beautiful lamp for the family iconostasis will support the symbolism of the celebration. Such a present will not allow the newlyweds to forget about such a significant event.
A pair of elegant thin glasses, a bottle of good Cahors is not forbidden to choose as a wedding gift. Glasses, if possible, can choose crystal.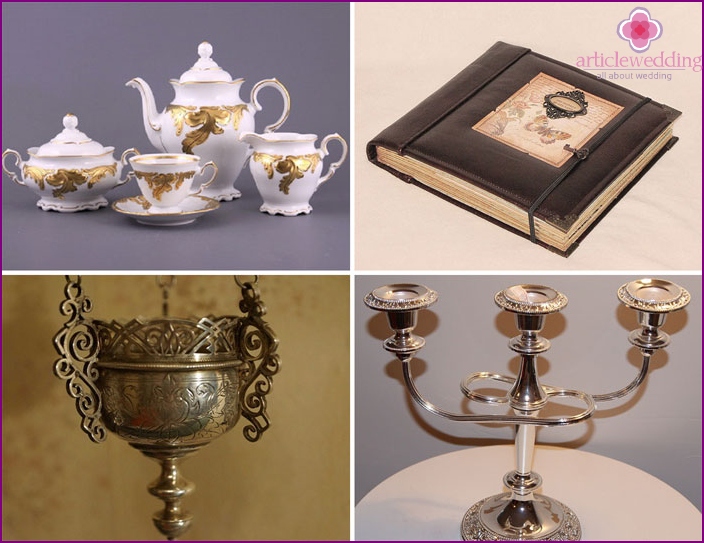 What can friends give to newlyweds??
A standard gift that is always appropriate is money. He especially helps out when you cannot think of what to present to a couple for a wedding. For cash, they can buy what they need.
Some banks have coins «Wedding» in a gift box. They are made of silver, and look very beautiful and original.
Flowers from a friend will be appropriate as a gift if we are talking about an unusual bouquet. Spouses will remember a large basket of flowers or a composition made up of rare specimens.
Shelf for icons will certainly need a young couple. Just ask the newlyweds in advance if they have such.
A large selection of wedding gifts is provided by an antique shop. For example, choose beautiful figurines, which will especially please connoisseurs of antiquity..
Wedding portrait - an original, memorable gift. Order a drawing from the artist, but do not forget to familiarize yourself with his previous works.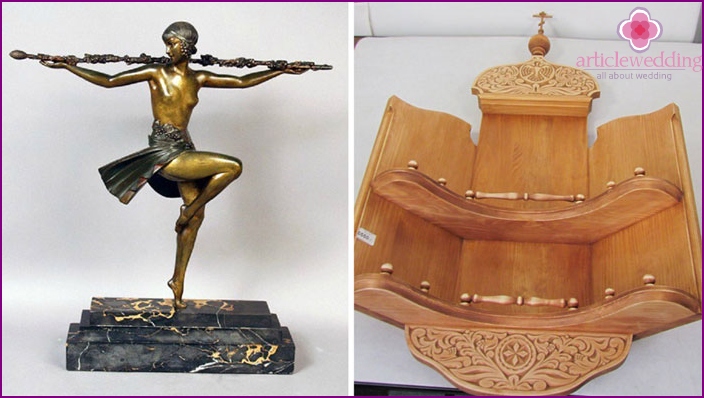 What to present to the wedding of an elderly couple?
When choosing a wedding gift for an elderly couple, proceed from the fact that it should reflect the wishes of the spouses a happy life, spiritual well-being, harmony and peace. At the same time, do not forget about its beautiful design, then the present will be remembered for a long time. Consider the following rules:
a wedding present should not be formal;
exclude careless gift wrapping;
a wedding gift is intended for the couple as a whole, and not separately for the spouse;
the present should reflect the occasion;
Choose a memorable, unusual gift for a wedding, not an expensive one;
accompany the presentation with a congratulatory speech.
Kids Gift Ideas
First of all, children can present an icon that is designed to protect the marriage. For a non-standard gift, choose the silver face of the saints, which will then be transmitted to posterity.
Present a large gift copy of the Bible. It may have gold letters on the cover, or gold stamping of pages.
Get gold chains for mom and dad. It is better not to buy crosses, as spouses may have them.
If you want to make a special, one-of-a-kind gift - purchase or make yourself an embroidered icon, a rushnyk with a biblical theme. It can still be a panel or a tablecloth.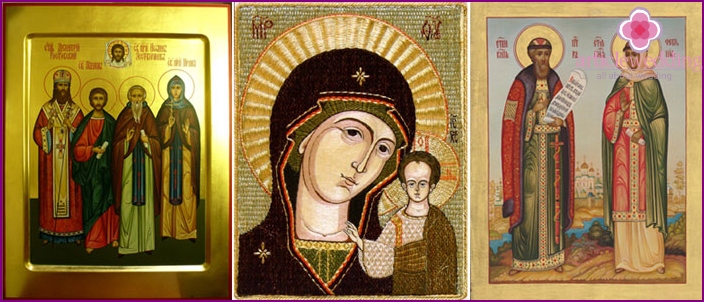 Gift from husband
Choose jewelry for your spouse. It can be a cross, a bible-themed pendant, a bracelet with the faces of saints.
A wonderful gift idea is an expensive, beautiful bedding set. It can be made of white silk.
In continuation of the theme of the celebration, you can present your wife with a personalized icon. It should be beautiful, exclusive, therefore a wonderful idea is to make an icon to order.
Give your spouse a tour package. She will certainly be happy with such a surprise, because sometimes you need to relax from the family routine.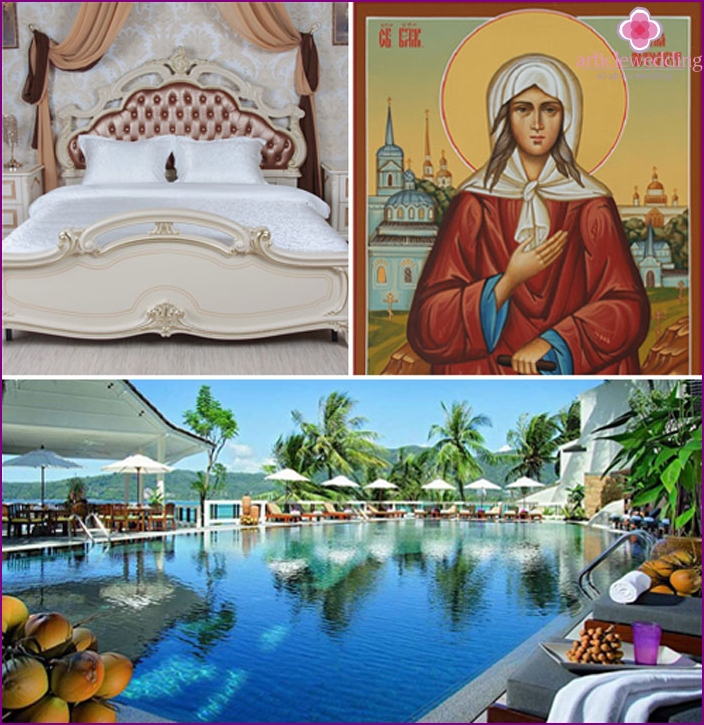 What to give to the wife?
Give your husband collectible coins, or coins depicting the faces of saints. Who knows, maybe with this his new hobby will begin..
Beads, bracelets depicting saints are a good presentation option. It can also be incense, triptychs for a car.
Choose a gold or silver jewelry that represents the greatness of God. Presenting the spouse with a cross with the face of a saint, you will create protection against negative influence.
Books by a beloved author are a good present for a husband. It's only worth choosing collection, gift editions.