Orthodox wedding ceremony - a mysterious and solemn ceremony. At this moment, the souls of lovers are united before God. The ceremony is held in the church, so wedding dresses should look appropriate. We recommend that you familiarize yourself with all the photos!
How to choose a wedding dress
Future brides are advised to give preference to modest wedding dresses. There are several rules that you must follow when choosing an image.
In the temple, the head must be covered with a veil, stole or elegant lace scarf.
Richly decorated with beads, rhinestones, stones, the dress will look inappropriate. But delicate lace and beautiful embroidery emphasize the femininity and beauty of the bride.
An outfit with sleeves is best. If you do not like such dresses, and two options are too expensive - take care of purchasing a bolero, jacket or cape. Remember that open shoulders or backs are not suitable for the church..
The fabric should be light shades, but there are no restrictions on the material.
Skirt above the knee and a deep neckline - a bad tone during the sacrament.
A dress with a train is suitable for a Catholic wedding, but not for an Orthodox one. If you like these models, you should buy the one where it comes unfastened.
In choosing makeup, the bride should focus on naturalness - no bright blush, lipsticks and dark shadows. The most simple and neat hairstyle is ideal for the ceremony.
Styles photo
The style of the wedding dress can be almost anything - with the exception of a short skirt and a deep neckline.
A-line is suitable for girls of short stature and owners of a pear-shaped figure.

A voluminous skirt with a tightening corset will emphasize the dignity of a thin waist and hide its absence in full girls.

If you are lucky enough to have a figure «hourglass», think about style options «mermaid» or about a dress that fits to your hips. This is how it looks like a photo:

For full brides and pregnant girls, a Greek-style model is perfect. Example photo below:
The preferred color for a wedding dress is white, symbolizing the innocence and purity of the bride. However, some girls go down the aisle after several years of marriage or in position. Then you need to choose other light shades - ivory, pale pink or cream.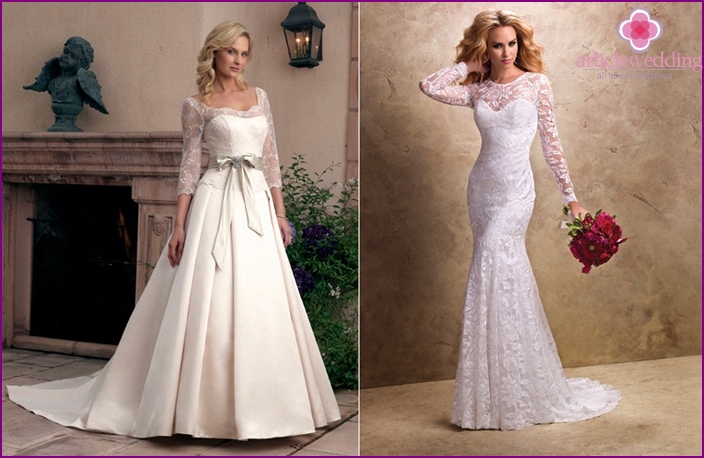 Hem
The hem should not be too voluminous, lush. Avoid its excessive decoration with beads, rhinestones.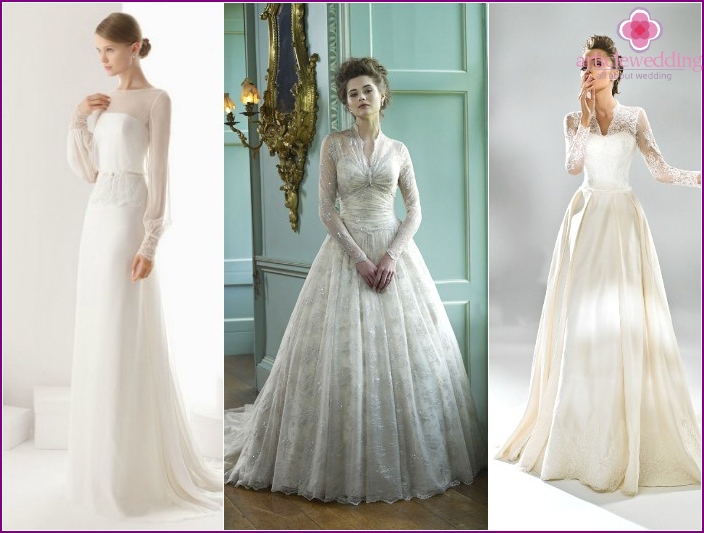 Closed dresses
Despite the fact that such models can hide some of the advantages of appearance - beautiful shoulders, arms, chest, they are ideal for the temple. The original design will allow girls to look great even in a closed outfit. See photo: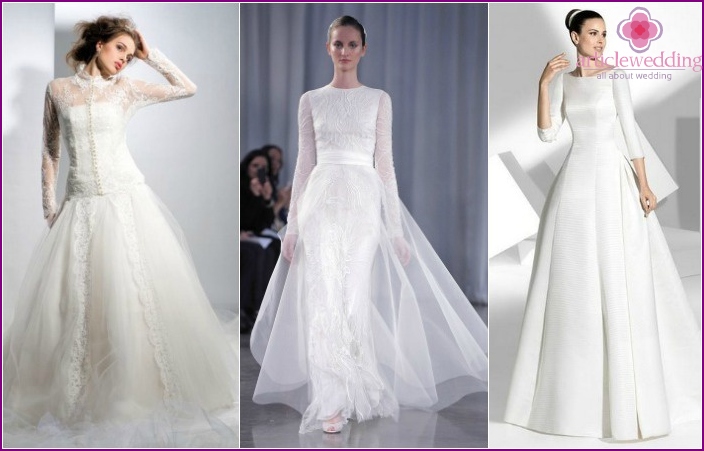 Short dresses
If you don't like a long skirt to the floor, choose a shortened version - with a length below the knee.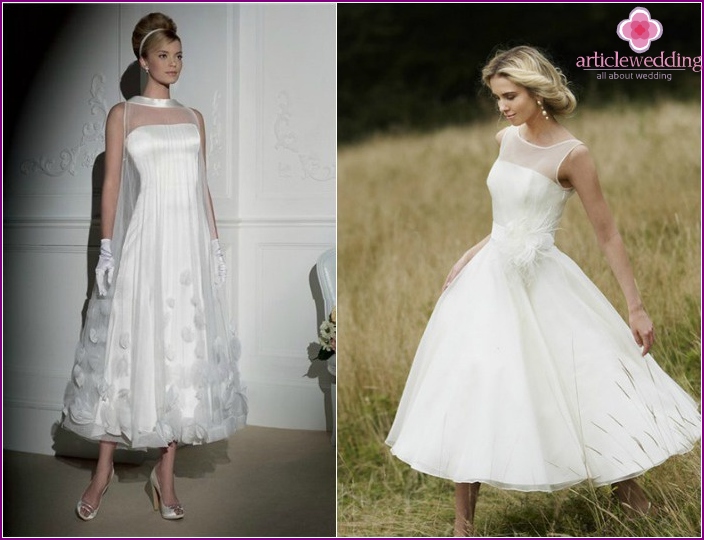 Modest dresses
A neat outfit with a modest design is one of the best solutions for the ceremony.
Lace dresses
Lovers of chic jewelry should not be upset - let the radiant elements are not welcomed by the church and the priest, but delicate, graceful lace will certainly decorate the bride.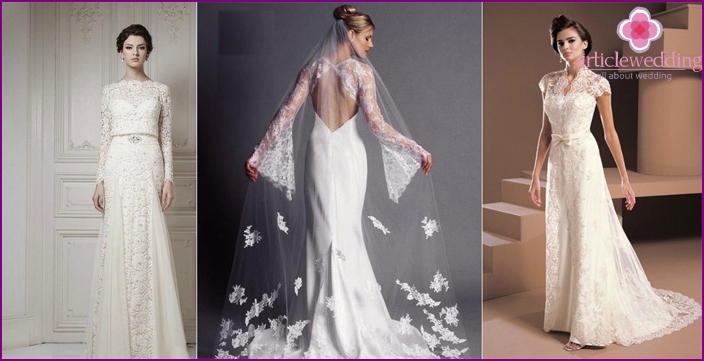 With sleeves
It is important to cover your arms and shoulders during the ceremony. In order not to buy additional accessories, you can turn to elegant models with sleeves. If you buy a model with a short sleeve - you will need more gloves.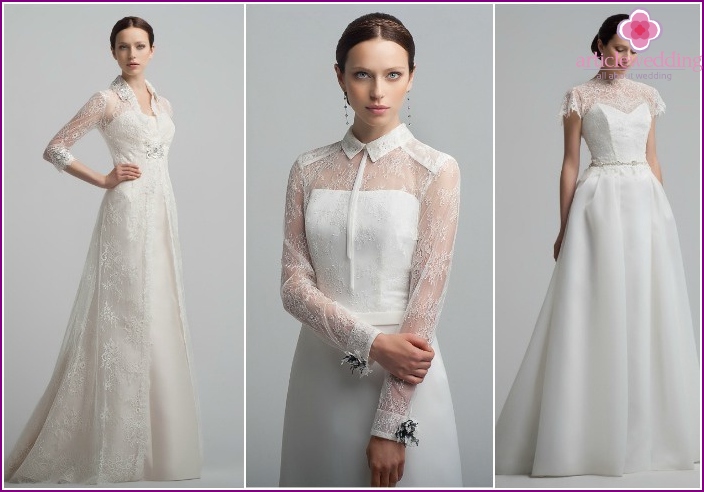 For full
Full girls will look good in Greek dresses and dresses with a large skirt.

Accessories
A few accessories needed for the ceremony:
An irreplaceable thing for girls who have their hands open - gloves.

Wraps, jackets and boleros.

Decorated with modest decoration.
Headdress
A long veil is suitable for the ceremony, which covers not only the head, but also the bride's shoulders. If you do not want to use this hair accessory, replace it with a light scarf, a lace scarf. A bad option in this case is a hat. The main attributes of the sacrament are the crowns, which according to tradition are held above their heads, can catch it..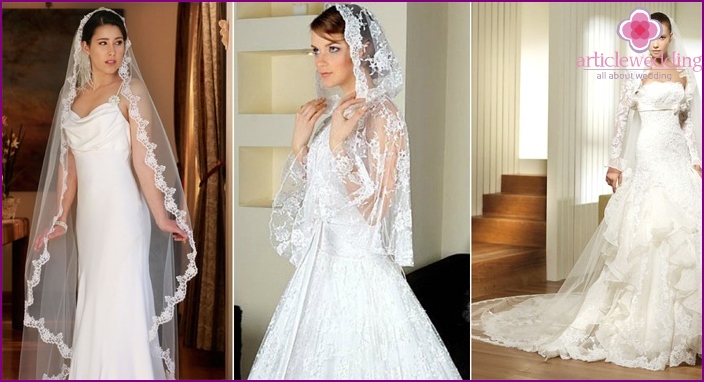 Footwear
It is better to choose shoes for the celebration in low heels - the ceremony lasts a long time. It is preferable to choose closed, modest and without extra trim shoe styles.

For every believing girl, the wedding rite is an important event in life, and on this day she wants to look perfect. The outfit for the sacrament is designed to reveal its modesty, purity and innocence, so you need to choose it without missing a single detail.
Do you want to get married in a church? Share in the comments what option you liked and what you would put on your ceremony.