Contents
---
---
Many people wonder «Leather wedding how many years together?» In fact, it is celebrated three years after marriage. In the vastness of Europe, the custom to celebrate a significant date appeared many years ago, but in Russia they began celebrating three years since entering into official marriage relatively recently. Leather is an elastic but durable material, therefore the three-year anniversary of married life is called «leather wedding». Three years is a significant period. How to celebrate this date?
Leather wedding: how to celebrate an anniversary?
Celebrating the anniversary of living together is a kind of rite that helps strengthen spouses' relationships, forget all old grievances, troubles, and also causes a desire to overcome further obstacles together. An interesting leather wedding has many traditions, according to which three years of family life are celebrated. Let's consider how to celebrate the anniversary.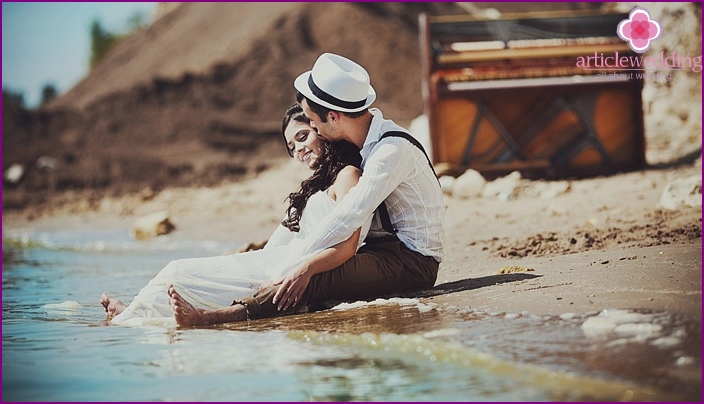 Choosing a venue for the celebration
The leather wedding script needs to be thought out to the smallest detail. The celebration is held outdoors, because there the couple can get a boost of energy, and also just relax. As a rule, a traditional leather wedding is accompanied by a feast, cooking barbecue, songs, reading poetry. Further, guests, as well as a couple, enjoy traditional folk dances, which are performed independently. It is worth noting that a wedding anniversary of 3 years is celebrated in nature, if the courtyard has a warm season. But in cool seasons, the event is held indoors. Depending on the status of the couple, this can be done in a restaurant or at home. The place where the leather fun wedding will be held should be decorated with decorative ornaments, beautiful wedding pictures, figures of two doves and so on..
What to wear for spouses
A traditional leather wedding provides special celebration clothing. So, spouses must wear leather clothes, whether it be a jacket or trousers. To make the image seem solid, it is advisable to supplement the clothes with a shirt (man) or a blouse (woman). A genuine leather belt will be an excellent accessory. Traditionally, the hostess tied her head with a red scarf. According to ancient belief, he protects the mistress from evil spirits, and also brings prosperity, wealth.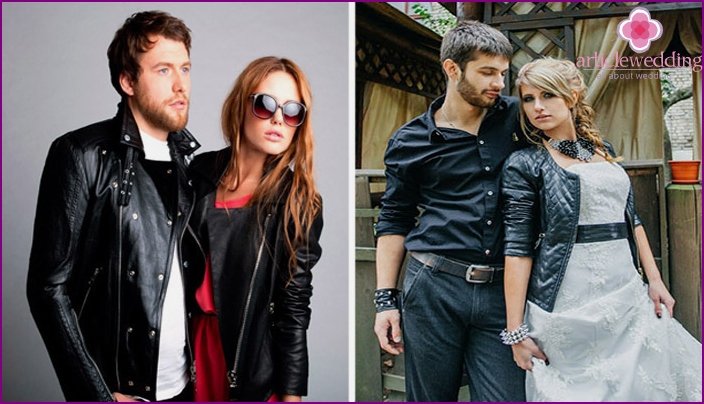 Who to invite
A wedding anniversary of 3 years is celebrated in the circle of the closest people: relatives, friends of a couple, wedding witnesses. Spouse's child / children must also be present at the event. In this case, the leather original wedding will be held without negative emotions, unpleasant situations. Do not forget to arrange a joint photo shoot or video. Then, reviewing photos or videos from a leather wedding, you will remember all the joyful moments of the evening.
What should be on the table
A traditional leather wedding is modest, simple, because three years from the date of marriage is not a significant date. But on the table should be present traditional dishes that symbolize the wealth of the family. So, rye bread is considered an integral element of the festive table at a leather wedding. Rye is a symbol of abundance, wealth. The owner and hostess are the first to break off a piece of bread, and then eat it. Bread is allowed to serve as a loaf.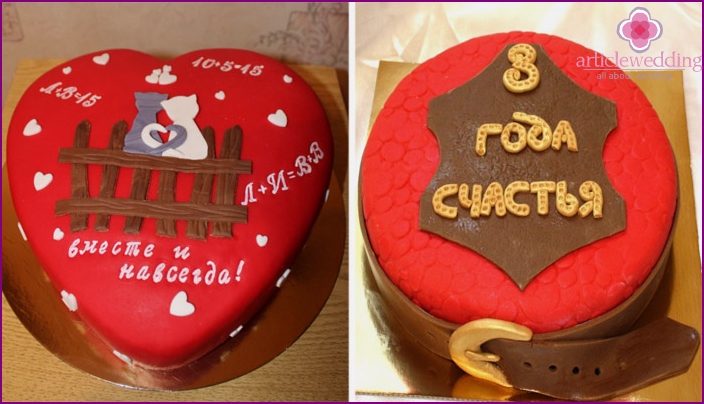 The second obligatory dish at such an event is a holiday cake. For three years from the day of the wedding, it is customary to bake cakes of the original form, and its design in one way or another should be connected with the skin. So, cakes depicting a leather sofa are extremely popular. Also, pastries should be decorated with leather straps or boots that are made from sweet cream. The cake symbolizes the love of the couple, the strength of the union, so you should try hard to create it.
Leather Wedding Gifts
Three years of marriage are no joke! Therefore, gifts to spouses should be serious. Consider the options for presents to spouses who celebrate a leather wedding: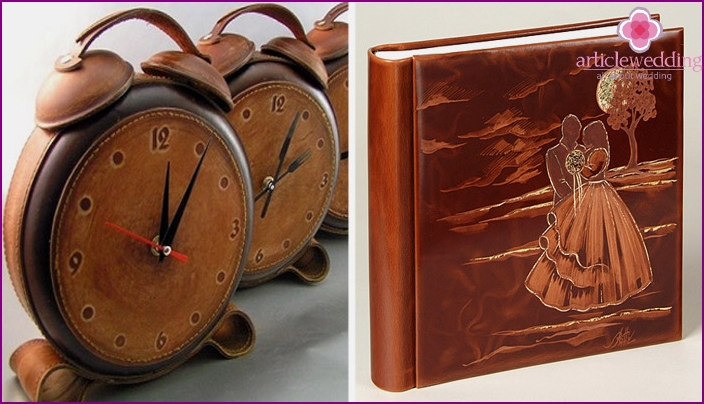 Figurines in the form of animals will bring prosperity, prosperity to the house. It is advisable to give cattle figures. Some close friends, relatives independently make and bake figures from the test;
A variety of items for the hearth will also become appropriate for a leather wedding: tablecloths, rugs, pillows, bedding, dishes, tea sets;
A traditional leather wedding involves presenting spouses with leather goods. Belts, wallets, purses, handbags, notepads with leather binding are suitable. It is desirable that the color of the products be red, because it symbolizes the well-being and love of the couple.

If the spouses are connoisseurs of the beautiful, give them a picturesque picture, a collection of poems or prose by their beloved author, an album of a cult group;

An ordinary leather wedding is not complete without leather things. Therefore, leather pants, shoes, skirts, vests in style are suitable «ethnos»;
Postcards and SMS messages with warm wishes will cheer up the spouses and make them happy. After all, they have such wonderful friends!
To decide on a gift for a significant date for spouses, watch the following video, where you will find an exhaustive number of examples of presents for three years of marriage:
Ancient traditions and customs of a leather wedding
Many still do not know the name of the wedding 3 years of marriage. Meanwhile, three years spent together is a magical date. Even our ancestors realized this, and gave this anniversary such a name. After three years of living together, the likelihood that a marriage will crack will be minimized. A traditional leather wedding was celebrated without any frills, but still the celebrations were held. Consider interesting leather wedding traditions.
On the eve of celebration
Before the anniversary, our ancestors cleaned their homes, throwing out all unnecessary trash from it. In addition, things that are associated with negative memories were considered unnecessary. They were also disposed of so as not to return to the unpleasant moments of family life. Particular attention was paid to utensils: broken plates and cups were thrown away. Cracked household items are thought to provoke quarrels between husband and wife..
The whole house was put in order, every corner of the dwelling needed to be washed. On the eve of a leather wedding, after cleaning, the spouses arranged flowers and laid out special herbs throughout the house. This protected the house from the influence of evil spirits..
Everything necessary for the upcoming celebration was also prepared the day before: the husband and wife were preparing dishes, setting up chairs and tables, and convening guests. It is worth mentioning that among the invitees there must have been young people. It was believed that they give spouses energy and strength to resolve family issues in the future. So the leather traditional wedding was organized.
On the day of celebration
Spouses greeted guests with an exclamation «Welcome!», asked to taste bread and salt. Until all the invitees gathered, it was impossible to proceed to the meal. When loved ones / guests gathered, a solemn feast began.
The host and hostess began the holiday. They were the first to eat a slice of rye bread or loaf. Although in some cases any red fruit was eaten instead: apple, tomato, strawberry. Red color symbolizes wealth and love, so it appears in a leather wedding.

Then the couple beat the dishes with cracks, which were found at home the day before. It was believed that the roar, the noise that occurs when whipping household utensils - scares away evil spirits.
The couple and guests had fun with folk songs, dances.
An ordinary leather wedding ended when the host and hostess of the house made a solemn speech, and the guests showered them with rye grains. Now that you know how to celebrate three years from the date of marriage, celebrate the date with your family, strengthen your union!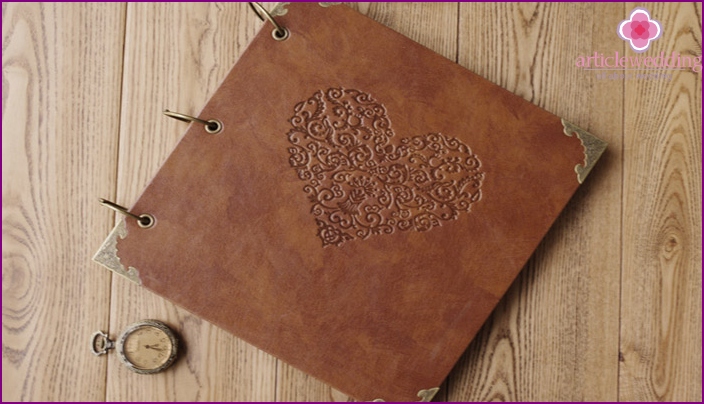 Have you already celebrated a leather wedding with your soulmate? Leave your experience in the comments to the article.!