Contents
---
---
In order for the wedding to go according to plan, you need to think over every little thing in advance, including all the necessary wedding accessories. One of the important points in organizing a wedding is seating guests. It is no secret that guests are best accommodated according to their interests: youth with youth, adults with adults. Guests need good company, because at the table they will not be able to communicate with the main heroes of the occasion - the bride and groom. That is why it is worthwhile to draw up a clear seating plan in advance, taking into account the family ties and interests of the guests.
Next, it is important to write out the names of all the guests, which are useful for creating seating cards. In our master class we will be more modern, and instead of cards we will use medallions that can also be used as bonbonnieres.
On the wedding portal www.articlewedding.com you can read about how to mold unusual and stylish medallions from artistic clay. Modeling is a very exciting experience. Moreover, modeling is very beneficial for health, because you have the opportunity to stretch the muscles of the hands, which improves blood circulation. You can also use special stamps with letters to create personalized medallions. Pass a rope or ribbon through the hole so that the medallion can be hung on a glass.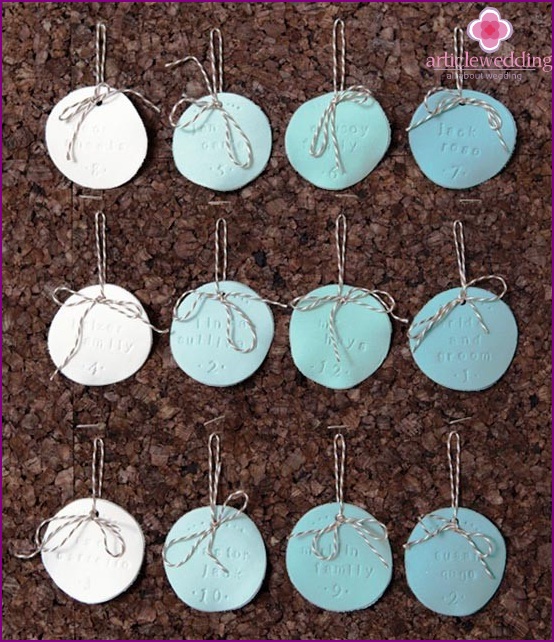 Materials and Tools
:
art clay;
rolling pin;
stamp with letters and numbers;
tape or rope;
wax paper.
Time
: 50-60 minutes.
detailed instructions
:
The advantage of art clay is that colors are very easy to mix, creating new shades. The easiest way is to mix a bright color with white to get the desired shade. If you are planning a wedding in pink, just mix red and white. In our master class, we will try to create a blue tint by mixing blue and white. Prepare the materials and start the exciting work.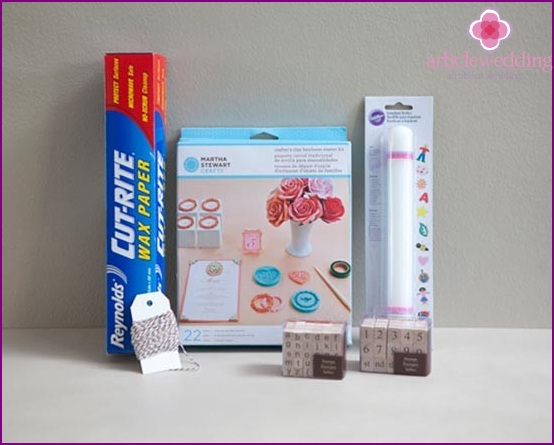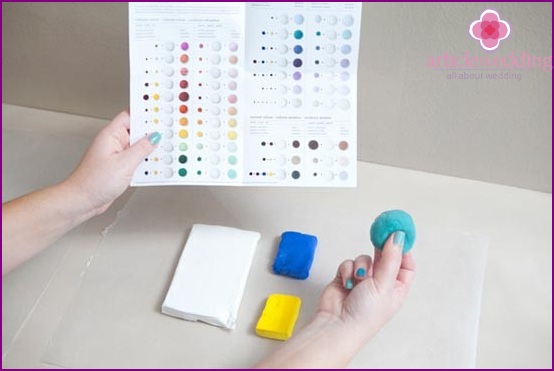 First, divide the white piece of clay into several equal rectangles. Form a ball from each rectangle. Do the same with blue clay, but make smaller balls. You can also create more shades - the color depends on the amount of blue that you mix with white.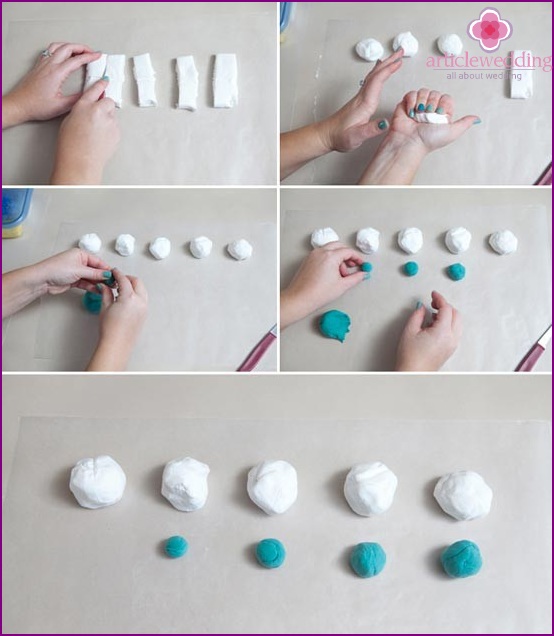 Now you need to add blue to the white bowl and mix the pieces of clay together. You should get balls of different colors. Clay will warm up in your hands, and it will be very easy for you to sculpt medallions from it.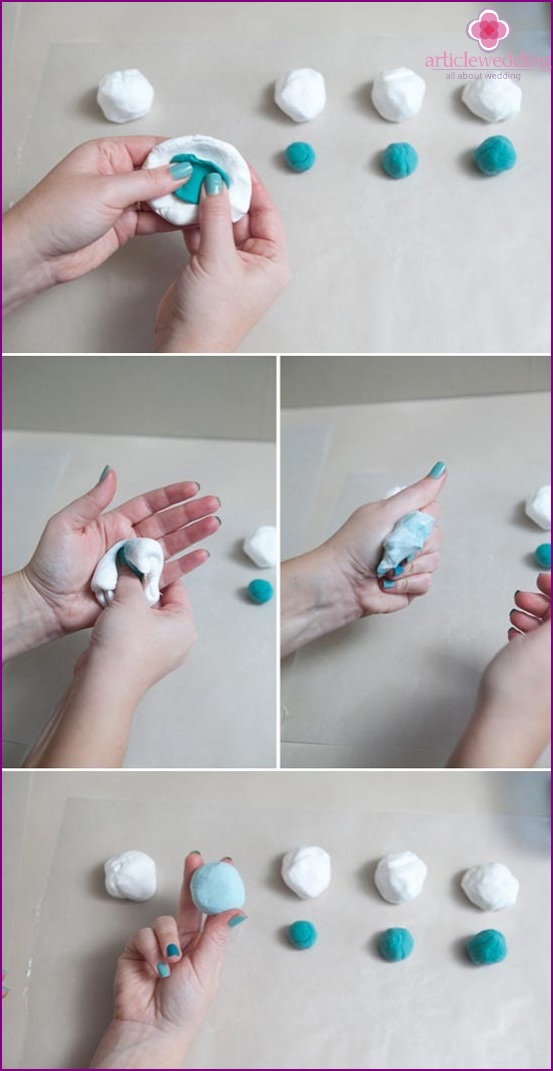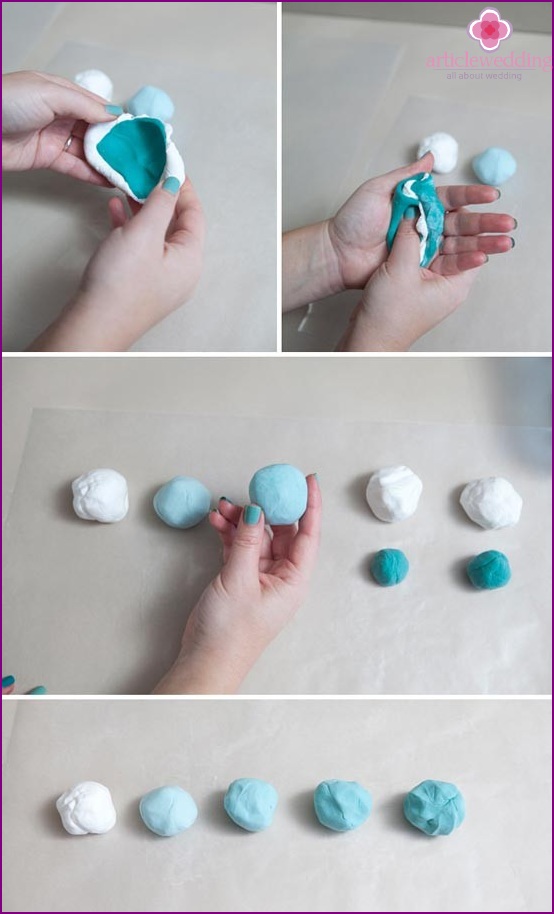 With the help of a rolling pin, you need to roll out small cakes, as if you were rolling out the dough. Use the can lid to cut out «test» neat medallions. Form the required number of medallions in different shades.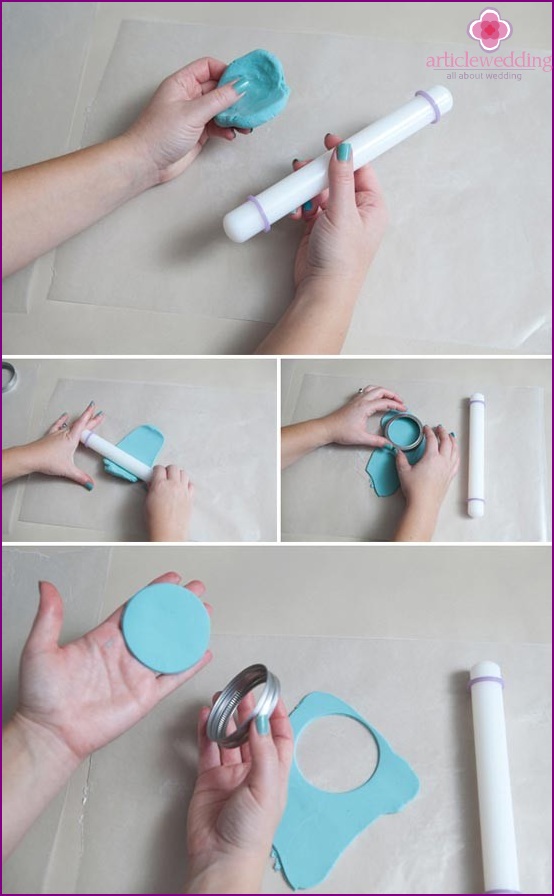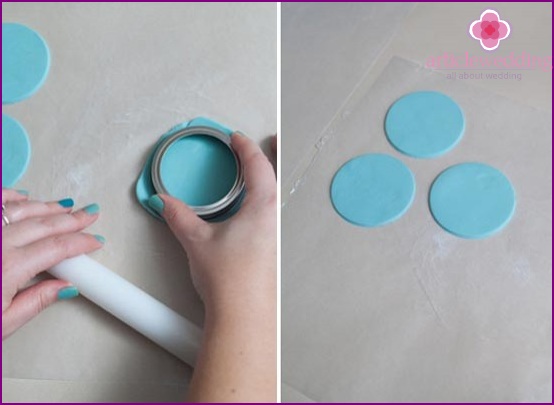 Using stamps with letters on each medallion, write the names or surnames of your guests. Just press the stamp on the clay medallion and the letter will be printed. At the top of the medallion, use a regular handle to cut a hole so that the medallion can be hung on a rope. Also at the bottom of the medallion you can display the table number.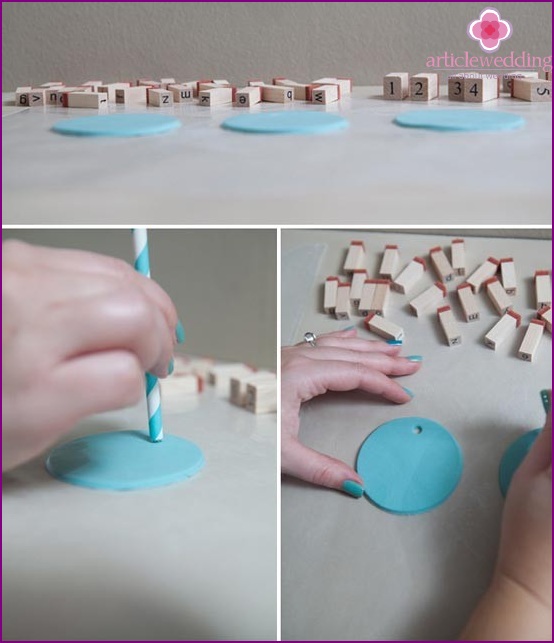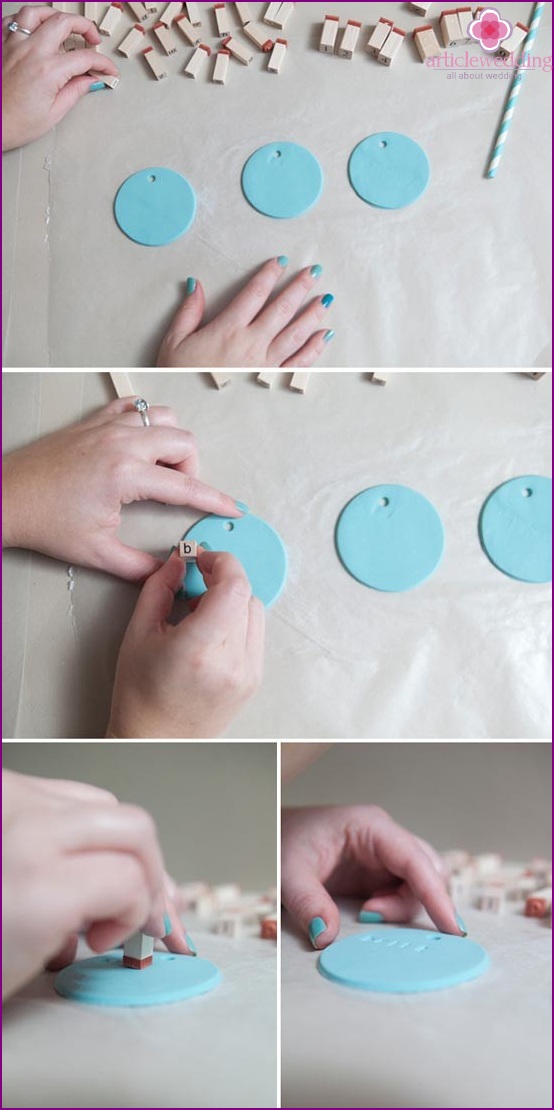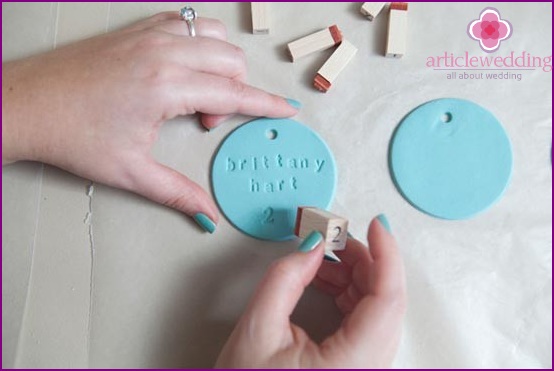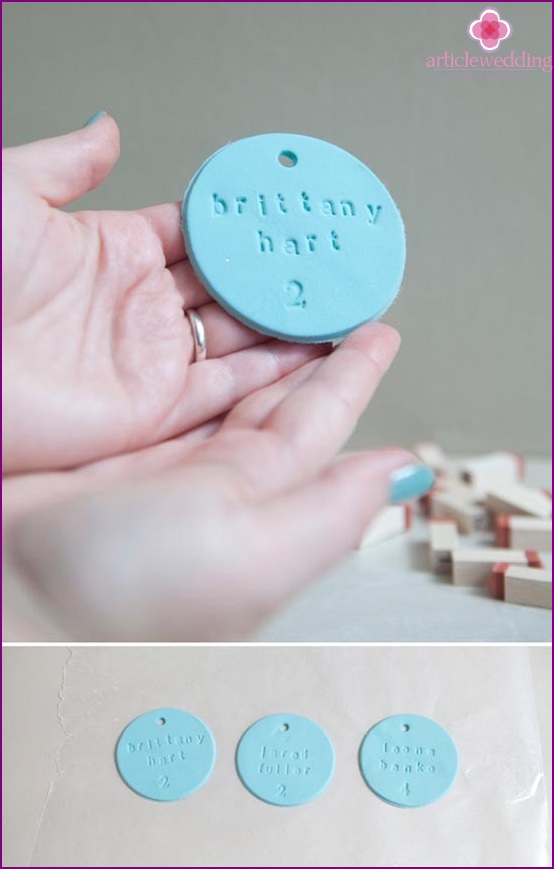 Using a regular toothpick, you can create a pattern on clay medallions. Also, do not forget to put a beautiful lace or rope through the hole to complete the accessory. Wonderful medallions for seating guests ready!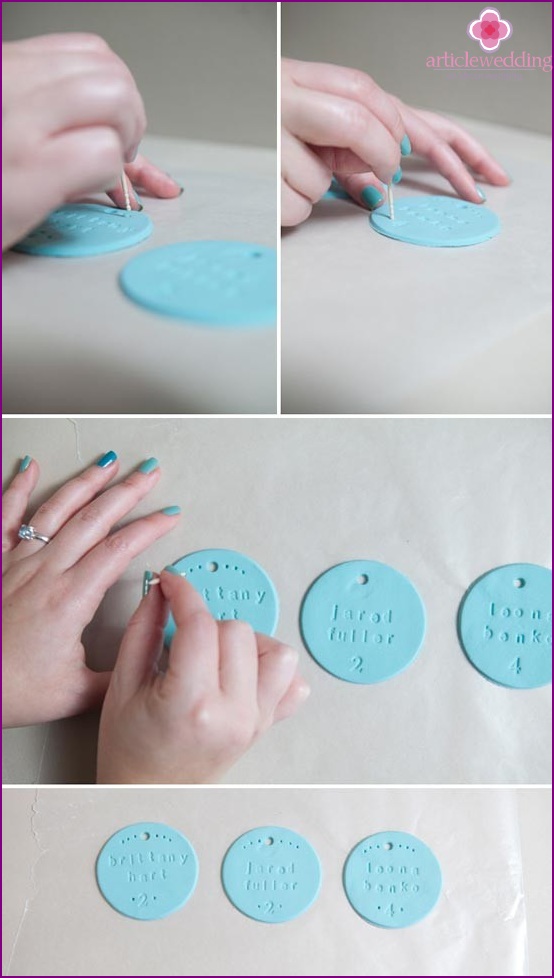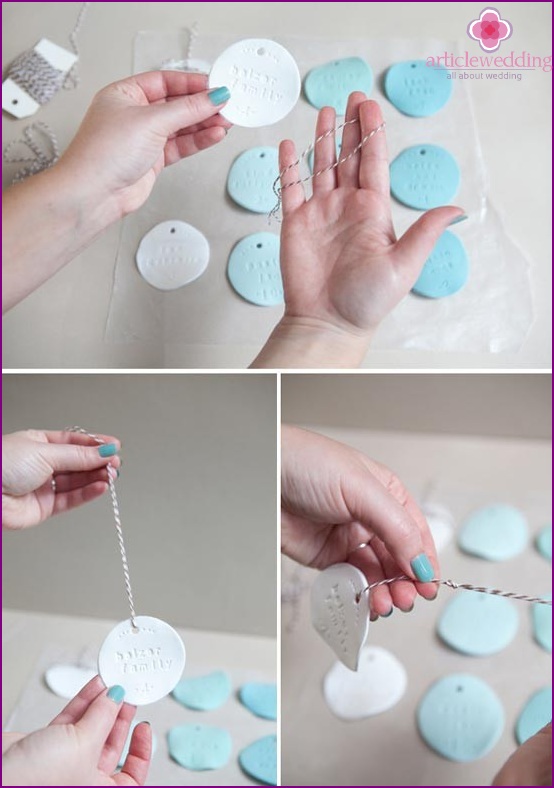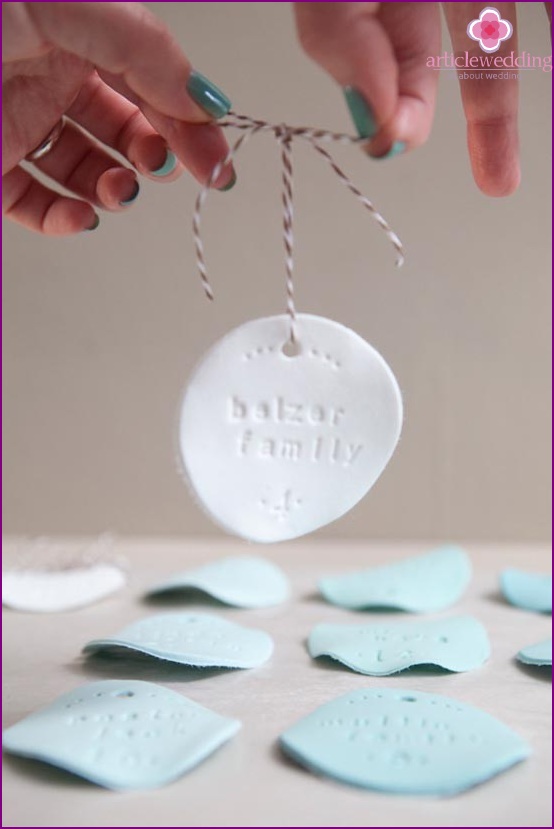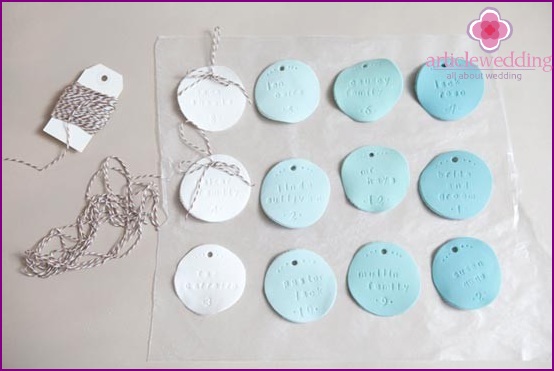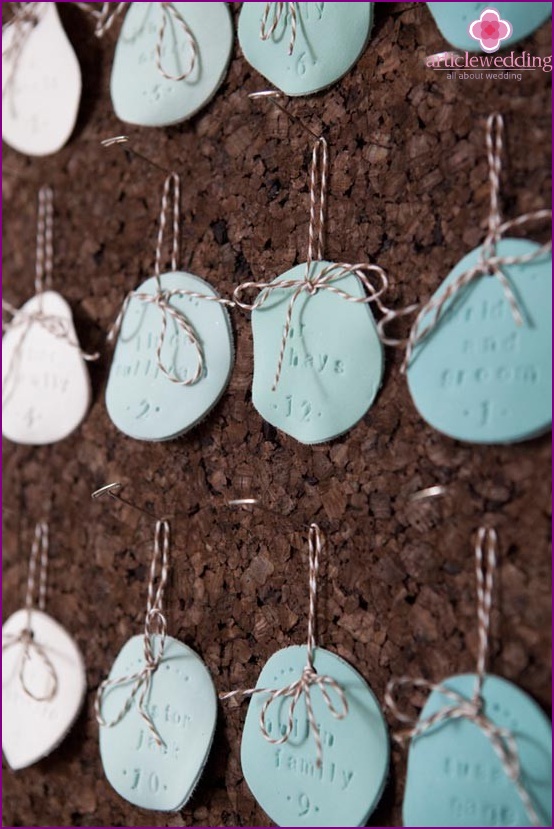 Application options
Cute creative medallions can be put on a plate for each guest or hung on a champagne glass. You can use different shades and colors to make accessories fit into your wedding style. You can safely give such medallions to guests as a keepsake of your unforgettable wedding..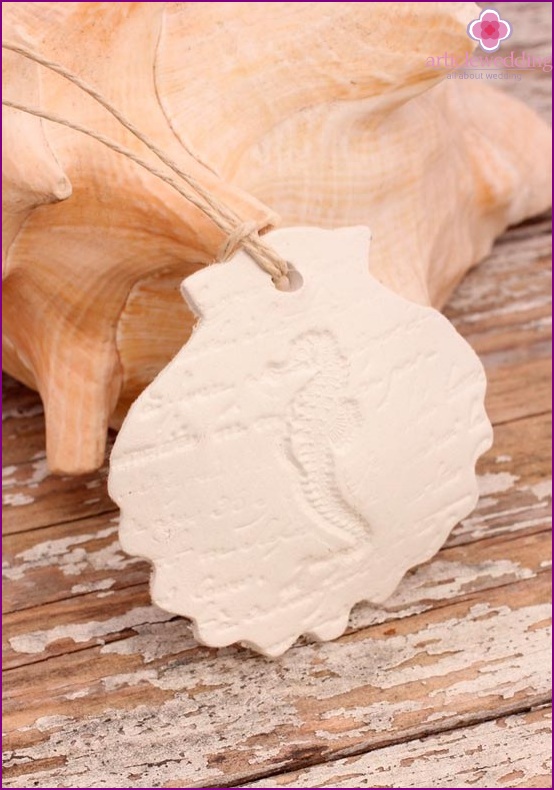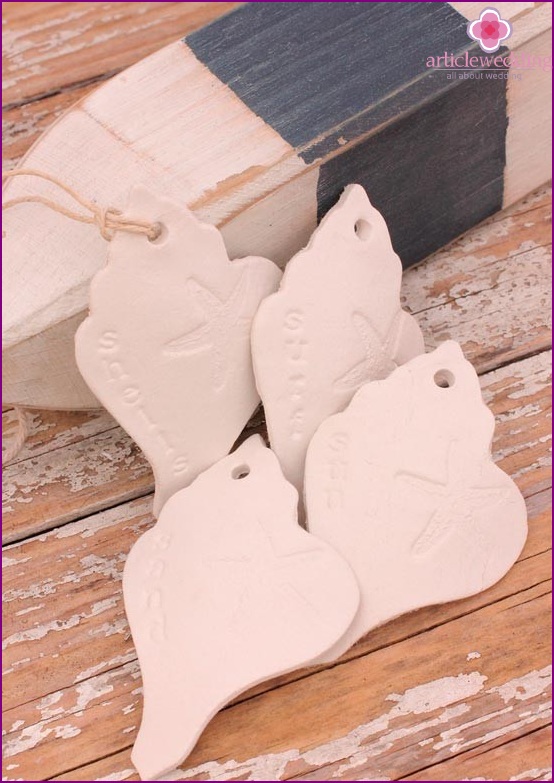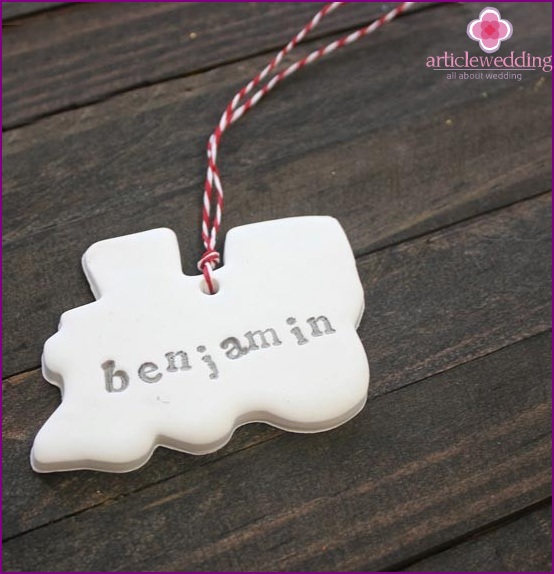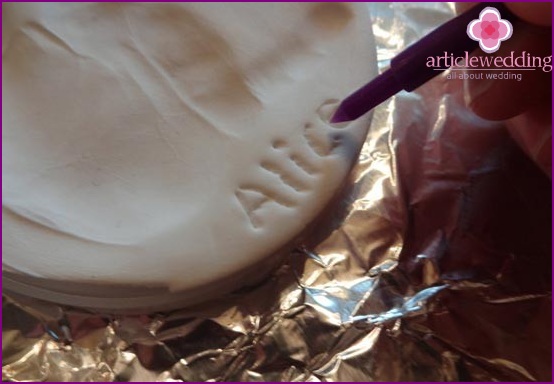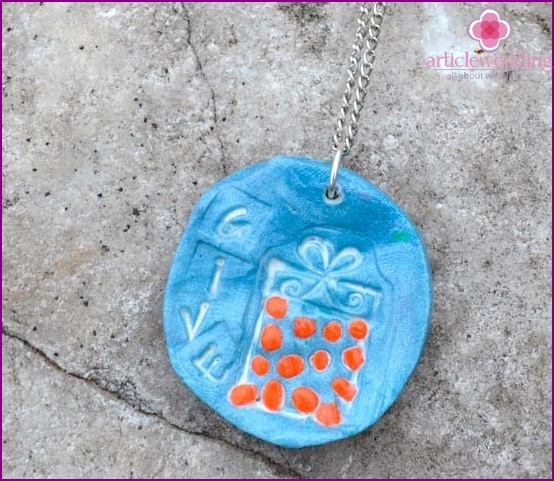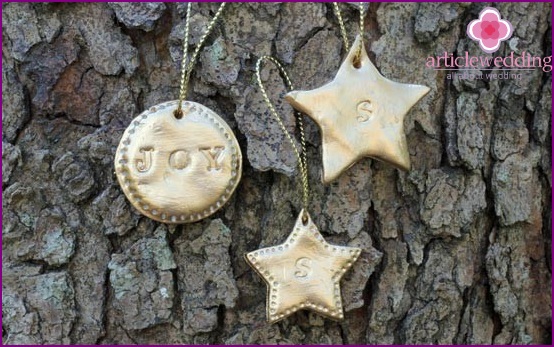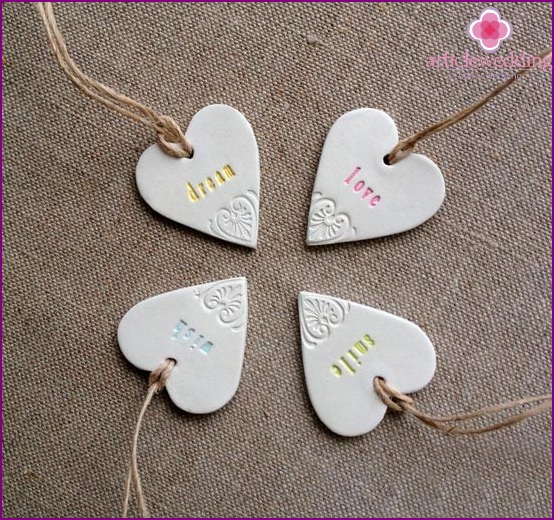 On the website www.articlewedding.com your ideas can become a reality, because dozens of workshops for decorating a wedding are collected here!