Contents
---
---
Business contacts, multinational festivals, social networks make our world surprisingly open, when everyone can easily make a friend in any part of the planet. Together we make a colorful cultural mosaic. Each nation can find fascinating wedding traditions. Some of them attract with symbolism, others with fun, and others with rationality. And if you try to combine them all at your wedding?
Greek engagement
During the engagement ceremony, Greek brides receive gold wedding rings. However, before the wedding ceremony in the church, this ring is worn on the left hand, and after the wedding - on the right. A distinctive feature - special inscriptions on the ring. This minor detail, even after many years, will remind the lovers that they mean each other and add romance to the relationship.
Moroccan wedding preparations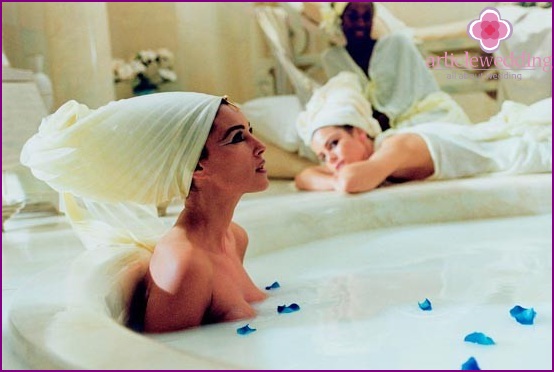 Many brides work on their shape and health before the wedding, as the wedding portal www.articlewedding.com notes. They visit beauty salons, dentists' offices or spa treatments. Such brides will like the Moroccan tradition. In this sultry country, brides take milk baths as a sign of purification and a way of relaxation. After that, the girls go for a massage with aromatic oils.
Asian and American dress
If you cannot decide on a dress or do not want to constrain yourself in movements during a banquet, dressing in a magnificent dress and veil, follow the example of Asian brides. For example, in China, Japan, or Korea, the bride must change her clothes several times a day before the wedding. This is part of the tradition, which only emphasizes the beauty of the bride and allows the girl to appear in different images, admiring the guests. In America, in recent years, it has become popular to wear an official dress for a wedding ceremony and dress in an evening dress (in style that suits the first or just suits the taste of the bride) for a banquet.
Scottish «Mendelssohn»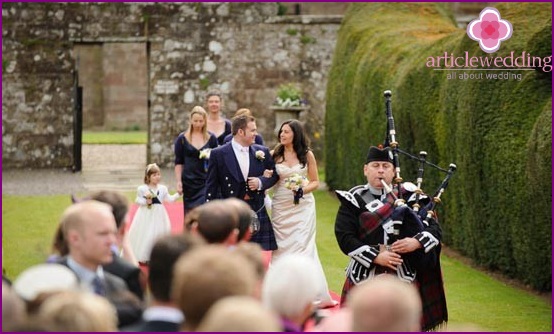 If you are tired of standard music in the registry office, suggest your options. Better yet, arrange on-site registration and order music to your liking. For example, in Scotland, since ancient times, couples have been married to the sound of bagpipes.
Moravian candles
In Moravia, there is a surprisingly romantic tradition. In the evening, after dark, the bride and groom light a candle. Then, from her flame, the candles of the parents are lit, and so the candles of all the guests are lit in a circle. This is a very beautiful custom that emphasizes the unity of families and friends..
French glasses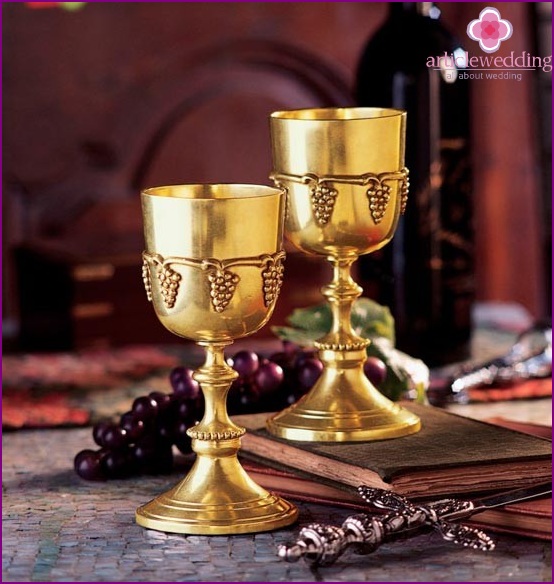 In many countries, glasses of newlyweds are decorated in a special way. For example, in China, red ribbons are tied to glasses, believing that this will bring good luck. At Slavic weddings, glasses were sometimes tied, so that the newlyweds from the first minutes of their life together learned to do everything together. But the most impressive tradition, according to experts at www.articlewedding.com, lives in France, the country of winemaking. At weddings, the newlyweds drink from special glasses, which are used only during the celebration. At the same time, they drink from real cups that their ancestors used in ancient times and passed them from generation to generation.
Celtic fun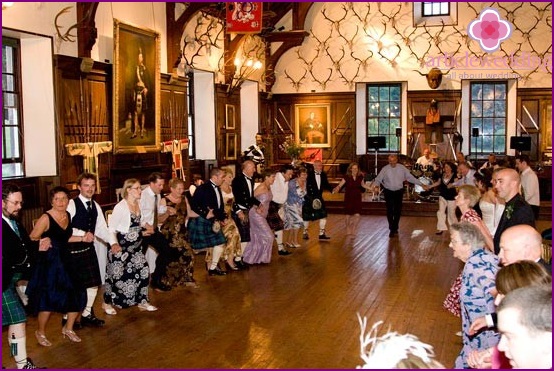 Perhaps no one knows how to have fun like the Irish or the Scots. Wedding entertainment on the emerald island is thought out and combined with centuries-old wedding customs. Here and lively lively music, and folk dances, and romantic songs, and gallant ballads, and good jokes. There is no place for banality or vulgarity, which is sometimes offered «toasts» at our weddings. Here everyone sincerely rejoices at the event and celebrates it with a soul.
Leave italian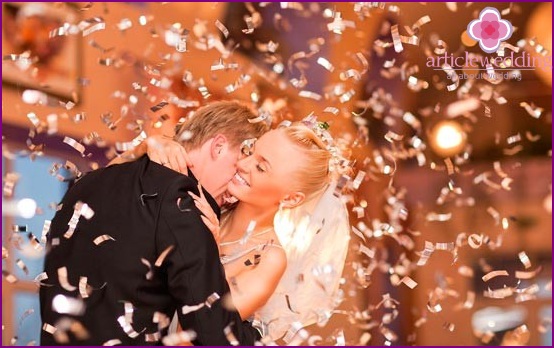 In Italy, the first wedding day does not end at a banquet. After a good evening, guests arrange almost a parade in honor of the newlyweds and noisily escort them to the hotel on their wedding night or send them on their honeymoon.
In any corner of the world there are interesting wedding customs. But if you choose the best and combine at your holiday, you can get a very original and beautiful wedding.