Contents
---
---
If you are tired of the typical styles of holding a bachelorette party, and you dream of something special, refer to non-standard scenarios that will create an original atmosphere of the holiday. A Hawaiian bachelorette party is a great way to have some fun. Funny southern dances, delicious cocktails, exotic fruits, appropriate costumes will help create a festive atmosphere of the Hawaiian islands.
Location
The best place to hold a Hawaiian party is considered to be the seashore. The sound of waves, soft sand underfoot, red sunset, loud Hawaiian music, creating a suitable mood. A public beach is unlikely to be a good place for a party, it is best to rent a private territory - there you will definitely not meet uninvited guests.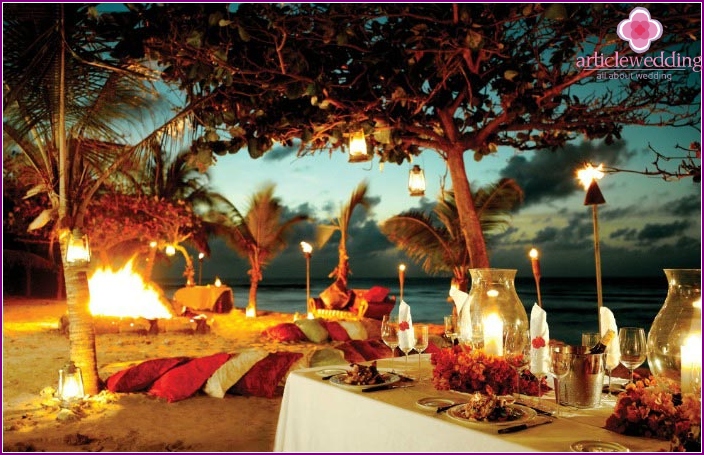 If you do not live near the seashore, have a Hawaiian party on a river or lake. In extreme cases, the bachelorette party will be able to organize even on a covered territory - the main thing is to approach the design correctly and monitor the presence of the pool. As for jewelry, there are clear instructions, because the party involves matching the Hawaiian style:
Palm trees. Real, plastic, built of balloons - they should become a mandatory part of the decor.
Huge banana leaves. Decorate them with a table, walls, make Hawaiian skirts.
Fruits. Decorate the table, drinks and the whole area with them. It's good if they are all edible, but models.
Flowers Bright floral garlands, woven wreaths, hair clips, compositions decorating the buffet, perfectly match a real Hawaiian party.
Themed things that create an additional atmosphere will also be a great detail - surfboards, bright umbrellas, coconut glasses for cocktails, candles, even parrots.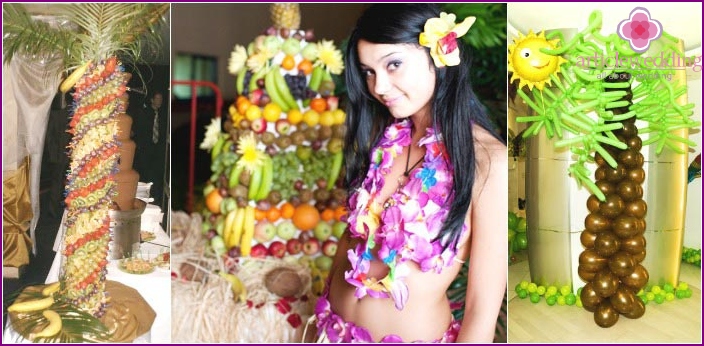 Dress code
It will be possible for those who wear suitable clothes to look harmoniously at such a thematic party. Organic shoes - slippers, sandals. If the party takes place on the beach, the perfect dress code is bare feet. As for clothes, there are some interesting styles that are easy to implement:
Surfer. Stylish swimsuit or swimming trunks, surfboard, comfortable shorts.
Hawaiian resident. Colorful shirt, loose shorts or skirt.
Hula dancer. Special skirt, swimsuit.
Leia is a typical Hawaiian accessory needed at this party. She is a large floral «beads». Even if guests were not able to follow the dress code, wearing a lei over their regular clothes will make them look organic. Going to relax in the Hawaiian style, do not forget about the hat that will protect you from the bright sun, and suntan lotion (as in the photo).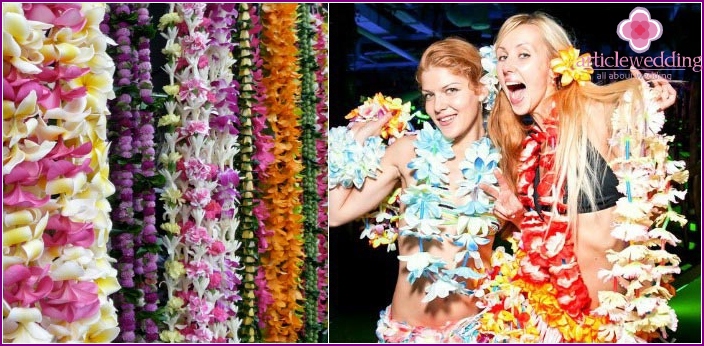 Contests for a bachelorette party
Fun competitions in the Hawaiian style will provide those present a sunny mood. Prepare a few games for the script, make a plan for the party and go ahead - to please the bride with a wonderful vacation. Make sure that all winners receive prizes. Give comforting small gifts to participants so that no one goes offended.
Angry monkey
This competition is held by one of the bridesmaids. The girl sits down or stands opposite the team, crossing her arms, and depicts an angry monkey look. The task of the participants is to make this laugh «angry monkey». Let them show imagination, bringing the matter to the end, and the leading girl will have to try hard not to laugh not only from their behavior, but also from their image.
Liana
This game is perfect for a Hawaiian-style beach party. Girls are divided into two teams. The host counts the time and turns on fast music. The essence of the competition: to remove those parts of clothing that are not ashamed to take off and the whole team to tie a rope from them - whose rope will be longer at the end of the music, that team wins. However, ladies who are pretty warmed up by alcohol sometimes cross the boundaries of what is permitted, which gives a piquant zest to the Hawaiian party.
Walk into the cave
The two presenters hold the tape just below human height. Participating teams are given a specific time. During this time, everyone will have to bend their legs, keeping their head and back straight, to go under this tape. The winner of the Hawaiian contest will be a team whose participants will hook the tape less times.
Another fun interpretation of the contest «Walk into the cave» Suitable for those involved in sports. Watch the contest video «rope» at a hawaiian party:
Dancing to Hawaiian music
Limbo - a cheerful, energizing dance, will delight those present. This contest-game, which is held at a Hawaiian-style bachelorette party, is held as follows: they put a stick on props below the smallest height of the participants. Keeping her legs bent, leaning back, those present have to go under it. All this is accompanied by fun Hawaiian party music..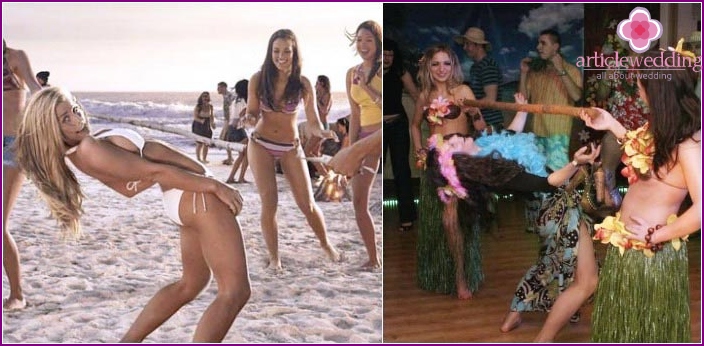 And how to dance the Hawaiian dance Hula anana, see in this video:
Hawaiian Temperament
Hawaiian bachelorette party is always energetic dancing and unrestrained fun. «Hawaiian Temperament» - an incendiary contest that allows guests to show their character. It consists of several parts:
Music begins to play. Participants dance freely. This stage is rarely accompanied by the elimination of participants, however «sluggish» dances go no further.
Dance movements are performed when participants are sitting on chairs..
Only hands are involved.
Only legs.
Torso head.
Facial expression dancing.
The one who showed the most powerful temperament wins.
Hawaiian auction
For alcoholic drinks from the bar, party guests pay not with money, but with their own things - clothes, watches, jewelry, shoes. When the bachelorette party comes to an end, the host arranges a Hawaiian auction using the guests' belongings. It often happens that those present buy each other's things, not their own.
Gifts or Prizes
At a bachelorette party in the style of a Hawaiian party, there must be prizes that are given to the winners. It can be: flowers, lei on the neck, a bottle of rum. Mini-gifts for guests will also remind you of a successful celebration of a bachelorette party - even inexpensive, they will be a good addition to the holiday.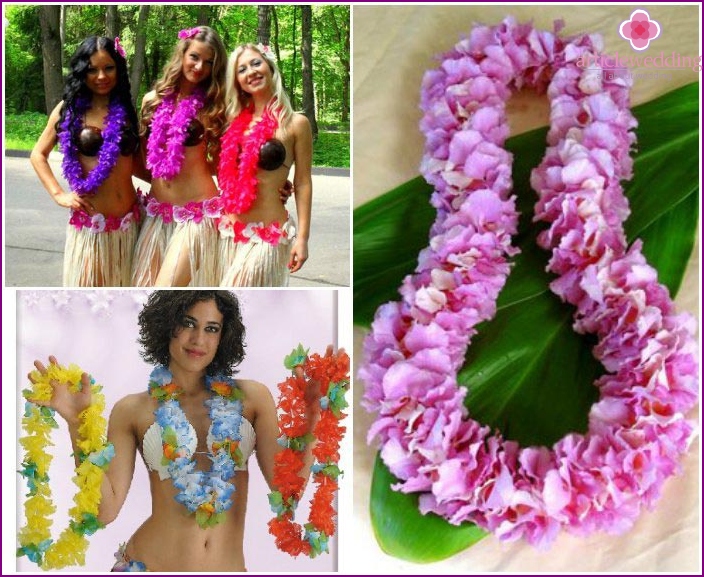 Bachelorette parties spent in a limousine, restaurant, club are an interesting option, but guests will remember nothing more than a theme party. Do not forget to arrange a festive photo shoot by inviting a professional photographer. You can give your bride an album with wishes and soon decorate it with new photos.
Do you like the idea of ​​a party in the style of a Hawaiian party and the venue? Leave comments, tell about your bachelorette party..