Contents
---
---
Love the sea, dream of a yacht, travel around the world? Then take the first step to the dream - arrange the wedding and the upcoming bachelorette party in marine style. This extraordinary event will be remembered for a long time by you and your girlfriends. The noise of the surf, warm sand, gentle wind, dreams of impending family happiness - romance! Do not think about the groom, who is currently having fun with the guys at the bachelor party, forget about your treasure for now, just relax and relax.
Choosing a venue for a bachelorette party
The idea to choose for a bachelorette party in an unusual marine style some special place - for example, a beautiful yacht - is justified by its originality. If you can rent a boat and organize everything, including costumes, this would be a good option. Having thought over the party program, having prepared drinks and treats for girls in advance, at the appointed time, you will only have fun!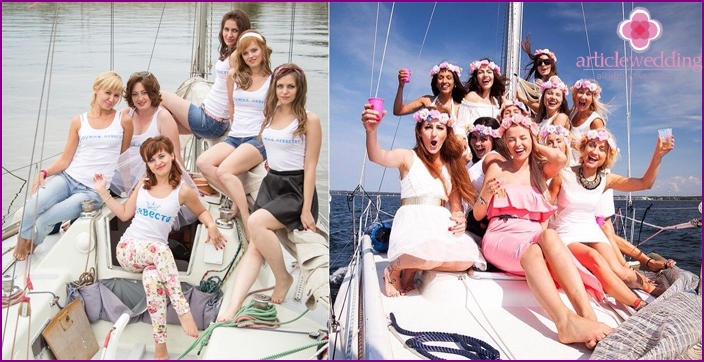 In summer, for a bachelorette party in a marine style, a summer cottage on the beach under dense trees or a secluded place near the pool is suitable for sunbathing, swimming, boating, swimming as much as you like. Well, in winter, a restaurant with a sea view, a hotel with a pool, or a themed banquet hall will be a good place to spend a bachelorette party in a romantic marine style..

Room design for a bachelorette party in a marine style (PHOTO)
The room for a thematic bachelorette party in a fabulous marine style needs to be decorated so that guests have no doubt: they got on the ship. Maritime paraphernalia is relevant here - anchors, flags, nets, twine, lifebuoys, ladders, ropes, steering wheels, even if all this will be a sham. See photo: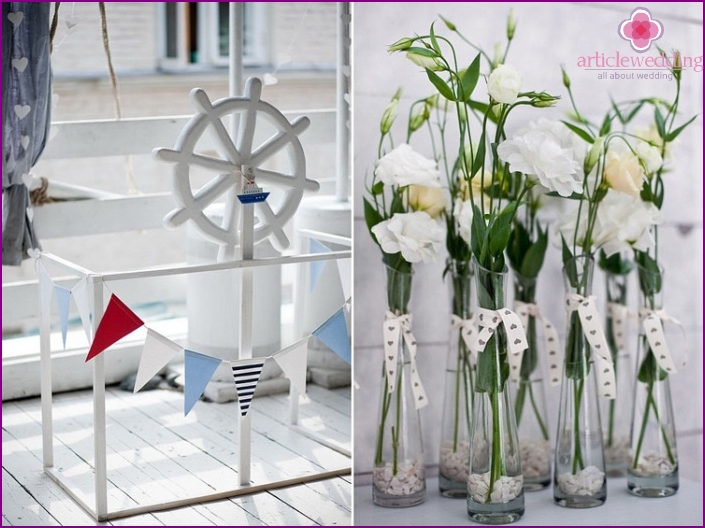 For a marine-style bachelorette party, hang light blue fabrics so that they resemble waves, attach paper or toy fish painted with bright colors to them, sheets of white paper - sails, white gulls. It will give romance to your party.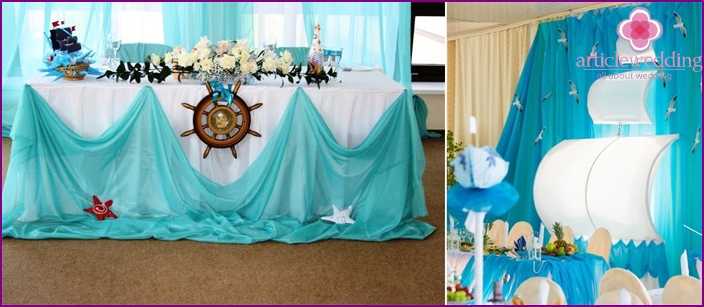 Tablecloths in the colors of the sea wave and sky-blue balloons with white amaze the guests and give the bachelorette party a unique look in a well-designed marine style. And complement the image of blue napkins, collected in bright beams, aroma candles with a sea smell.

Nautical-style table and treats
Making the table, focus on blue, blue, golden tones. All this applies equally to dishes and napkins. Appropriate table decor would be sea pebbles, shells, starfishes. Look at the photo - here you see several examples of designing a table for a bachelorette party in an original marine style.

Treats for girls in this nautical style are simple, but interesting - canapes, sandwiches, salads, savory cookies. A spectacular table is themed dishes. To learn how to do it with taste, see photo.

The menu should be full of fish and seafood dishes. Do not forget to provide guests with a variety of drinks that go well with the selected menu - juices, cocktails - alcoholic and non-alcoholic, mineral water.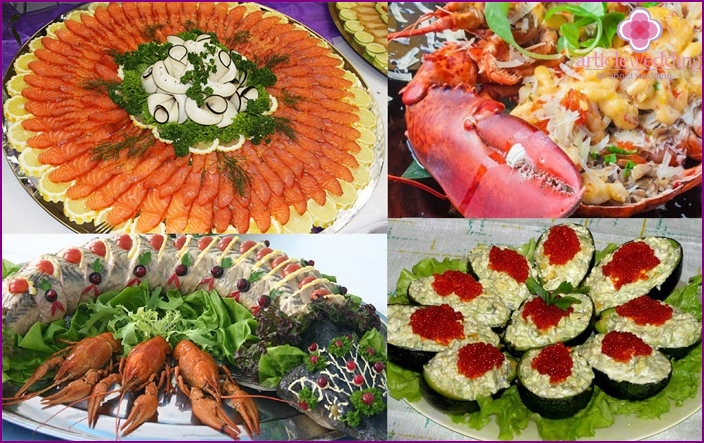 Dress code for bachelorette party
For a bachelorette party in the marine style of your choice, you need to choose the appropriate outfits that do not allow anyone to doubt that you are real sailors! Dress code for bridesmaids is blue, red, yellow, white colors of clothing. Captain's cap, shorts, vest, stylish striped clothing, as well as mermaids and pirate attributes are welcome. Look at the photo how it will look:

The outfits of all guests at a bachelorette party in a purely marine style do not have to be the same, because in this case the party will be uninteresting. The main thing is to maintain the overall style and color scheme. But if, for example, all the guests are able to dress up as merry pirates, your party will benefit from this.
Color palette - all shades of blue
In all the details of a bachelorette party in an elegant marine style, from the design of the room to the dresses of the girls, one color scheme prevails - the leading colors will be blue and white. Any shades of blue will do - turquoise, cyan, aquamarine, mint is also appropriate. The dress of the bride girl may be of a different color, but guests are required to adhere to the dress code, then the marine-style bachelorette party will be held at «Hooray»!
Host selection and contests for a bachelorette party in a marine style
The leading bachelorette party in an unusual marine style is chosen in advance. If you wish, you can find several friends - extremely sociable, funny and artistic. Here from their number it will turn out to choose the leader. She should be engaged in the preparation of a plan or scenario for the event, set the tone for the party, infect everyone with a cheerful mood, make girls active participants in competitions.
Greetings contest
Girls are divided into two teams, come up with their names, present a short comic greeting for rivals. Music and dance numbers are welcome here. Jokes, contagious laughter, charades and puzzles - these are the invariable components of greeting. The best greeting is determined by the host..
«SOS. all hands on deck!»
The leading marine-style bachelorette party screams loudly that a strong storm has unleashed, a shipwreck has occurred, our ship is sinking due to a hole, we urgently need to pump out water from the holds. The essence of the competition is simple:
Fill two tall glasses with champagne, put juice tubes there.
We select two girls who must either «pump out» champagne from your glass to another container, or drink it.
The winner is the girl who will cope with the task faster..
«Outfit for Jack»
Head of the famous Jack Sparrow from the movie «Pirates of the Caribbean» printed on a color printer and cut out. Attach it with a button to the sheet of a large Whatman paper, draw a bare body with a pen. The presenter says that he is ashamed to pace without clothes, he must be urgently dressed. Two girls participate from each team: the presenter blindfolds them, and they «put on» Jack using buttons underpants and a T-shirt. The competition is very funny, accompanied by a lot of jokes.
«Checked - there are mines»
They fill the big basin with water, put apples playing the role of mines there. The participants' task is to quickly catch mines from the water without the help of hands, that is, with their teeth. The winner is the one that pulls out more apples. To maintain morale, spectators accompany the contest with singing and applause..
Fortune telling
Do you like fried fish? Do you want to know your future? With such questions, the leading bachelorette party in a comic and bright marine style appeals to the contest participants. Each girl chooses a fried fish for herself, inside of which lies a piece of paper with a written comic prediction. Highly «tasty» and interesting competition. The biggest fish with the funniest prediction is served to the bride.
Gifts for girlfriends
At the end of a bachelorette party in a romantic nautical style, the bride can give her friends small gifts as a sign of gratitude for a delightfully spent bachelorette party, and from them accept the wishes of good, love, a happy married life. Sometimes this is formalized in written messages that the bride will reread a few more years after the wedding.
Gifts for a bachelorette party in a marine style can be necklaces or bracelets made of sea shells or corals, souvenirs - compasses, boats, brooches with figures of sea animals or birds (sea horse, whale, seagull). Examples of gifts, see the photo.

Watch the video where girls at the bachelorette party in a marine, almost pirate style have fun:
The morning has arrived, it is time to go home ... The most important event will soon happen - the marriage, the last preparations for the wedding. But the memories of a bachelorette party in an unusual marine style will be remembered forever and will remain on film, because you will take care to capture this event.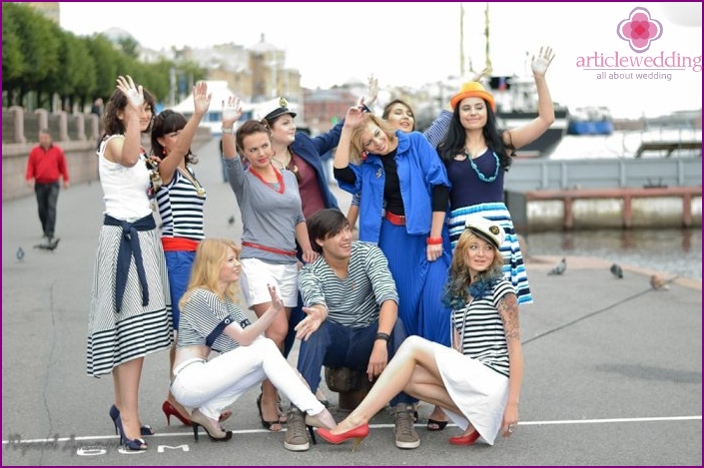 Have you been to a bachelorette party in an unusual marine style? Do not forget to share your impressions about the holiday in the comments.!