Contents
---
---
If you are not indifferent to the film «Breakfast at Tiffany's», and the image of her heroine is close to you, then without problems you can become even closer by organizing a bachelorette party of this style. The main character is a refined nature, with exquisite taste and a big lover of jewelry. If you are, then a tiffany-style bachelorette party in the image of Audrey Hepburn is what you need. Let's figure out how to organize it..
Venue - a cozy retro cafe
For a pre-wedding party «Breakfast at Tiffany's», the best place would be a small cozy retro-style cafe. The walls of the cafe, as a rule, are decorated with posters of stars, newspaper clippings, posters, as well as a variety of photographs. The cafe is furnished with antique wooden furniture. Subdued light will create the atmosphere that is needed for an evening in the style of Audrey Hepburn. The highlight of such cafes are players, of which a beautiful romantic melody sounds that can distract you from everything ordinary, give you a romantic mood. Such cafes are distinguished by convenience, comfort, because this place is an ideal option for a farewell party with a bachelor life. If you do not have the opportunity to visit a cafe or restaurant - do not worry, it is quite possible to create an appropriate atmosphere at home. This will require a little more time and effort to prepare, and decorating the room is not difficult.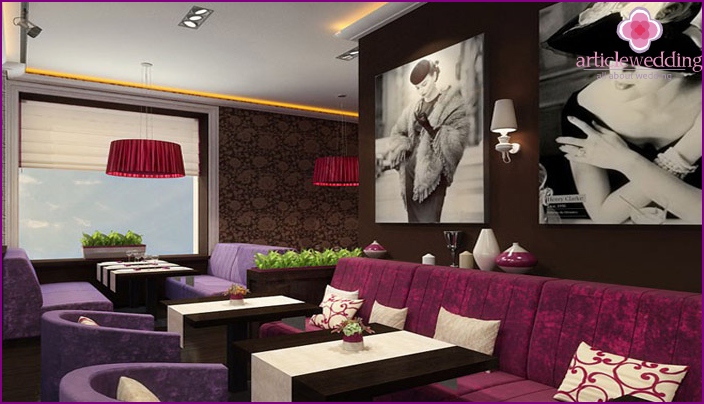 Evening color - blue
All elements, accessories, gifts, dishes, invitations should be decorated in one color scheme - blue. This shade is considered the signature color of Tiffany. You can combine it with white, pink or other shades of the main color (for example, with turquoise, violet, aquamarine), the main thing is that everything looks harmonious and stylish.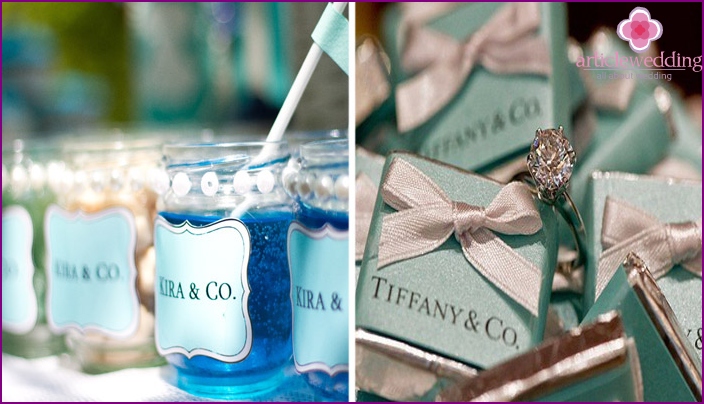 Drink of the evening - martini
Trump drink at a bachelorette party in style «Breakfast at Tiffany's» considered a martini, because it has a pleasant taste. This drink goes well with olives. Martini is the drink that will help give a festive mood. Less commonly used champagne, which girls also love..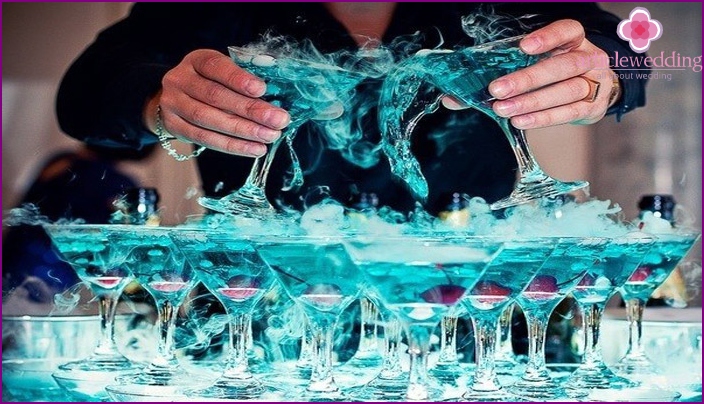 Selection of music, composition «MoonRiver»
An indispensable attribute on any bachelorette party is music. Tiffany-style movie music is perfect for a party «Breakfast at Tiffany's». Also an excellent version of the composition of rock and roll, boogie-woogie, jazz, swing and other music of the 60s. Such music can be found and written to disk, beautifully designed. Also at the bachelorette party, it is possible to arrange funny contests to the music - this will help entertain the guests. A branded composition for a bachelorette party is considered «Moon river» by Henry Mancini. To listen to it, and at the same time to watch the clip, to plunge into the atmosphere of the movie - the video will help:
Menu
The main dishes of the holiday are sweet cakes, muffins, cookies. Often, all these sweets are also decorated in the style of Tiffany. Perhaps the presence of a cake decorated with mastic. You can see an example of sweets in the photo.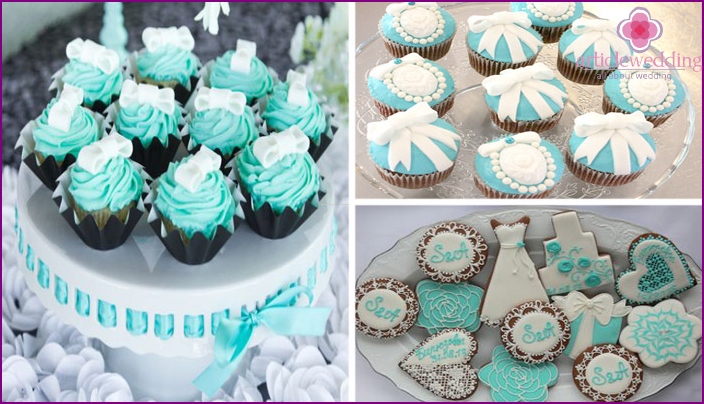 Dress code
To create the image of Holly Golightly, the culprit of the occasion as a dress should wear a short evening dress in black. Of jewelry, the bride is better to use jewelry or jewelry made of pearls. Bridesmaids can also wear black dresses. So, the company will look elegant, elegant and the evening will succeed one hundred percent.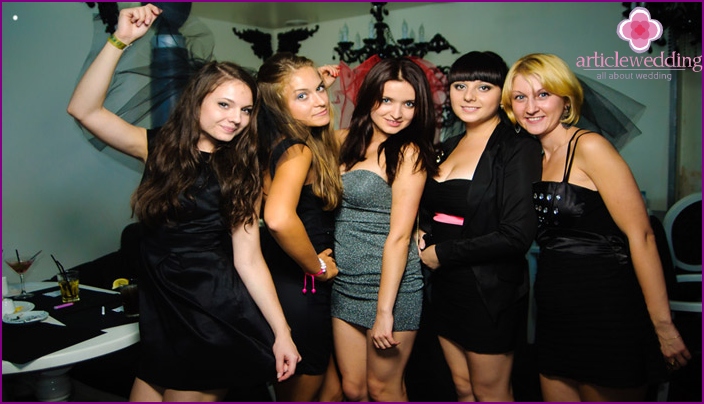 Hairstyle and makeup
To give the image of completeness help hairstyle and makeup. Party Hairstyle «Breakfast at Tiffany's» should be highly collected (a kind of bunch). Makeup is better not to make too bright, but be sure to highlight the eyes, for example, using arrows or eyeliner.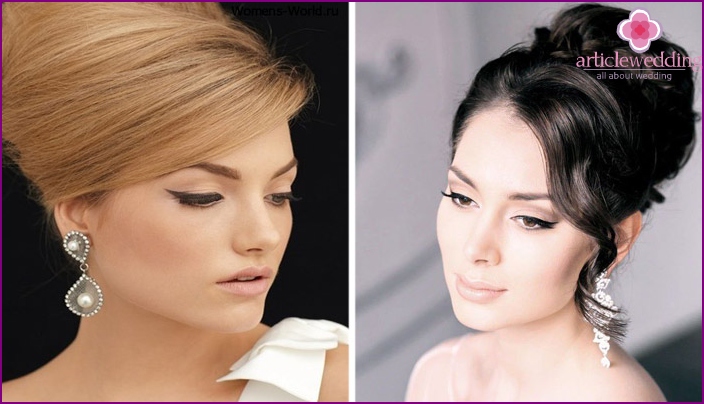 Manicure in blue tones
Manicure is an important detail of the image. Both the bride and her bridesmaids should have blue tones. Nail decorations are welcome: rhinestones, drawings, French manicure.
Tiffany style gift wrapping
What a bachelorette party without gifts? Gifts should be decorated as well as the whole holiday. It can be absolutely anything, as a rule, give beautiful linen, jewelry (jewelry) or perfume. It is important that the box is of the appropriate color..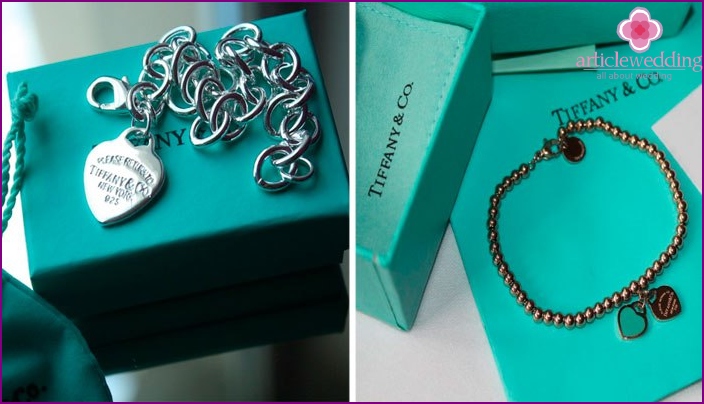 If the organization of a bachelorette party in style «Breakfast at Tiffany's» you were inspired by the film of the same name, then you should take care of the necessary accessories, carefully treat the preparations, warn the girlfriends what style will be used for the celebration. Such a bachelorette party will turn out luxurious, and you will look charming by creating an original image.
If you decide to have a party in style «Breakfast at Tiffany's», and tips for this article came in handy - leave your comments.