Contents
---
---
Loft is a modern western trend that is only beginning to gain popularity with us, but has long been in great demand among European residents. A loft-style wedding is creative, interesting, and unusual. Simply put, a loft is an urban style, a combination of new, fashionable and modern details with old ones. A wedding of this style will excite with its extraordinary, extravagance and creativity. This format of celebration will be remembered for a long time..
How to organize a wedding in a loft style
The organization of such a wedding takes a lot of time and requires a huge, attentive preparation, as well as knowledge. The whole complexity of the organization lies in the fact that such a format is still at the development stage, not everyone is aware of how to properly submit it, and prepare for it. It's important to find the right room that matches the loft style..
The ideal premises for a loft are abandoned factories, factories, houses of culture, workshops. The listed loft sites are now being restored, gaining a completely modern look, and then rented. The room of this style is an open space, high ceilings, metal structures, untreated wood, brick, large panoramic windows. Therefore, the first step in the preparation will be the search for a suitable venue for the celebration.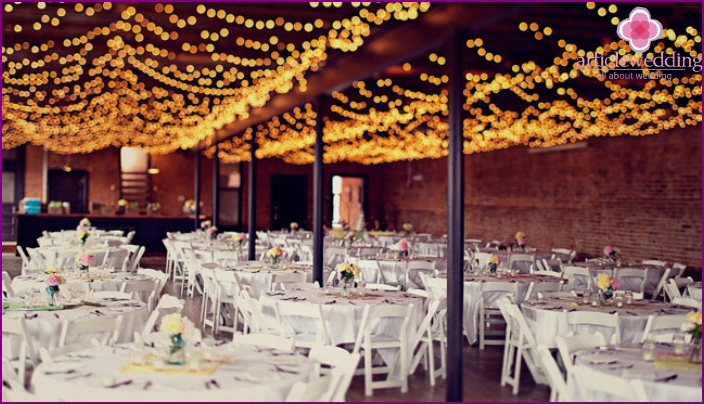 Invitations for guests should be done in a minimalist style. It can be a small white card with a neat black font, without unnecessary details - concise and simple. You can also add images or sketches of megalopolises or other thematic elements. The main thing is that everything should be restrained, stylish, and also convey the atmosphere of the future holiday.
The image of the bride in the loft style does not mean a lush dress with rhinestones or roses, massive rings. The style of the dress should be simple, neat, but the dress should have its own zest: creative cut, lace inserts, embroidery. The outfit should be supplemented with large accessories, including necklaces, earrings or rings..
Bohemian chic is the best choice for the image of the bride. Particular attention should be paid to the hairstyle: hair should be collected in a smooth bun, make smooth curls or choose a styling a la bohemian chic. The bouquet should be as unpredictable as the celebration itself: as a rule, it contains metal details, wildflowers. The main thing is brightness, unusualness.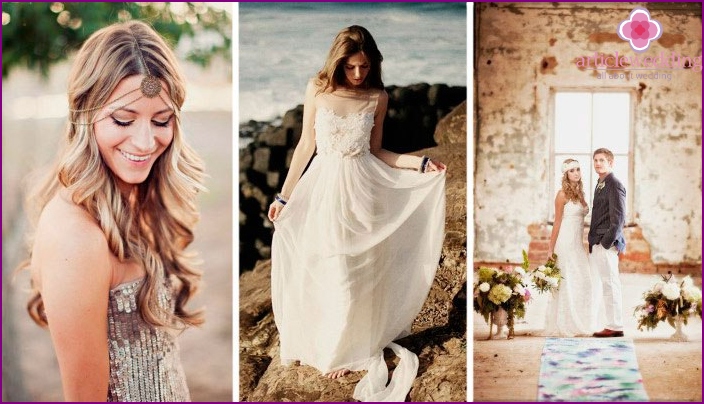 The main colors of the loft wedding are green and burgundy, so the groom can safely choose a suit of this color scheme. A burgundy jacket, light shirt, and jeans are a great choice for a loft style. No iridescent costumes, strict maintenance of the classics. A wedding of this style is an embodiment of freedom, a combination of the old and the modern, therefore a strict tuxedo will look ridiculous at such a celebration.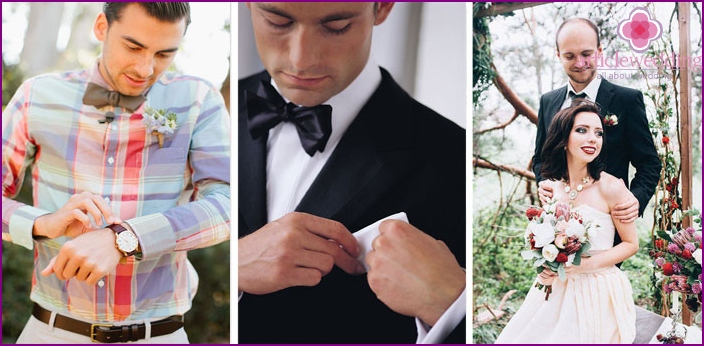 Loft style wedding script
The loft-style wedding celebration concept alone speaks of an extensive imaginative theme. All sorts of quests will be a great idea to engage most of the guests, but not bad and limit yourself to the usual wedding contests. A wedding in a loft implies creativity and an unusual approach to everything, so the free loft space is specially equipped with different zones:
Chillout, where guests can sit on soft chairs, relax, drink delicious champagne and just chat.
Games area with equipped karaoke, board games, video games.
Themed rooms with a photo studio, tattoo parlor. This will surely please the guests, and especially the female half.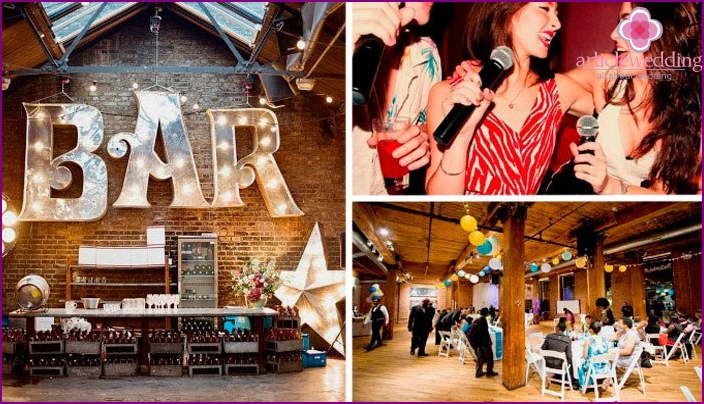 For a wedding in a loft, a standard scenario may not be necessary, but instead of the host, there may be a witness with a witness or other close friends. This format of the holiday is far from standard ideas about the wedding. The celebration in the loft style is improvisation, the embodiment of all extraordinary ideas, a tribute to the present. If you want to organize a wedding in this style, abandon the standards, stereotypes and make this holiday truly unpredictable.
Photo hall decoration
To design the hall, you first need to determine the color scheme, as well as select the main materials: wood, metal, etc. Consider two main areas of design:
1. Warm colors. Shades of copper, dark green, burgundy, as well as peach motifs will be wonderful to combine. Such an interior will create a cozy and comfortable atmosphere. You can add candles and a fur path, for greater comfort.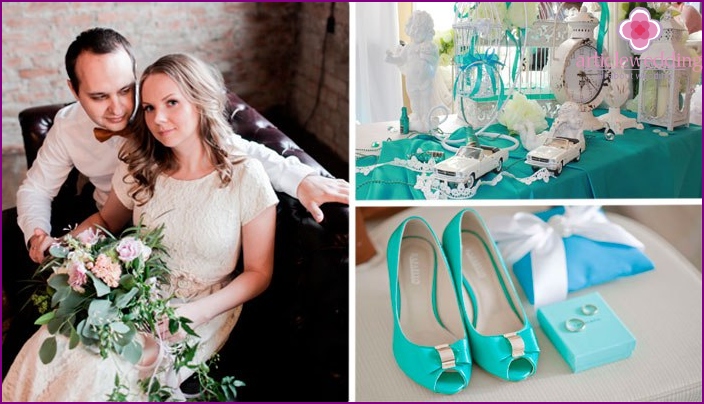 2. Cold tones. For colder design shades of dark blue, gray, silver, blue can be chosen. Use lamps or general lighting in the blue room to create a loft atmosphere in cool colors.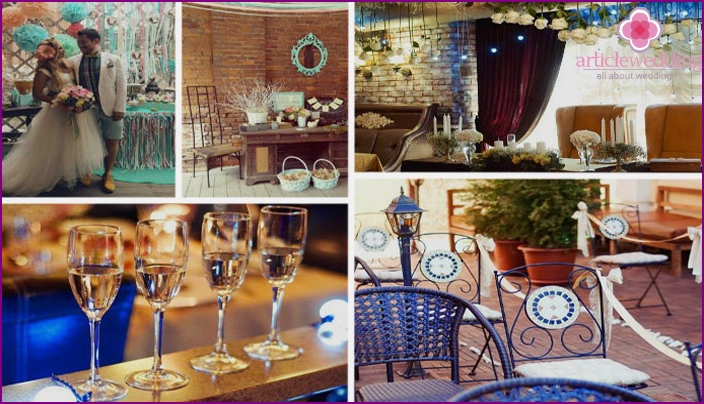 To create the atmosphere of a real loft, regardless of color tone, it is important to follow a few basic rules:
A lot of greenery, flowers, flowerpots. A beautiful solution is to fill the space on the tables with an abundance of flowers and compositions from plants.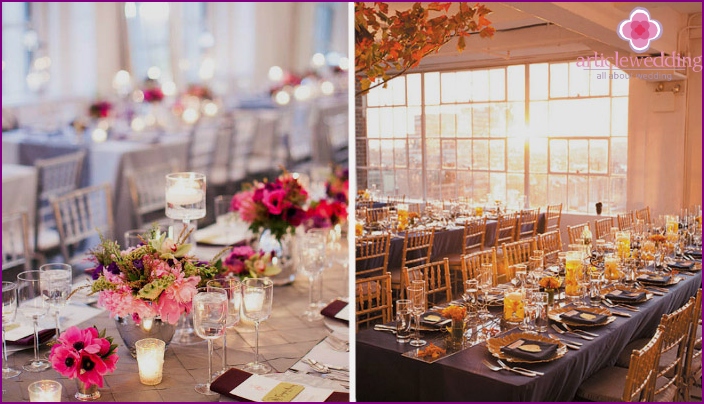 Lighting. All kinds of lamps, floor lamps, chandeliers, pendant lights, garlands.
Decor In the loft style, things from all eras can be present. It can be an antique clock, antique vases, modern lamps, metal figurines, a photo, a menu in the form of a sheet. No need to be afraid to combine incongruous.
Furniture. Rough industrial-style tables with metal legs can come up, and instead of chairs, it is worth using wooden boxes, barrels, iron stools.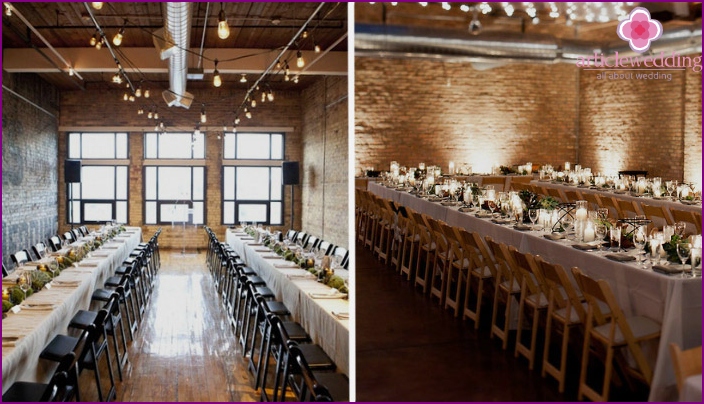 Each area of ​​the room can have its own individual design or color. If you want to combine the loft style with the classic style, you should abandon the bright details. Against the background of brick walls, light chairs in cases, beautiful table setting, candles, as well as old musical instruments will look wonderful.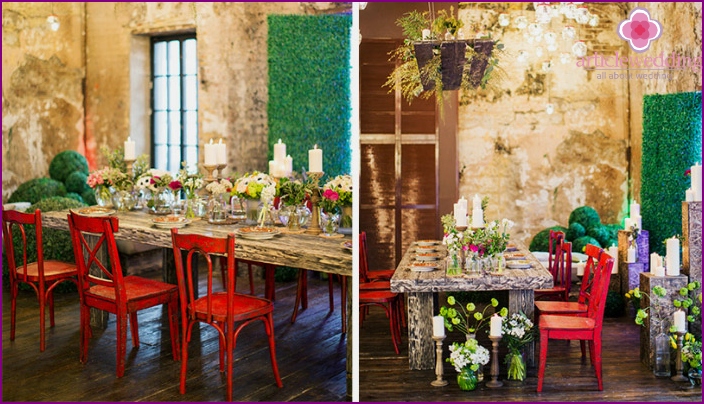 Process video
Choosing a loft-style wedding is one of the most creative options for such a celebration today. But such a celebration requires a lot of investment, as well as the quality work of real professionals. The loft-style celebration is the perfect solution for extraordinary modern couples looking for unusual options to celebrate this significant day..
A.