Contents
---
---
Autumn is a charming time, sung by poets. Nature shines with bright autumn colors, fallen yellow-red leaves delight us, giving the holiday special solemnity. A wedding in the autumn style will become an unforgettable event, saturated with home comfort, warmth and natural beauty. It's not in vain that a huge number of couples choose these beautiful days for the wedding, and the church advises to choose this time.
How to organize a wedding in autumn style
If you decide to have a wedding in the fall, the best time for it will be «Indian summer», when the sun warms still in summer, but there is no more sweltering heat. This period of time is not so easy to catch, but the result will exceed all your expectations. Take a look around: you are surrounded by warm colors - yellow, orange, red, brown, gold. They will be the leading flowers at the wedding, but first we'll think about preparing for such an outstanding event.
The wedding begins with invitation cards, the guests will be the first to see them. Your task is to create a light, fresh autumn mood for the guests on a hot, truly summer day. Symbols of autumn are yellow maple leaves and the key of cranes flying south, but you can use others - bright vegetables and fruits, autumn flowers, viburnum or rowan berries. Let your invitations dazzle with these pictures made in bright, saturated colors.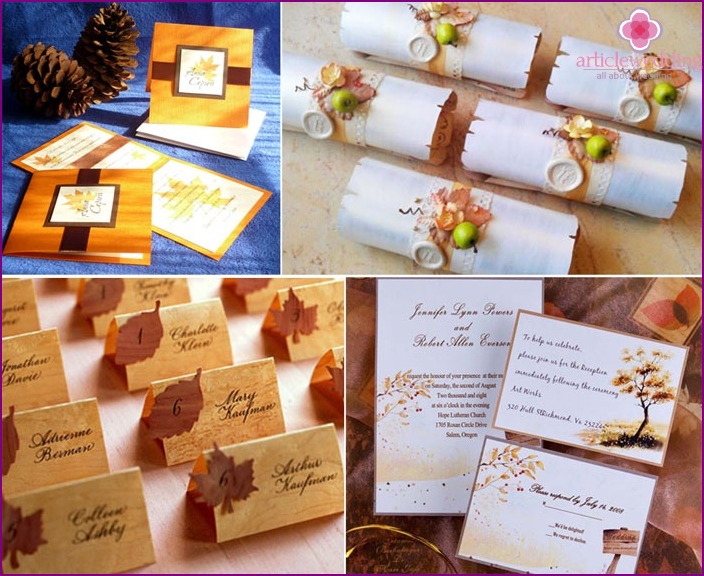 The image of the bride should also be autumn. It is better if the dress is golden, chocolate, copper, orange. If you are embarrassed by the bright colors of the dress, dwell on pastel shades in a rustic style, which are diluted with contrasting accessories. A traditional white dress with autumn accessories also looks beautiful. A classic three-piece London dandy suit made of wool, cashmere, flannel and a spectacular tie in the same color as the bride's dress will suit the groom.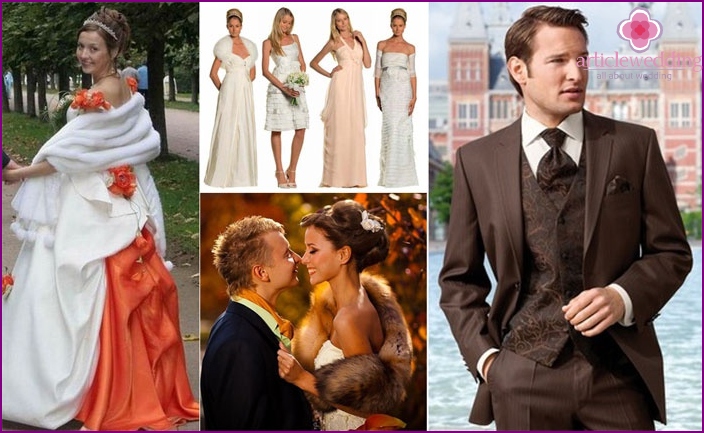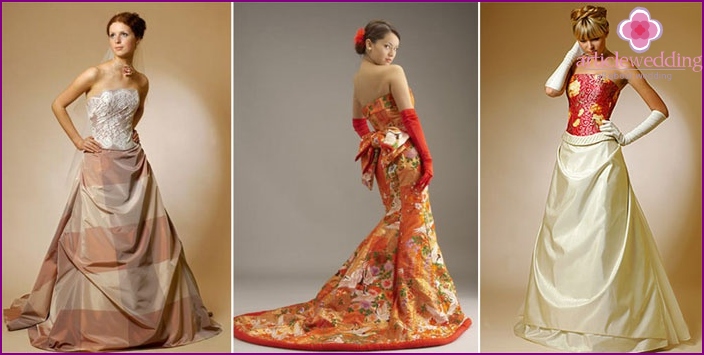 The bride's autumn bouquet is selected in yellow-red shades, there are both autumn flowers and leaves, berries, fruits. Use bunches of viburnum, mountain ash for a bouquet, which with their red beads will give it originality, liveliness, emphasize good taste. The fringe of amazing dry leaves in color and shape will make the bouquet light, airy.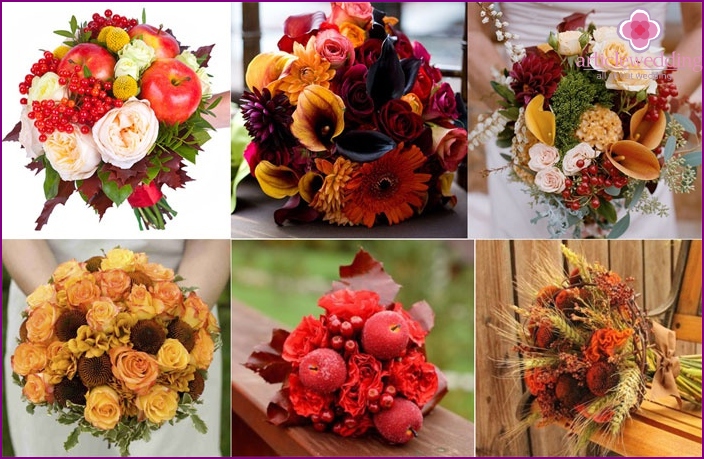 Hall decoration in autumn style photo
Decorating a banquet hall in the autumn style is much easier than you think, because objects of natural decor lie right under your feet. The main colors in the design of the autumn hall will be warm shades: yellow, bronze, orange, gold, brown, crimson, red. To make the room look elegant, do not spray on the multicolor, use two or three colors.
The main decoration of the hall is flowers; there should be a lot of them. Choose those that emphasize her special style. Beautiful asters, magnificent dahlias, fragrant chrysanthemums, decorative sunflowers, and omnipresent roses will delight us with their bright colors. Decently decorate the hall with garlands of autumn leaves and ripe wheat spikelets.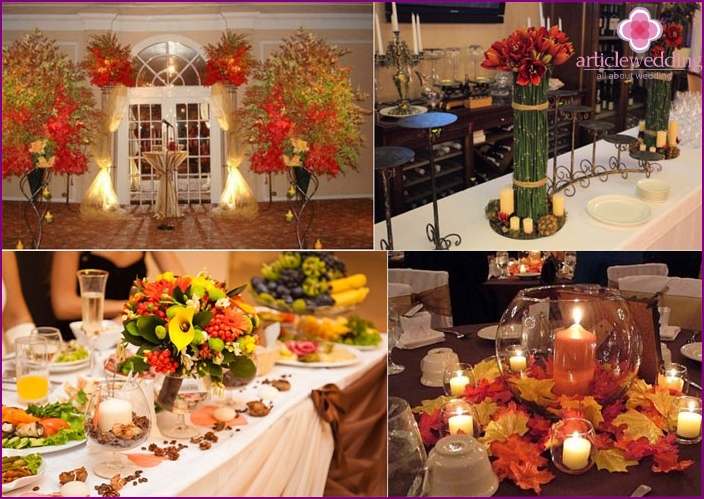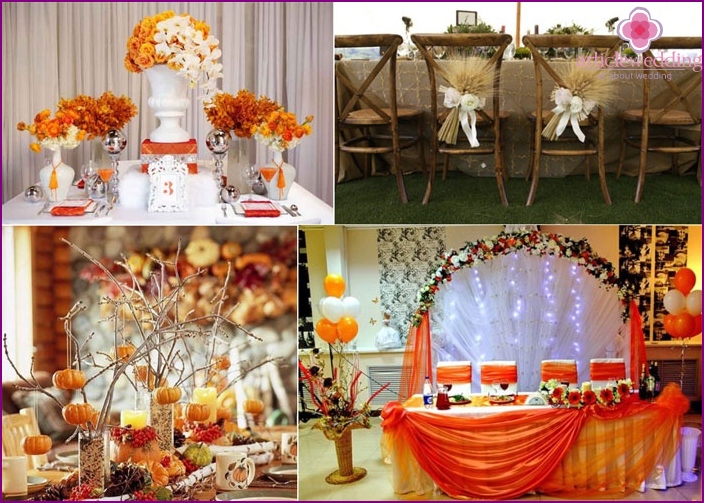 Decorate the autumn wedding in one of three traditional styles:
Classical. On the tables are brown tablecloths, straw plates are selected for snacks and fruits, the remaining dishes are served on plates of orange or ivory. The bulk of fresh yellow-crimson fresh flowers are located on the central table, there are also tall candles in antique clay candlesticks..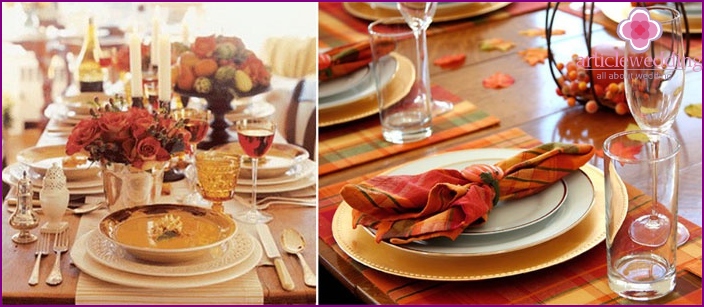 Formal. Leading colors are purple and golden. Violet color is used for tablecloths, napkins and glasses, golden - for dishes. On the central table are dark roses, tall candles in heavy wrought iron candlesticks. This style is chosen for late November weddings..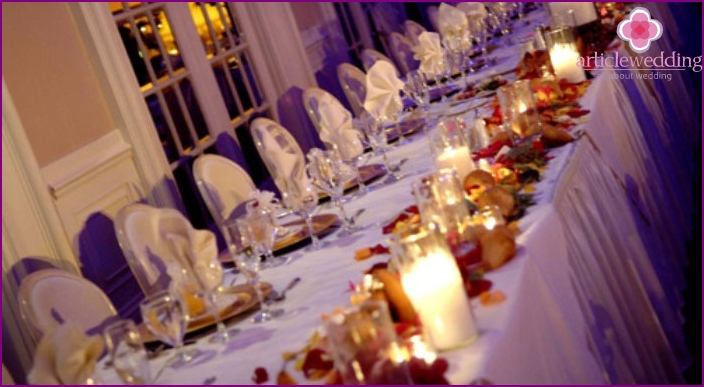 Modern. These are brown tablecloths and yellow dishes. The central table is lined with flowers in vases and pots of a predominantly tan color, and small original candles complement.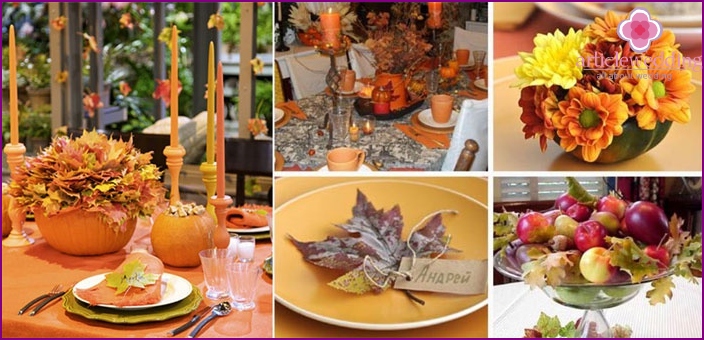 Use ripe fruits and berries, such as apples, viburnum, to decorate the hall, because autumn is the time to harvest. You can dilute them with bouquets and garlands on the walls or chairs, or you can use them as an original base for seating cards. Pumpkin will be a gorgeous vase for a bouquet or an unusual candlestick. How to beautifully arrange a celebration, see the video.
Autumn wedding scenario: interesting ideas
Autumn is the time of incorrigible romantics, because an autumn wedding involves sophistication, a sense of proportion and taste, elegance in everything. Make your wedding unusual, unlike others. Beat her beautifully by inventing a fairy tale for yourself that you like. Of the four proposed options for the ideas of the wedding scenario, you are sure to choose the right option.
Scenario «Grandma's Garden». They make a wedding in September or early October, the venue is a large garden. It's already cool in the evenings, so there should be some kind of covered space nearby - a banquet hall, a tent, a gazebo.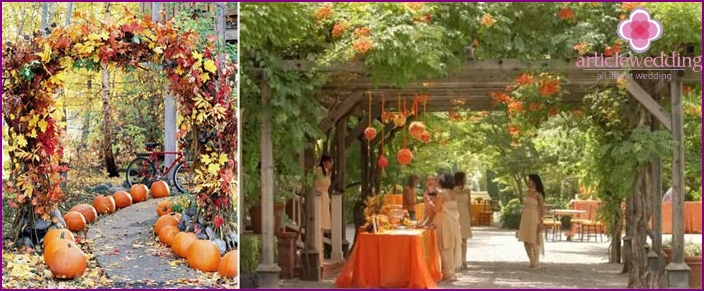 Scenario «Legend of autumn». Have a celebration in an old church or near the mill. The bride will drive up to the venue on a carriage, and the groom on a noble stallion. Also, ancient rites and wedding games are appropriate here..
Halloween script. Arrange a fancy dress masquerade ball and make a real fun. And if you do not want a rampant coven, then you can use only certain Halloween attributes, for example, pumpkin candlesticks.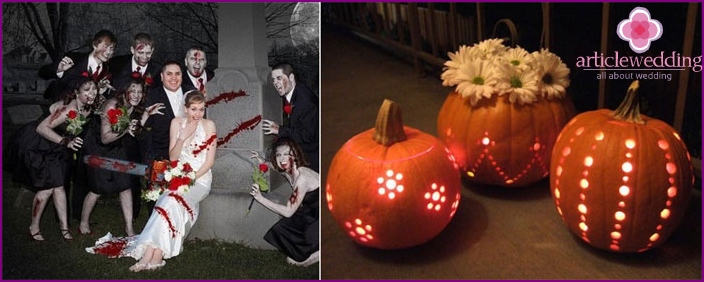 Scenario «Family hearth». Organize a wedding in a country house, melt a fireplace and spend the evening among relatives and friends. Grilled dishes, homemade compotes, refreshments from summer-cooked jam, bright berry drinks are ideal..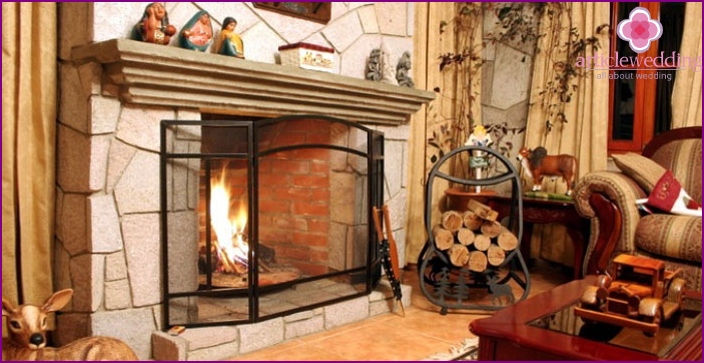 How to make a wedding in autumn style a real miracle, see our video.
Process video