Contents
---
---
Making the whole celebration a single color palette from invitation cards to the details of the groom's costume, the bride's wedding dress is not uncommon. Modern young people are increasingly guided by Western trends in the world of wedding fashion. The single color tone, which is present in all the details of the holiday, not only looks elegant and emphasizes the taste of the newlyweds, but each one has its own symbolism. Wedding in burgundy is wealth, sophistication, beauty and prosperity.
Burgundy color value
This color has long been associated with wealth, inner confidence, fortitude, royal luxury. It perfectly emphasizes the nature of conservative couples. Burgundy is a color of stability that suits not too emotional, but enterprising people who know exactly what they want. Restaurants are often decorated in burgundy, so the organizers will not be difficult to find a venue for the banquet, although you can make decorations yourself.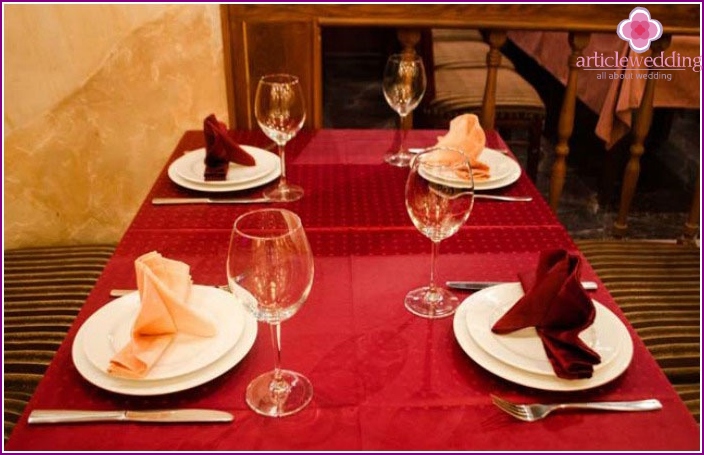 In addition, it is the color of solid antiquity and the fact that after many years it retains its best qualities. Burgundy is perfect for couples who want to focus on the strength and stability of their relationship.
Outfits of the bride and groom in burgundy color
Young spouses do not need to completely put on a burgundy to match the style of the wedding. A few ideas for a wedding look:
Female image. Girls who are looking for a wedding outfit in a beautiful burgundy color can pay attention to options where the dress is decorated with one or more contrasting details. It can be a belt at the waist, beautiful embroidery, stylish bows. To make the image harmonious, add a little burgundy to the makeup, lips of this color will look juicy. Regarding the style of the dress, A-silhouette, princess dress, mermaid dress are ideal. Jewelry should not attract much attention.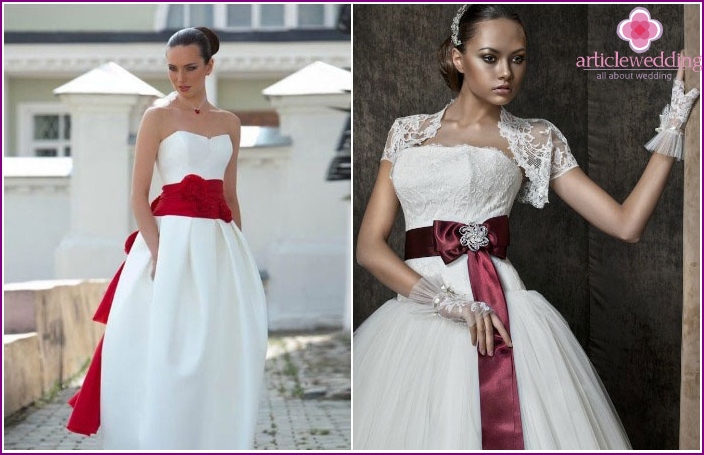 Male image. Men can afford a burgundy suit in combination with a white or cream shirt. If the costume is made in a different color scheme, other details that will reflect the concept of the wedding will suit: a stylish tie, bow tie, cufflinks, a scarf on a jacket, a boutonniere. A more modern and bold way to emphasize the wedding color palette is to put on burgundy socks, although the holiday color itself professes conservatism and solidity.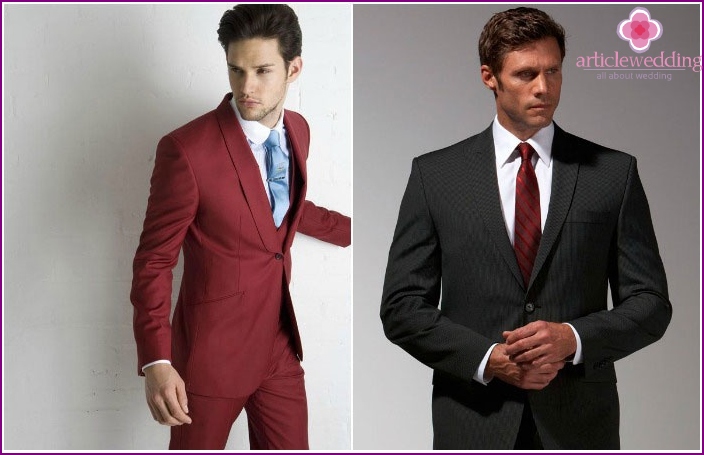 Clothing Ideas for Witnesses and Guests
To make everything look perfect at the wedding, and photos and videos reflect the beauty of the event, as well as the common color scheme, the groom and the bride can appoint their dress code. For example, for a guest, any light color of the entire festive costume is allowed to be white, cream, gray, blue, but each should have a burgundy or dark red color. This information should be communicated to guests well in advance of the wedding so that they can think through their image..
If you wish, you yourself can provide this burgundy detail to women at the entrance to give out as a gift elegant silk scarves, to men pocket scarves.
Wedding accessories in burgundy tones photo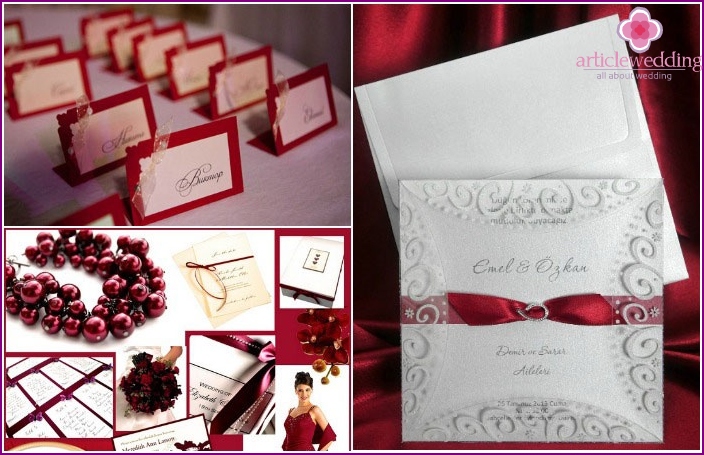 The burgundy color is ideal for details, so various wedding accessories made in a burgundy palette will look harmonious and beautiful: invitation cards for guests, table seating cards, flowers (roses, dahlias, tulips) decorating the festive table. Glasses for newlyweds decorated with lace, food for a banquet table, fruits, a chic wedding cake look good. Red wine of a noble shade, liquors, tinctures, juices will organically look.
The bride's bouquet
Bridal bouquet deserves special attention. This beautiful accessory attracts glances, and then for a while becomes the main thing at the wedding when a newly-made wife throws it in front of unmarried girlfriends. A girl can invent and create a composition of a bouquet of burgundy flowers. then the hall itself will be well decorated with appropriate plants. If the bride prefers a bouquet of light or white flowers, elegant silk ribbon will perfectly complement it. See examples in the photo: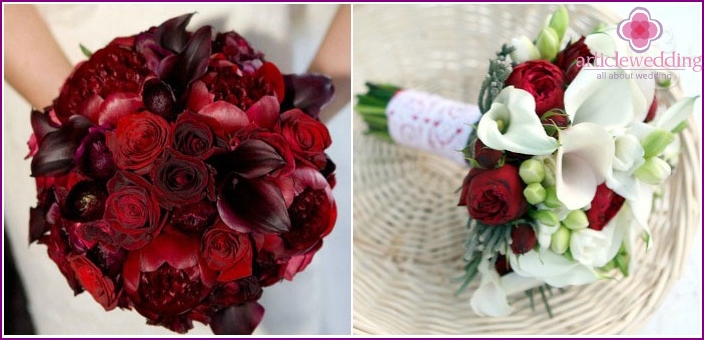 Invitations and cards for guests
Invitation cards are an important detail that should be considered when organizing a celebration. This is the first thing that future guests will see, a detail inextricably linked with the concept of a wedding. At the invitations you need to write the exact location, time of the event, if there is a dress code to inform about it. As for cards for guests, they should be made in the same style. It is desirable that the shade of paper or cardboard does not differ in all the festive details.
Watch a video where the idea of ​​creating invitation cards is shown, the same thing will be repeated using a burgundy palette:
A wedding cake
Wedding cake is an indispensable part of the event. Modern pastry shops offer real works of art: the bride and groom can order a single-tier, two-tiered or multi-tiered cake, depending on the desire and number of guests. It will be possible to decorate it with inscriptions, marzipan figures, and other details of the imagination are endless. Confectionery technology allows you to make a delicious dessert in a noble wedding range or decorate a white cake with elements of burgundy.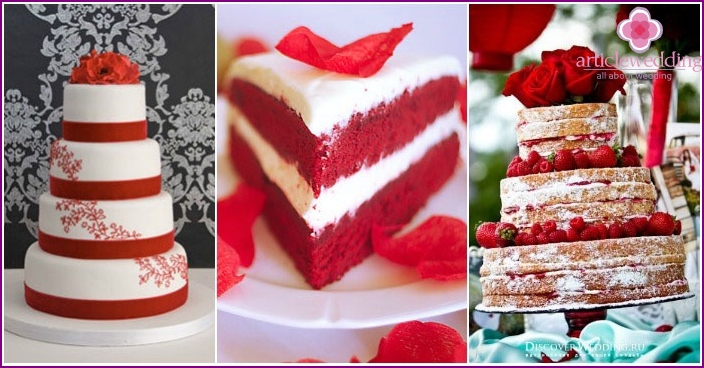 Pay attention to the idea that cupcake cake is gaining more and more popularity in recent years. It is convenient to distribute portioned cakes to guests, such a sweetness will not fall apart along the road, accidentally does not stain the bride's dress.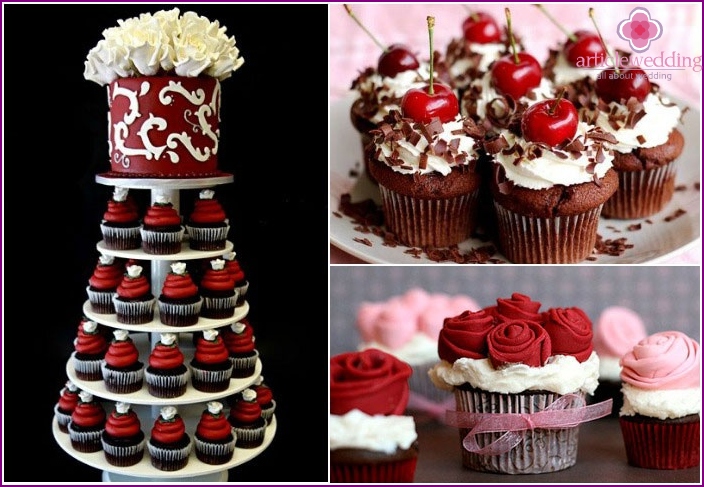 Burgundy-style wedding hall decoration
So we come to the main issue of the burgundy wedding: decorating the banquet hall, where the main part of the celebration will take place. Often weddings of this style are held as off-site ceremonies, where everything happens outdoors, a wedding, then a banquet. The main ways to decorate the event hall with the color of Bordeaux:
Tissues. Using all kinds of fabrics (silk, organza, chiffon and others) is one of the most beautiful ways to decorate a festive hall. Luxurious smooth draperies on the walls, long curtains, a burgundy tablecloth on which there is a crystal and snow-white plates, ribbons decorating small accessories, huge bows on guest chairs, dark red covers.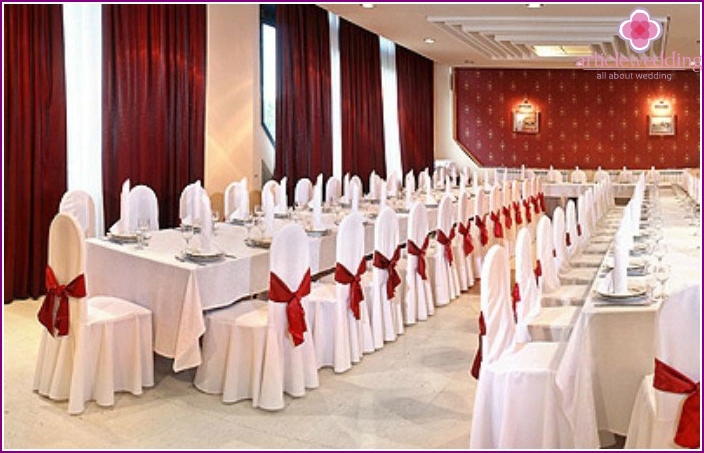 Flowers Burgundy flowers, corresponding to what the bride has in the bouquet an exquisite way to decorate the hall. Small bouquets should be placed on the tables, and behind the table of the newlyweds put an arch decorated with a chic composition of plants.
Fruits, berries, wine, cake and other food that will become themed table decoration. However, in this case, it is better to give preference to a white or other light tablecloth..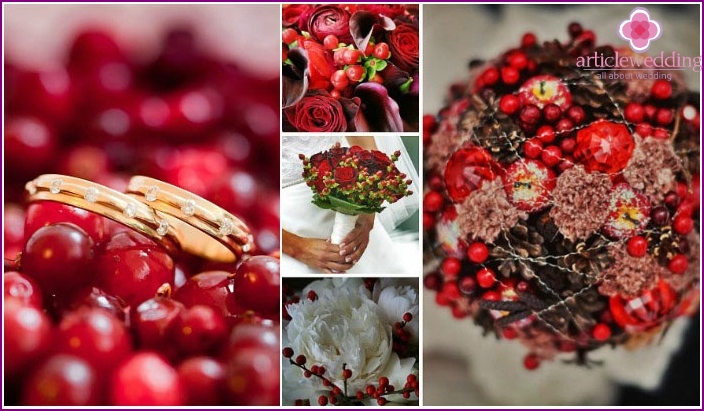 Balloons. This is a cheap and easy way to create a noble Bordeaux decor, there is only one small remark: it is best to choose a matte texture of the balls, it will look richer.
Decoration of the wedding procession
Another great way to observe the universal color scheme of the holiday is to decorate a car that will take the heroes of the occasion to the registry office and to a banquet, and also not to forget about the accompanying cars. Wide ribbons decorating the front of the car, flowers of a dark red hue are ideal for this. Most advantageously they will look on white, so the newlyweds, if they order a limousine, you should choose this color of the car.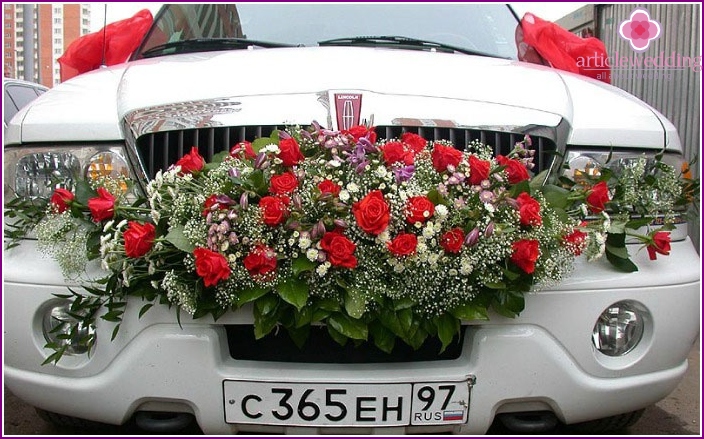 Combinations of burgundy with other colors
The burgundy is a heavy color that can put pressure on those present, so it is best suited for holiday details. Other shades of snow-white, pale-beige, ivory, cream, milk are perfect for the background. Bordeaux with golden details is a classic combination that looks rich. Brighter colors that look good with dark burgundy orange, coral, turquoise with a greenish tint.
A wedding in an exquisite burgundy color is an original way to create a beautiful celebration that will delight guests not only during the event itself, but also after in colorful pictures that will surely convey the mood of a tastefully decorated event.