Contents
---
---
A banquet of an interesting and well-planned wedding is inconceivable without entertainment for guests. The triumph in the style of "eat-get drunk and fall asleep" - this is, you see, boring and banal. Make sure your guests are not bored with making toasts and tasting meals. How to do it? Organize a wedding entertainment zone for guests!
The design of the playing area, as well as the selection of entertainment, largely depends on the main theme of the wedding and the interests of the guests. Therefore, the site www.articlewedding.com recommends that newlyweds learn in advance about what their friends and relatives like and dislike. To find the perfect set of games for invited guests.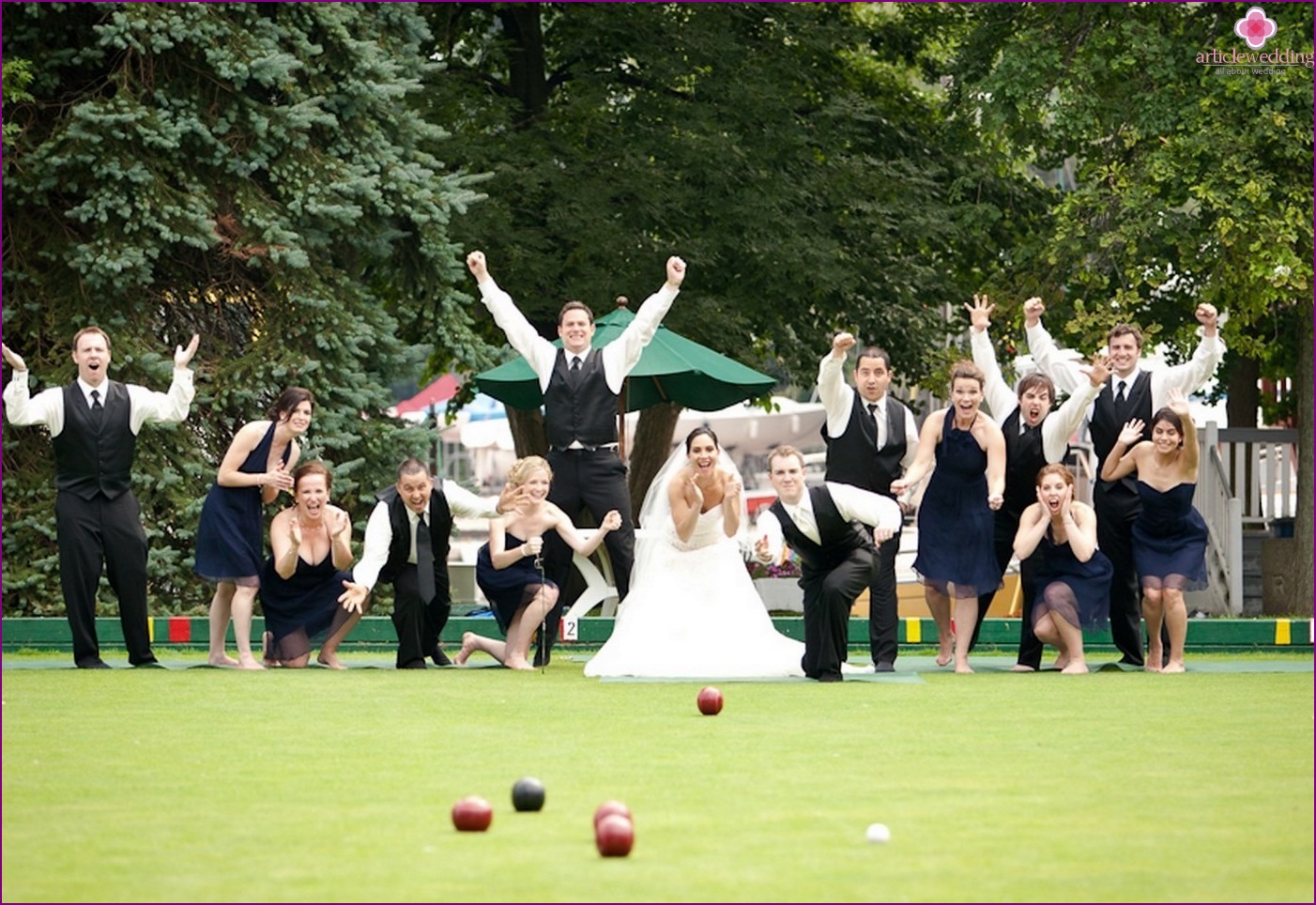 Game scenery
An important aspect of any gaming area is its decor. Of course, the ideal option is to hold a wedding in nature, especially in the warm season. Beautiful nature and fresh air are the best decoration, this is an axiom. But, do not be discouraged, the play area can be easily and with a twist to arrange indoors.
The main rule of the design of the playing area - it should not interfere with the movement and communication of guests. At the same time, you should not take as a basis one single "amusement" in order to attract all-all guests. This option a la "gypsies with a noisy crowd" is already losing its relevance.
It will be much more convenient and interesting to provide a wide selection of entertainment and games for the game zone, so that each of the guests finds something to their taste. Moreover, without getting through, at the same time, through the crowd of the same "suffering bread and circuses." Guests should be comfortable and convenient.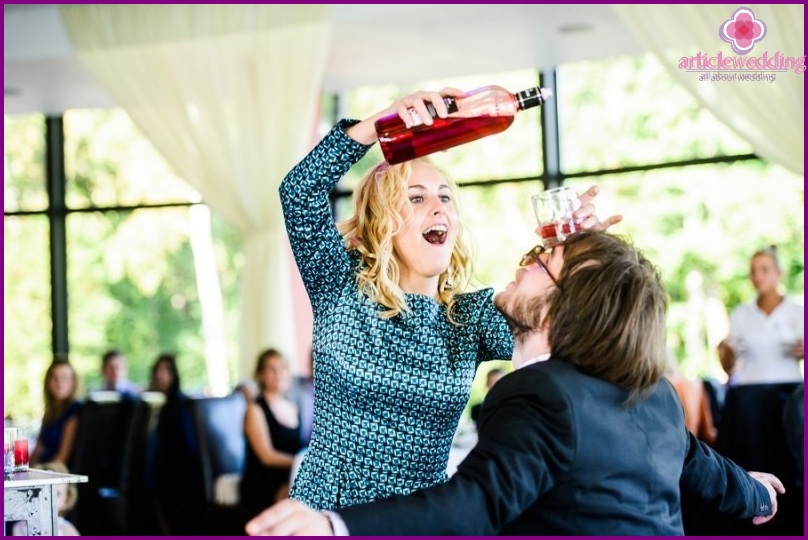 Do not hesitate to order music for the playing area, animators of all stripes, bartenders, fire show masters. The original move in organizing a playground at a wedding is the work of mimes. Talented actors will become another amazing and unusual part of your celebration..
Games for every taste and color
Checkers and Chess
Chess may be an interesting idea for a wedding. But the highlight is that these very chess should not be a standard small-format board, but, say, a large platform where the pieces will be the same "overall". Large checkers and chess will be not only excellent entertainment for guests at the wedding, but also a great place for a creative photo shoot.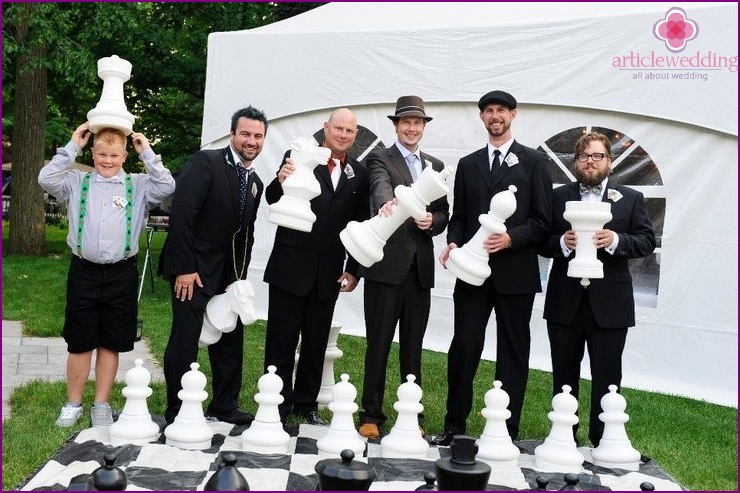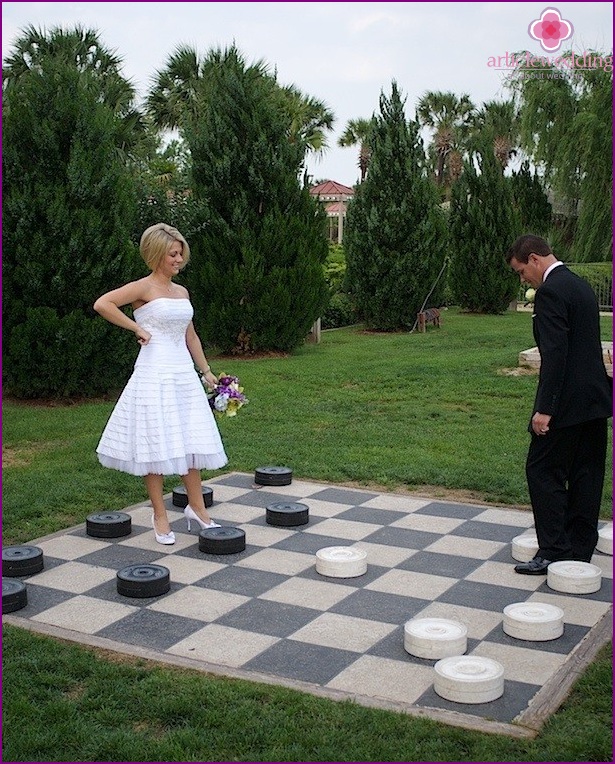 Master classes
Organize unusual workshops: dance, culinary, etc. You can cook unusual delicacy with your own hands, and then taste it with relish - a pleasure for any guest. Or invite adult guests to create a gift for the newlyweds with their own hands using paper, felt-tip pens and crayons. And you can invite artists to conduct a master class with the newlyweds and guests after the performance.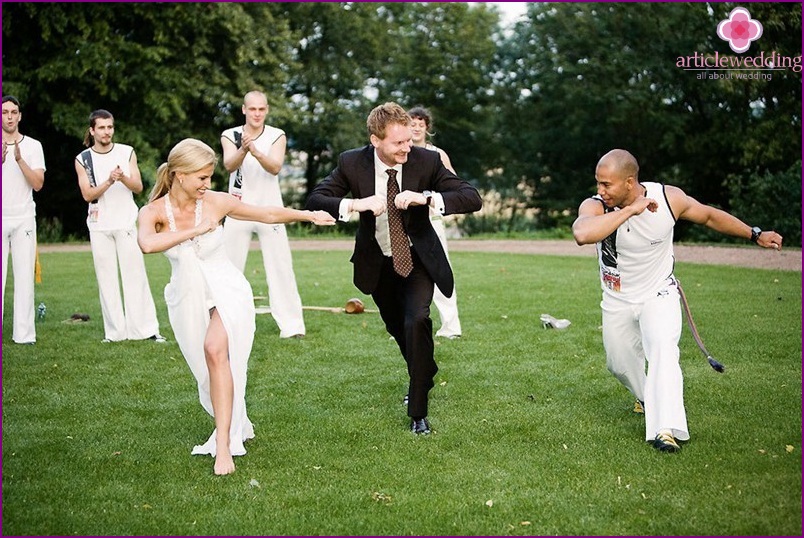 You can invite a bartender to a wedding banquet. And after the performance of their professionals, ask guests to prepare their signature cocktail. And if there are many who wish, then you can even arrange a whole competition with the issuance of gifts.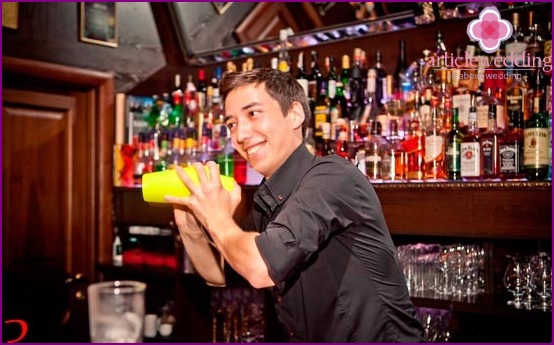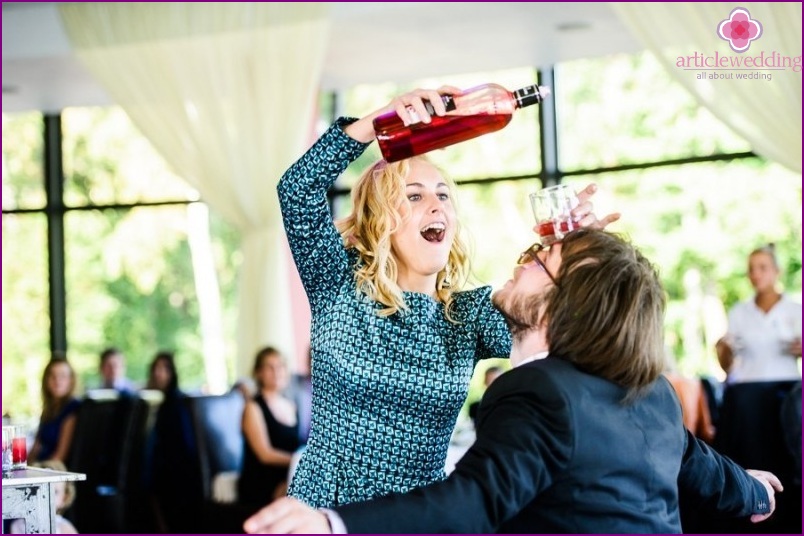 Mini football
Futsal is a great opportunity to entertain guests at a wedding, especially if there are many male guests at the celebration.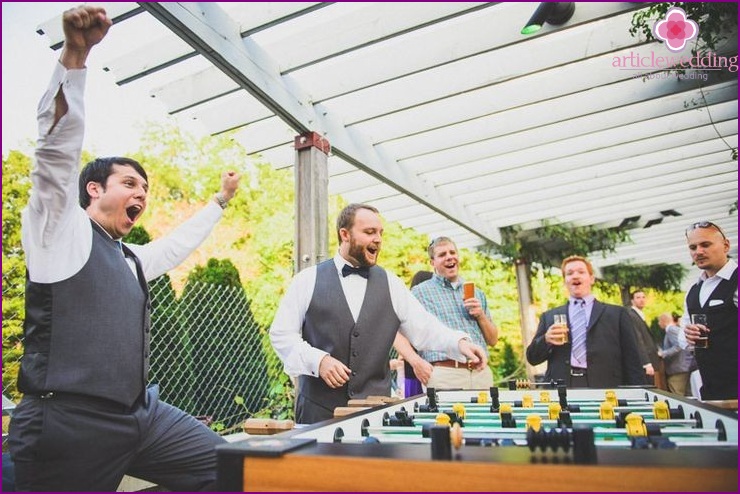 Board games
A variety of board games can be used as entertainment for guests. Offer guests several game options, let everyone choose something for themselves.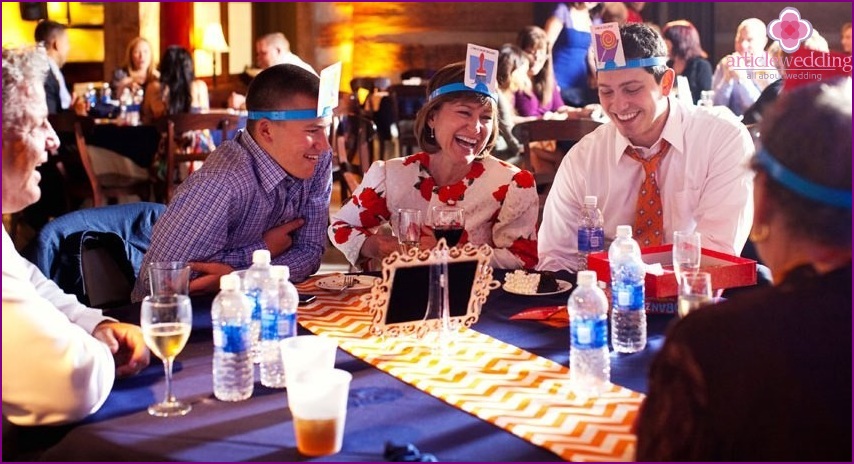 Game "Beanbag toss"
The simple Beanbag toss game will give guests the opportunity to move and compete exactly.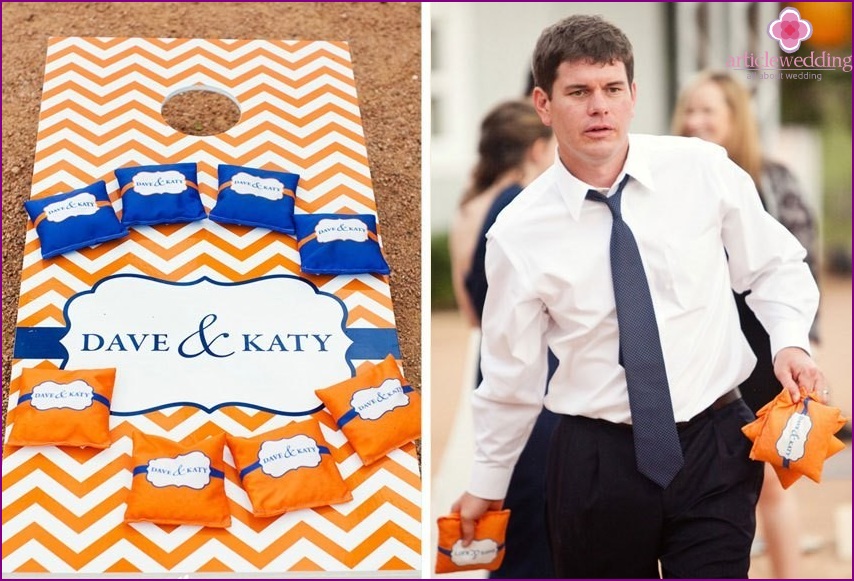 Jenga
Jenga will allow guests to show all their sleight of hand and dexterity. Fun is guaranteed to you!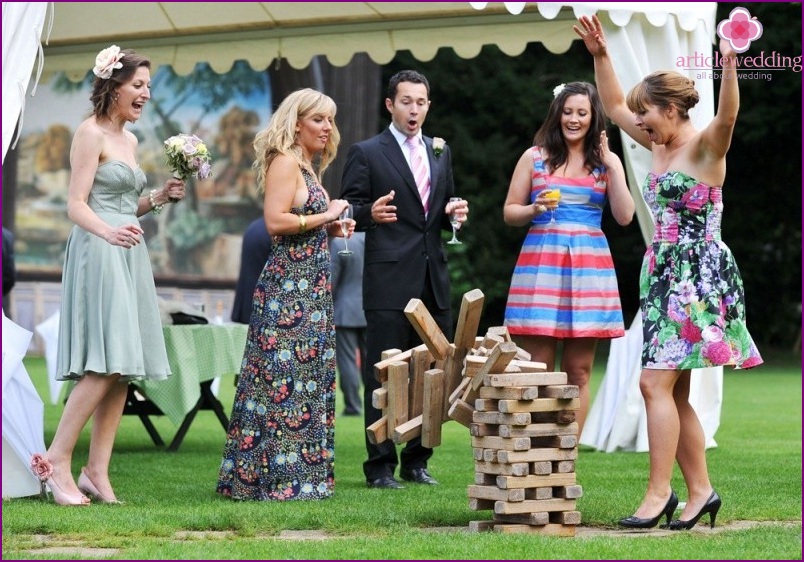 Lotteries and contests
Win-win lotteries, of course, are not know-how, but what prevents you from making this lottery a completely "raisin" filling of the game zone? Most importantly, lots must be original and funny. We rely not on the quality and price of the prize, but on humor.
By the way, do not ignore a variety of wedding competitions. Try to find interesting and unusual. The standard "who will carry more alcohol in a spoon" is too worn option.
Consider all age categories of your guests. Come up with entertainment that will be interesting to both the younger and older generations. In addition, entertainment can be selected and taking into account the themes of the wedding. Say a mini golf course or a stylized poker club. Do not forget about modern entertainment: racing on radio-controlled cars, fights in computer games, etc..
Your goal is an interesting, bright and memorable game zone. Therefore, use the whole arsenal of brilliant ideas.